Passwords are a means of securing our phones and personal devices. But sometimes passwords are forgotten. This could leave us in a bit of a pickle. There, however, is a solution - an iPhone Passcode Unlocker.
There are different applications and platforms used in unlocking closed iPhones and other iDevices generally. They all have different levels of efficiency.
Part 1: How Much Does 4uKey Cost
Tenorshare 4uKey is an iPhone/iPad passcode unlocker that gives you the ability to unlock your iPhone in the absence of your passcode.
It is most ideal when you have forgotten your passcode or do not know the passcode required to unlock the iPhone. 4uKey possesses the ability to remove every type of lock, Face ID, Touch ID, 4 digit passcodes, Custom numeric, 6 digit passcodes. This tool is the Master of all trades.
However, 4uKey is not free. You need to register for either one of the licenses Tenorshare 4uKey has to offer.
Here are the details about its price.
There is a 1-Month license, available to use on up to 5 devices and 1 PC. It comes at a price of $35.95 monthly.
There is a 1-Year license, available to use on up to 5 devices and 1 PC. It comes at a price of $39.95.
There is a Lifetime license, available to use on up to 5 devices and 1 PC. It comes at a price of $49.95.
| | | | | |
| --- | --- | --- | --- | --- |
| License Type | Duration of License | Number of Devices Supported | Number of Computers Supported | Price |
| 1 Month License | 1 Month | Up to 5 Devices | 1 PC | $35.95 |
| 1 Year License | 1 Year | Up to 5 Devices | 1 PC | $39.95 |
| Lifetime License | Lifetime | Up to 5 Devices | 1 PC | $49.95 |
Note
4uKey is not free. But some websites may suggest you to download the free 4uKey. Pay attention, those are always virus, malware, spyware, etc. It's not suggested to take this risk of damaging your computer or leaking your privacy. Instead, purchase the official license of 4uKey or its perfect alternative which is shown below.
Part 2: Perfect Alternative to 4uKey - iMyFone LockWiper
4uKey is not the most cost-efficient iPhone password unlocker on the market. There exists the perfect alternative - iMyFone LockWiper is cheaper but much more multi-functional. It does what 4uKey can do and performs more useful functions. Its official package is 100% secure, ridding you of the worries and troubles that viruses, spywares and malwares bring along with them.
LockWiper - Your Better Choice to Unlock iOS
Unlock various type of iOS locks, including locked screen, iCloud lock, restrictions lock, etc.
Grant you access into broken, disabled and locked iPhones by removing Apple ID such as 4-digit codes, 6-digit codes, Touch ID and Face ID.
Completely remove iCloud account without password that you can switch to a new account.
Unlock restrictions or screen time passcode without erasing just in a minute.
A complete do-it-yourself software that over 98% success rate at unlocking iDevices.
iMyFone LockWiper is fully compatible with latest iOS versions and all models of iPhone, iPad and iPod touch. It's also highly recommended by professional software review sites, including SOFTPEDIA, download.hr, etc.

LockWiper Official Plans and Registration Codes
LockWiper registration codes are issued when you purchase any of the plans available to users. There are 2 types of plans available, individuals and bussiness, take individuals for example.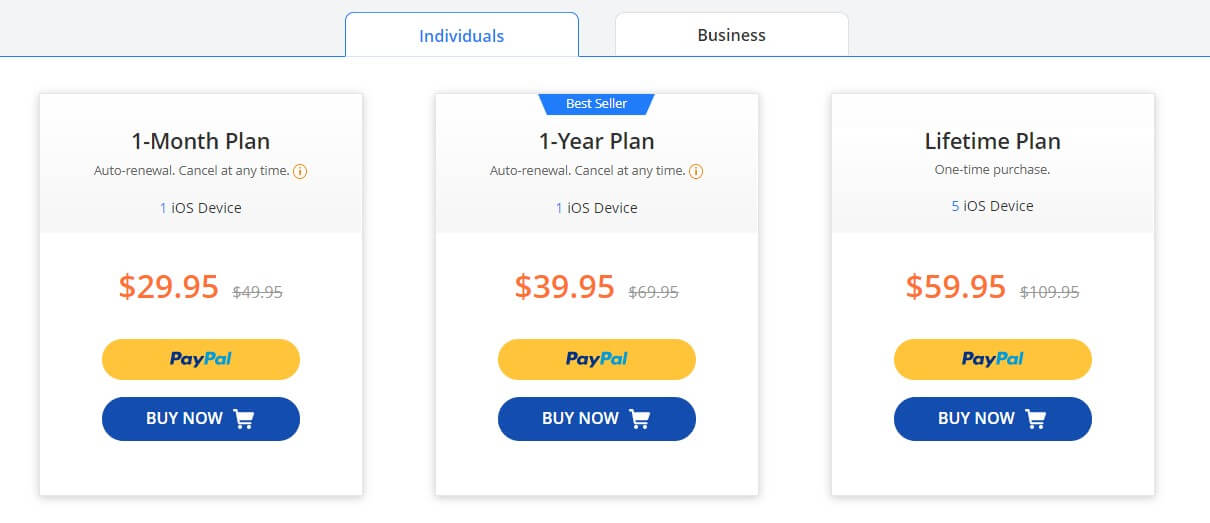 1-Month Plan: This license is applicable on 1 iOS device and comes with a license valid for a month. It is available at $29.95.
1-Year Plan: This license is applicable on 1 iOS device and comes with a license valid for a year. It is available at $39.95.
Lifetime Plan: This license is applicable on 5 iOS device and comes with a license valid for wholelife. It is available at $59.95.
Why LockWiper is More Recommended Than 4uKey
LockWiper is superior to Tenorshare 4uKey because it has a higher cost efficiency in that it is cheaper and better. It runs faster, has a higher success rate and is generally easier to use.
It is testament to the company's belief in its product that it provides a 30-day money back guarantee.
LockWiper offers you top security to make payments and promises no virus, malware or spyware.
iMyFone keeps improving its products that you can get free lifetime updates.
Special Offer: Get Official LockWiper with 10% OFF
Many thanks to iMyFone providing a bonus for LockWiper - 10% DISCOUNT. So, you are getting 20% off what was already a magnificent deal. It means the cheapest plan will be $35.96, why not hurry grasp this time-limited offer.
Your 10% OFF Coupon: YTR5E7
Learn how to use coupon to buy iMyFone LockWiper here:
Step 1: Don't forget to copy the coupon code above. Go to iMyFone LockWiper Purchase Page.
Step 2: Choose the plan and click the blue "Buy Now" button.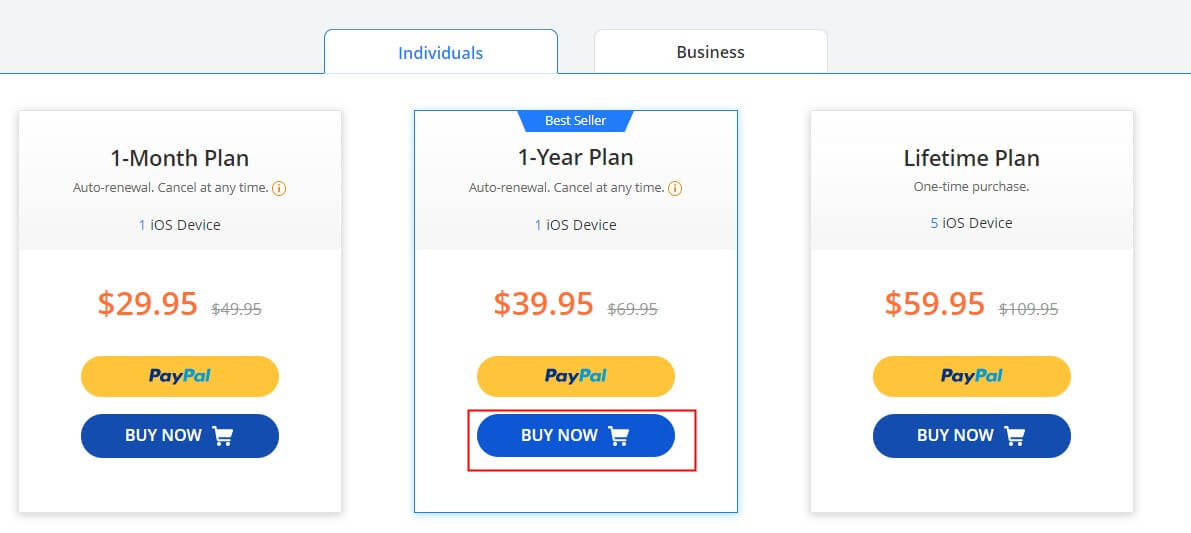 Step 3: Enter email address and your location.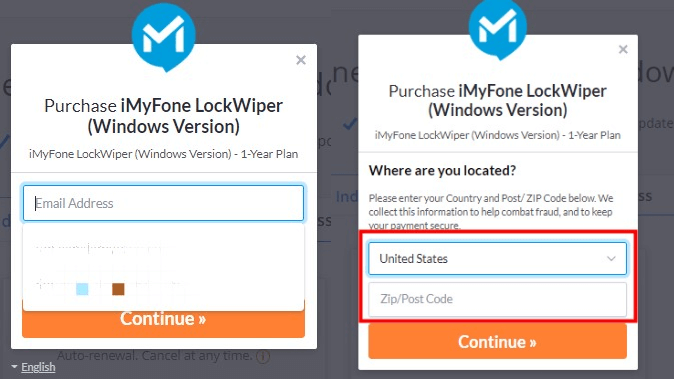 Step 4: Click "Add Coupon".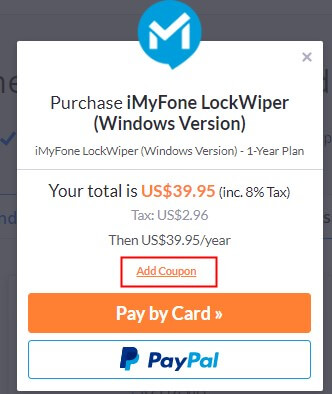 Step 5: Enter the coupon colde YTR5E7.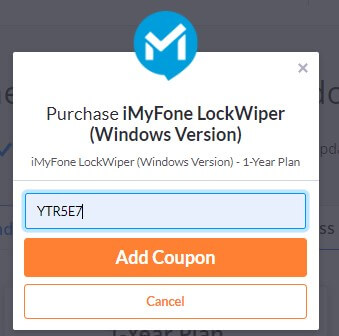 Step 6: Now you can get 10% off to get iMyFone Lockwiper.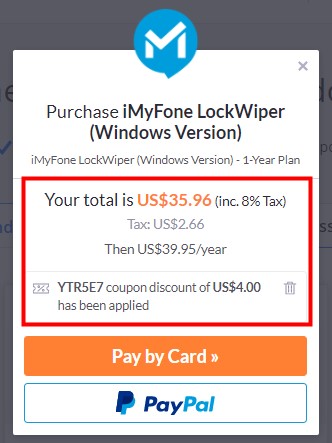 What are you waiting for? Hurry up and take this time-limited offer.
Part 3: Why Exactly Do You Need an iPhone Passcode Unlocker
After we get locked out of our devices, it can be quite frustrating, especially in times when we need our phones. That's when passcode unlockers really come in handy. The following are some of the reasons why passcode unlockers are important:
It removes screen locks from iPhone without password.
It helps you get into your iPhone without hassle when your iPhone is disabled, broken, locked or in black/white screen.
Passcode unlockers generally quicken the process of unlocking your phone and gives us access to them without the loss of valuable time.
It assists in erasing the previous Apple ID from iPhone so you can set up a new one to enjoy all the features.
It helps to recover the passcode so that you don't need to restore your iPhone.
These are the benefits of the average iPhone Passcode Unlocker. There are however some renowned for providing better than average services to users. iMyFone LockWiper is one of these platforms.
Conclusion
This article discussed Tenorshare 4uKey and iMyFone Lockwiper, we have compared these 2 products from many aspects. I really recommend you use iMyFone LockWiper for its excellent ability, don't forget to use the coupon.