If you are searching for a solution on how to unlock T-Mobile iPhone without hassle, then your case is similar to the one above and the solution we gave him that solved the issue could solve yours too. The solutions we are about to introduce in the following paragraphs of this article are prominent and efficient ways to unlock T-Mobile iPhone with ease.
How to Unlock T-Mobile iPhone without Hassle
Buying an iPhone that is SIM carrier locked is always huge stress on the buyer, but with reliable Doctorsim, it's now possible to T-Mobile unlock iPhone without much stress.
The T-Mobile iPhone unlocking service provided by Doctorsim.com team would easily unlock your device and let you use a new SIM card in a formerly locked T-Mobile iPhone. This unlocking service cost the least and can be completed in 1 day from the moment you made payment and the receipt confirmed.
Why Do Most People Choose DoctorSIM?
Unlocking iPhone from T-Mobile online is legal and permanent. DoctorSIM isn't using "hacking" way. iPhone won't be relocked in the future.
Money back guarantee is available to those whom they are not able to unlock their iPhone for any reason.
Warranty won't be avoided. Your phone's hardware or software won't be damaged.
iPhone unlocking specialists are available 24 hours a day and 7 days a week.
1000+ phones supported; 100+ network providers supported; 60+ countries supported.
Unlocking will be completed at the lowest price in the market and with the fast speed.
1

How to Unlock T-Mobile Carrier Lock from iPhone:

Get your iPhones IMEI number to process the request. You can dial "#06" on your iPhone to get it.
Go to www.doctorsim.com and select the model of your iPhone.
Under network provider, select T-Mobile.
Study the descriptions before selecting the cell phone unlocking service that is applicable to your device.
Input your iPhone's IMEI number and email address in the fields, and choose a favorable payment method.
You'll receive an email confirmation with instructions on how to unlock your iPhone.
2

Authentic User Reviews of DoctorSIM:
DoctorSIM has over 6,000 user reviews on Trustpilot, among which 85% rated it as Excellent. Some of the reviews say: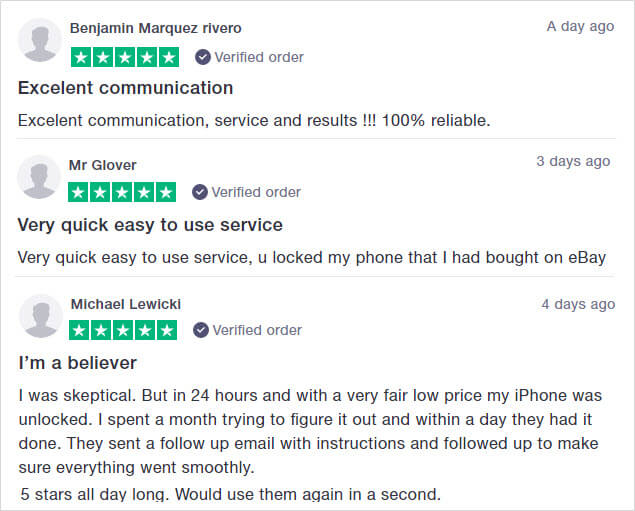 Of course, there are a few bad reviews which complained that it took a few days to complete. But none of the review complained about the refund. So why not give DoctorSIM a trial. If they could not unlock it finally, you won't lose your money as well. Give yourself a chance.
How to Unlock T-Mobile iPhone by Contacting the Carrier
Do you prefer to unlock your T-Mobile locked iPhone from the carrier? If your answer is yes, then you can approach your nearest store T-Mobile store and ask them to unlock your device. However, before going to the store to request for help, make sure the following unlocking eligibility features are met:

If you can meet all these criteria, then you can refer to the T-Mobile Device Unlock app or contacting the customer support hotline (1-877-746-0909). You'll get the carrier's approval and instructions to unlock your iPhone from T-Mobile.
When it's done, you just need to:
Plug the new SIM card into your iPhone card slot.
Power on your device.
Follow the instructions to complete the setup.
How to Unlock Other iPhone Locks
If T-Mobile Unlock iPhone is not the only issue you have to solve concerning your secondhand iPhone, then iMyFone LockWiper is the best unlocking suite to remove other iPhone locks. LockWiper instantly removes various locks from iPhone, iPad and iPod touch without a password. It's the best solution for other iPhone locks.
LockWiper Great Features:
Remove iCloud Lock: Erase the previous iCloud account or Apple ID from any activated device without requiring a password and stop your device from being tracked.
Bypass Screen Lock: Provide hassle-free solution to remove any iPhone locked screen such as digital passcode, Touch ID and Face ID from a locked or even disabled device in a few clicks.
Unlock Parental Control: Securely unlock screen time or restriction passcode without data loss only.
A do-it-yourself tool that any one can handle it without technology required.
Wrap Up
In conclusion, if you are having issues unlocking T-Mobile locked iPhone, we suggest you to check whether your iPhone can satisfies the eligibility criteria of T-Mobile official carrier unlocking. If all of them are cleared, you can contact T-Mobile customer service to unlock the SIM. However, for most of the users who cannot provide enough information that the phone is legal for unlocking, it's suggested to consider DoctorSIM service for help. You would find it helpful.