WhatsApp is one of the most popular chatting Apps we use today. Anyone can use it, whether for casual communication, work chatting, or others. But some chats are too important to miss. So, back up and moving them to another device is mandatory, especially if you want to buy a new phone. Follow these tutorials on how to move WhatsApp chats from iPhone to Samsung: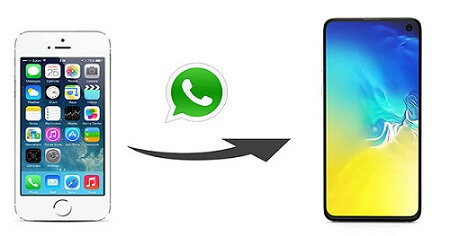 How to Migrate WhatsApp from iPhone to Samsung by Smart Switch?
The first method to transfer WhatsApp messages from iPhone to Samsung is by using the Smart Switch. The App will let you allow seamless data transfer across devices, like sending the chat logs from iPhone to Samsung.
Now, to do a proper backup using Smart Switch, following the steps below:
First, download the App and open it on your Samsung phone.
You may select the transferring method by using cables and tap Trust on your iPhone.

Smart Switch will detect iOS apps to download and transfer WhatsApp data to your Samsung phone.

Then, using the iPhone to scan an OR code to activate the process.

Choose the data you want to transfer and click Import.

If you have left something behind, you can click Get your iCloud data to transfer more.
Cons
Smart Switch is not free and will cost much time to transfer.
An Effective Way to Transfer WhatsApp Chat Data from iPhone to Samsung Directly
iTransor for WhatsApp is the kind of App that lets you transfer WhatsApp chats from iPhone to Samsung as quickly and efficiently as possible. Aside from helping you back up the all WhatsApp data for free, this tool also makes it possible to restore for both WhatsApp Messanger and Business.
Main Features about iTransor for WhatsApp
Step 1.You need first to install the iTransor for WhatsApp on your computer and choose "Transfer WhatsApp between Devices" button. Connect the iPhone and Samsung devices to computer with USB cables.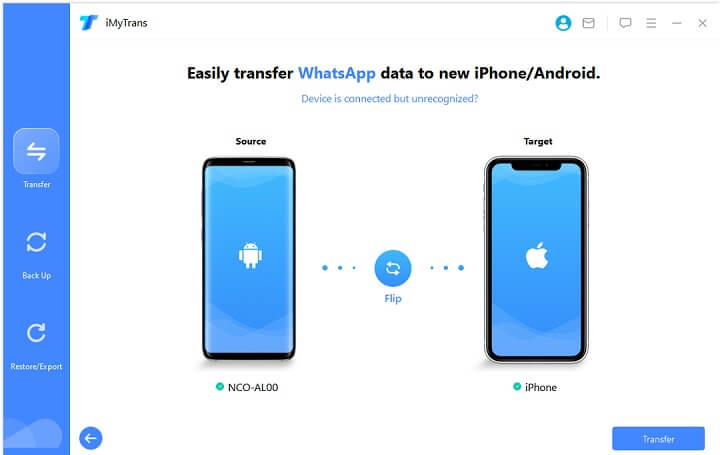 Note
You can click "
Switch
" button to change the source and the target devices.
Step 2.Then, tap on "Transfer" to start the process.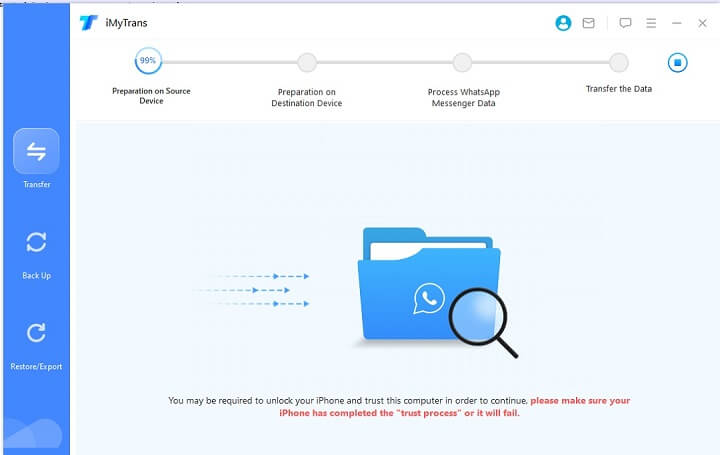 Step 3.Ensure to keep the devices connected until the "WhatsApp Messenger Backup Successful" shows on the screen. The process is done.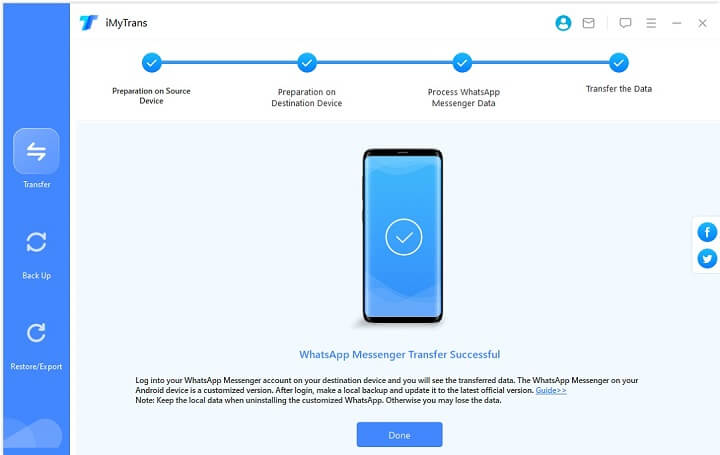 Pros
It's free to back up WhatsApp chats effectively and without data loss.
Export WhatsApp Chats from iPhone to Samsung Through Email
Another approachable method you may try is by using Email. Yes, the feature that you use every day. The good thing about using Email is you don't have to install anything to get things done. Now, how to move WhatsApp chats from iPhone to Samsung using email?
Here's what you need to do:
Open the Setting option in WhatsApp, and further select Chat Setting.
Click Email Chat from the drop-down list, and select any chat you wish to transfer.

Now there will be two options available: Attach Media or Without Media. To choose which one suits you the best.

And then, finalize the process by clicking Send.
Now you can open the chat that is served in txt format.
Cons
The process will always create a txt file that can't be seen conveniently.
FAQs: More About Transfer WhatsApp Between Different Devices
1

How to back up WhatsApp from Samsung to iPhone?
By reading the information above, you might use one of the several methods to properly do this. You can either use Email, which is free but comes with a few limitations. Pay attention to Smart Switch that is only for Samsung as the target decive. That's why we highly recommend using third-party tool like iTransor for WhatsApp to make the job feels much easier and completely.
2

How do I transfer WhatsApp messages to a new phone without backup?
It actually depends on what kind of new phone that you have. If it has the same system as your previous one, the process would be much easier. For example, if you want to transfer WhatsApp messages from and to iPhone devices, you can either use iCloud or iTunes. For Android phones, the approachable ways are to use Google Drive or local backup. If you happen to have a brand new phone with a different operating system, you may follow the steps above to do proper backup and transfer.
Conclusion
By having a helpful hand from third-party software, the job can be done in a much more straightforward way. Among the three options above, iTransor for WhatsApp is easy and free to back up your WhatsApp data, if you want to transfer and restore WhatsApp backups, you can try it.