Question
WhatsApp can sometimes take a toll on the memory of our phones, can WhatsApp be moved to SD card?
Yes!
Most smartphones have limited storage, and SD comes in handy by adding extra space. So, moving WhatsApp to SD will significantly reduce your phone's memory consumption, allowing you to install apps and efficiently receive and media through the application.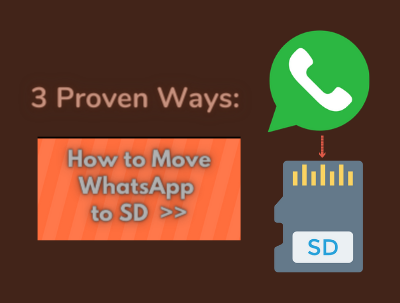 We all know that WhatsApp does not provide an option of choosing your storage. While that is the case, you may still not be able to select SD as storage through WhatsApp. However, there are several ways to go about it. This will allow you to free up some space on your device and improve its performance.
Part 1: Move WhatsApp Data to SD via iTransor for WhatsApp
There is still no inbuilt solution for moving WhatsApp to an SD card on the application. But there are many ways you can work with tool to transfer your WhatsApp data. For iTransor for WhatsApp, you can use it to back up your WhatsApp data if you are running low on memory. iTransor for WhatsApp will let you have a backup of your contacts, voice notes, chat, attachments, and much more. It does this and also ensures that your data is not corrupted.

Your WhatsApp files will start being transferred to the SD. Once the backup process is complete, you will get a notification.

The beauty of using this tool to move your WhatsApp is that the process is simple and only takes a few clicks.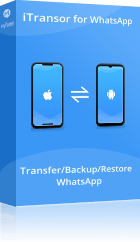 1,000,000+ Downloads
Most Impressive Features:
Direct Transfer: A cable and computer are all you need.
Easy to Operate: One click to transfer WhatsApp chat history and attachments
All Chats and Attachments Are Covered: The program will transfer all WhatsApp messages, photos, videos, contacts, and other attachments.
Safe and Sound: You don't need to worry about data loss.
How to Use iTransor for WhatsApp
Tips
Why don't you try it with a video tutorial >>
Step 1 Connect your device to a computer. To get them connected enable USB debugging and allow access to phone data, or unlock the screen and trust the computer on phone. Once done, click "Back Up".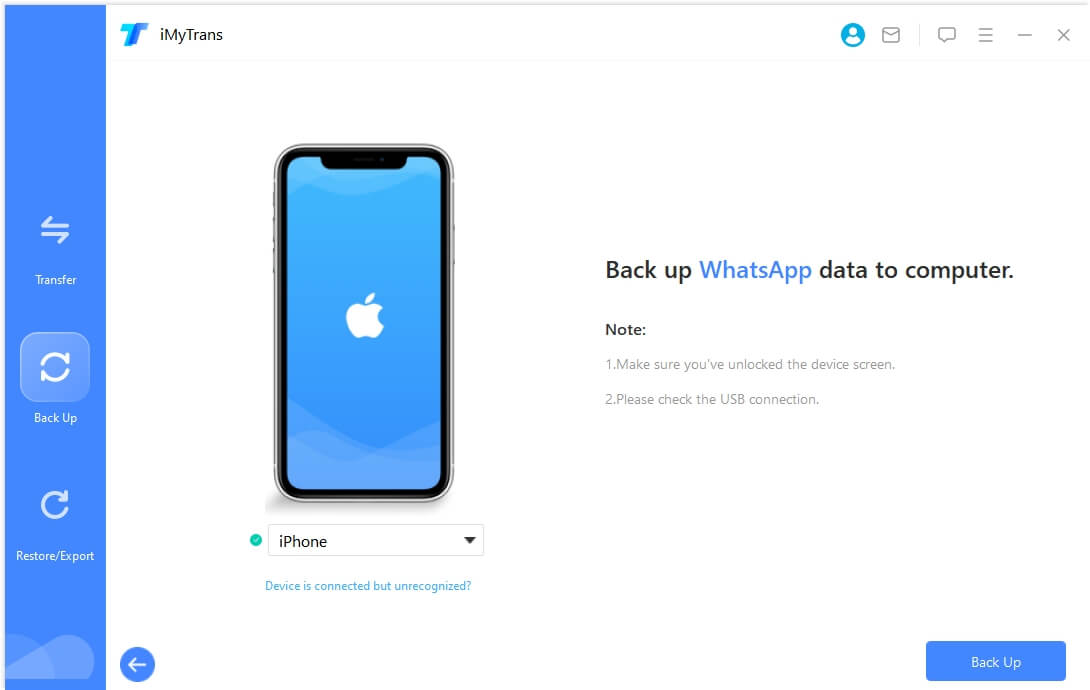 Step 2 Once it's done, select "Restore/Export WhatsApp Backup". You will see a list with the backup you just made. Select the exact group contacts you wish to export and click on "Export to Computer", the program will start to scan the WhatsApp data in this backup.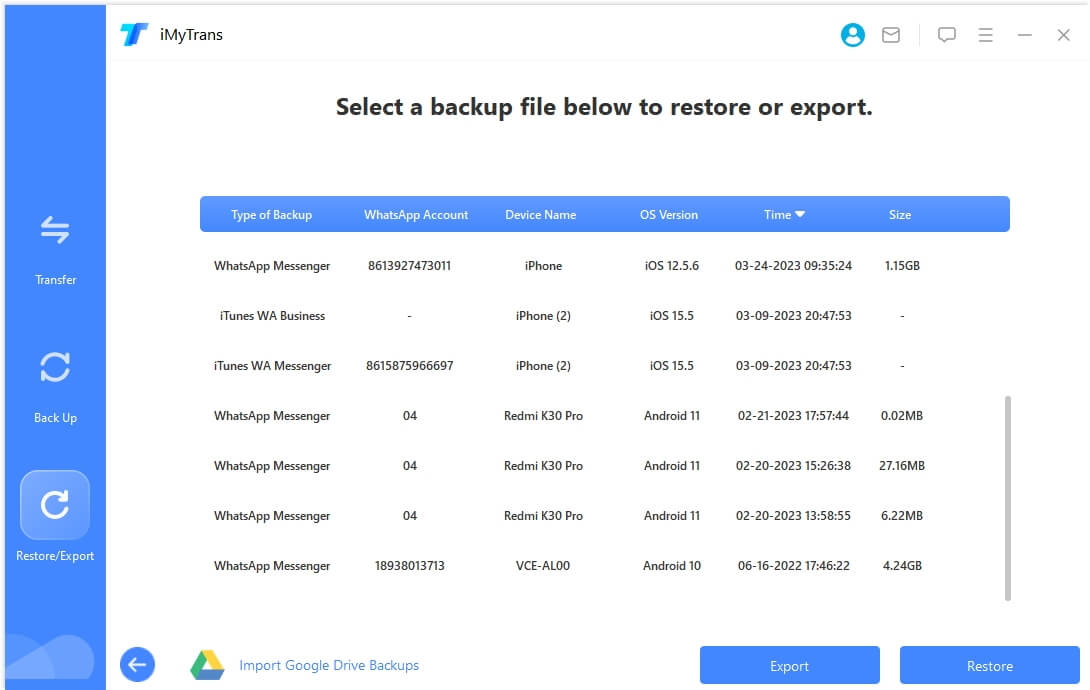 Step 3 After that, all your WhatsApp group contacts and their chats will be shown on the screen. At the bottom of the interface, select XLS, HTML, or PDF (we have all covered) and click "Export".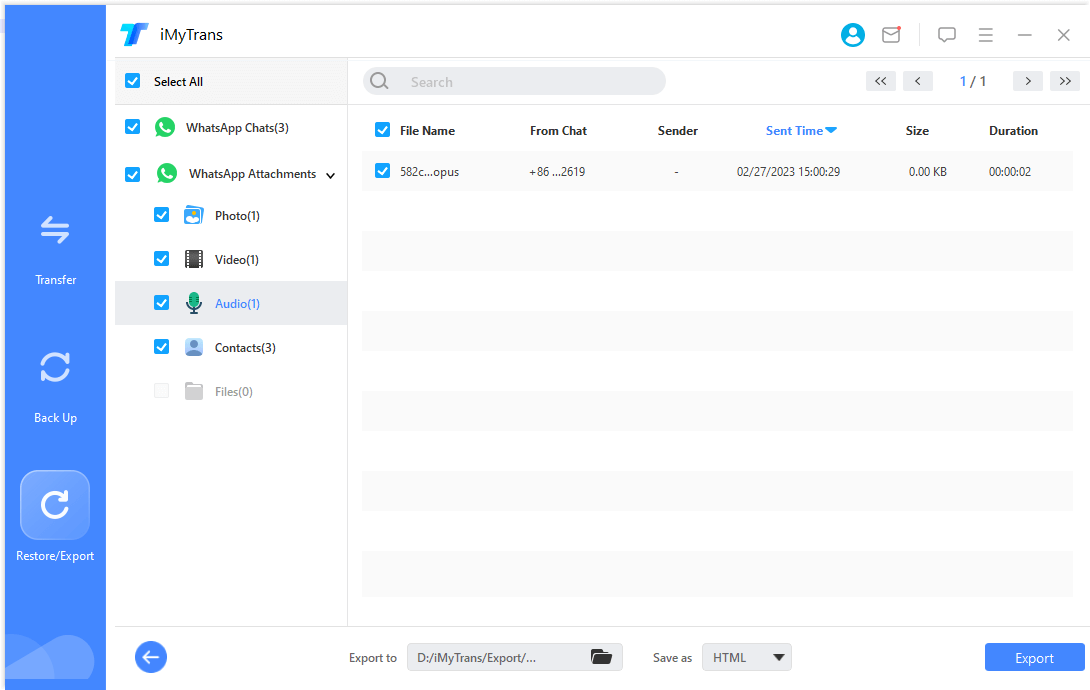 Step 4 We recommend HTML here as it will allow you to read the WhatsApp chat on the browser just like it is on your phone. Or In the exported file such as XLS, you will see all the chosen group contacts and your chats.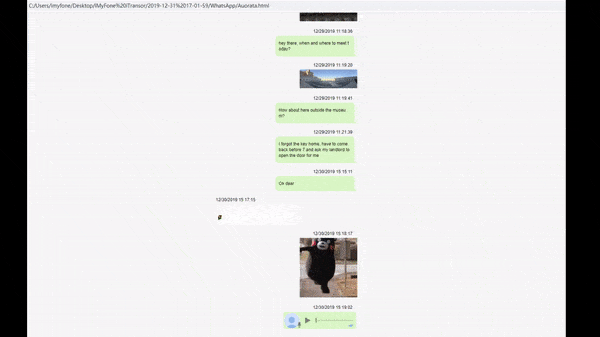 Step 5 When all is done, you can move all the needed file or data on the computer to your SD card.
Set SD Card as the Default Storage of WhatsApp
When you have succeeded, you may don't wanna repeat it in a short time. So here we provide a method to solve it once and for all. In this way you can never worry about the inner space of your phone and have access to manage these data freely and easily. How to achieve it, let's have a look.
Here comes XInternalSD - a tailored tool to reset WhatsApp storage. It is worth noting that this will be impossible if your device is not rooted. If your smartphone is rooted, there is a way you can set the SD as the default WhatsApp storage.
Step 1 Download a secure copy of XInternalSD apk file on your phone. Once the download completes, launch the file, then go to settings on the application.
Step 2 Once you are on the application settings page, click on the check box for "Custom Path to Internal SD Card". From here, click on "Path to Internal SD Card" and change it to external SD card.
Step 3 Once you have changed the path to the internal SD card, select the "Enable for Apps" option. You will get a list of apps on display, from which you are to choose the files to save on the SD card. Enable the WhatsApp option and click "OK".
Step 4 The process is complete at this point, and what you need to do is delete the WhatsApp folder from the internal storage and restart your phone so that the changes are saved.
Step 5 When all is done, you can move all the needed file or data on the computer to your SD card.
Note
There are several ways to go about it. When doing the installation, be mindful of the permissions you give. Only give what is necessary to prevent unknown apps from accessing all your data. Also, consider installing an antivirus app.
Part 2: A Free Way to Move WhatsApp to SD:ES File Explorer
For people don't want to go through steps through a computer, all they need is an application known as ES File Explorer.
The ES File Explorer is yet another option that you can use to move WhatsApp data to the SD card. It helps manage your phone and files efficiently and effectively and share files without data cost.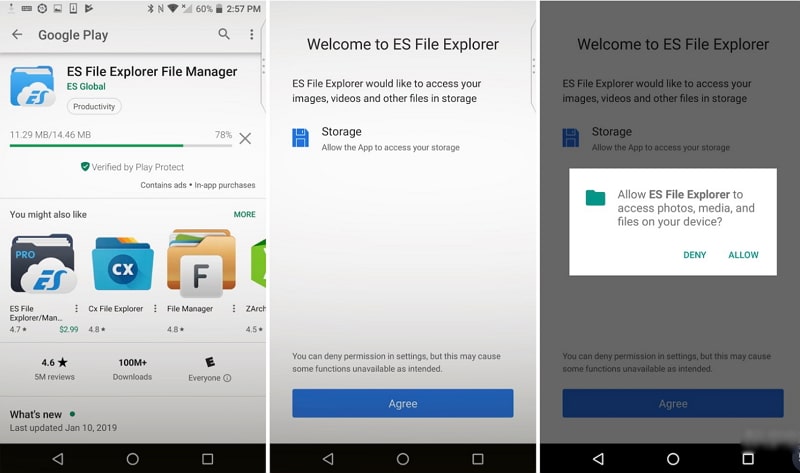 Step 1 If you don't have the application on your phone already, download it from Play Store to proceed. Once the download is complete, launch the app to proceed with the other transfer steps.
Step 2 The File Explorer will let you browse your device storage. Select internal storage and proceed to the WhatsApp folder. You should be able to see all the WhatsApp files and data you have on your internal storage.
Step 3 Select the files and data that you intend to move and copy. The "Copy" option is available on the application's toolbar. Alternatively, you can choose the "Move to" option.
Step 4 After tapping on "Copy" or "Move to", select the location you want to transfer the files to, that is, the SD card. This should complete the process, and your WhatsApp data will be moved to the SD card.
Step 5 When all is done, you can move all the needed file or data on the computer to your SD card.
Note
This is an Android application that you can get for free in Play Store
It has been rated low recently
Part 3: No Third-party App Used to Move WhatsApp to SD: Windows Explorer
If you have safety concerns, you don't have to root your smartphone to be able to transfer WhatsApp data. The good news is that you can connect your phone to your system and go ahead with the transfer with Windows Explorer. Here is how.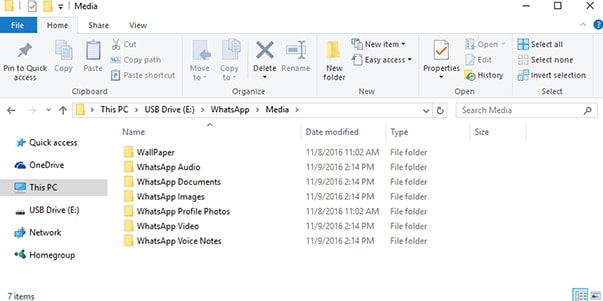 Step 1 Connect your phone to the computer using a USB cable.
Step 2 On connecting, you will get a prompt on your phone to connect. Select the media transfer option.
Step 3 Open the device storage on Windows explorer and look for the WhatsApp folder. Select the folder and copy or cut the files that you will transfer to the SD card.
Step 4 From here, open the SD storage on your computer and past the files from the WhatsApp folder.
More essentially, if you need to develop or test other apps' ability to track GPS information without the need to catch a GPS signal then this app is for you.
Note
Not all smartphones have this option. Hence this method can be limiting.
Take Away: If WhatsApp Data Can Be Back on Your Device?
Most of the time, people transfer WhatsApp data from their devices to SD cards to free up some space on their phones. If you get a phone with more extensive storage, then you might want to have the data back in their internal storage.
The good news is that you can restore your WhatsApp data using iTransor for WhatsApp. Check out the details.
Step 1 Choose a backup from the list and click on the "Restore to Device" button. Once you are ready to start the restore, connect the iPhone or Android phones or tablets that you want to restore with an original USB cable.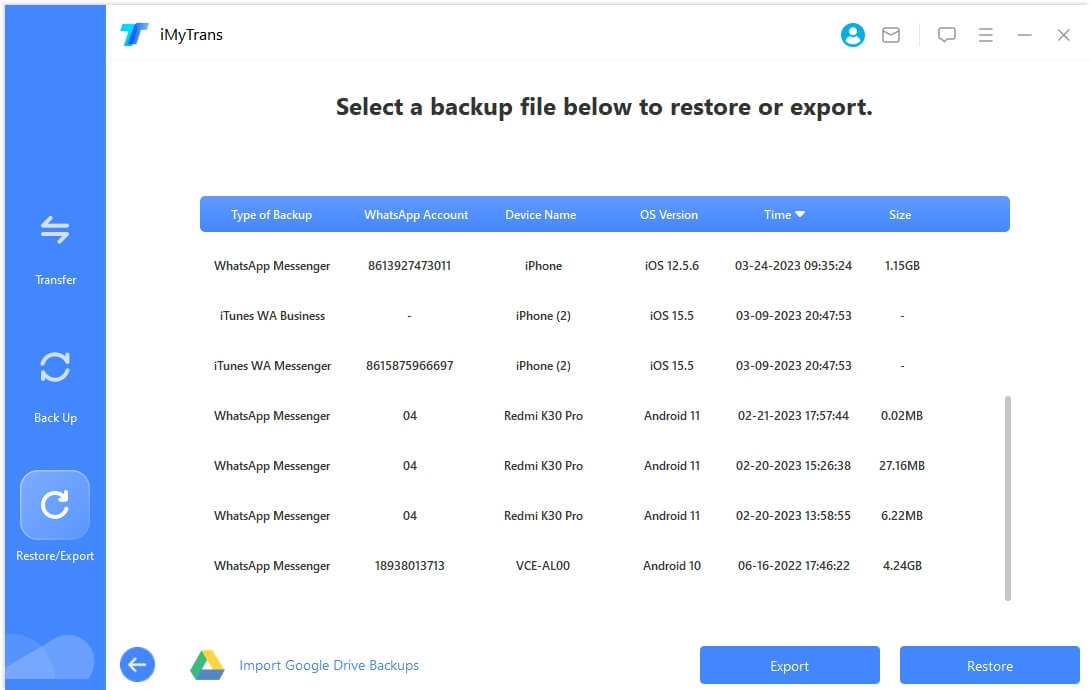 Step 2 Once everything is ready, click "Restore". The WhatsApp data on your target device will be erased. Therefore back them up before the restore.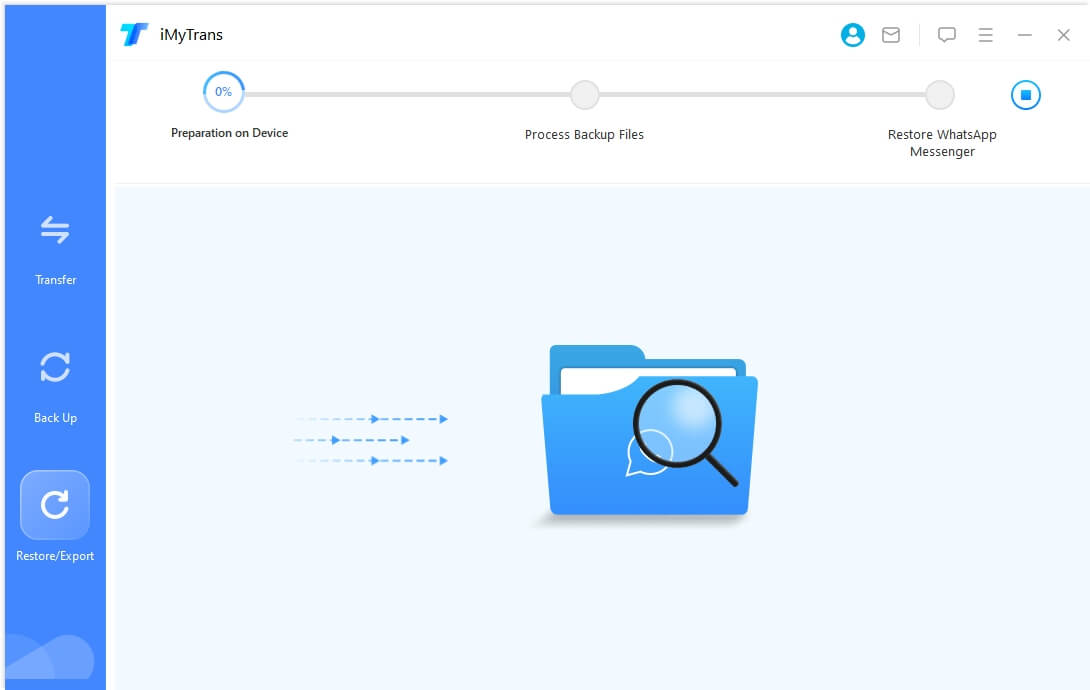 Step 3 When the program is restoring backup to an Android device, it is necessary to install customized WhatsApp which is used to get the data in the backup to your device
When the program is restoring backup to iPhones, make sure that you've installed WhatsApp on your device and turned off "Find My iPhone"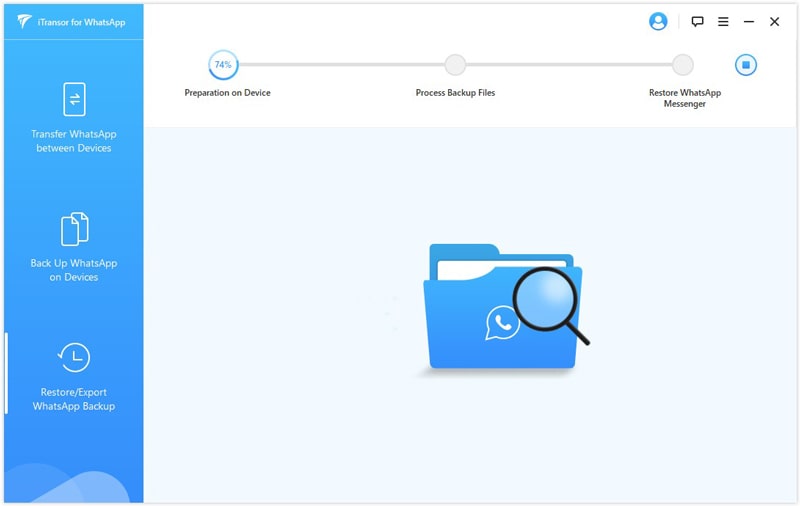 Step 4 The restore time depends on to the size of WhatsApp data. Generally it will be finished within half an hour. Then you can check your WhatsApp chat history on your device.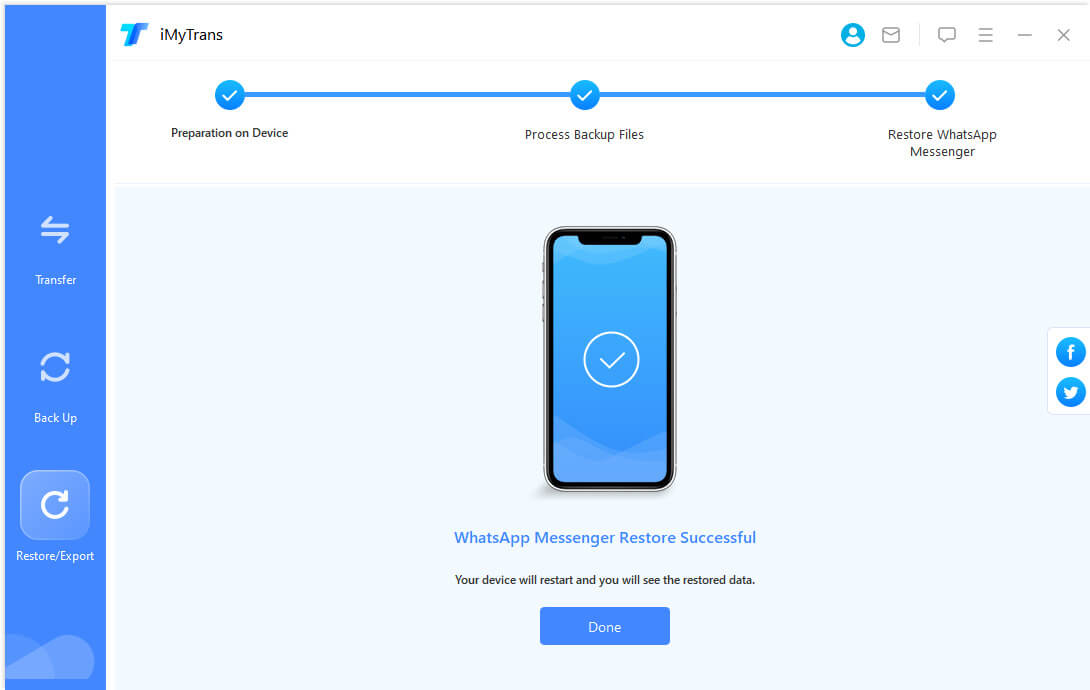 To Conclude
No longer will you have to struggle with export and restore WhatsApp data. If you've tried each of these tips and find them all available, please leave a comment and let us know we have done great work! And Thanks for your support.