WhatsApp is one of the best communication platforms worldwide with a call, chat, video call, and such communication features. However, sometimes we need to keep a record and exporting chat is a good way to keep a record of a text chat. When we need to export the WhatsApp call history, there is no option on WhatsApp for that. So, here we will discuss how to print out WhatsApp call log history on your iPhone and Android devices.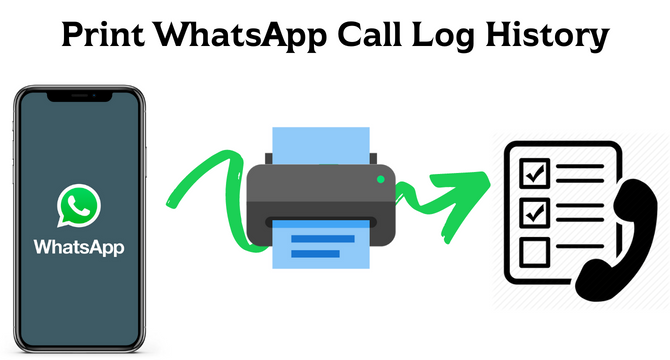 Part 1. How to Check WhatsApp Call History on Android/iPhone
Before you know how to print out the history, it is important to know how to get the WhatsApp call history. The process is a bit different for iPhones, and Android, so below are the details about each of them:
Android:
On Android devices, you can open WhatsApp and go to the call tab. You will have a list of calls. You can tap on any call to get details, and its details, including time and duration, will appear.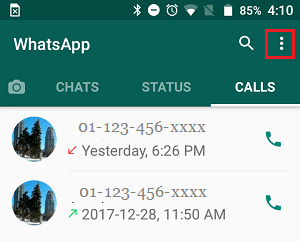 iPhone:
On iPhone, you can open WhatsApp and go to the call tab. Now tapping on the call like you did on Android will start a call with that person. So, press the contact on the left side, and you will get the details.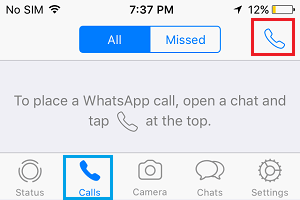 Part 2. How to Print out WhatsApp Call Log History from Android/Phone
If you only want to print out WhatsApp call history with a small record, then you can use this method. It is quick and effective, but it only works when you need a small record. For longer records, you will need to take tons of screenshots, which will make it inefficient.
The following are the steps to print your call history using this method:
Step 1.Open call log
Open the WhatsApp application on your device and go to the call tab. Now you can open the details respective to your device.
Step 2.Take screenshot
According to the screenshot mechanism of your device, you will need to take a screenshot that includes all the details of the call you need to print.
Step 3.Print screenshot
Once you take screenshots, they will be in your gallery. You can directly print those images from your phone if you have a wireless printer. If you do not have a wireless printer, you can transfer those screenshots to a computer and print them there.
Bonus Tip. One-click to Backup and Check WhatsApp Audios and Videos
WhatsApp has much more than just the calls and their history. It is one of the leading platforms people use to share videos and audio. So, if you want to keep track of those things on your WhatsApp by making a backup, then you need to try the iMyFone iMyTrans (new version of iTransor for WhatsApp) tool by iMyFone. Here you get many features with a very simple and easy user experience.
Features of iMyFone iMyTrans
iMyFone iMyTrans comes with a lot of features and benefits that you can enjoy. Most of these features are very useful because WhatsApp officially does not provide these features, but you can use these when you opt for iMyFone iMyTrans (new version of iTransor for WhatsApp). Below are some of the best features that you can use here:
Export any file or chats to Excel or in many file formats.
Transfer all the WhatsApp data including files and chats across.
Transfer WhatsApp bi-directionally between Android and iPhone devices.
Ensure a 100% success rate without losing any information.
Step-by-step Guide to Use
iMyFone iMyTrans helps you easily view your WhatsApp videos and audios by creating a backup of your chats. It works with a single click, and here is how you can do it.
Step 1.Install and launch iMyFone iMyTrans on your PC. Register account and choose proper purchase plan.
Step 2.Choose Back Up WhatsApp on Devices option from the left pannel. Connect your Android or iPhone to computer.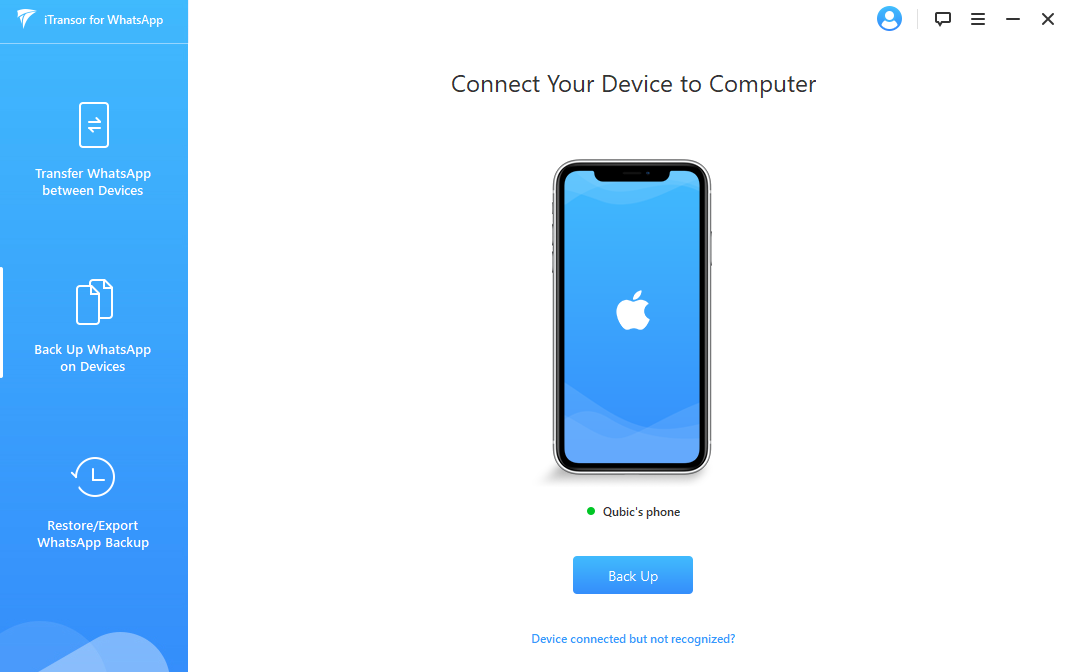 Step 3.Click on Back Up and the process will start. Keep devices well connected to avoid data loss.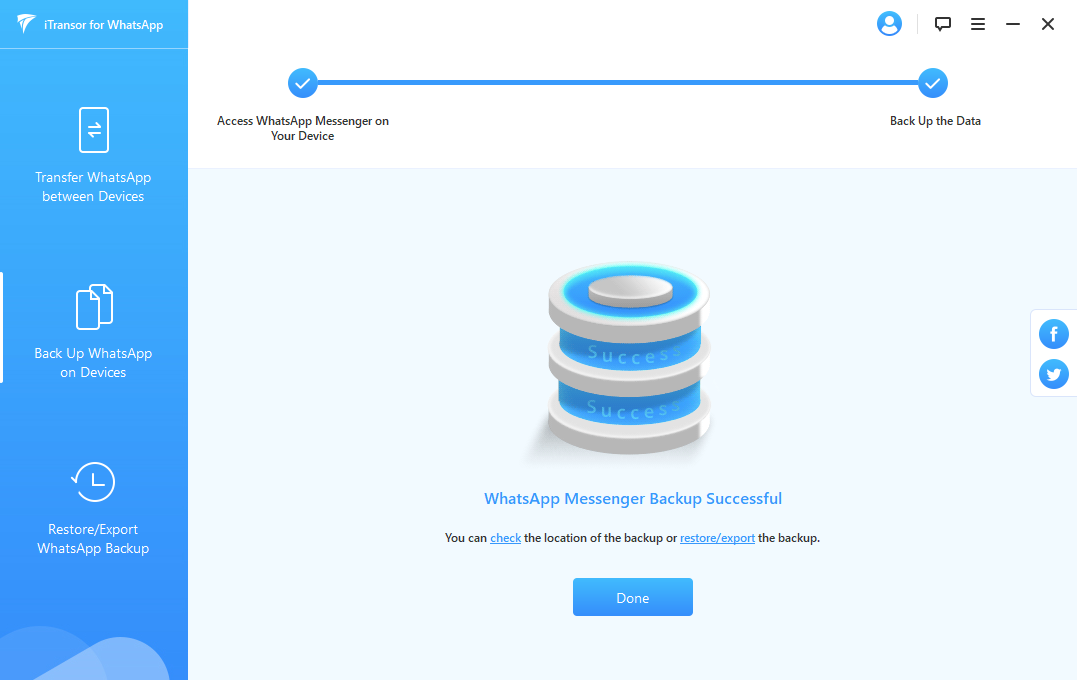 Step 4.When it show WhatsApp Messenger Backup Successful on the interface, You can click check or go to Restore/Export WhatsApp Backup to check and preview the backup.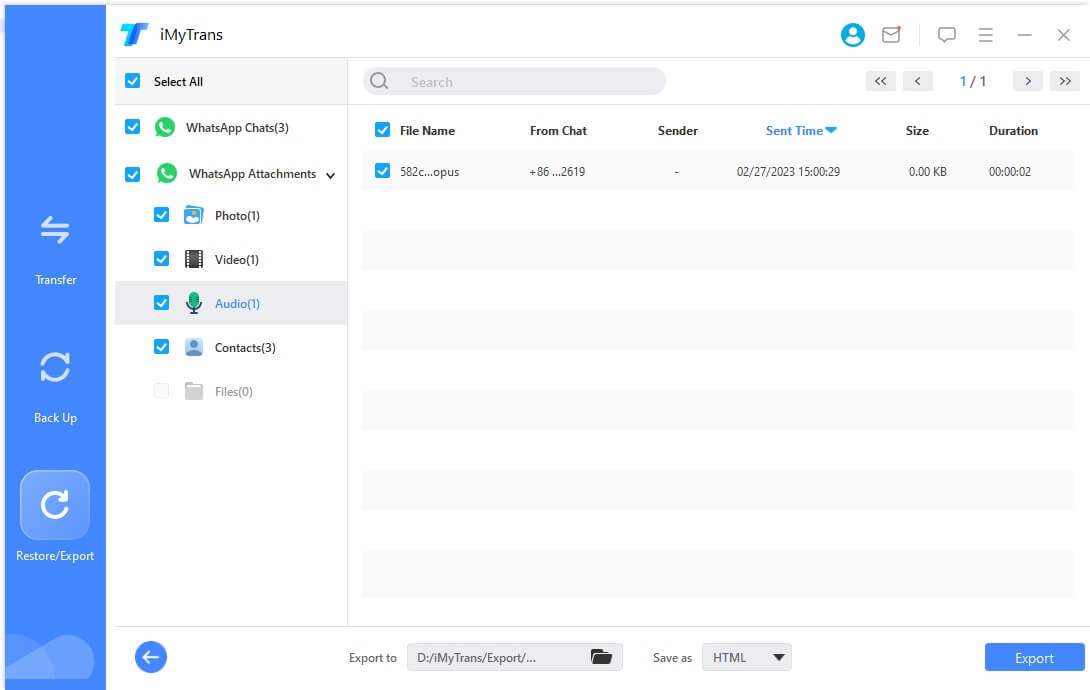 FAQs: More About Checking and Printing WhatsApp Call History
1. Can I check the call history on WhatsApp Web so that I can easily print it?
Yes, a new feature on the WhatsApp web allows you to check the history of calls you have made there. You can access it by pressing the 3-dots and going to history. However, you need to activate this feature as it is not activated by default.
2. Can WhatsApp call history to be tracked?
Yes, it is possible to track the WhatsApp history of calls. It includes some applications that provide this special feature of tracking everything on a device. However, for someone to track your calls, they need to get that app on your phone first.
Conclusion
Keeping a physical copy of WhatsApp call records with all the details can be helpful in many matters. While WhatsApp itself does not provide an option to export the call record, you can use the methods we discussed above to easily get the printouts of your call log history on WhatsApp. iMyFone iMyTrans (new version of iTransor for WhatsApp) is the most recommended one. Download it and have a free try!