We rely on our electronic devices for nearly everything, so when we lose data from them, the results can range from frustrating to triggering outright panic. Among many pieces of data, we don't want to lose PDF files which are file formats used for everything from e-books to legal business documents. Needless to say, these are not elements that we can stand losing.
There are some reasons why PDF files may lose from your WhatsApp. They could be inadvertently deleted by a user, removed without warning by questionable anti-virus software, as well as damaged or purged by malicious software on our devices.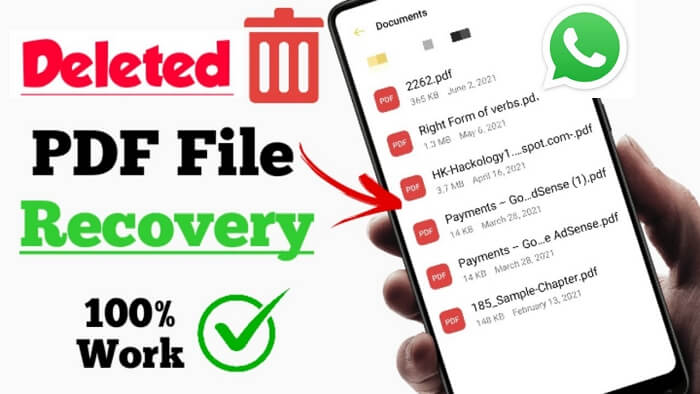 Whatever the reason, if there is no way to get them back, the results could be devastating. Luckily, there are several methods to recover deleted or lost PDF files. Let's talk about how to recover deleted PDF files from WhatsApp on both Android and iOS platforms.
Recover Deleted PDF Files From WhatsApp without Backup
There are multiple tools to assist in recovering deleted WhatsApp attachments, even when they have not been backed up on the phone. iMyFone ChatsBack is the most prominent among such programs.
Come with the highest success rate of PDF files recovery from WhatsApp on Android and iPhone.
100% safe & secure to get deleted PDF from WhatsApp without backup.
Can also download PDF files in WhatsApp from Google Drive and iTunes most efficiently.
Support to restore deleted PDF files in WhatsApp to devices and computers.
You can use the tool to recover files with the following actions. We will take iPhone as example.
Step 1. Install and launch the program on your computer. Connect your phone to the computer and choose Recover from Device Storage from the home page.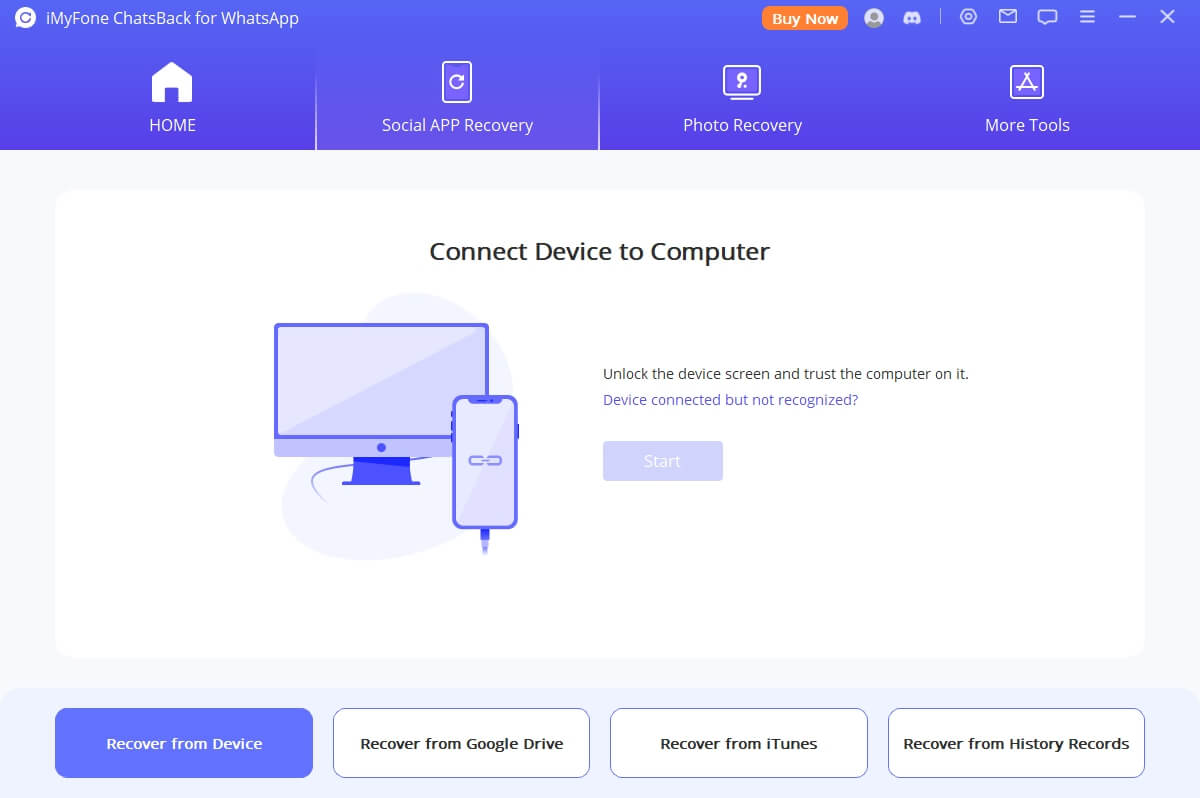 Step 2. Select WhatsApp Messenger when your iPhone is detected. Click Start to scan your WhatsApp data, including PDF files.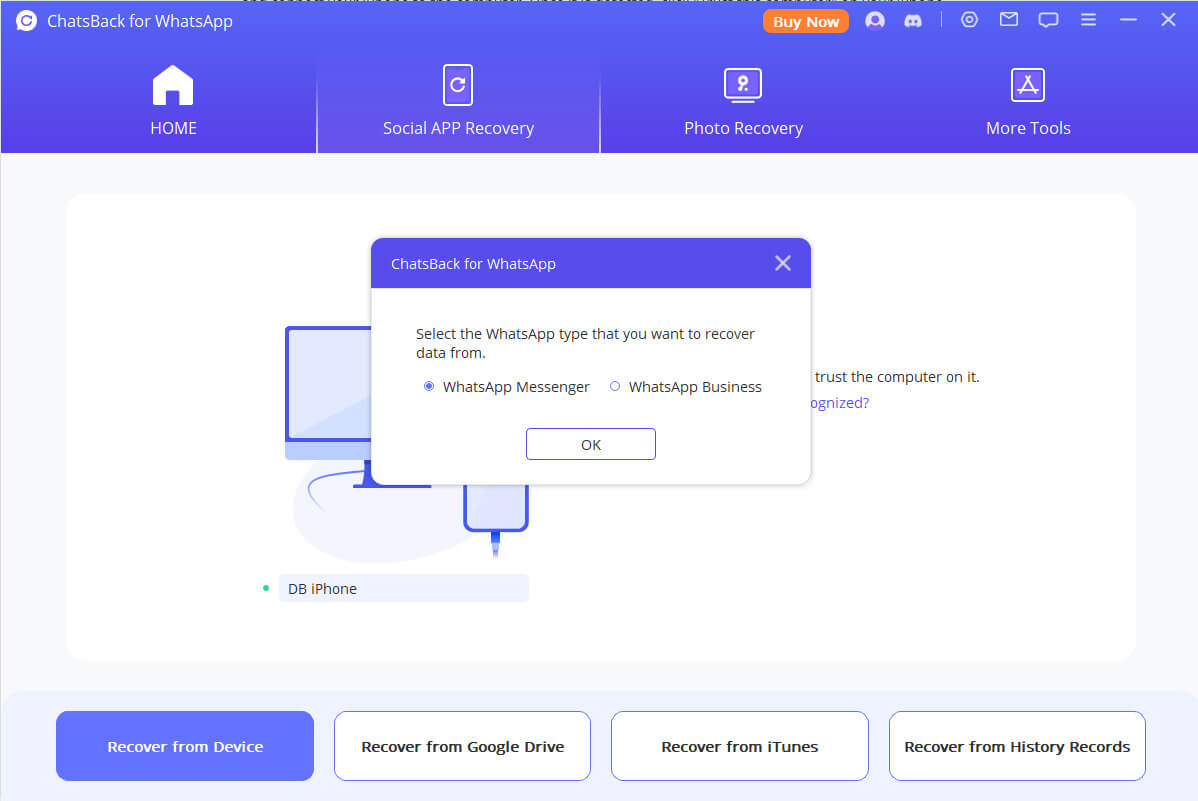 Step 3. Review each attachment for those you want to restore, mark those you wish to restore, and click the Recover to PC button to save the recovered files to your phone or computer.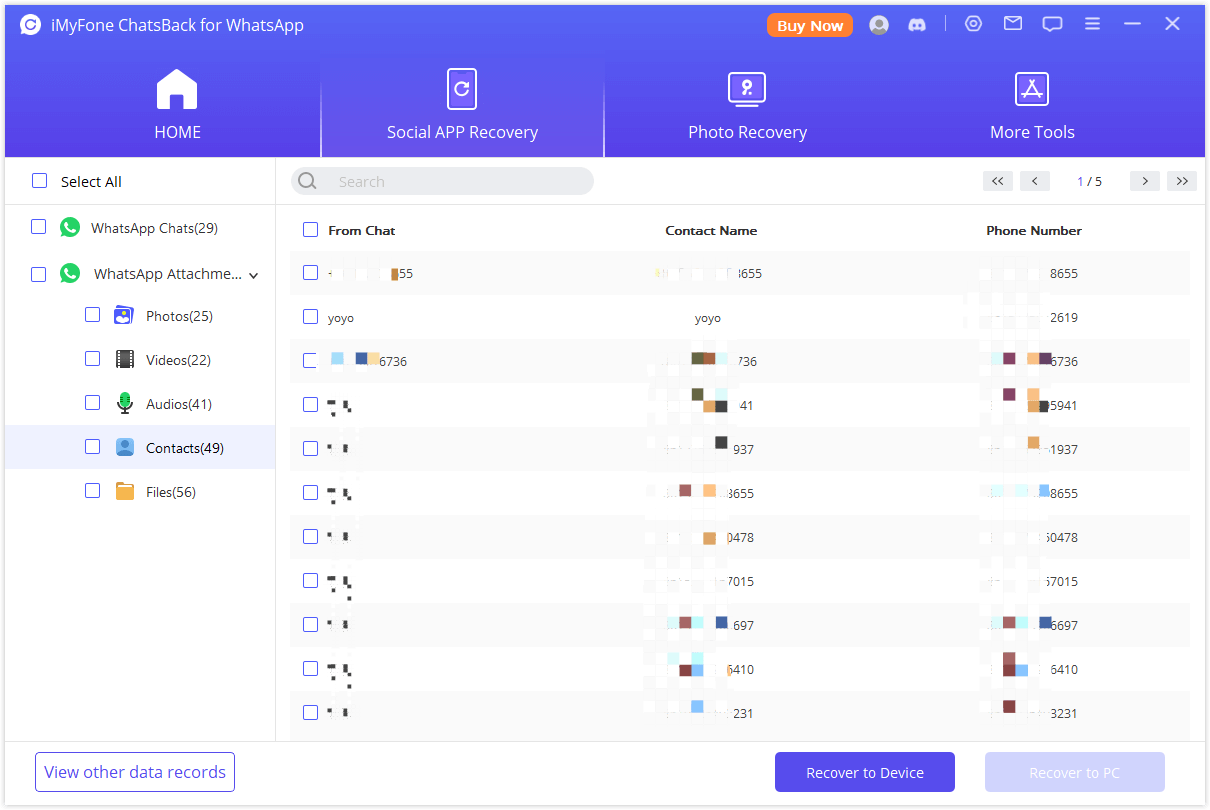 Download the Deleted PDF From WhatsApp via Google Drive
WhatsApp enables an automatic periodic backup copy to be created and stored to Google Drive for Android devices. The user can choose how frequently their backups are generated (daily, weekly, or monthly). And when the period lapses, the WhatsApp conversations and all of their attachments will back up to Google Drive.
The only caveat is that both the Google account and WhatsApp must be linked up to the same phone number. Since you need a Google account to set up a WhatsApp account, chances are that this is the case anyway.
Please follow the below easy steps to recover the deleted PDF file from WhatsApp via Google Drive.
Step 1.
Uninstall the WhatsApp application and install it again. Once WhatsApp finishes installing, you will be prompted with the option to Restore your media and chat content from Google Drive.
Step 2. A Backup Found section will indicate when the last backup was performed and its size. Once you select Restore, the restoration process will start. Its length depends on how much data you had backed up.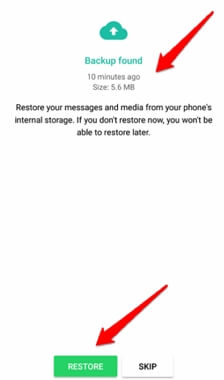 Step 3. WhatsApp will inform you how many messages have been restored when the process is done. Now simply click Next, fill your name out in the name prompt, and your backed up chats will be available. Wait a little longer and the backed-up media (including PDF files) will also begin to return.
Get the Deleted PDF From Google Drive Trash
If your desired PDF file was backed up to Google Drive, but you have since deleted it, it will reside for some time in the Google Drive trash. If you want to restore that file into Google Drive, you simply need to follow the below steps:
Enter Google Drive and select the three-line menu item, then choose Trash.

Find the file you need to restore to Google Drive's primary folders and tap the More vertical ellipsis next to it. Then choose the Restore option (not the Delete Forever option).
Once restored, you can follow the steps of restoration from the standard Google Drive.
Restore Deleted PDF in WhatsApp from iTunes Backup
iOS users back up their data to iTunes, so it is also possible to retrieve the deleted data that way. Using iMyFone ChatsBack makes it easy to recover lost data from your phone from iTunes, even if the programs used to back it up were different. To accomplish that you will need to:
Select Recover from iTunes Backup and choose the particular backup you want to restore on your device. To verify that you are a permitted user, you will need to enter your password to authenticate your identity.

Next, you will be prompted to select the file types you want to restore. In this case, we will only need to select the WhatsApp files to restore, then click Scan to have the tool seek them out.
Note
1. Depending on the volume of results you are expecting, after some time, the results will display. You can filter these files to particular types with the options through the funnels in the upper right-hand corner, then select the files you need to retrieve.
2. You will need to select a folder to which the files will be saved. Once the recovery has been completed, check out the folder to assure that all of the media is in the folder you saved it to.
3. If you don't mind overwriting the data on your iPhone, you can also restore the iTunes backup including the deleted PDF files to your device.
Recover Deleted PDF From WhatsApp via iCloud Backup
If you need another method of how to get deleted PDF from WhatsApp to your iPhone device, consider that you can also restore it from your regular iCloud backups.
As with the iTunes method, you will need to enter your password and confirm that your phone number from a connected device is the same as that linked to WhatsApp. Here are the necessary steps for this method of restoring WhatsApp data to your iPhone:
Enter WhatsApp and look under the Chats section in the Settings to confirm that the Chat Backup has been performed to ensure a restoration point.
Log in to your iCloud account.
Locate the Restore Chat History option and select WhatsApp from the available list of choices. This will reinstall the backed-up files, including PDFs from your WhatsApp attachments.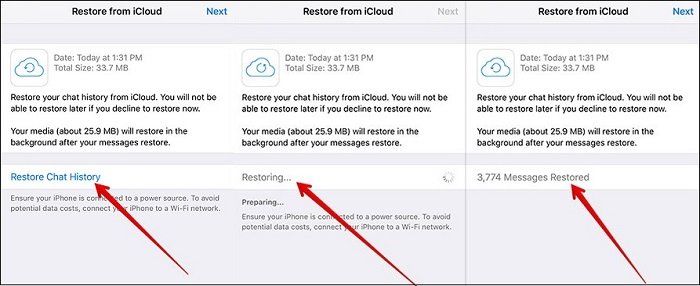 FAQs about PDF file on WhatsApp
The part lists two related questions about PDF files on WhatsApp. If you are interested, continue.
Q1. Where Are WhatsApp PDFs Stored?
Generally, along with other media files, WhatsApp PDF files are saved to the path: your local storage or SD card > WhatsApp > Media folder. If the PDF files are not stored on an SD card, they may store in Internal storage or Main storage instead.
Q2. How Can I Open a PDF File in WhatsApp without Downloading It?
Media sent through WhatsApp is set to download by default, but this can be altered from the WhatsApp settings. To do so on an Android device , find and click on the Data Usage section in the WhatsApp settings, which will prompt another set of choices including the Media Auto-Download option. Simply uncheck all of the options to prevent WhatsApp from automatically saving your media to your device.
On iPhone devices, the WhatsApp Settings has a simple on/off toggle switch next to the Save Incoming Media option, under the Chats section.
Conclusion
We hope this document illuminated several methods that you could utilize to restore lost WhatsApp PDF files back to your device.
You can recover deleted PDF files from WhatsApp with backups. If you have no backup, don't forget to try the WhatsApp data recovery tool --iMyFone ChatsBack.