Everyone knows the anxiety that takes over you when some of your data is accidentally deleted. Since WhatsApp is among the easy ways of sharing essential information. Losing them is pretty harder to grasp; it's like losing some of your important memories. However, fear not. Within this article, we've mentioned the best methods to recover deleted WhatsApp folders. Read on to find yourself a perfect solution!
Part 1. How to Recover Deleted WhatsApp Folder
WhatsApp had evolved how messaging looked before. This free messaging app uses the internet to send messages, audio, videos, and documents. It even enables its users to make voice and video calls. While using it, you might accidentally lose your important messages folder and realize that you need it back.
You need to find a reliable method to recover them, which we'll be revealing in this article.
1.1 3 Clicks to Recover Deleted WhatsApp Folder on iPhone/Android
Among all the methods and steps we'll mention in this article, iMyFone ChatsBack is the best tool for anyone who wants their chat back, whether it's from an individual WhatsApp or WhatsApp business.
It uses its robust algorithm to recover deleted WhatsApp folders android within just a few seconds. It introduces multiple features. With this software, you can quickly scan your iPhone and Android devices for lost data and retrieve them. Now, let's move on to some of its best features.
Here are some of its key features:
Secure recovery of all types of WhatsApp attachments and files.
Introduces four recovery modes. You can recover your data from the device's internal store, iTunes backup, Google Drive backup, and history records.
Come with a higher success rate for every WhatsApp message, video, image, and file recovery.
Available for almost every android and iOs version, even iOS 15 and Android 11.
Allows you to preview the files before you recover them.
With the above features, you might have gotten an idea of this incredible software with the above features. Now let's find out the steps to do so. After installation, you'll need to follow the step given below.
Step 1. Select Device Storage
Choose the "Device Storage" option once you open the software. And then connect your device to your PC.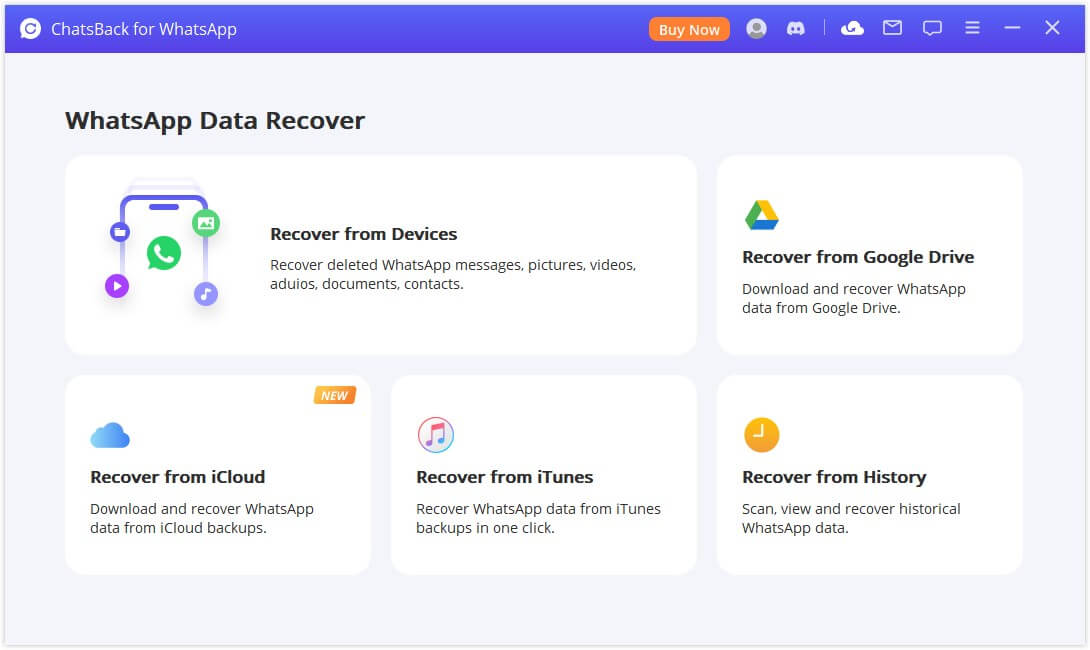 Step 2: Verify the details
Once the device is connected, you'll have to provide some information to verify the device. Provide all the information to continue the scanning process.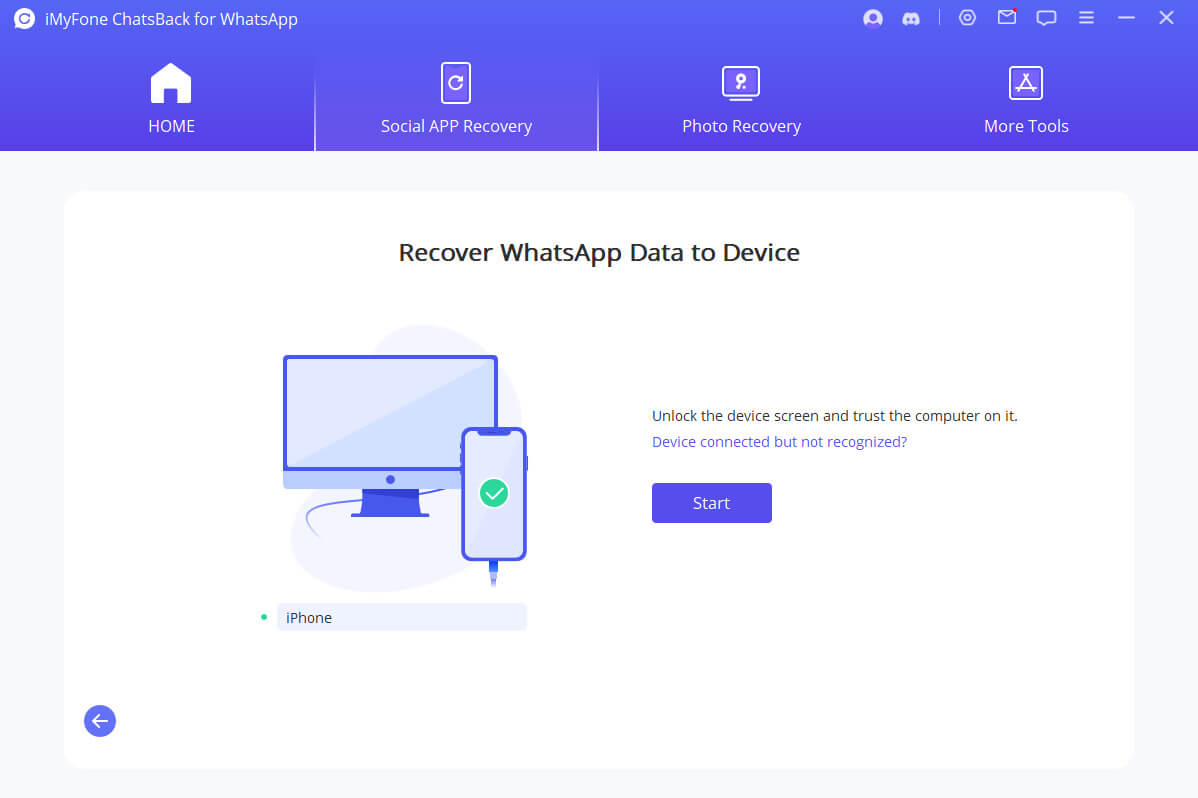 Step 3. Preview and Restore WhatsApp Attachment
After the scan is complete, the program will enlist all the WhatsApp content on your phone. Preview it and select the desired range to recover.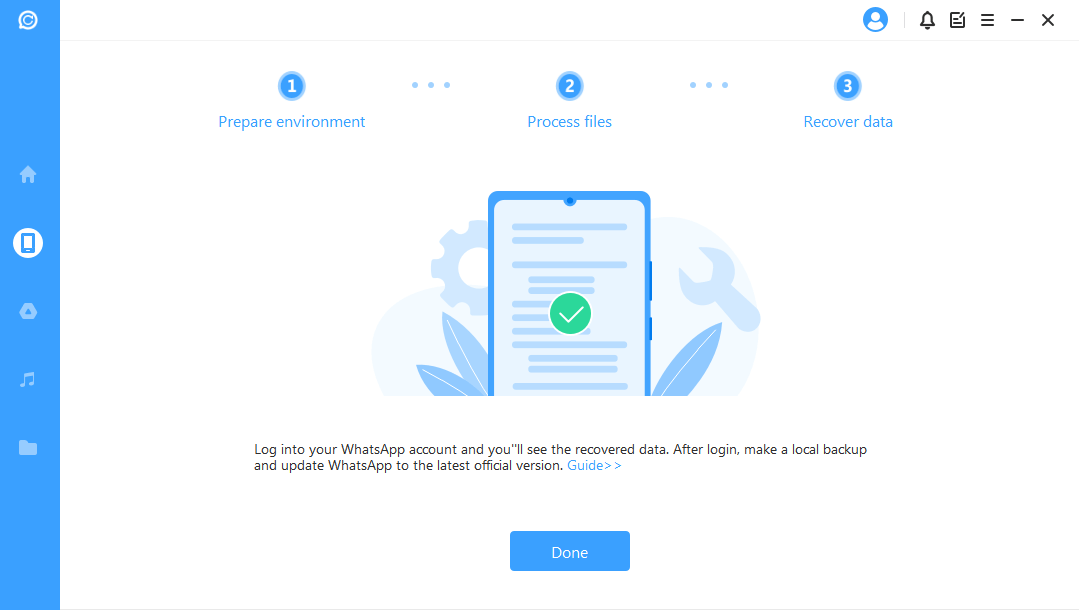 The method remains the same for both devices. If you use Google Drive backup or the iTunes backup method, you'll have to share the login access, and the tool will search for the latest backup option. You can then restore all the data from that.
1.2 How to Recover Deleted WhatsApp Folder on Android
If you haven't backed up your deleted WhatsApp folder, then iMyFone ChatsBack would be recommended to recover deleted Whatsapp folder android. If you already have a conversation backup, you can use the Google Drive backup to back up your WhatsApp folder.
Remember that the method is only applicable if you have backed up your data on google drive. Let's take a look at its steps.
Step 1: Reinstall Your WhatsApp after uninstalling it.
Step 2: Follow the on-screen instructions and verify your WhatsApp number.
Step 3: After that, the software will prompt you to select the restore option to recover your chats from google drive. Click on restore and wait for the restoration to get completed.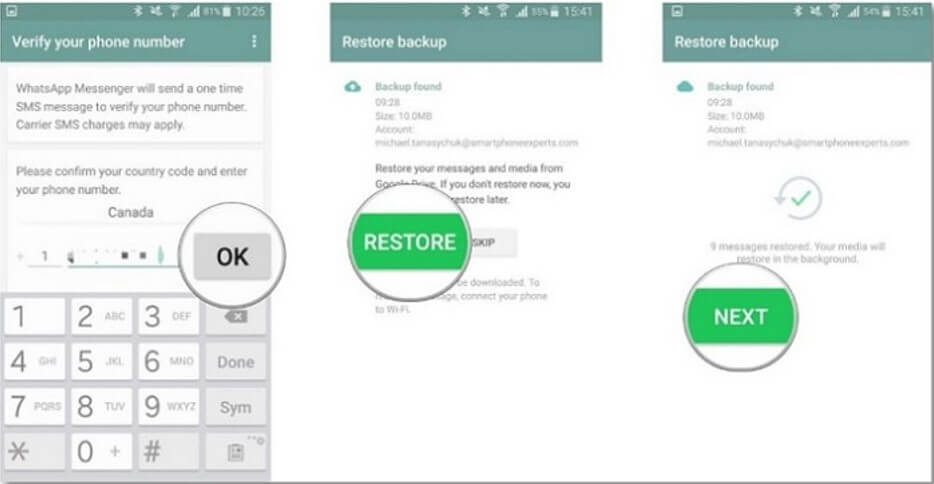 Step 4: Once the restore is completed, click next, and your chats will restore your media from Google Drive.
This is one of the easiest ways to recover deleted WhatsApp folder on Android.
1.3 How to Recover Deleted WhatsApp Folder on iPhone
Are you an iPhone user and want to know how to recover deleted WhatsApp folder? If so, then this iCloud backup method is what you'll need. iCloud backup is among the best ways to recover your deleted files or folders. You can follow the steps below if you want to know how to recover a deleted WhatsApp folder?
Step 1: First, delete all material. Select Reset in general settings. Now click on "Erase all material and settings." The entire process could take some time and involve asking you to enter your Apple ID and password.

Step 2: You'll need to reinstall your iPhone. This implies that you must go with the setup until you see the "Apps & Data" screen. Select "Restore from iCloud Backup."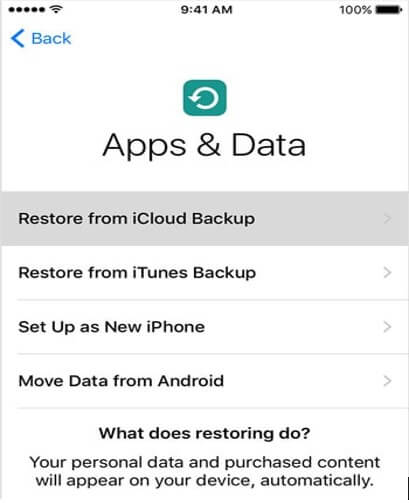 Step 3: Your ID and Password will be required to log into your iCloud account. The list of all your backups is found after that. Pick the one you want to restore. Your backup will begin downloading as indicated by a progress bar. Depending on the speed of your internet connection and the backup file size, this process could take a while.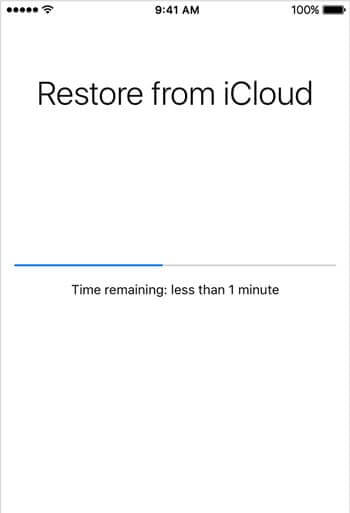 Step 4: You can finally begin using your iPhone. Keep the iPhone connected to the internet since all the restored data will continue to update in the background. Now that WhatsApp is open, you may wait for all of your messages to arrive.
Part 2. FAQs about WhatsApp Data Recovery
Here are the following FAQs about how to recover deleted WhatsApp folder:
2.1 What will happen if I delete the WhatsApp Database folder
They won't impact you if you delete them. The issue is that deleting these won't do you any good. Every day until they are all restored, WhatsApp will reconstruct them. This WhatsApp backup behavior cannot be altered.
2.2 Where is the WhatsApp folder on iPhone
Just select "Settings" > General" > Storage and iCloud storage. Now on your iPhone, go to "Manage Storage," then hit "WhatsApp" to see the "Documents & Data" section.
2.3 Where is the Android WhatsApp folder location
The WhatsApp folder is stored automatically in the internal storage of your Android. You can access it by going into the internal storage folder. If your mobile's internal storage is saved on an SD card, you can access it on your SD card.
Conclusion
Within this post, we've discussed all the essential methods to recover deleted WhatsApp folders android and iPhone. If you want the best solution without backup, then using iMyFone ChatsBack is your life savior. With its incredible features, the tool is always there to help you recover. Don't overthink; take the next step and download this software now!