WhatsApp is great, but GBWhatsApp and its features are even better. Unfortunately, it's not easy for someone to transfer their old GBWhatsApp data to a new phone. After all, not a lot of people know how to transfer GBWhatsApp data to new phone. But worry not, as this article will tell you how to transfer the GBWhatsApp data from one phone to another. If you want to know how to do it, don't stop reading and keep going!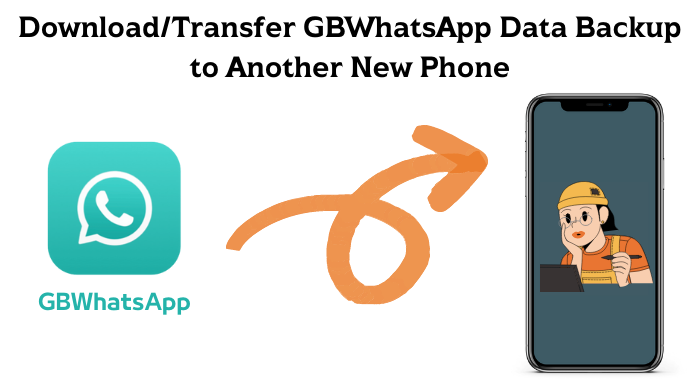 Part 1. How Can I Download GBWhatsApp APK Freely?
Before we start our journey on the tips to transfer GBWhatsApp data easily, let's get to know GBWhatsApp first.
GBWhatsApp is an upgraded version of WhatsApp. What makes people prefer GBWhatsApp compared to the official WhatsApp is the fact that GBWhatsApp has lots of features that are actually beneficial to us. By using GBWhatsApp, you can hide the double checkmark feature, tweak the theme of the chat pages, set statuses, and many more. So if you want more privacy for WhatsApp, GBWhatsApp is the answer.
However, since GBWhatsApp is not the official software, you won't be able to find it on Google Store app store. Instead of the respective devices' stores, you'll have to install it directly from its website, which is https://gbapps.net/GBWhatsApp-apk/. With just an installation, you'll be able to get the advanced version of WhatsApp on your device. No root needed!
Part 2. Can I Backup GBWhatsApp Messages/Chat to Google Drive?
The official answer is No. GBWhatsApp can't be backed up to Google Drive. This is because of the fact that only the official WhatsApp can be linked. And Since GBWhatsApp is not official, you won't be able to link it to Google Drive directly.
However, it doesn't mean that you can't transfer GBWhatsApp data or back it up. You can still do it, but you will have to use a third-party application to do so. Don't worry, as there are plenty of save third-party apps you can use to save your GBWhatsApp data. One of those applications is iTransor for WhatsApp. It is an application you can use to backup or transfer GBWhatsApp data to PC.
WhatsApp Data Transfer Tool
Backup GBWhatsApp to Computer using iTransor for WhatsApp:
Step 1.Install and launch the program on your computer first. Connect your phone to PC with a USB cable and allow all the permissions so that the program can access your GBWhatsApp data.
Step 2.Choose Back Up WhatsApp on Devices from the left pannel. The program will recognize your phone and show it on the interface.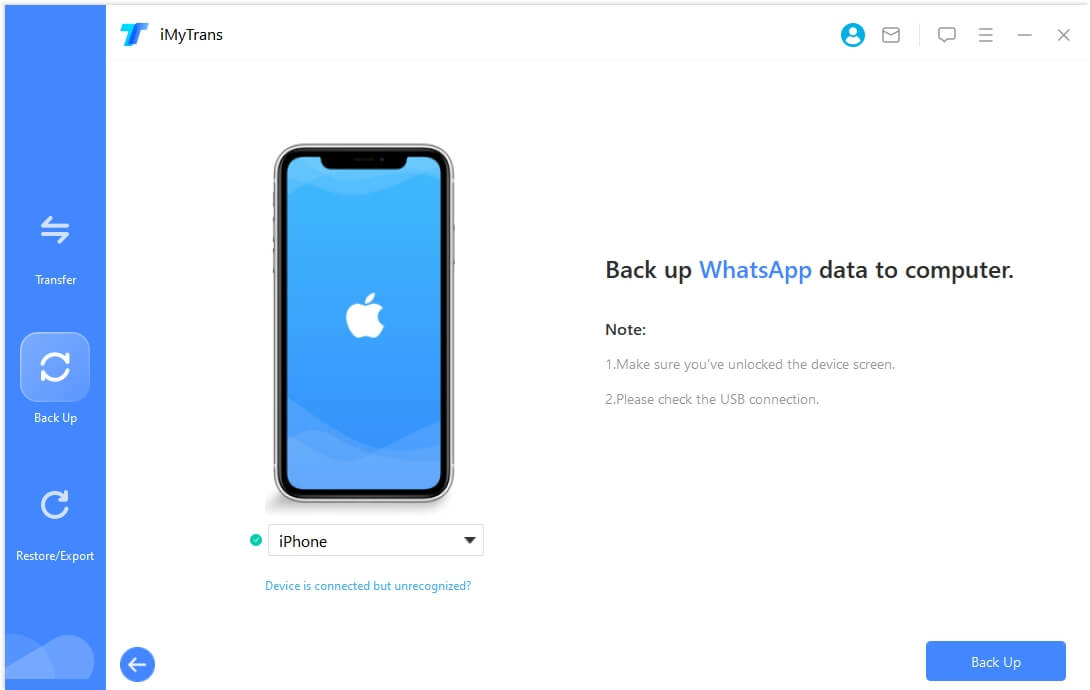 Step 3.Click on Back Up and it will do the process for you. If you use Android, there will be occasions when several easy manual operations needed. Do the steps as instructed on your Android if this happens to you.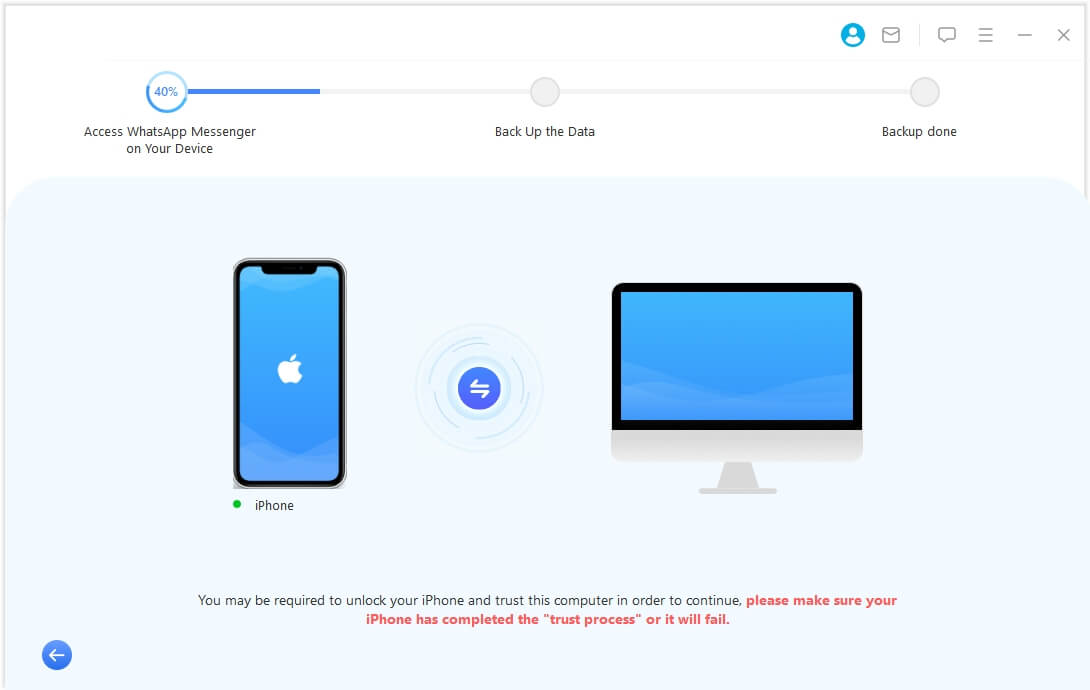 Step 4.Wait for the process patiently and keep devices well connected during the period. When it's finished, the program will inform you and you can view the GBWhatsApp backup by clicking on check.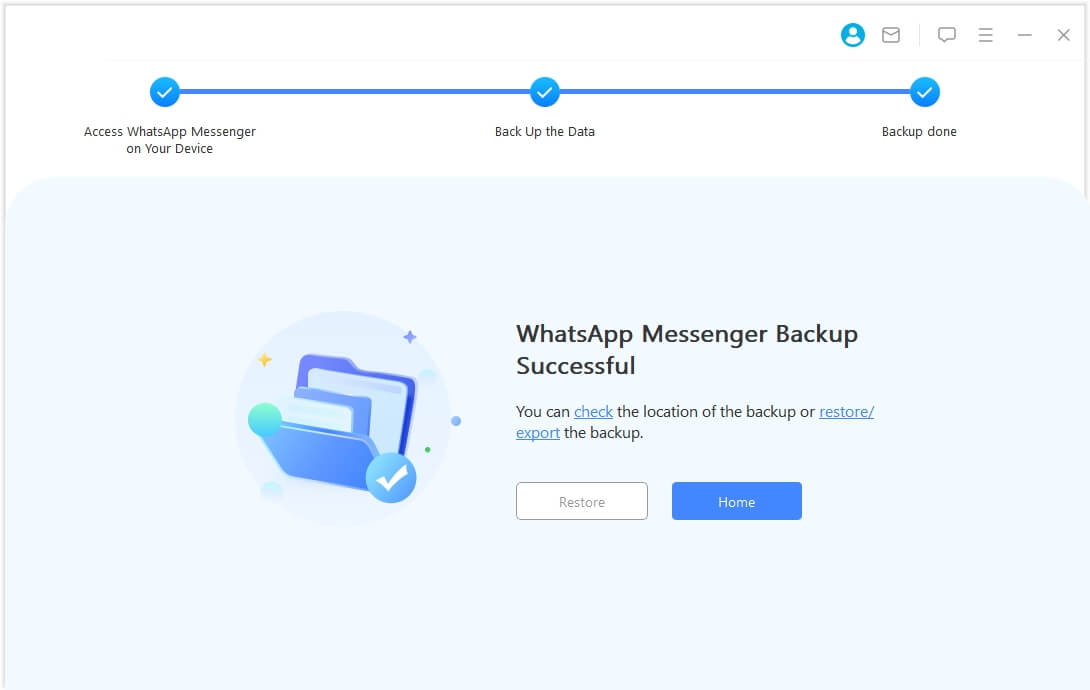 If you complete the backup steps, it will be easy for you to restore the GBWhatsApp backup to another new phone with its data restoration function.
Part 3. Manually Transfer GBWhatsApp Data/Chats/Photos/Files to a New Phone
If you don't want to install any third-party software, you can transfer GBWhatsApp data to new phone manually. It's a bit of a hassle and might not succeed, but it still can be done. Here are the steps to backup the data manually:
Step 1.Find the backup in your phone. The location is usually Storage > GBWhatsApp > Database.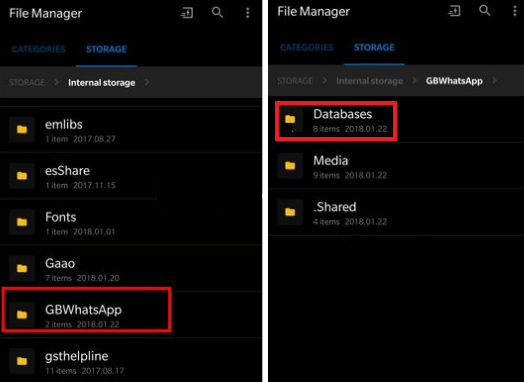 Step 2.Once you've found the backup, Copy and Paste the file to your computer.
Step 3.Install GBWhatsApp on your new phone. After the installation, Copy the forlder from computer to your new phone and put the backup in the same location as the old phone.
Part 4. Restore GBWhatsApp Backup to WhatsApp on New Phone
Most people here probably think that you can only restore GBWhatsApp data to another GBWhatsApp application. Surprise, surprise! You can actually transfer GBWhatsApp data to the official WhatApp. Here's how you do it:
Step 1.Open GBWhatsApp and backup the chats. You can do so by going to Settings > Chats > Chat Backup.
Step 2.Once you've backed up the chat, go to your device's store and install the official WhatsApp. But, don't open it. Just install it first.
Step 3.Now go to Storage > GBWhatsApp > Database and search for the latest backup file (you can find it by sorting the files from their date).
Step 4.After you've found the newest backup, rename it to msgstore.db.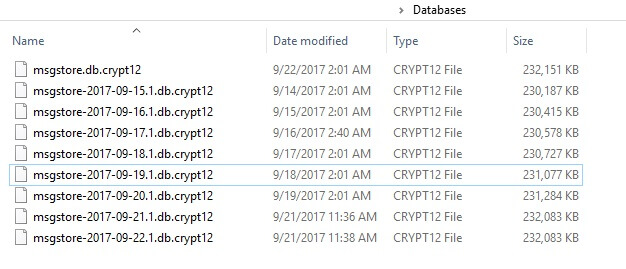 Step 5.Now, copy the renamed file and paste it on WhatsApp > Database.
Step 6.When the file has been copied, launch the official WhatsApp and go through the normal process, including the backup process. WhatsApp will recognize the renamed file as the latest backup file.
Final Words
It's understandable how many people prefer GBWhatsApp over the official one. GBWhatsApp has lots of features that can optimize our chatting experience. Unfortunately, backing it up normally is near impossible, hence why it's important for us to know how to transfer GBWhatsApp data to another phone easily. You can do so manually, but if you want to backup GBWhatsApp data easily, you can use iTransor for WhatsApp. The program will do the job for you, and all you need to do is wait for the backup to be finished. Are you ready to transfer GBWhatsApp data using iTransor for WhatsApp?