Since Windows phones are not as popular as they once were, many consumers ultimately move to a new Android phone. Although it is simpler to export files and shared folders, people frequently struggle to transfer WhatsApp from Windows phone to Android. There is no established solution for this, so you'll have to rely on various third-party applications. This article will answer your questions and teach you how to transfer WhatsApp from Windows phone to Android without losing any data.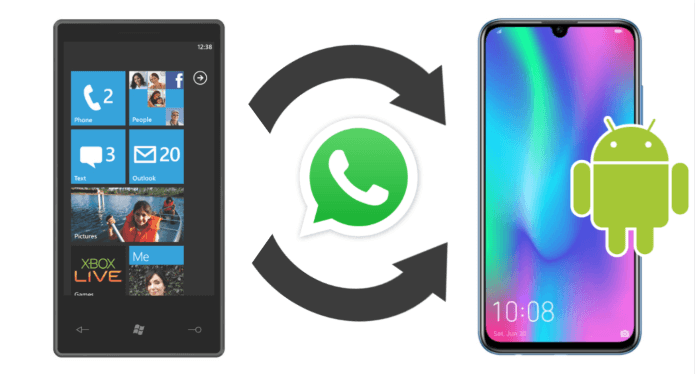 Part 1. Preparations for Transferring WhatsApp from Windows Phone to Android
When transfer WhatsApp from windows phone to Android, things get a little more complicated. You can handle the challenge of transfer WhatsApp from Windows phone to Android by using several tools.
Windows Phone Requirements
You'll need a Windows Phone with Windows Phone 10 installed, and have backed up their WhatsApp account at least once.
Windows Phone Compatible Devices

Lumia 1520, Lumia Icon, 930, 950, 950XL, 830, 730, 735, 635 1GB, 636 1GB, 638 1GB, 640, 640XL, 650, 532, 535, 540, 550, 430, 435

Windows Phone Incompatible Devices

HP Elite x3, Alcatel Idol 4S and 4S Pro, Alcatel OneTouch Fierce XL, BLU Win HD w510u & LTE x150q, MCJ Madosma Q501, Lenovo Softbank 503LV, Trinity NuAns Neo, VAIO Phone Biz (VPB051)
Unlock Your Windows Phone
Enable Developer Mode
On your Windows Phone, go to Settings. Alternatively, you may go to Update & security > For developers or just type for developers into the settings search box.

As shown in the image above, choose Developer mode. You can also use USB discovery to activate the option.
Please remember that your Windows Phone will not be recognized by your Windows PC immediately after finishing the UNLOCK method.
Install & Run Interop Tools
Download interop tools to your Windows Phone from the Internet, either move the downloaded package to your phone.
In your Windows Phone, use 8zip or another archive application to unzip the file. Using File Explorer, browse to the extracted destination path.
When you unzip the extracted archive, you'll notice two files and a Dependencies folder.

Click and install the files in the following order:

InteropTools_x86_x64_arm_LegacyRelease.cer > All the files from Dependencies/ARM folder > InteropTools_2.0.95.0_x86_x64_arm_LegacyRelease.appxbundle

After installing the Interop Tool, start it, and grant the necessary rights. From the Interop unlock setting, enable the Interop Unlock and Engine Unlock functions.
Get Required WhatsApp Data on Windows Phone
Connect your Windows Phone to a PC running Windows 10. Check to see if the hidden files and folders are viewable.
Search for a file called messages. db in your file system.

Make a copy of the file and save it to your PC.
If you are prompted to Convert and Copy, choose No and copy.
Finaly copy it into your Android smartphone.
Part 2. Transfer WhatsApp Backup from Windows Phone to Android
Now you can extract the file on your Windows phone and send the data to your Android.
Extract Data with 8 Zip
Open File Manager/Explorer on your phone and browse to the Device > Backups folder. Choose the data from here and extract it with the 8 Zip software.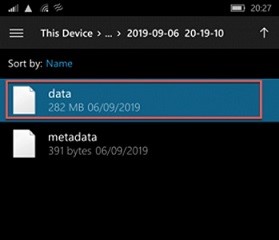 Share to Android through OneDrive or Email
Explore the data once extracted, and choose the messages.db file from the list. Select the file, choose share it, and send it to yourself through OneDrive or email.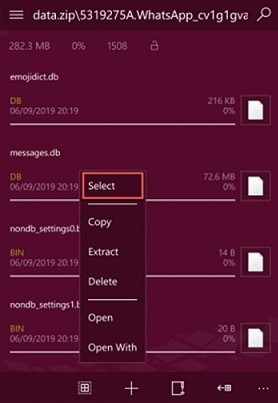 Part 3. Enable Windows Phone WhatsApp Data on Android
Even though we have gotten the data on Android phone now, the format is not directly accessible. The last step we need to do is to enable the message.db file on Android phone by fully utilizing the WazzapMigrator application.
Download Needed Data from OneDrive or Email
First, you can download WhatsApp data files that you have transferred from your Windows phone to email or drive. Choose the files you require from OneDrive or Email.
Install WinWazzapMigrator and WhatsApp
On your Android phone, go to the Play Store and download the WazzapMigrator app for free. Now all you have to do is open the WazzapMigrator app and choose the newly downloaded WhatsApp backup.
It will automatically extract the backup and store it to the Databases folder on your device's internal memory. When you start WhatsApp, it will recognize a previous backup and allow you to effortlessly restore it to your smartphone.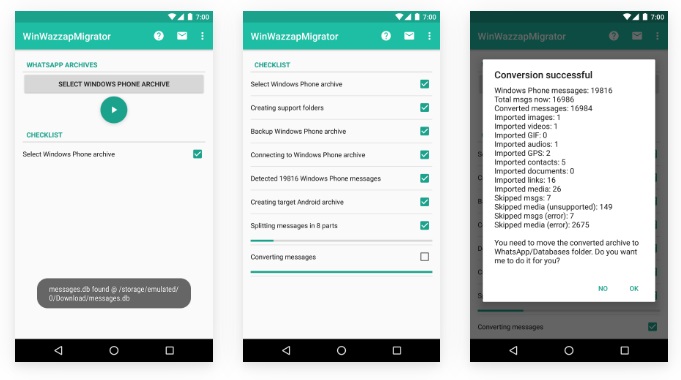 Bonus Tip: Backup & Restore Windows Phone WhatsApp
Since we have transferred WhatsApp data to Android in previous steps, we can finally backup & restore Windows phone WhatsApp. With iTransor for WhatsApp, you can easily manage your WhatsApp backup without manual decryption process.
iMyFone iTransor for WhatsApp
Transfer/Backup/Restore/Export WhatsApp on iPhone/Android with One Click.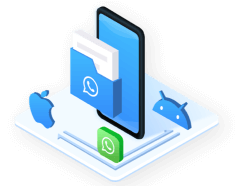 Back Up WhatsApp
Step 1. Connect your device to the iTransor for WhatsApp software by running it. Make sure the USB debug option is turned on.
Step 2. After connecting the device, select Back Up WhatsApp on Devices from the sidebar and press the Back Up option.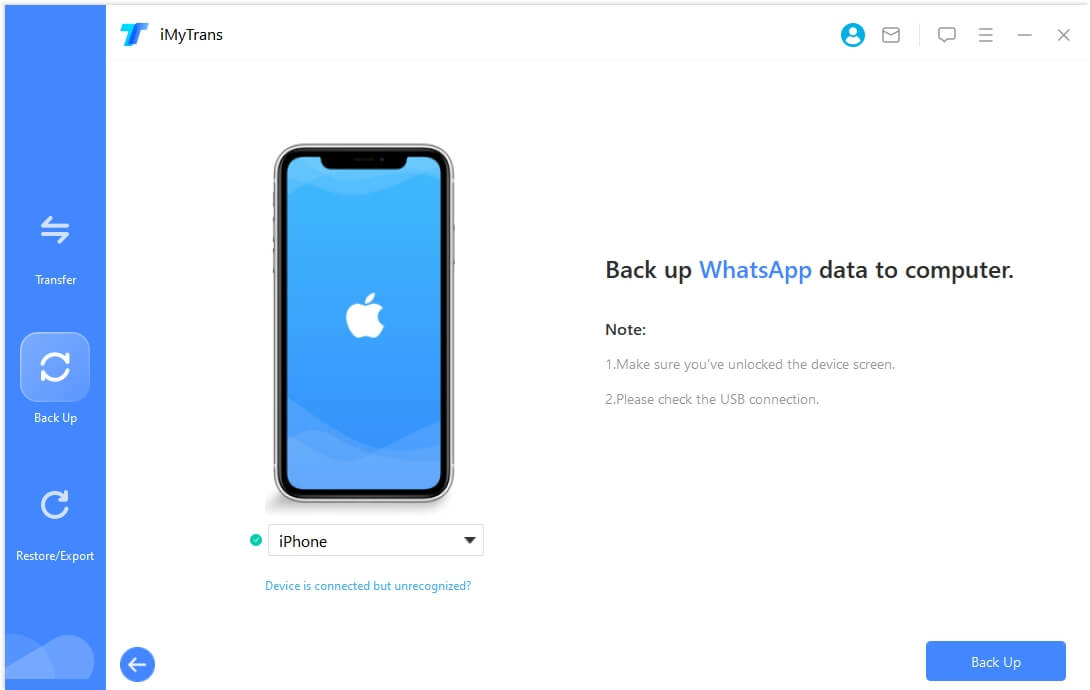 Step 3. The procedure will begin, and you will be able to monitor its progress on the screen.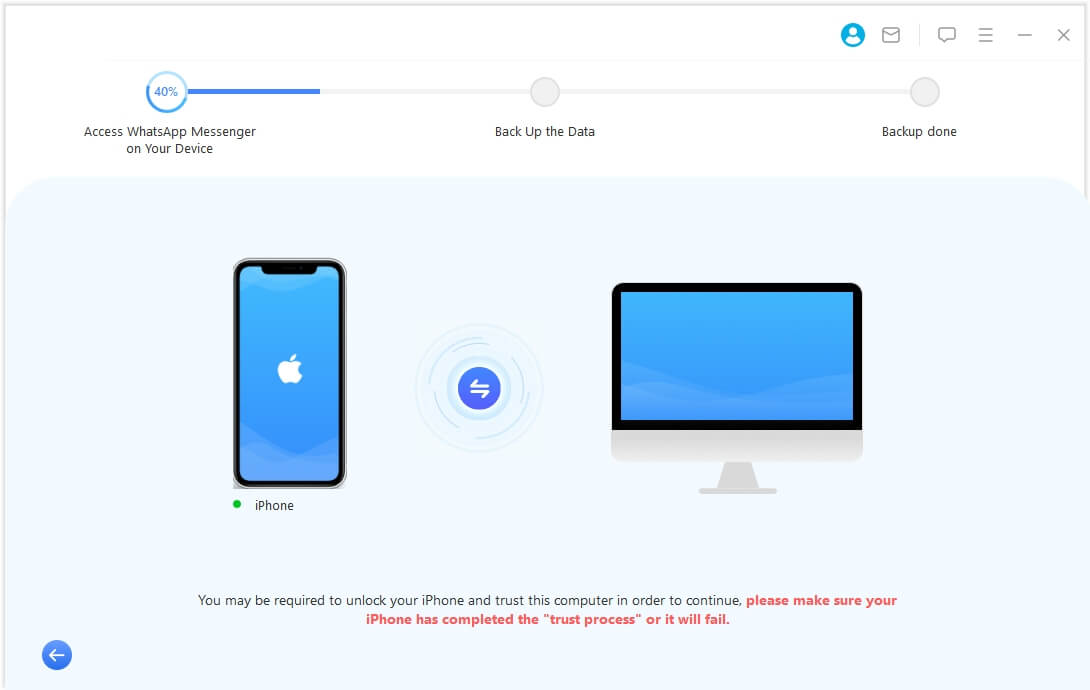 Step 4. The software will alert you when the backup is complete, and you will be able to view the position of the WhatsApp backup file on your Device.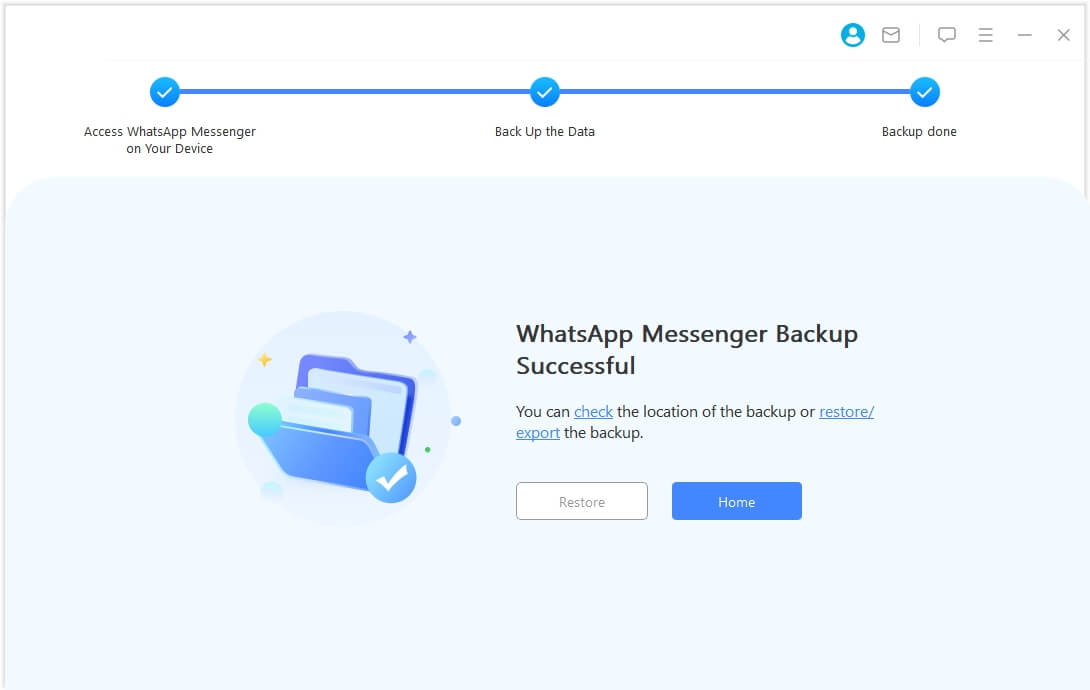 FAQs: More About Transferring WhatsApp Backup to Android
The backup is saved to the internal memory of the windows phone. The WhatsApp application allows you to restore a backup. The WhatsApp backup saved to SDCard > WhatsApp > WinPhoneBackup.
2. How can I transfer WhatsApp backup from PC to Android?
Thankfully, the procedure is simple; otherwise, backing up the data would take much longer than required. You'll need a USB cable to connect your device to the pc, and you'll be ready to backup in no time.
The Bottom Line
After reading this article, you can quickly transfer WhatsApp from Windows phone to Android phone using the above-mentioned easy procedures. Aside from that, you can also restore your WhatsApp backup from Windows phone to Android phone to avoid future problems and keep your essential data. The only pill for all these hassles is iTransor for WhatsApp. Just download it and enjoy non-stop chatting on your desired device without losing a bit of your precious data.