iTunes is one of the most popular and primary iDevice file syncing and file management tools that many iOS users use. However, users encounter various issues when using this software from time to time. One issue some users have been encountering recently is "errors occurred during installation before iTunes could be configured". The error prevents iTunes from being configured during the installation. Downloading the new installer doesn't work either. Because of this, the error is really annoying. Fortunately, there are several solutions available that you can try in order to get rid of this error for good.
How to Fix "Errors Occurred During Installation Before iTunes Could Be Configured"
Try the following solutions to fix "errors occurred during installation iTunes":
1. Manual Fix
One of the users in the Apple community suggested a manual fix that seems to have solved the problem for many iTunes users. Therefore, it is recommended that you give this manual fix a try.
Follow these instructions:
Step 1: Download the latest version of iTunes from Apple's official website.
Step 2: Run the installer with admin rights.
Step 3: When you encounter the issue prompting you that errors occurred during installation before iTunes could be configured, don't click the Finish button.
Step 4: Leave that prompt for now and navigate to C:/Users/ [Your Username]/appdata/local/temp directory on your computer.
Step 5: Once there, find a file called iTunes32Setup1850.log or iTunes64Setup.log and open it.
Step 6: Once the file is opened, look for these key things:
"Executing: "C:windowssystem32msiexec.exe" /i
"C:UsersUser NameAppDataLocalTempIXP593.TMPiTunes64.msi"
INSTALL_SUPPORT_PACKAGES=1"
Step 7: In the temp folder (i.e. IXP593.TMP), you will see all iTunes installation packages. Copy and paste those installation packages to a folder on your desktop.
Step 8: After that, return to the installation screen of iTunes which prompted the error and click on Finish.
Step 9: Now from the folder where you copied the installation packages, find and run iTunes.msi or iTunes64.msi. iTunes will now be installed without any errors.
2. Fix via iMyFone TunesFix
If the above-mentioned method to fix the error occurred during installation iTunes is a bit complicated for you and you are looking for an easier, automatic way to fix the problem, then it is recommended that you use iMyFone TunesFix. This third-party iTunes repairing software has many powerful features that will help you fix all kinds of iTunes problems, including the one mentioned in this article. You will simply need to download and install TunesFix on your computer, run it, and then scan and repair the issue with a single click. It couldn't be easier than this!
Key Features:
Repair 100+ iTunes issues in the most efficient and the quickest way possible.
1 Click repair 100+ iTunes errors.
TunesFix automatically scans iTunes at launch. Most of the times, the automatic scanning feature detects any or all iTunes problems which then you can fix via the Repair button.
Uninstall iTunes completely via Full Uninstall mode.
Free up disk space and boost iTunes performance via Quick Clean or Deep Clean mode.
Steps to Fix the Issue:
Step 1: Launch iMyFone TunesFix on your computer. It will perform automatic iTunes scanning. Let it finish and repair any issues (if detected) via the Repair button when prompted.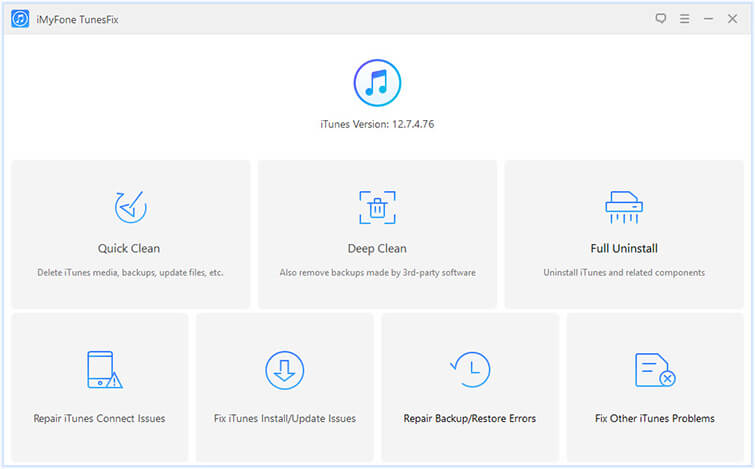 Step 2: Now from TunesFix's home interface, click on Fix Other iTunes Problems mode.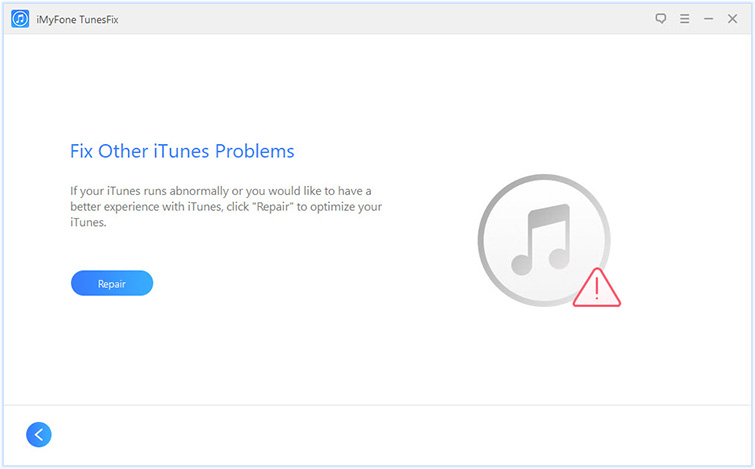 Step 3: Click on the Repair button displayed on the next screen. TunesFix will now start the repairing process. The software may connect to its servers to download the repair drive so it is recommended that you keep your internet stable.
Other Similar Errors and the Most Recommended Solution
Apart from the error mentioned above, there are many other similar errors occurred during installation iTunes on your computer. Following are some of those errors:
Windows Installer Package Error: This error is common in Windows 10. It could occur due to a compatibility issue. Cleaning iTunes registry files is a recommend solution.
iTunes Error 7: This error usually occurs upon completion of iTunes installation. Repairing Apple Application Support is a recommended solution.
Apple Application Support Was Not Found: This is another iTunes installation issue that can be solved by redownloading iTunes installation setup.
Note: All these errors can also be fixed via iMyFone TunesFix.
Conclusion
In conclusion, errors occurred during installation before iTunes could be configured can be really annoying as it prevents you from using iTunes to sync iDevice data on your computer. There are two methods to solve this issue; you can either fix the problem manually or use iMyFone TunesFix for an automatic fix. Using TunesFix is recommended for those who are looking for a fast, convenient, and reliable solution.