Most of the time, people lose their dat files because of accidental deletion. Some of these might be important for you, and you must want to recover these deleted DAT file. You can recover deleted files using data recovery software or manual methods. Here we'll reveal all of them to help you out in the situation.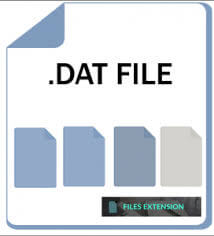 Part 1. How to Recover Deleted .DAT Files/Canon DAT Video Files
1.1 What is .DAT Files/DAT Video Files?
A DAT file is a type of data file produced by a particular program. It could include text or binary data. Only the program that originally created the DAT file may normally access it. Numerous applications can produce, open, and use DAT files. Such as Minecraft, Microsoft Windows registry stores,etc.
DAT Video Files will be created if there is a problem with the Canon video recording or if it stops suddenly. DAT files are inaccessible and cannot be played by any video software.
1.2 Recover Permanently Deleted DAT Files with Advanced Method
Below, we'll elaborate on how to recover Dat files if you lose them by a single mistake. Both DAT files accidental deletion can put your mind under stress, and you'll search for every single method to recover deleted canon dat file.
Well, that's not a problem anymore, as the iMyFone D-Back is here to provide you with the easiest recovery solution. The easy-to-use and advanced interface intend to make the recovery process faster and easier.
Unlike other recovery software, the iMyFone D-Back eases the file and makes the whole process secure for you. Below are some of the critical features of this software that will surely make you believe why the iMyFone D-Back should be your first choice.
Main Features about iMyFone D-Back:
Advanced technology is involved in protecting your private data.
It supports all windows and mac types.
Works well with almost all file types, including .dat files
The free trial enables you to understand how its recovery works.
All rounded scanning makes sure that your file is free of any virus or malware.
Now, as you know the reason behind this software recommendation, let's move on to its steps to use this software for your data recovery.
Step 1.Install the software from its website and click install.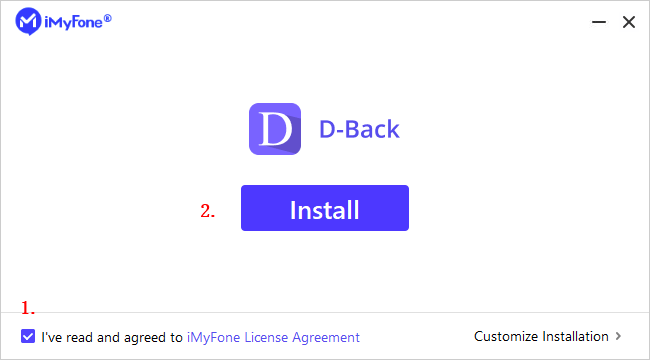 Step 2. After installing, locate your device and click it to start the scanning process.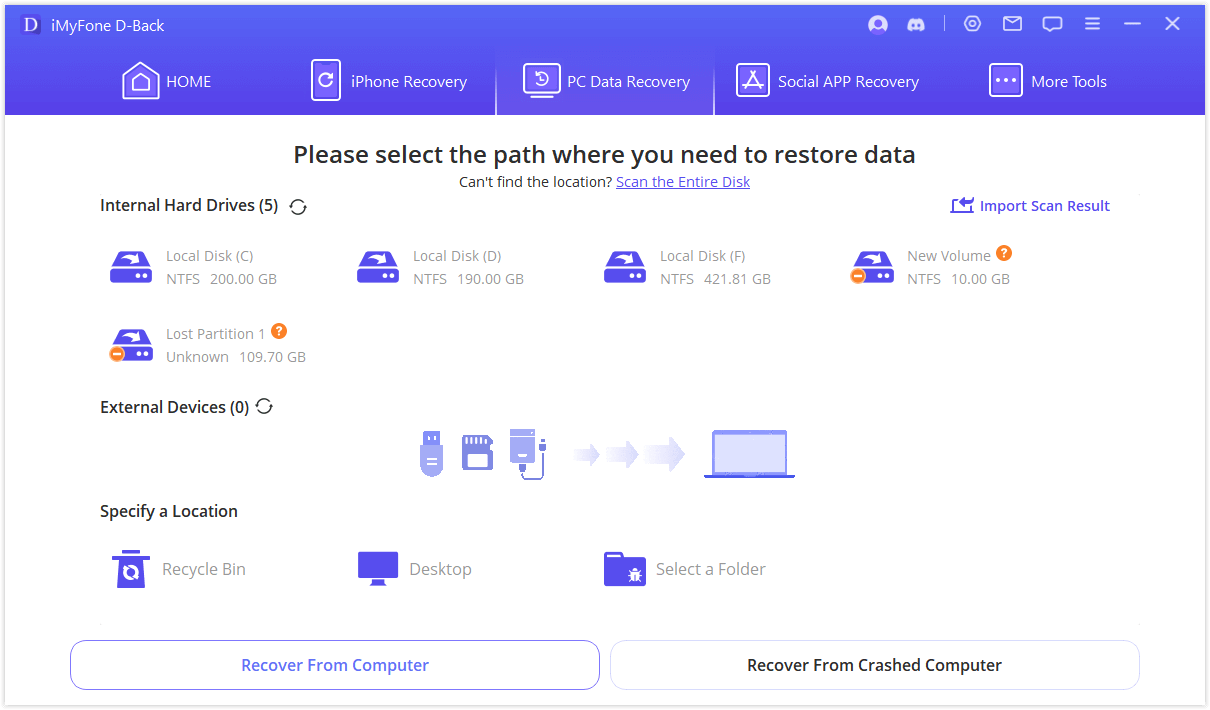 Once the drive is selected, it will start the scanning process. Please note that the process may take some time depending on your data.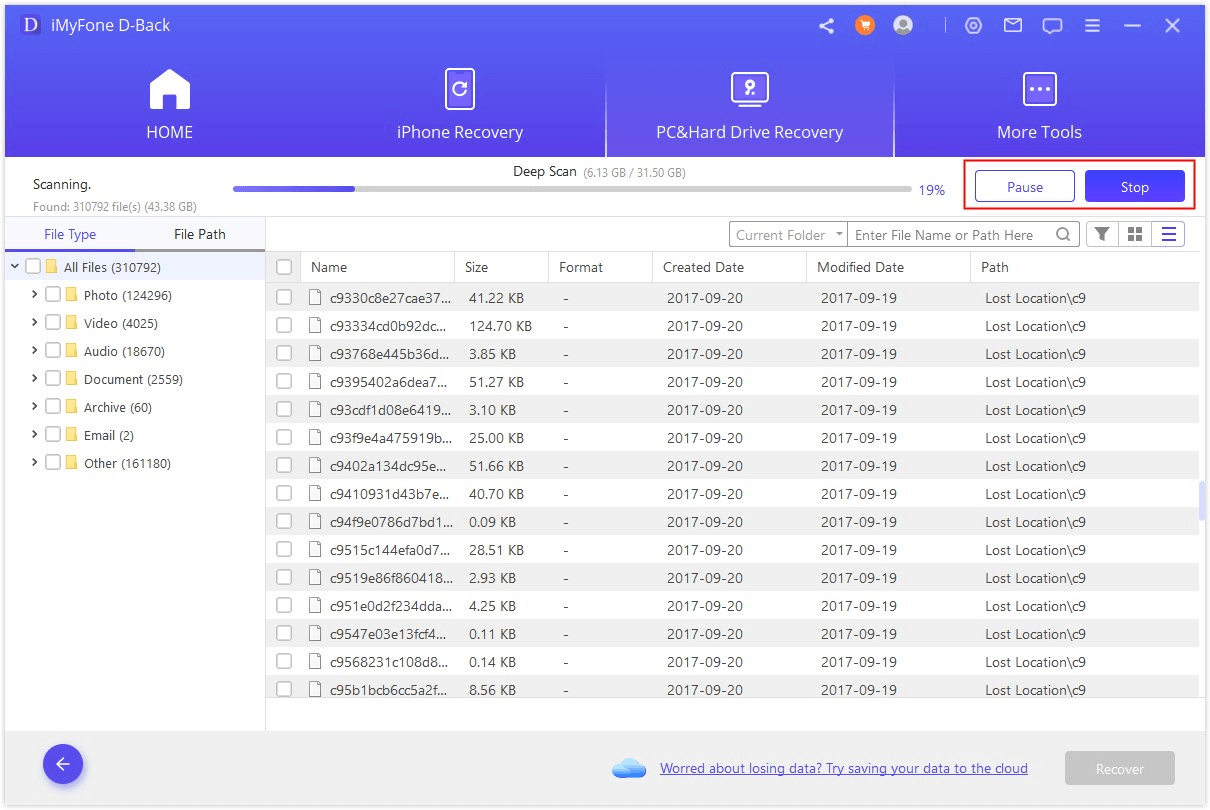 Step 3.As the scanning is done, your recoverable data will be listed in an organized way; you can preview your desired files.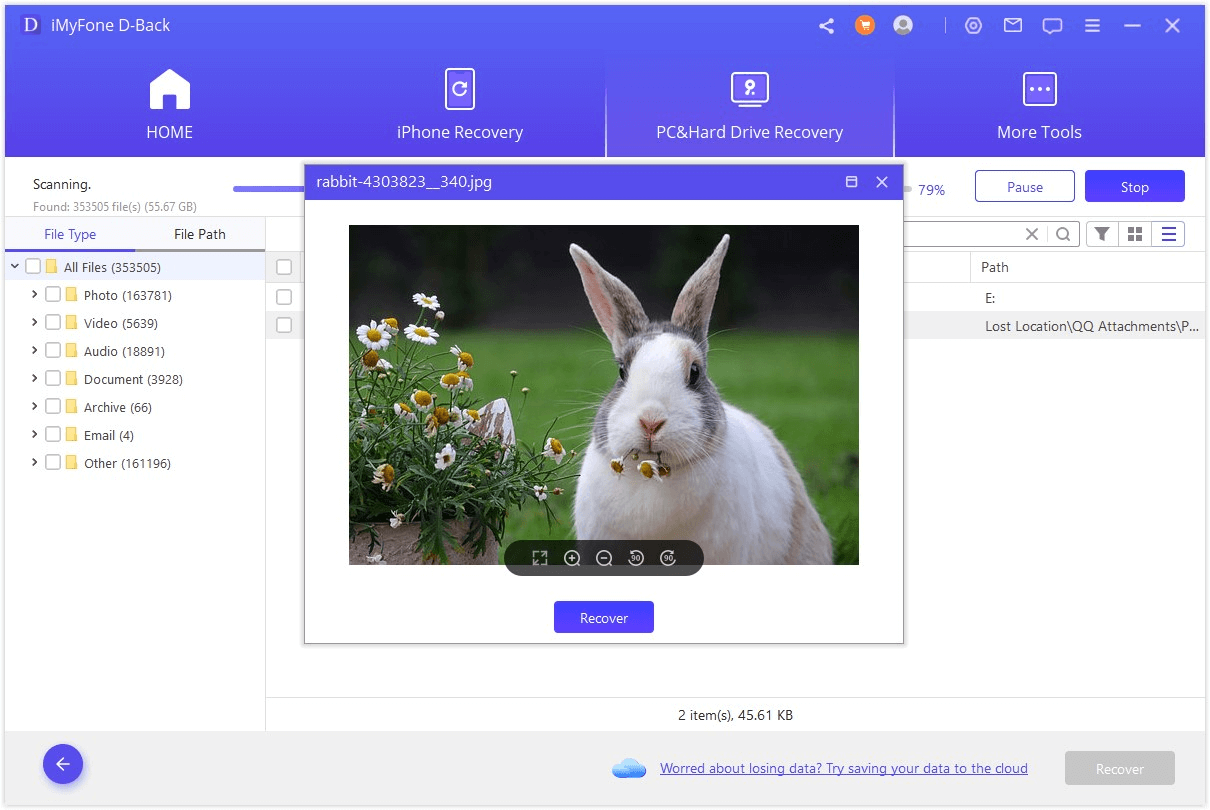 Step 4. Now, click the recover button and select your desired location to save the file. It will take a few more seconds to recover your file. Then, you can view it at the location you selected to keep it.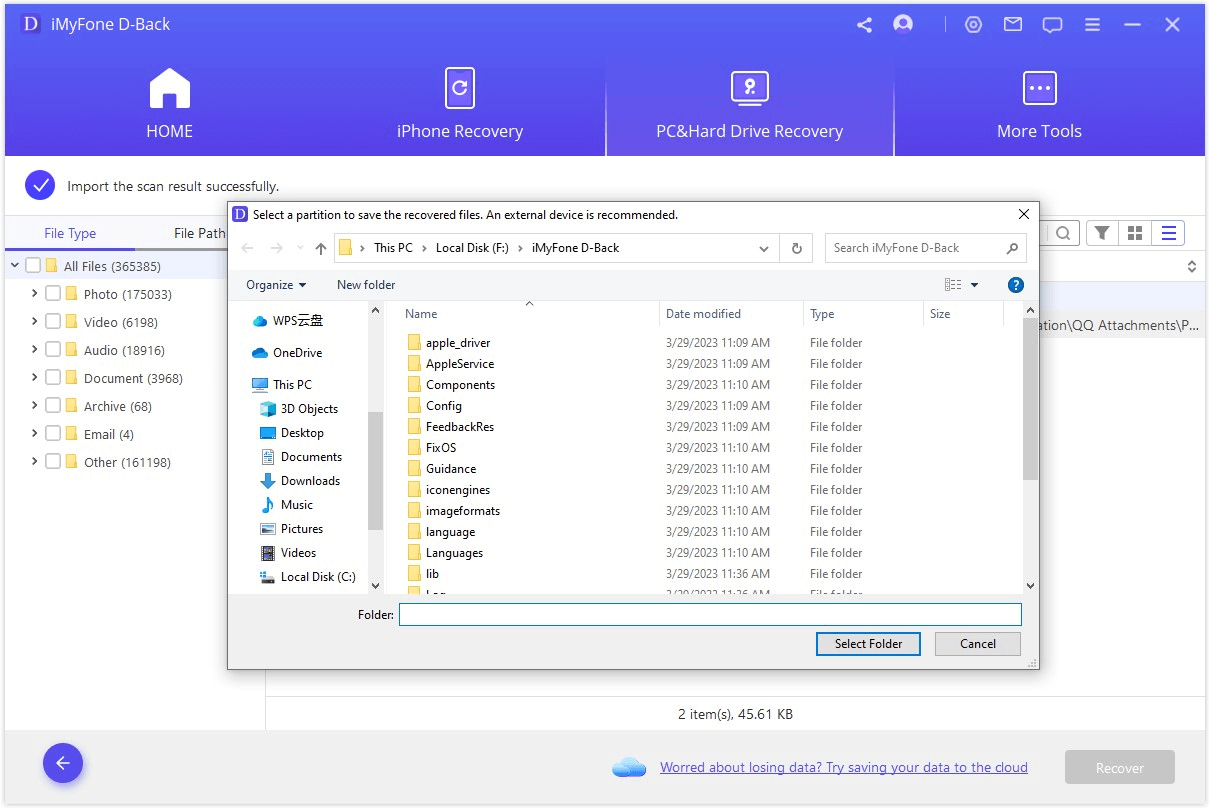 1.3 Other Options to Retrieve Deleted Dat Files
If you don't want to use the recovery software, these manual methods will make a recovery convenient. But remember, this method won't work well for permanently deleted dat files.
1

Recycle Bin
You can check the recycle bin for your deleted dat files if you haven't cleaned them up. You have to follow some basic steps to restore your deleted dat files.
Step 1. Open recycle bin.
Right-click on the Recycle bin and click open.
Step 2. Restore
Now right, click on the file you want to restore. And click restore.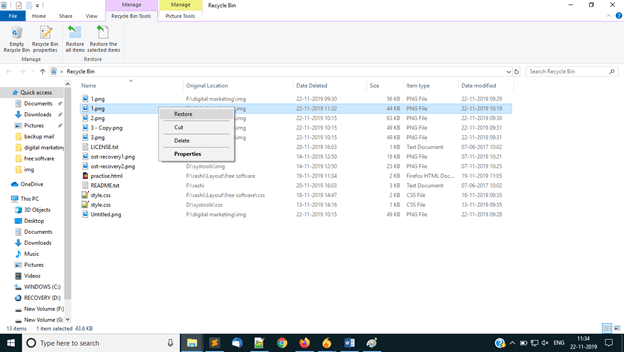 Step 3. Check your file at its location
After that, it will retrieve your file back to its original location.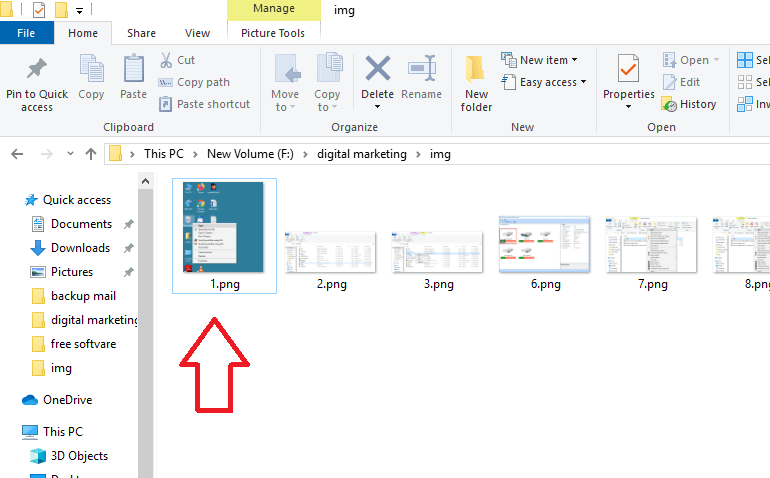 2

DAT File Recovery Using iCloud on Mac
You can recover your deleted DAT file mac directly from the iCloud drive. Here's how you can do it,
Step 1. Go to icloud.com and sign in to your account. Next, click on the gear icon to access the iCloud settings web app.
Step 2. Scroll down to the bottom, and on the left side, you'll see the Restore file. Click it.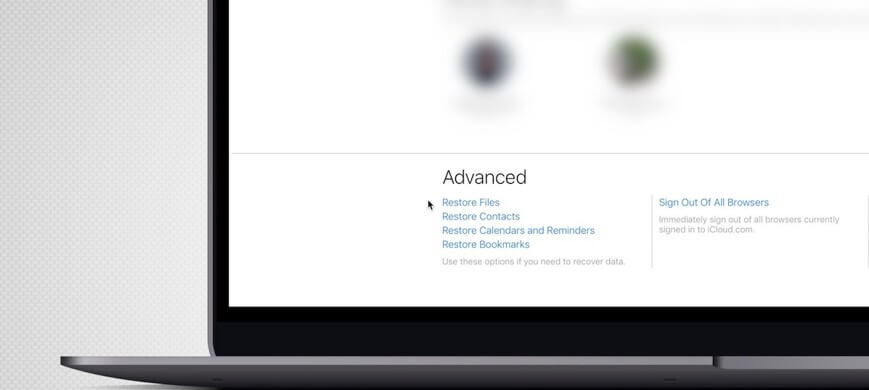 Step 3. Now, a window will appear, and you can view all your recently deleted DAT files there. Select the boxes next to your recommended file and tap restore.
Part 2. Tips for DAT File
2.1 How to Open a Dat File
If you want to know how to open a data file then it's pretty straightforward; you have to open it in the notepad program; else, you can't open a dat file.
The DAT file is mainly in text format then. You can use the notepad program to open it up. Here's how to open a DAT file.
Step 1. Right-click the DAT file you want to open in Windows and select "Open With.

Step 2. Select the text editor you want to use in the "Open With" window, then click the "OK" button.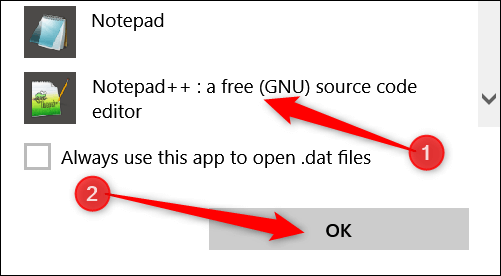 2.2 How to Fix Corrupted Dat File
Are you depressed about corrupt DAT files? You can use the cmd command to repair corrupted HTML files. Below is how to recover a corrupted HTML file.
Step 1. To open CMD, search CMD in the windows search bar. Right-click on it to open it as an administrator.
Step 2. At the command prompt, type CHKDSK G: /F /R /X (G stands for a drive letter, which you should change with your drive letter). This command will scan, fix and repair all the files in the mentioned drive. Check the HTML files at your selected place once the process is complete.
Part 3. FAQs about Dat File
3.1 How to Recover Deleted DAT Video File?
Using the iMyFone D-Back, you can recover your DAT video file. Or you can also use the other methods that we've mentioned above.
If you want to repair the file, you can use an SFC scan on your computer to manually fix a faulty DAT video file. We've mentioned below how to recover dat video file
Step 1. Launch the Run dialogue box; first, press the Windows + R keys together. Type cmd and press Enter to turn on the Windows command prompt.
Step 2. After that, right-click Command Prompt and select Run as administrator.
Step 3. Type sfc/scannow into the Command prompt window and press Enter.
Step 4. You must now wait for the process to complete. The scan could take a few minutes to finish. Restart your computer after you've completed these steps. Then, see if you or the problem has been resolved.
3.2 How to Recover Corrupted DAT File?
Want to find out how to recover a corrupted DAT file? We've already mentioned it in part 2.2 of this article. You can check it out to solve your problem.
3.3 How to Convert (Repair) DAT Files?
You can also convert or repair the .dat file using the third-party tool. Such as VLC, MacX Video Converter Pro, VideoProc, WonderFox HD Video Converter,Apowersoft Free Online Video Converter,etc
Conclusion
This article has revealed all the needed methods one should follow to recover dat files. But aside from all the forms, we found the iMyFone D-Back as the best way to recover your corrupted dat file.
Although, if you don't want to use any software, the manual method will work fine for you but not like the iMyFone D-Back. You can download it now to make all your data recovery handy.