HP is a very famous laptop brand that many people prefer. With its popularity comes many concerns. In case any data is lost or deleted, can you recover it? Besides using a default HP recovery manager, can a third-party data recovery tool help? Let us find all about how to recover deleted files on the HP laptop hard drive.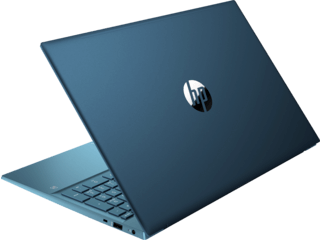 Part 1. How to Recover Permanently Deleted/Lost Files on HP
1.1. Recover Deleted Photos/Files on HP Laptop with Professional Software
iMyFone D-Back is a third-party professional data recovery software. With its wide range of file format support, it can recover more than one thousand types of files. It can help the user to recover the HP laptop hard drive in case of a formatted hard drive, lost partition, virus attack, system crash, and even RAW partition recovery.
Moreover, it offers data recovery from different devices, including PC/Laptop, Digital cameras, Micro SD Cards, Memory Cards, USB Flash Drives, Hard Drive, SSD, External Disk, Music Player, Video Player, Zip Drive, and others. Whether there are documents, photos, videos, audio files, or archive files, iMyFone D-Back can help you to recover all the data.
iMyFone D-Back has a very unique and simple user interface. With only three steps, you can recover any lost/deleted data from your HP Laptop. It has a fast-scanning process and allows the user to apply a file filter to locate the data according to file type and date. It is encrypted, and your data is completely secure. The user can also preview the data before actually recovering it.
Here is the simple method to recover permanently deleted/lost files on an HP laptop.
Step 1: Download and install iMyFone D-Back on your HP laptop. Open the tool, and you will see a very interactive user interface.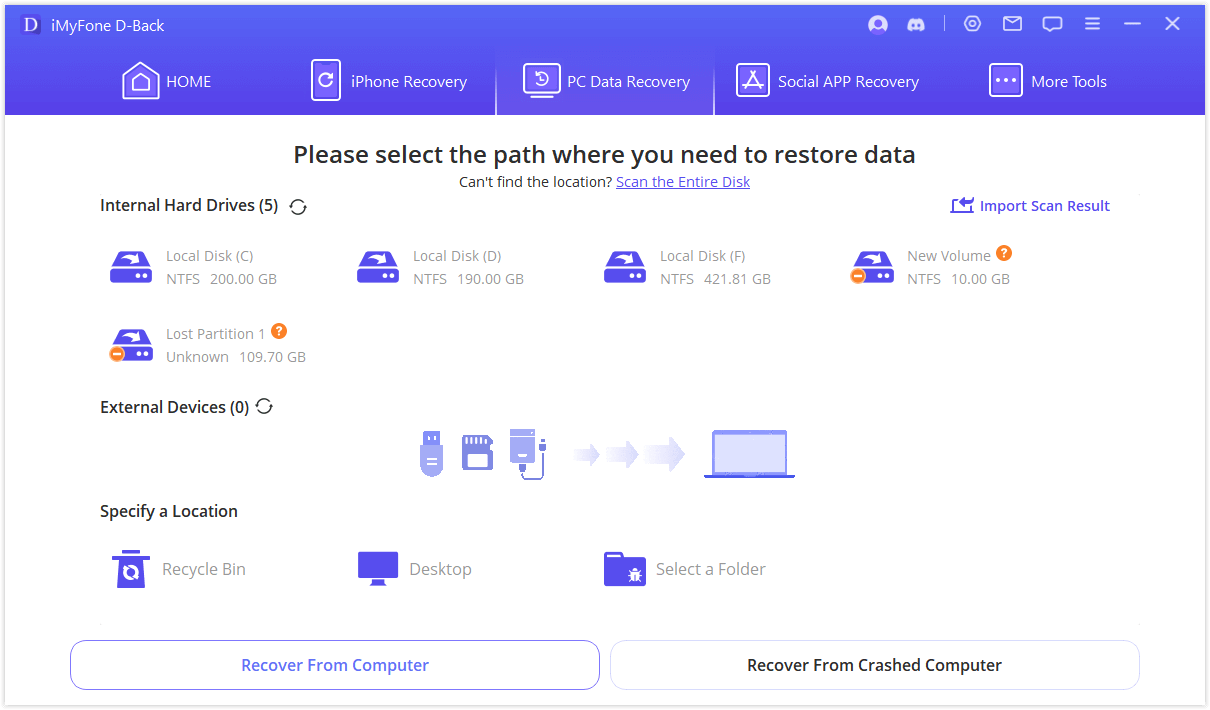 Step 2: Choose the drive from which you want to recover the data (lost/deleted). Start scanning the drive.
Step 3: After scanning, it will show you the data. You can then select the data that you want to recover. Select the path or destination where you would like to save this data.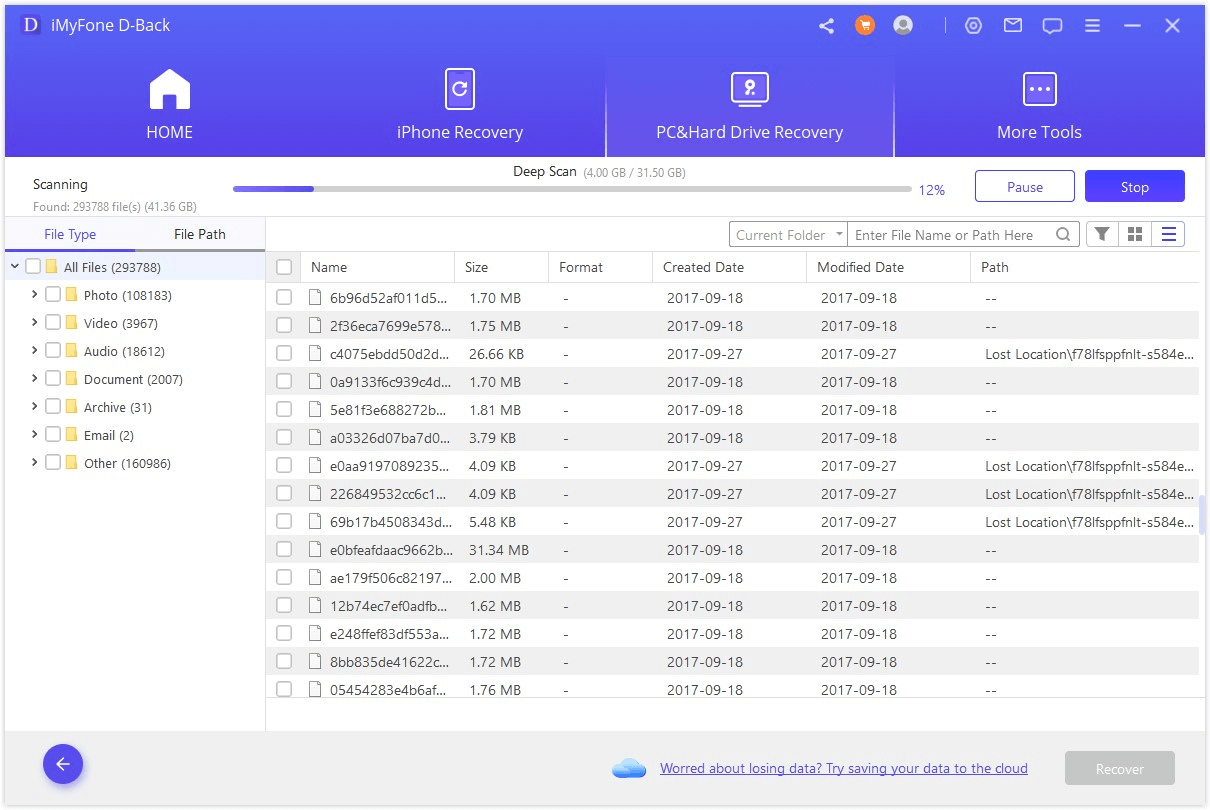 1.2. How to Recover Lost Photos/Files on HP Laptop with Backup
You can use HP Recovery Manager to restore your data only if you have made a backup using it. The process is very lengthy and takes about 20-40 minutes. After making a backup, you will see a folder in the location that you specified with the name "Restore.exe". Now, we will use this executable file to restore the data with HP Recovery Manager.
Step 1: Open the location where you saved the backup folder and copy it to a suitable location. Execute the restore.exe file. The computer will ask for access as it will make changes to the system. Click on "Next" to continue.
Step 2: As the HP Recovery Manager opens, you can verify that your file format is compatible with the recovery tool. Click on "Help" and look at the file format.
Step 3: Choose the file formats that you want to recover and click on "Next". A message will pop up saying that the location to which your files are restored is "C:\System Recovery Files".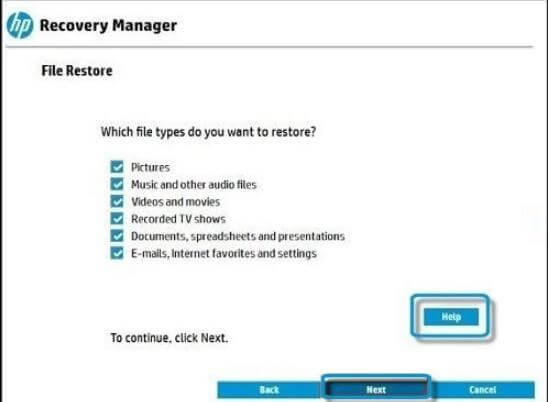 Step 4: Now, the restoration process will start, which will take about 20-40 minutes. When the restoration finishes, click on "Finish". You can now open the location of restored files to check the files.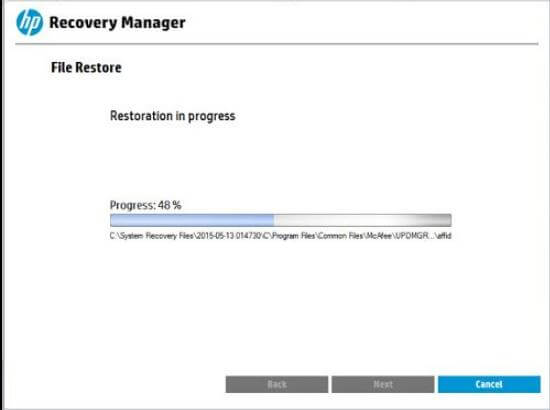 Compared to the iMyFone D-Back, HP Recovery Manager takes a lot of steps and time. It is complex and only works with HP laptops. iMyFone D-Back is a diverse tool and can be used with any device. It also supports more file types and formats than HP Recovery Manager.
Part 2. Pro Tip about HP Laptop Backup
Things people don't know is that HP Recovery Manager is capable of more than restoring deleted or lost data. The user can use this tool for creating recovery media on a USB drive or SD/DVD.
With HP Recovery Manager, you can reinstall missing drivers and applications. It also allows the user to refresh the computer without affecting your files. HP Recovery Manager is also capable of performing a system recovery. Lastly, when your Windows is not starting, it can help you to recover data, even in this case.
Part 3. FAQs about Recover Deleted Files on HP Laptop
01

How to Recover Deleted Apps on HP Laptop?
With the help of HP Recovery Manager, you can download the deleted apps. You only need to open the tool and click on "Reinstall drivers and/or applications". Here, you will see a list of all the applications. Check on the application box that you want to reinstall and click on "Install".
02

How to Recover Deleted Documents on HP?
To recover deleted documents, you can either use HP Recovery Manager or iMyFone D-Back. iMyFone D-Back is simpler and takes only a few minutes to recover the data. In contrast, HP Recovery Manager is slow and complex.
03

How to Recover Deleted Photos on HP Chromebook?
To recover deleted photos on HP Chromebook, install iMyFone D-Back. Choose the drive from where you want to recover the photos. Start the scan. After the scan, you will see all the pictures. Choose the pictures you want to recover and select a path where you want these pictures to be saved.
Conclusion
If you lose the data or delete it by accident, you can recover it. The best tool for data recovery for an HP Laptop Hard Drive is iMyFone D-Back. It is a great tool that works and recovers data in seconds. It has a free version available so the users can download and enjoy it.
Another data recovery tool is HP Recovery Manager, but it is complex, has more steps than iMyFone D-Back, and takes a lot of time to recover. The user can decide between these tools and choose the best option to recover the lost data.