This is frustrating when you realize that your essential TMP file is deleted or damaged. Nothing can be as tempting as losing a file. Temporary files might seem useless, but their deletion can affect your ubuntu Linux programs. But don't worry, this article will help you recover tmp files ubuntu by revealing some of the best methods.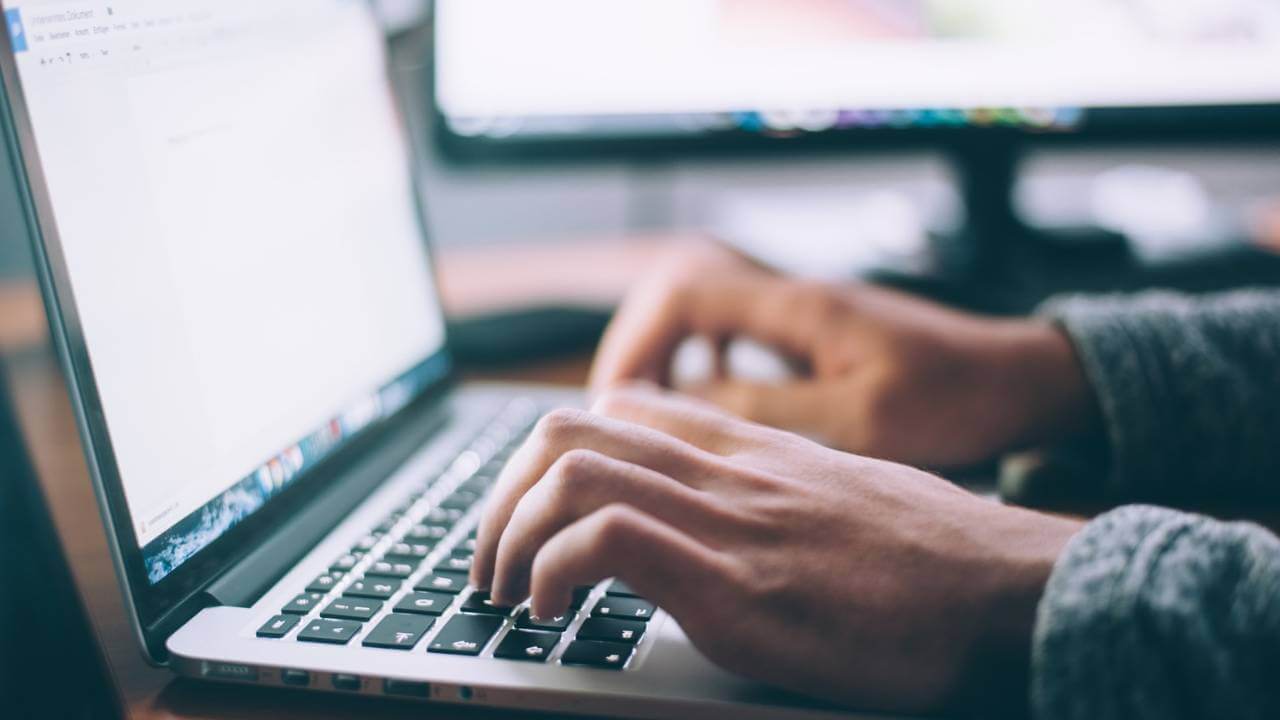 Part 1. Recover TMP Files Ubuntu
Many of these files are required by presently running programs, and deleting them could cause a system crash. But in case it's deleted, then the iMyFone D-Back could be a life savior.
This unique software has a powerful and advanced interface and security system that gives you the safest recovery experience. There is no file that the iMyFone D-Back can't recover.
These features are enough to prove that it is the best Ubuntu file recovery software as it made deleted file recovery Ubuntu easier and simpler. Now, let's find out how this software works, and if you don't want to use any software, we have listed the best alternative methods below.
1.1 [Fixed] How to Recover TMP Files in Ubuntu with a Convenient Data Recovery Tool
You'll need to follow the simple steps with the iMyFone D-Back. Below we've mentioned all the steps in detail.
Step 1. Installation of the software.
Download the software from the company's website, launch it and install it by clicking the install button.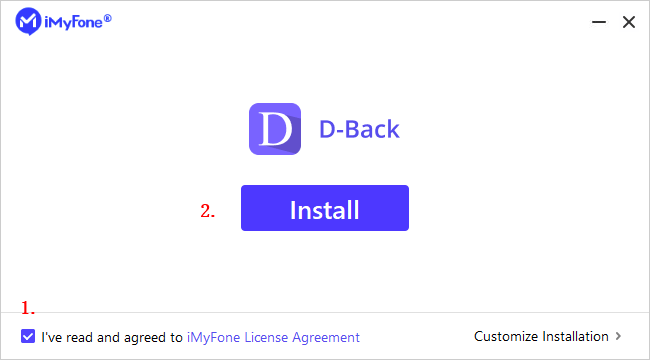 Step 2. Locate and scan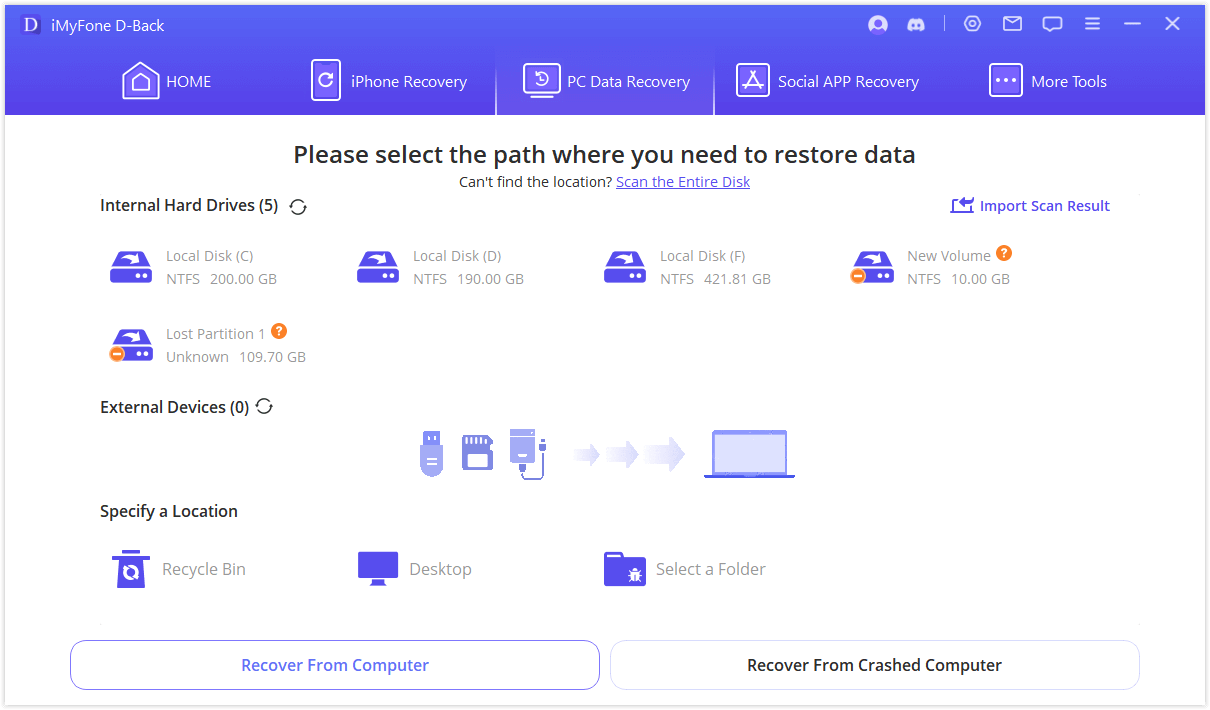 The scanning process will begin after the drive has been selected. Please keep in mind that the process may take some time, depending on your data.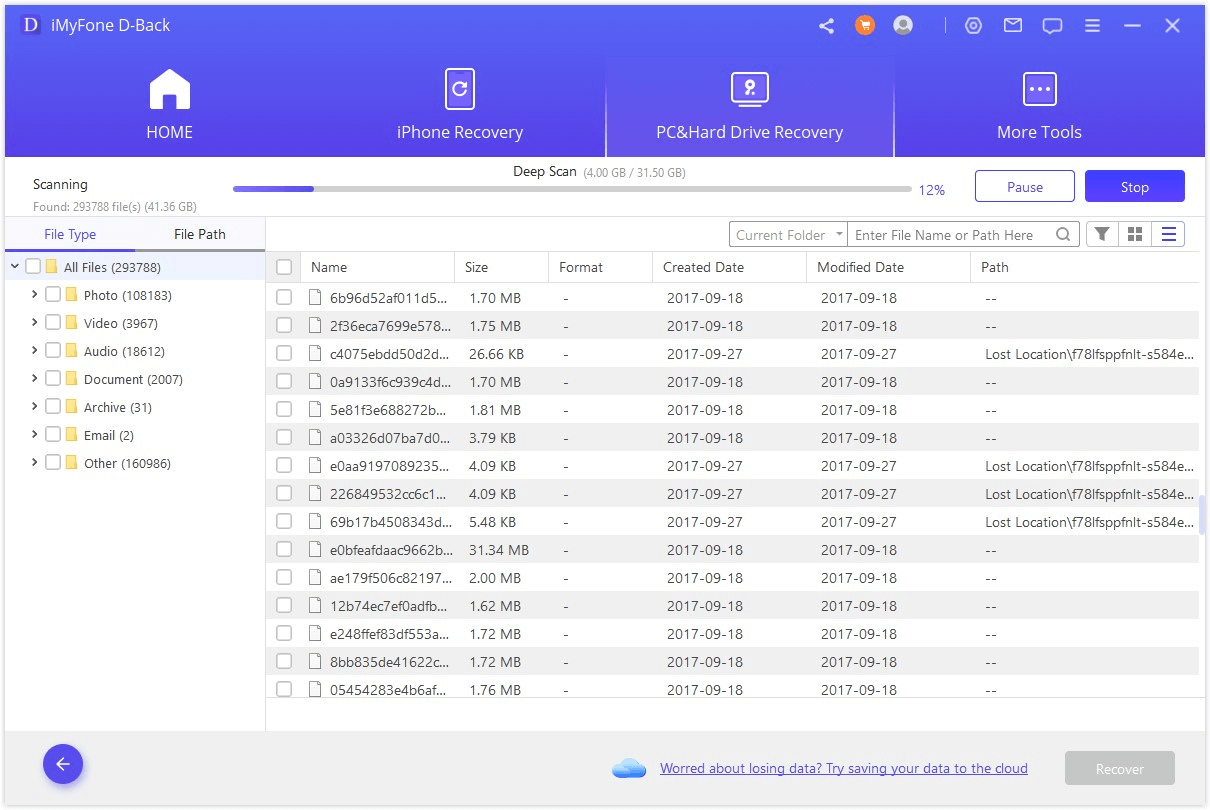 Step 3. Get a free preview of your file.
It will show your recoverable data in an organized manner once the scanning is completed, and you can preview your preferred files.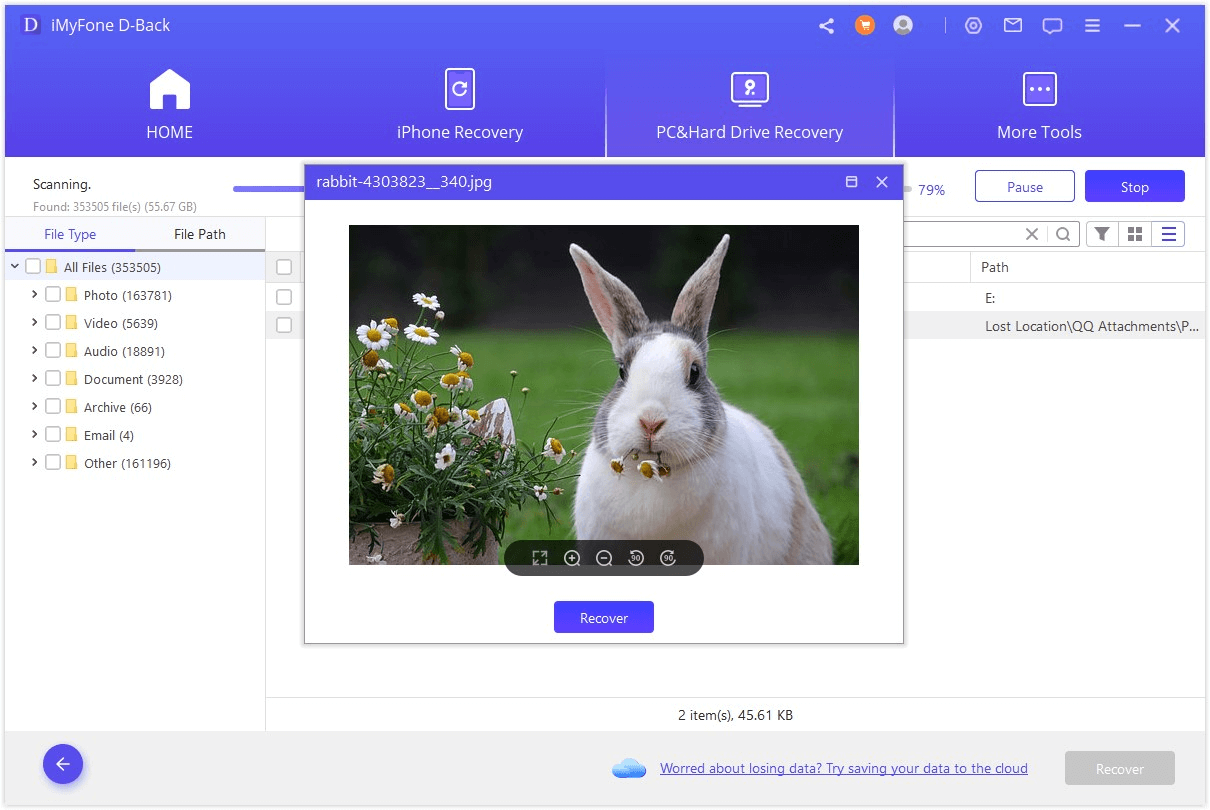 Step 4. Recover your file and save it.
Now, select your desired location to store the file by clicking the recover button. It will take a few more seconds for your file to be recovered. Then you can look at it in the area where you saved it.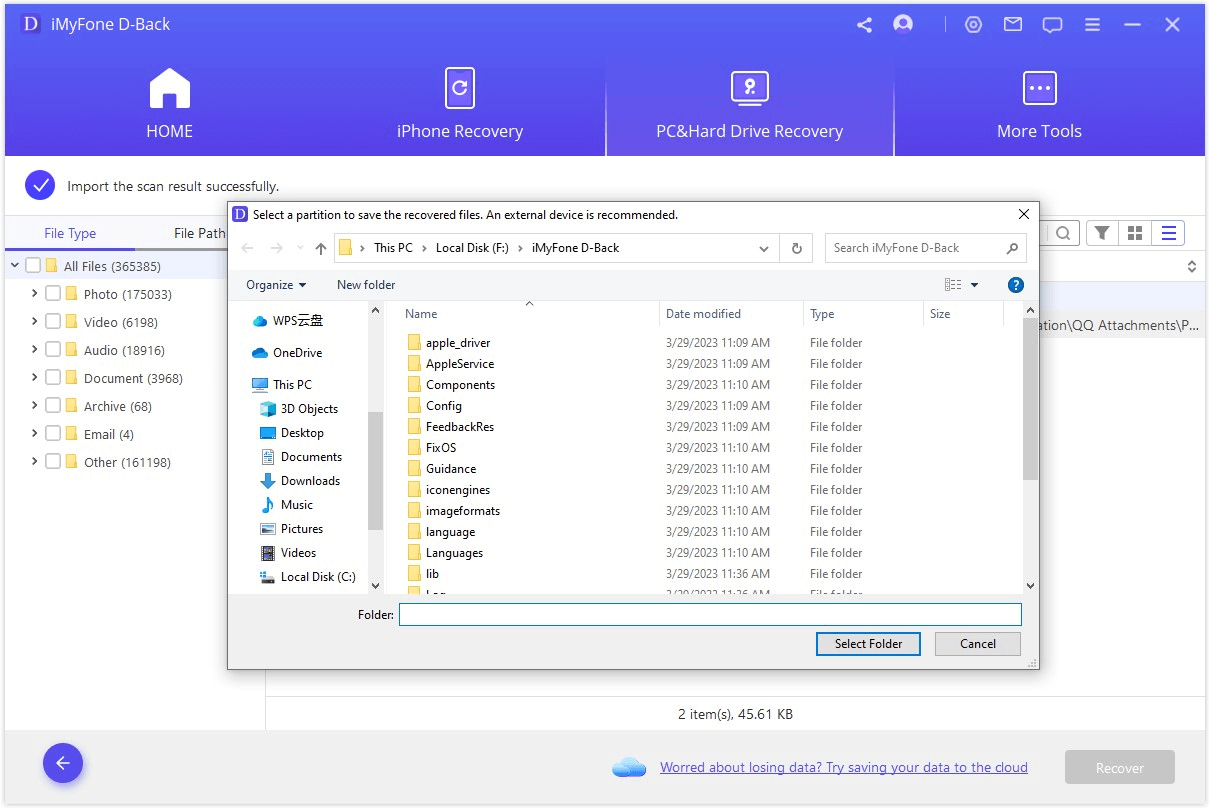 1.2 Possible Way to Recover TMP Files Ubuntu
You can do deleted file recovery Ubuntu by using the method given below.
Running a chown root command.
In Ubuntu, deleted file recovery is as simple as granting it to root. You can use chown root: root /tmp and setting rights to 1777. If you want to recover the lost /tmp directory, kindly write the below command:
$ sudo mkdir /tmp
$ sudo chmod 1777 /tmp
If the above 2 don't work, you can use the below one:
$ sudo mkdir /tmp && sudo chmod 1777 /tmp
Remember that the operation /tmp requires the final root access while conducting the procedure. Rebooting the system is also recommended.
Part 2. Bonus Tip for Ubuntu File Recovery
Now, you know how to recover TMP files, let's discuss a tip for Ubuntu files security:
2.1 How to Find Deleted Files Ubuntu
You can use TestDisk to find deleted files ubuntu. Here is a step-by-step procedure to find deleted files on Ubuntu.
Step 1. You must first install the TestDisk software. Open the Terminal in Ubuntu by looking for it in the system program launcher or pressing Ctrl+alt+T.
Then, to install the TestDisk utility, run the following command:
$ sudo apt-get install testdisk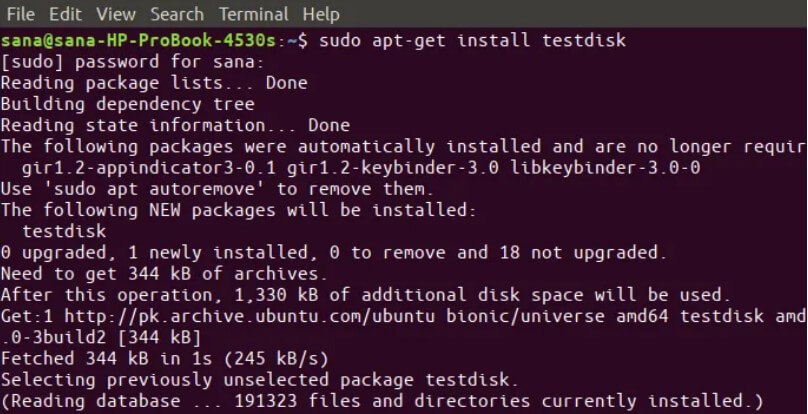 Step 2. Run testdisk to make a new testdisk.log file. To launch the testdisk command-line utility, enter the following command:
$ testdisk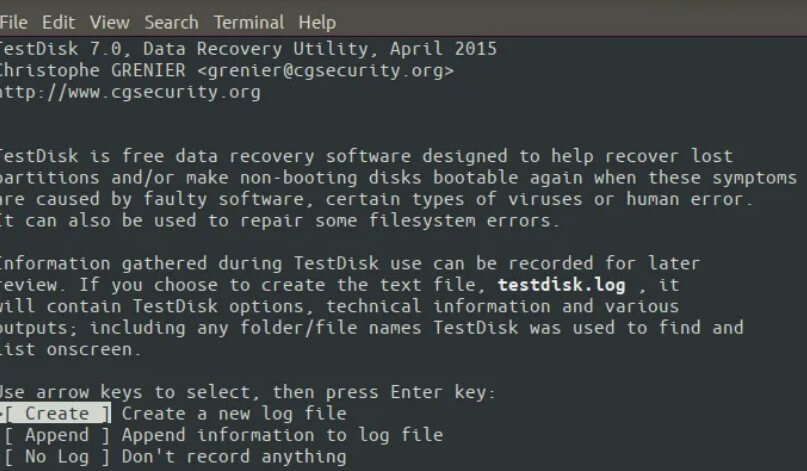 The result will give you information about the utility. The result above provides three options for what to do with this file: Create, Append, and No log.
Step 3.
Choose a recovery drive. You'll need to specify its partition table type on the next screen as you've chosen a drive. The utility will automatically highlight the correct option. To continue, press Enter.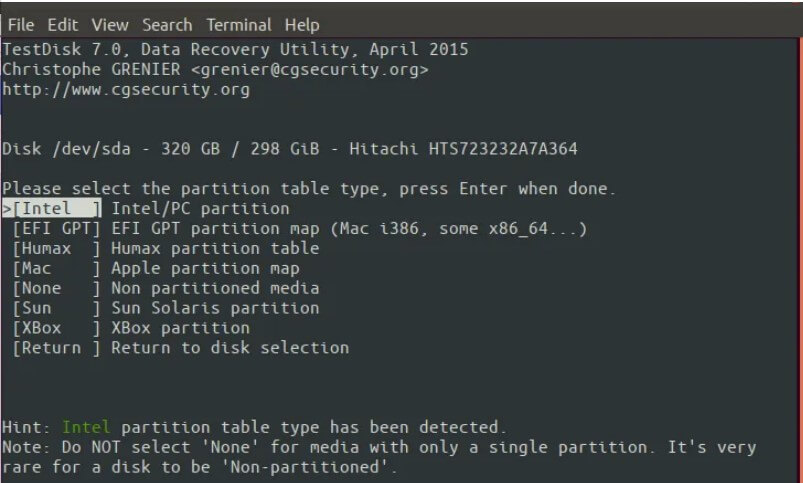 Once you've selected the correct drive and partition type, the following screen will appear: Use the 'Advanced' option for file recovery.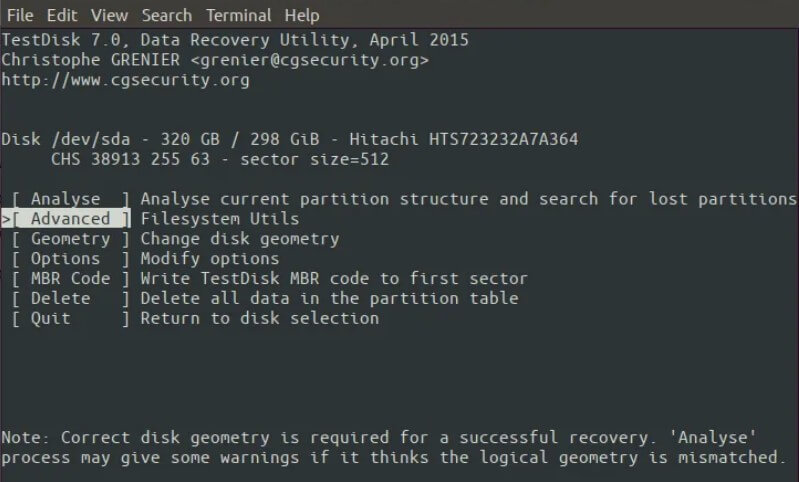 Step 4.
Choose the drive partition where the file was accidentally deleted. Navigate to the directory where you deleted/lost the file when the testdisk application displays all of your operating system's guides. Go to the location where you lost your file.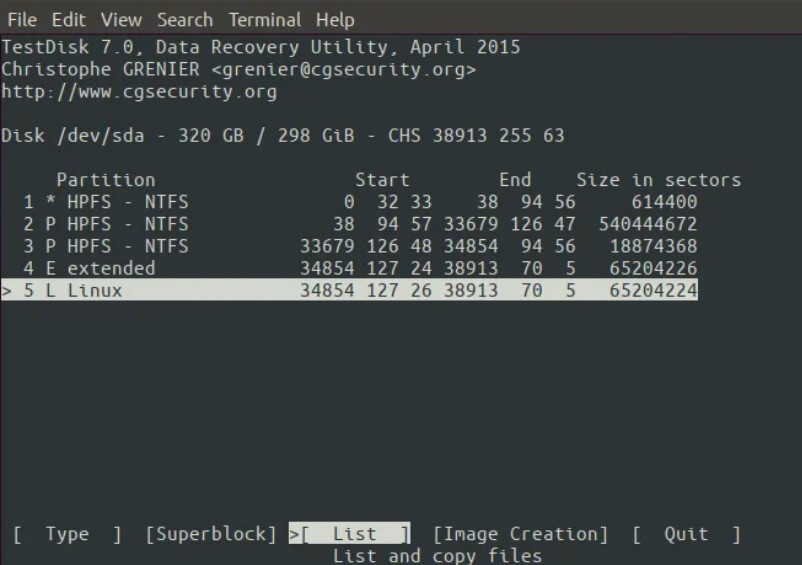 Step 5.
When you locate the required folder, it will highlight the deleted file. Then, using the c option, copy the file and go to the destination folder. Press the c button once you've determined where you wish to save the file. This will move your file back to its original location.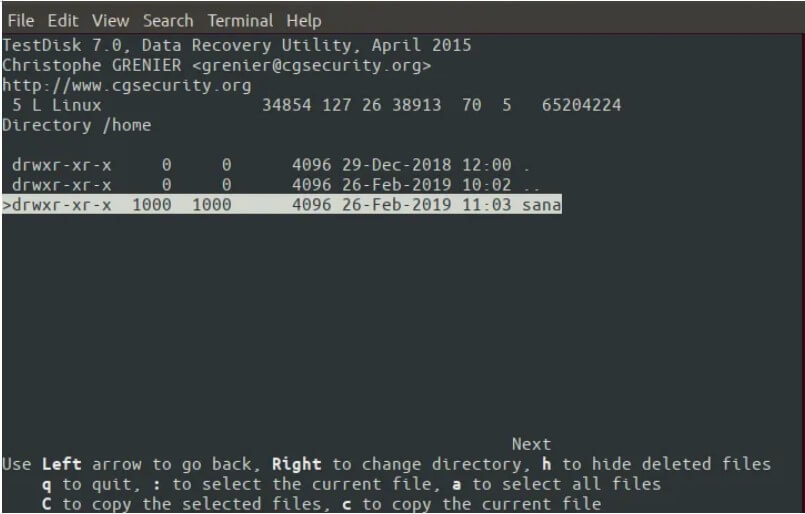 Part 3. FAQs about Ubuntu File Recovery
3.1 How do I restore a TMP file in Ubuntu
You can restore the TMP files using the deleted file recovery ubuntu methods mentioned above in this article. You can use the iMyFone D-Back to restore your file.
3.2 How can I recover permanently deleted files in Ubuntu
You can recover tmp files Ubuntu by using the iMyFone D-Back. Another method can only help you find the lost file, not the permanently deleted files. IMyFone D-back hard drive recovery expert is considered the best one.
3.3 how to recover a file saved in the .TMP folder of Ubuntu
You can use all the methods we've listed, but we recommend using the iMyFone D-Back as there is no single file that this software can't recover. It will take a few minutes, and it will recover your file quickly.
3.4 Is it possible to recover automatically deleted TMP files in Ubuntu
Yes, you can recover automatically deleted TMP files. You can use the command mentioned in part 1.2 of this article. That would help you to find your deleted TMP file.
Conclusion
You can rapidly restore data from a damaged external hard disc in Ubuntu. We explored numerous methods, but they take too much time and are difficult for beginners. As a result, we recommend the iMyFone D-Back.
It can help you retrieve your files quickly and easily. Along with recovery, it provides you the deep scan feature to dig out all the buried files and ensure that your files are virus-free.