Important files and pictures that are saved on the laptops are always precious. Losing them or removing them by mistake could be devastating. You would be panicked to see some or a lot of pictures and files emptied from the laptop and wonder how to recover deleted files on an ASUS laptop. The technology has advanced quite significantly, and there are many ways to recover all the deleted files on your computer. This article will let you learn about them all.

Part 1. How to Recover Deleted Files/Photos On ASUS Laptop
Though there are a few ways through which you can recover the deleted files from an ASUS laptop, the most reliable of them all is doing so with D-Black. Read on to know everything about it.
1.1 Recover Deleted Files/Photos on ASUS Laptop Simply with D-Back
Without making your entire data vulnerable to getting removed, this program ensures to offer you advanced features and recover offline files. This software is undoubtedly one of the most trustworthy available options.
It gets pretty easy to recover offline files with the help of the sophisticated features that this software offers. At the same time, it ensures not to put your existing or lost data at risk. Some prominent features of this software that you need to know about before opting for it to recover your data are as follows:
iMyFone D-Back is the safest and most reliable recovery program. What sets it apart from others is that it supports more than 1000 file types. This way, it gets more accessible for the software to recover data from various devices and folders.
The software does not only discover and recover lost and finds the damaged or inaccessible data to restore it to its original condition.
Thanks to specific algorithms, this program lets you scan while pausing and resuming the scanning process.
It lets you find missing data and preview it before scanning to ensure that you recover what you need.
It comes with a straightforward digital interface. It helps even a novice to recover data.
The software's filter function locates a missing file by its type, date, and filename, saving time and effort.
Now that we have gone through the tools' unique features, let us get started with the detailed steps of recovering lost offline files.
Step 1. Download and Install iMyFone D-back Hard Drive Recovery Expert.
The first step is downloading and installing the Windows version of the software.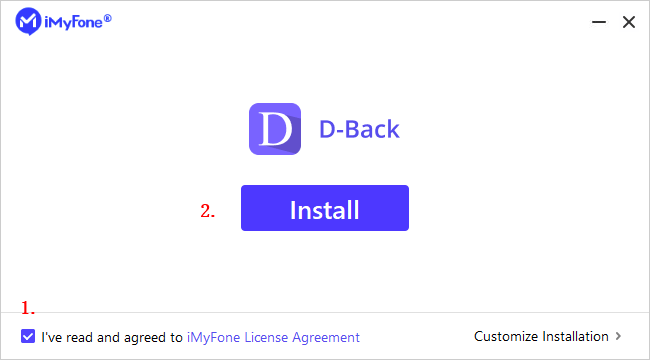 Step 2. Select the location
After launching the program, you can see a simple interface that lists all the possible data recovery locations. Proceed by selecting the directory where your offline files are saved.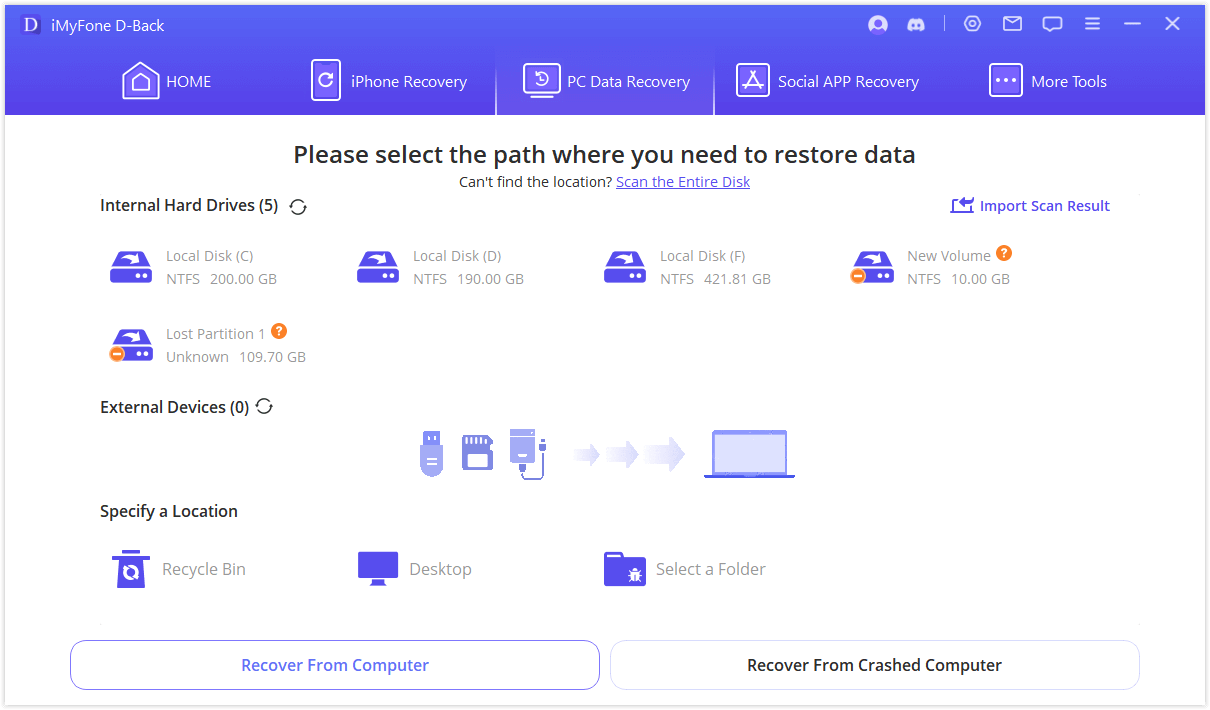 Step 3. Scan the location
The software will scan the drive that has been selected. If you've got the files that you want to restore and stop the process, you can do that too using the Pause or Stop buttons.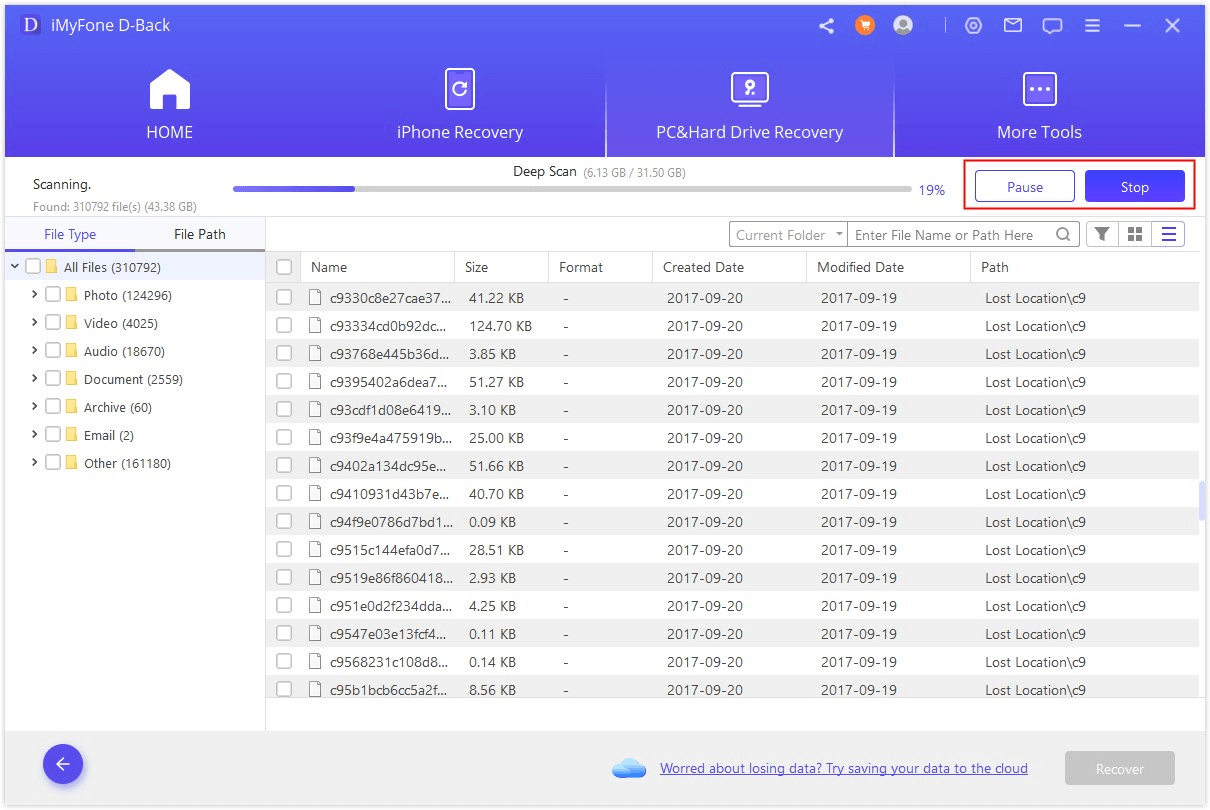 Step 4. Preview and recover files
All files will be listed after the scanning is done. You will be able to preview the files and selectively restore them. To discover the files you need, go through the File Type and File Path options.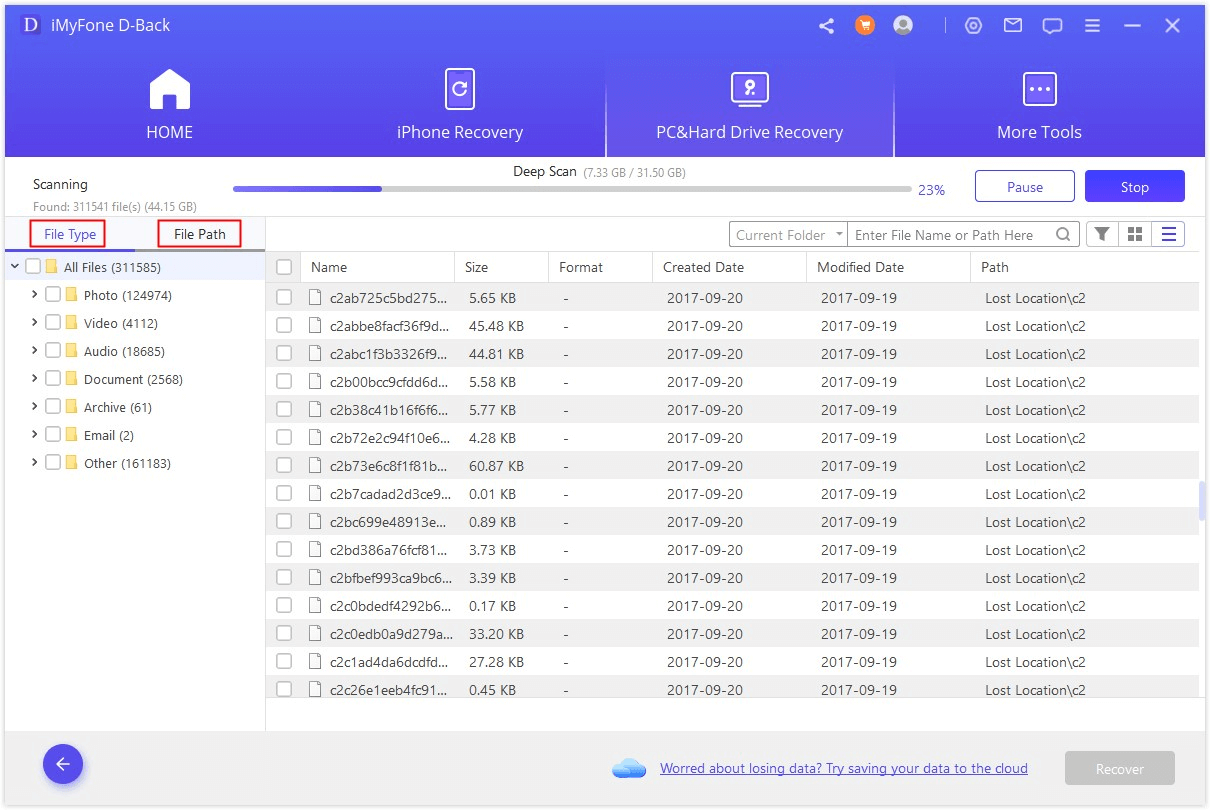 To recover, select the file and click on the Recover button.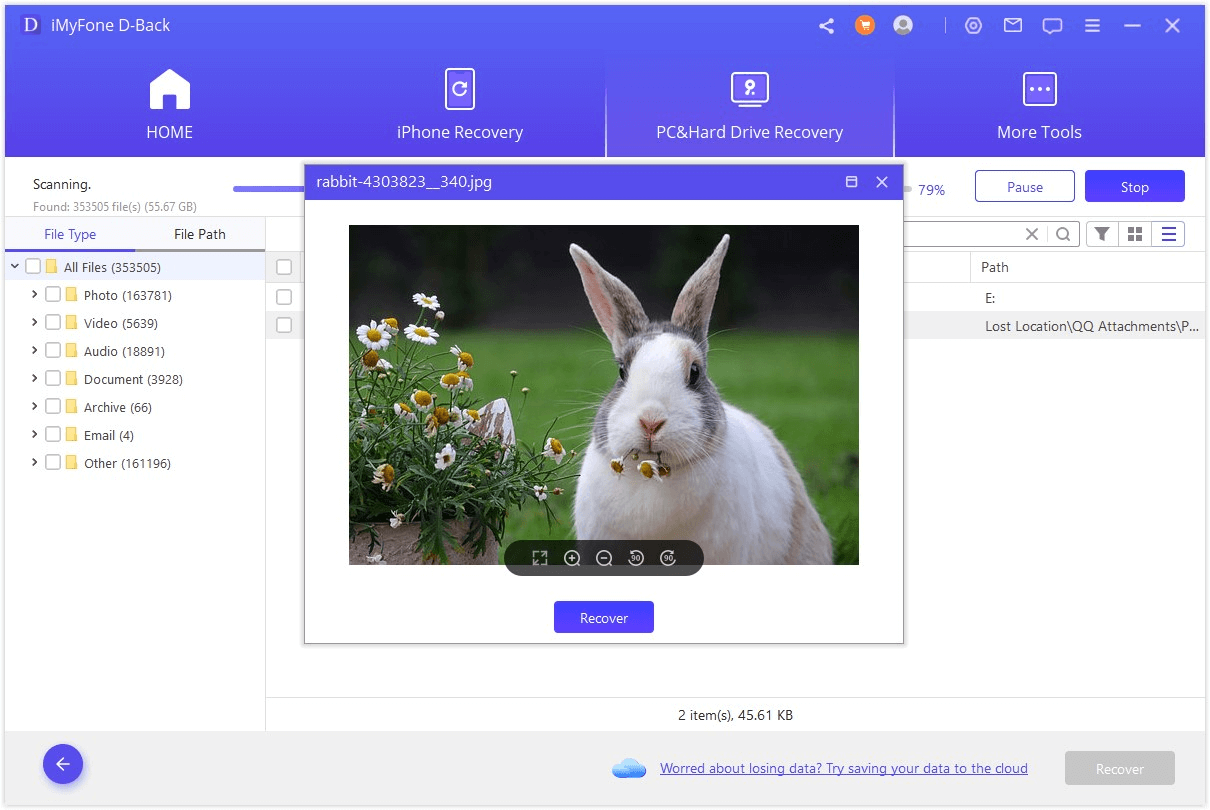 1.2 Some Common Scenarios that May Cause Data Loss on ASUS Laptop
There can be many reasons why the data may get deleted from your ASUS laptop.
Hard drive failure

It is undoubtedly the most common reason behind data getting deleted from the AUS laptop. Your hard drive may fail for a variety of reasons. If it keeps happening frequently, you need to find out the prevailing logic. As it is a mechanical device, there are great chances of failure. Some significant reasons may include overheating, water spillage, sudden power outage, or breaking down if fallen.

Accidental removal of data

Another reason why the data may be removed from the laptop is accidental deletion. Accidently, if you overwrite the previous data, it may get removed from your computer.

Viruses and Malware

It's not only the individuals who may lose their data due to malware or virus, but massive organizations also complained about it in the past. Email attacks and phishing are the two most common ways the viruses enter ASUS laptops and delete the files.
Nonetheless, whatever the reason behind the deletion may be, following this article will tell you how to recover deleted photos from Asus laptop.
Part 2. Bonus Tip-How to Backup ASUS Laptop
Are you looking for an additional way to backup your Asus laptop? Well, here it is.
The backing up of the ASUS laptop includes the following steps:
Step 1. Find the 'settings' option and select the Update and Security option.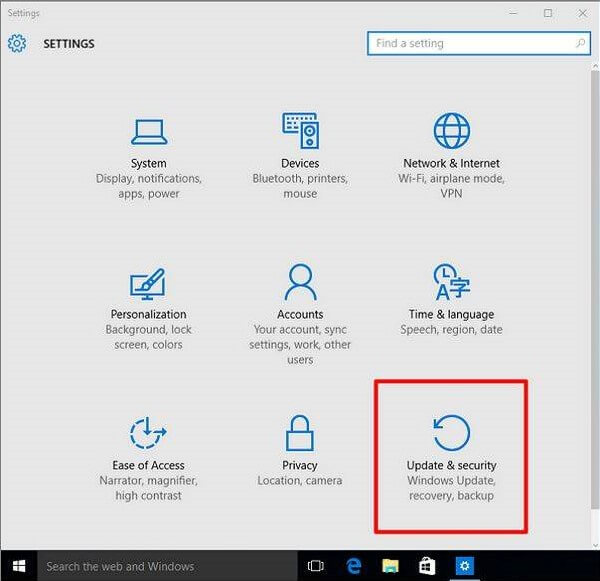 Step 2. Choose the option of BackupWindow.
Step 3. Under the 'look for an older backup' part, choose the older backup and click on the backup and restore option.
Step 4. Find the option 'create a system image'.
Step 5. Select the 'on hard disk' option
This is undoubtedly the fastest, safest, and most straightforward method for Asus laptops to backup and restores.
Part 3. FAQs about ASUS Data Recovery
Some answers to the most asked questions regarding ASUS Data Recovery are as follows:
3.1 How to Recover Asus Laptop From Recovery Partition
It is pretty easy to recover Asus laptop windows. You need to
Step 1. As the ASUS logo shows up after turning on the computer, press the button F9.
Step 2. Opt for the option of Windows Setup [EMS Enabled] language and click 'next.
Step 3. As the ASUS Preload Wizard screen loads completely, choose the following option once again.
Step 4. Find the 'Recover Windows to the first partition only' and click next. Your task would be done.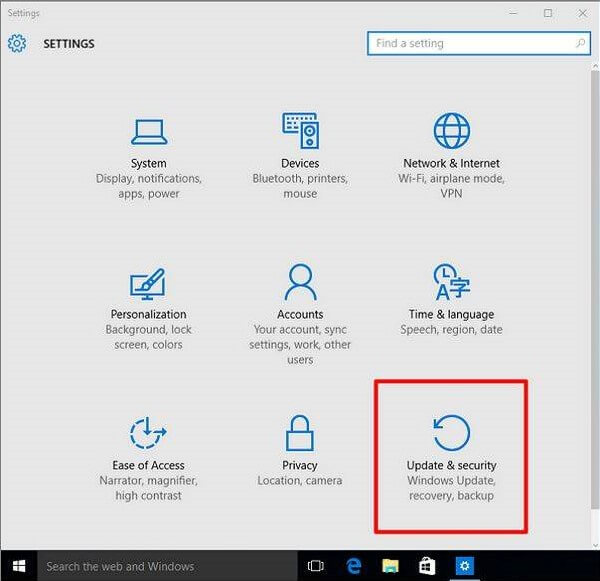 Now that you have learned how to recover an Asus laptop from a recovery partition follow each step carefully.
3.2 How Do I Recover Deleted Files on My Asus Laptop
The easiest way to recover the deleted files on your Asus laptop is through the iMyFone D-back Hard Drive Recovery Expert software.
3.3 How Do I Recover Permanently Deleted Photos from My Asus Laptop
You can quickly recover the deleted photos from your Asus laptop. If you can find them in your recycle bin, you can restore the files with a simple click. If the files are not there and no backup has been there, use the reliable data recovery software mentioned above.
Conclusion
Data deletion can be stressful. Rather than panicking, you need to take the proper steps. The first thing is to check the recycle bin and the recent backup data. If nothing works, utilize the benefits offered by iMyFone D-Back software. It will help you get back your deleted files in the quickest possible manner.