Microsoft Outlook is a splendid application for sending emails. People use it for professional purposes almost in every corner of the world. These mail files are mostly in PST/OST format, which is hard to read by the computer. Sometimes these files disappear due to different reasons. In such a case, the user tries to get those files back if they are essential.
This article will show how you can recover lost PST/OST files. We will share the step-by-step method that you can use to get your files back. Let's start!
Part 1. The Simplest Way to Recover Lost PST/OST File from Hard Drive
The easiest way to recover lost PST/OST files from Hard drives is by using a third-party data recovery tool, iMyFone D-Back. It is easy to use and recover almost all data types with just a click. It supports more than 1000 data types and can recover the data in difficult scenarios. You can perform selective recovery by previewing the data after the scanning process.
Step 1: Download iMyFone D-Back Hard Drive Recovery and install it on your computer. Choose the drive from which you want to recover the lost PST/OST file.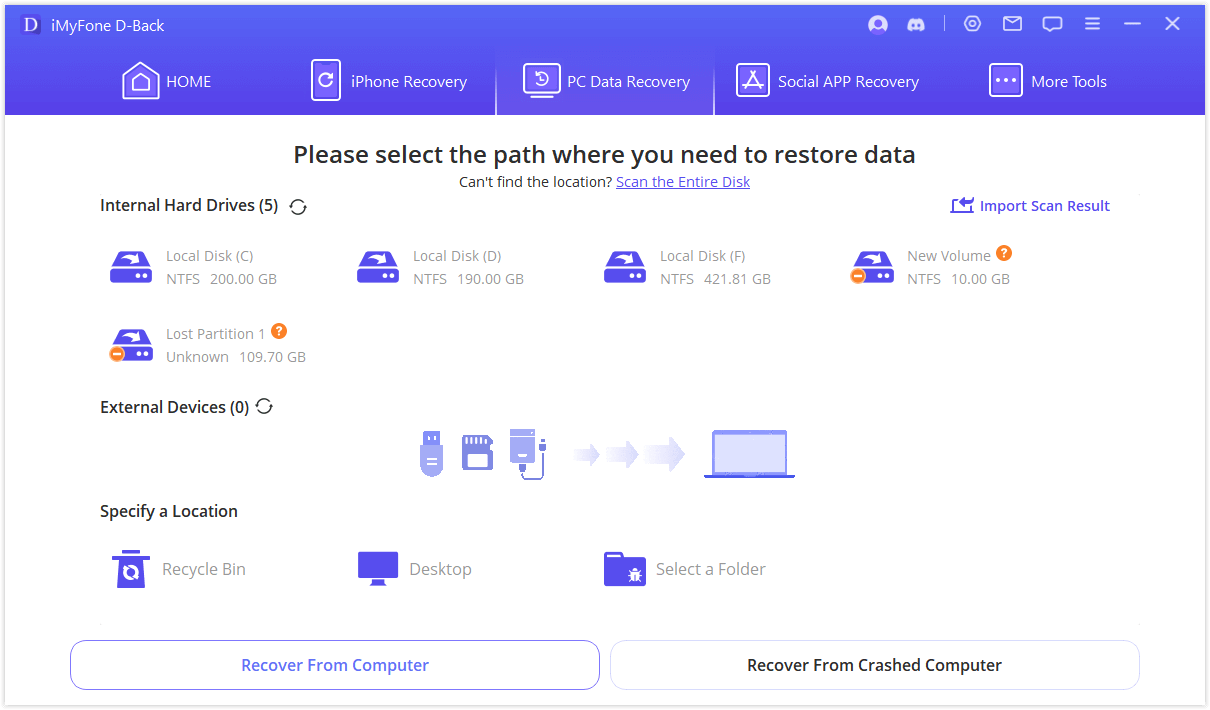 imyfone-dback-hard-drive-recovery
Step 2: Scan the selected drive or location. The tool will perform a scan and find all the finds, including the deleted files. Once the scanning is finished, you can see all the files.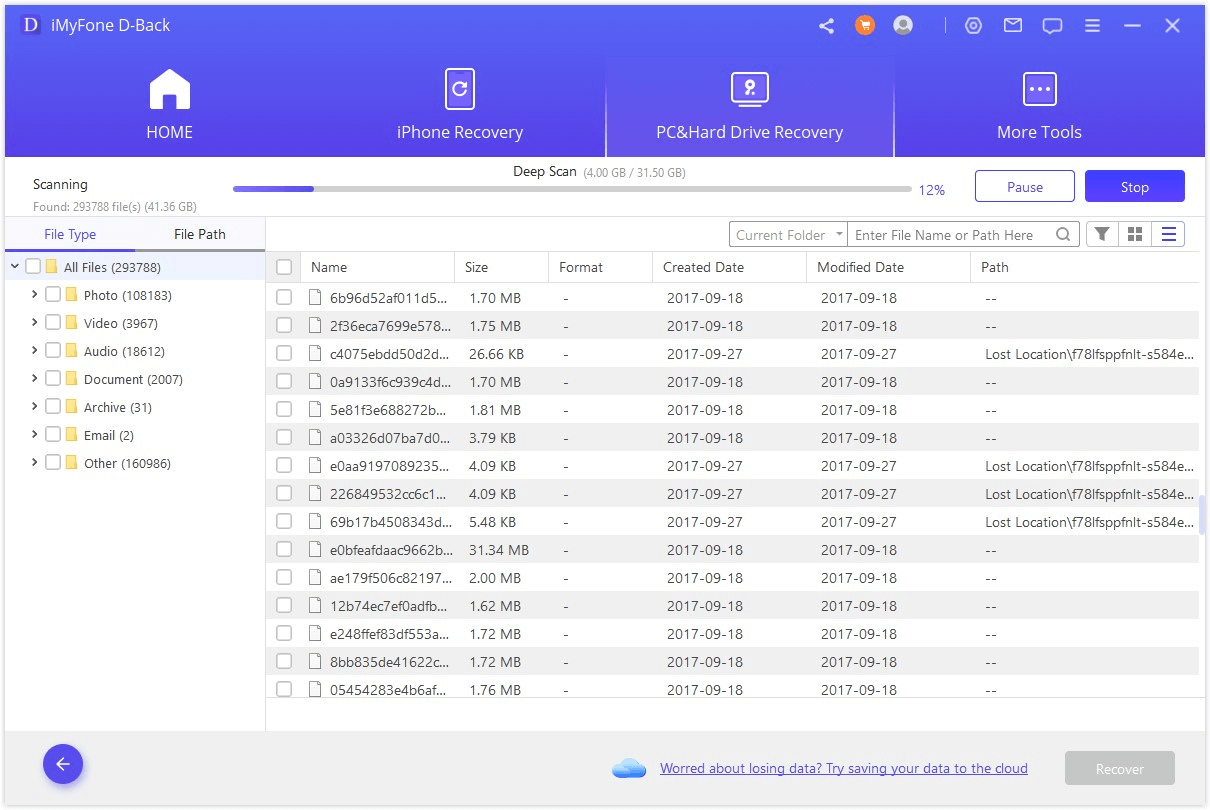 imyfone-dback-hard-drive-recovery-scan
Step 3: Preview all the recoverable files and choose what you need to recover. Select the files or use a filter to find specific files, then click on "Recover" to restore them to your computer.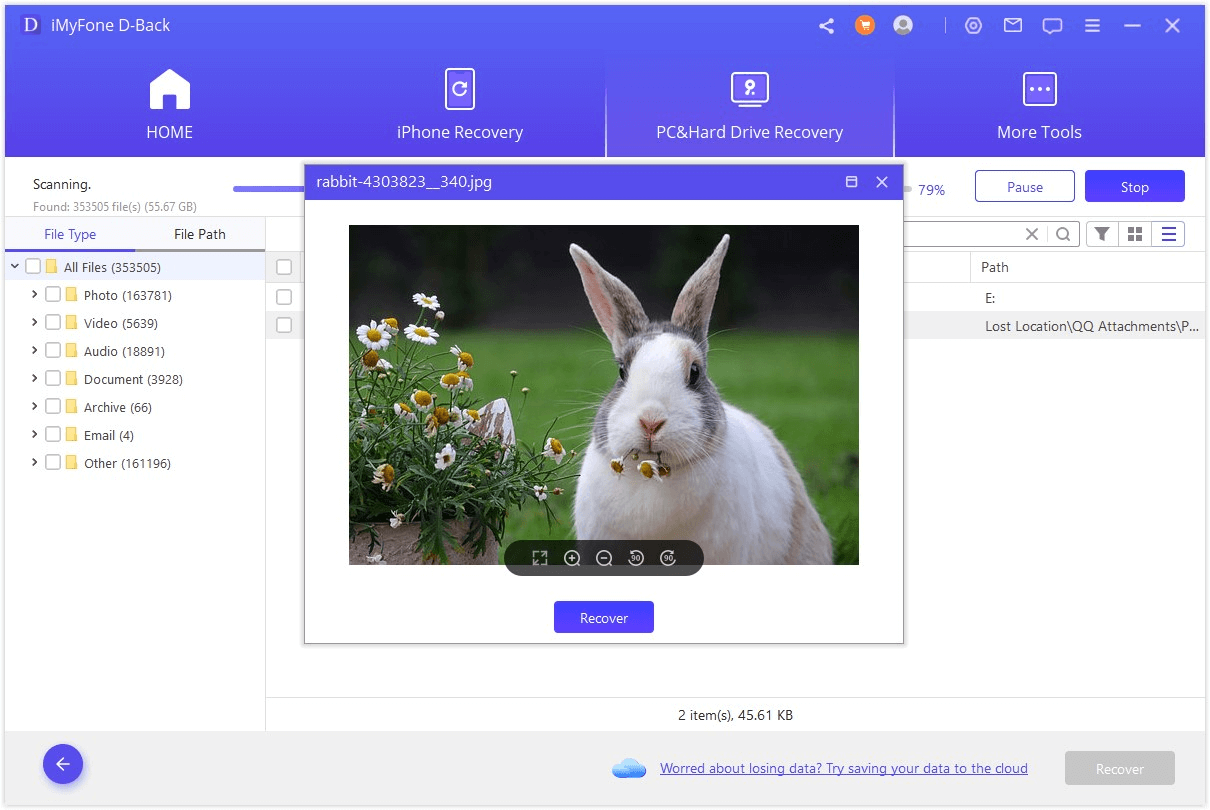 imyfone-dback-hard-drive-recovery-recover-files
Part 2. Other Solution to Restore Lost PST/OST File
2.1 How to Recover Missing PST File?
Method 1: Retrieve Disappeared PST File from Previous Version
The first method that we are going to discuss is the Previous Version. Windows has a feature where it allows you to restore your deleted files. It keeps track of all of your previous files. You can easily restore the previous version of your files.
Step 1: Go to the certain drive and right-click on it.
Step 2: You will find "Previous Versions".
Step 3: Click on it and choose the version that you want to recover.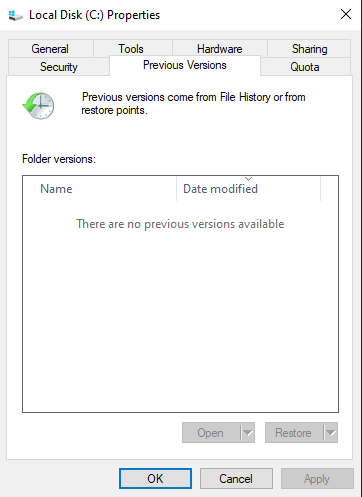 Method 2: Recover Lost PST File from the Recycle Bin
The second method is quite conventional. Whenever you delete a file or accidentally a file gets deleted by you, it goes to the Recycle Bin. The files stay there for a certain period.
You can go to the Recycle Bin, find your deleted or missing PST file, and recover it.
2.2 How to Recover Lost OST File in Outlook?
Method 1: Recover Data using CMD Method
You can also recover your lost OST file in Outlook by using CMD Prompt. It is powerful and can find your OST file easily. Here are a few commands that you can use to get your OST file back.
CD\ (this command will take you to the root path)
DIR /S *.PST" (with this command, you can see all the PST files and their locations)
DIR /S *.OST" (with this command, you can see all the OST files and their locations)
You can then use the COPY command and paste it into the directory you want.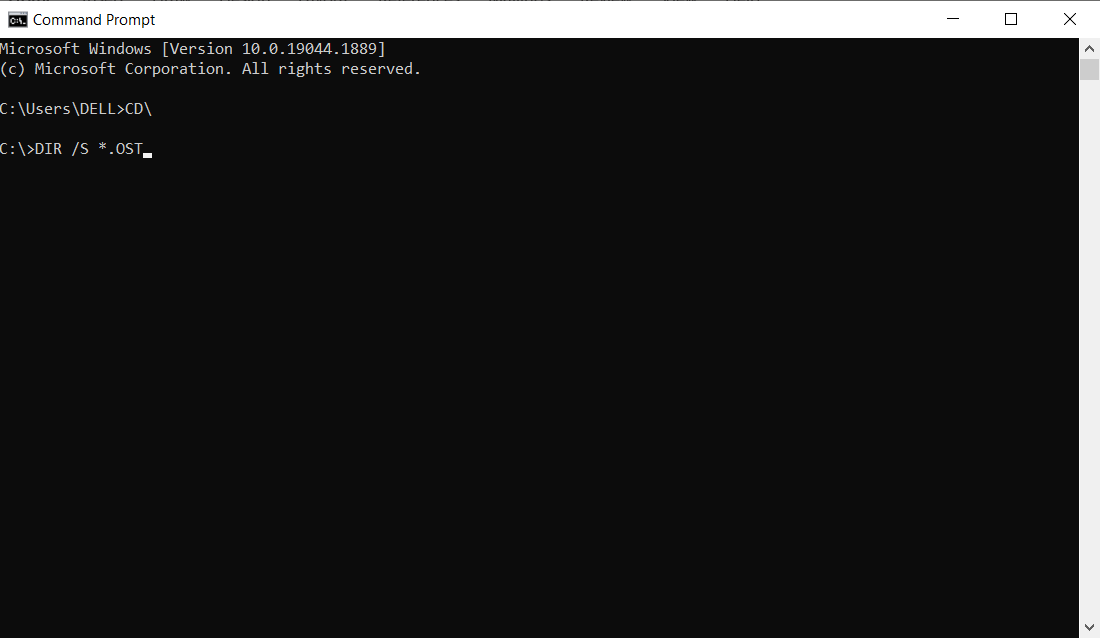 command-prompt
Method 2: Recover Data Using Recycle Bin Method
Whenever you delete an item from the Outlook mailbox, it directly goes to the Trash folder. Thus, you can easily recover the files later whenever needed.
Step 1: You can simply go to deleted items and find a folder of "Trash."
Step 2: Find the mail that you want to recover and click the option "Move" and move it to another folder to restore it.
Part 3: FAQs about PST/OST File Recovery
3.1 Why did my PST file disappear?
PST files are now ordinary files. If you choose the option to view the files in a specific view, then it might disappear. You can change the default view settings and see the missing files.
3.2 How do I find Microsoft Outlook PST/OST File location?
The quickest way to know the location of the Microsoft Outlook PST/OST file is by opening Outlook. Go to "Files > Accounts Settings > Data Files > Open Folder Location". It will take you to the location of PST/OST files.
3.3 Why can Microsoft Outlook not open an OST File?
The reason why Microsoft Outlook cannot open the OST file is that the file is corrupt. You can repair this OST file by using a built-in utility known as ScanPST.exe. Repair the file and then open it.
3.4 How do I backup Microsoft Outlook PST File?
To back up the Microsoft Outlook PST file, open Outlook and go to "File > Open & Export"; Select the option of "Export to a file" and proceed. Select"Outlook Data file (.pst)" and click on "Next". Now choose the folder of the mail that you want to backup and click "Next". Finally, choose the location where you want to backup the files and click on Finish.
Conclusion
When we are working with Microsoft Outlook, OST/PST may get accidentally deleted or disappear. In this article, we have discussed a few methods that you can use to recover those OST/PST files. The best way to recover these files is to use a data recovery tool, iMyFone D-Back. It has a simple user interface and doesn't take long to process all the deleted files. It has a trial version that you can download without any trouble.