Did you delete crucial files from your Mac computer using the rm command, and now you are looking to recover them? You are at the right place as in this article, and I will show you an easy and efficient method to recover files deleted with the rm mac command. So, keep reading;
Part 1. How to Recover RM Files after using RM Command on Mac OS?
When using a mac computer, it is easy to delete files using the rm command. And the thing is, this command deletes files without a trace, and so when such a thing happens, you tend to wonder whether you will be able to recover the lost data. Now, it is possible to recover these data, especially with the help of an effective tool such as iMyFone D-Back data recovery software
1.1 Simple Steps to Restore Deleted Files after using RM Command on Mac
iMyFone D-Back recovery tool is the best data recovery tool to use on Mac devices, as it includes a comprehensive set of functions that allows it to recover data lost in whatever way possible, from lost partitions, rm commands, deleted time machine backups, or password-protected drives. So, how can you recover data lost through rm commands in Mac devices using iMyFone D-Back?
Step 1 : the very first thing you need to do is to download and install the software on your Mac devices.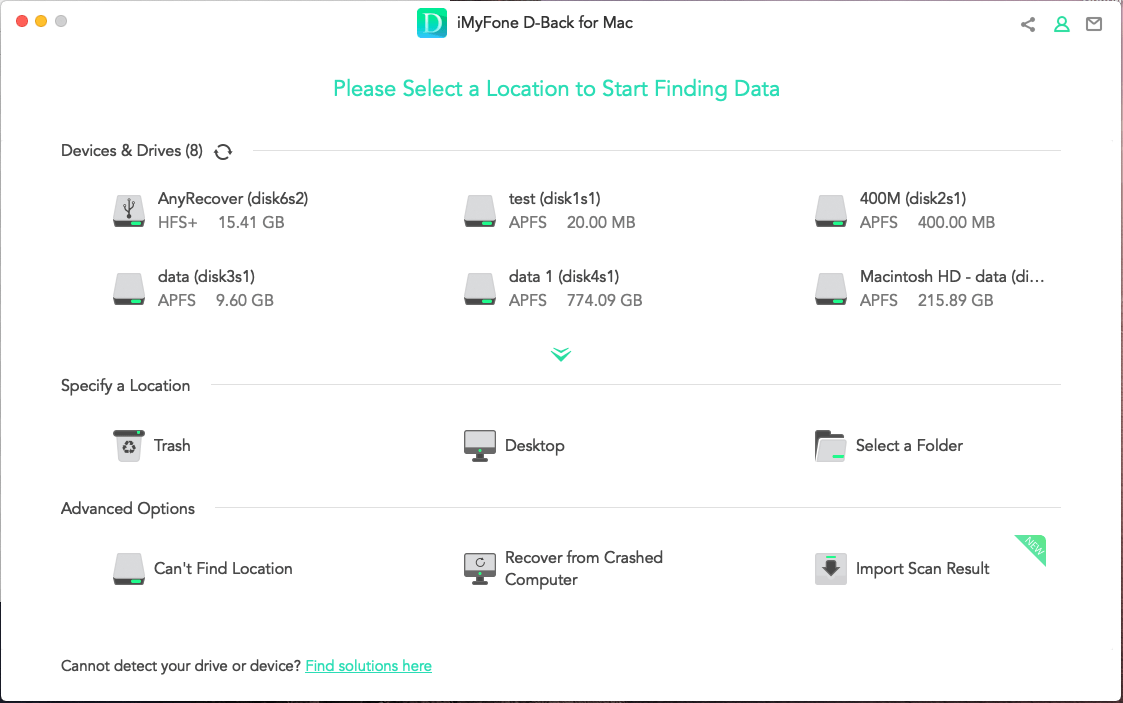 Step 2 : launch the software, select the type of data you want to recover and the storage medium, and then click 'Scan'. Allow the software to run uninterrupted until the scanning is complete. It might take a bit longer since it is scanning many documents.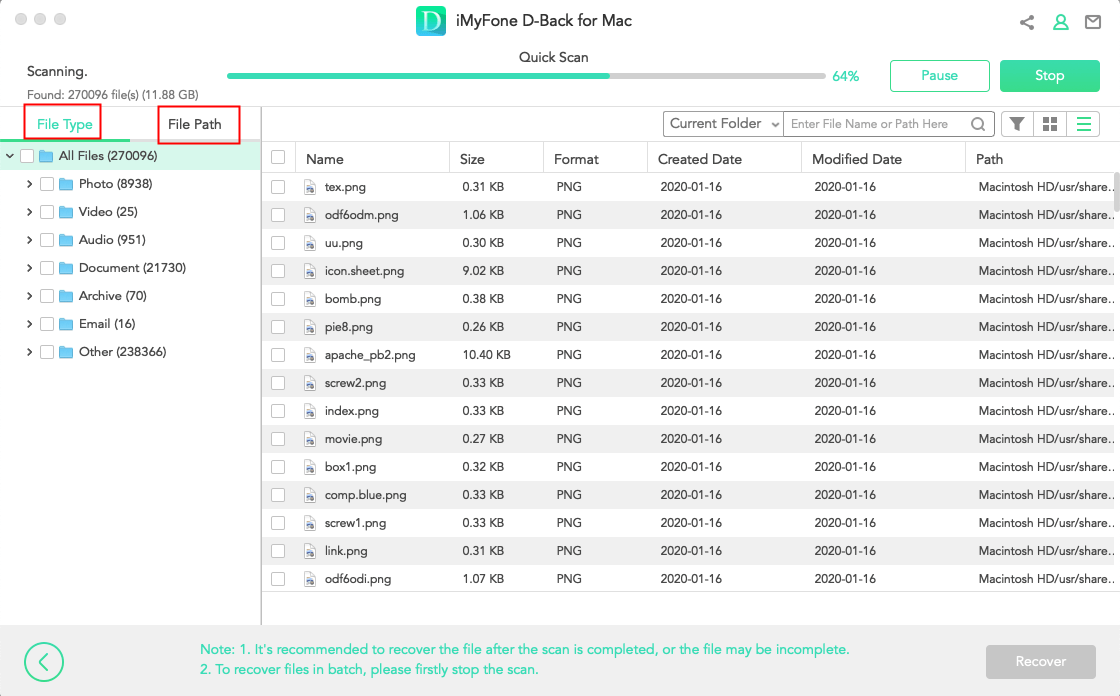 Step 3 : once the scanning stops, you will see a list of all the recoverable files, where you will then select the files you would like to recover and then press "Recover."
1.2 What is RM Command and how does it Work?
In simple terms, RM Command is a command on Mac or Linux operating systems that are used to delete all sorts of files, including computer files, directories, and symbolic links from the system. The command removes the entries for a specific file or group of files from a list that's within a particular directory. And when using the rm command, user confirmation, write and read permissions are not required.
Part 2. Another Way to Recover Files Deleted with RM on Mac
There are other ways, or better yet, other recovery tools you can use to recover all the files lost through the RM command. Now, other than the favorite, iMyFone D-Back, one can also use the Wondershare Recoverit data recovery, an easy-to-use and safe software that provides immense ability to retrieve lost data, regardless of how it was lost. So, how can you recover lost data using this software?
Step 1 : Download and install Wondershare Recoverit on your mac computer. Then launch the software and then select the drive on the Devices tab.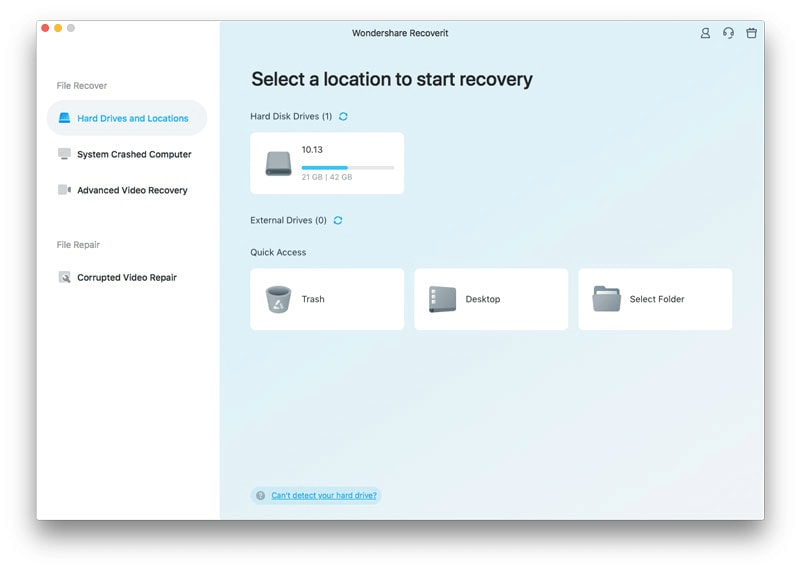 Step 2 : scan the location – after selecting the location, just hit Start, and the software will start the scanning process. And even though this process might take a little longer, you should wait until it is done. All the files that had been lost will be listed. But if you are to find the file that you are looking for before the scanning process is done, you can stop the process.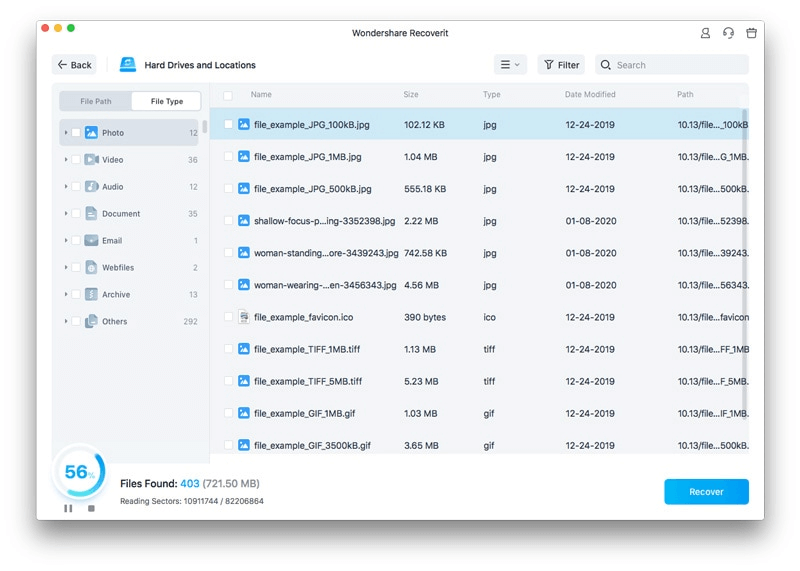 Step 3 : preview and recover – once you find the file, you can do a preview to ensure that it is the one you want to recover. After that, hit "Recover" and select where to store the file.
Part 3. FAQs about RM Deleted Files Recovery
3.1 How to use rm command on Mac safely?
From the menu bar, select Finder, and then hit Secure Empty Trash. Here, you will see a notification warning that some files are about to be deleted. Click Ok, and just like that, you will have started a secure deletion process.
3.2 How to delete multiple files using the rm command?
Once you have the file that you want to delete, you just need to type rm (filename). If you want to delete multiple files ago, you will list them all and ensure that you put spaces in between the names. After these, hit Enter to execute the command.
3.3 How to recover rm files from a memory card?
Download iMyFone D-Back data recovery software, and install it on your device. Then, connect the SD card to your pc. After that, open the software, and then select the sc card, and hit scan. Wait for the scanning to complete, and you will see a list of all the files that were deleted. Select the files you want and hit "Recover".
Final Thought
As you can see, in as much as the RM command might delete files permanently, with effective data recovery software such as iMyFone D-Back, you can easily recover any deleted files. Being easy to use and safe, it is pretty reliable. Download this software today, and enjoy!