SanDisk is a famous company that makes storage devices. People use SanDisk SD Cards as a reliable and long-lasting product. However, for some reason, you can lose data on your SanDisk SD Card, or you may accidentally delete it. Today, we will discuss how you can recover data from your SanDisk Extreme and Extreme Pro SD Cards.

Part 1. Five Best SanDisk Recovery Software for SanDisk Extreme Pro - Free Download
Top 1: iMyFone D-Back Data Recovery Software
The best and top-rated SanDisk Recovery software for SanDisk Extreme Pro is iMyFone D-Back Hard Drive Recovery Expert. It is a professional data recovery tool that is compatible with both Windows and macOS.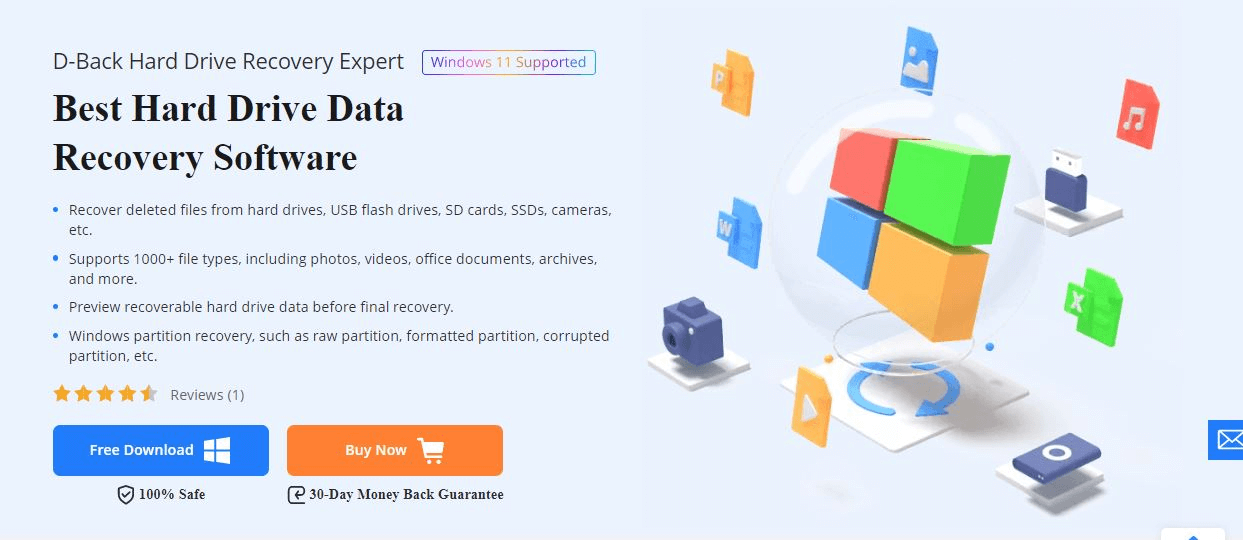 iMyFone D-Back Hard Drive Recovery Expert can recover data from Hard Drives, SSDs, USBs, SD Cards, and more. You can preview the data before the actual recovery. It supports more than 1000 file types, including photos, videos, documents, archives, and more. Moreover, to search for specific files, you can apply the file filter. All the data is secure with this tool, and it gives you free scanning as well.
User Guide of iMyFone D-Back: SanDisk data recovery software free download on mac/ windows
Step 1:Install iMyFone D-Back and choose a location where you want to recover your SanDisk data.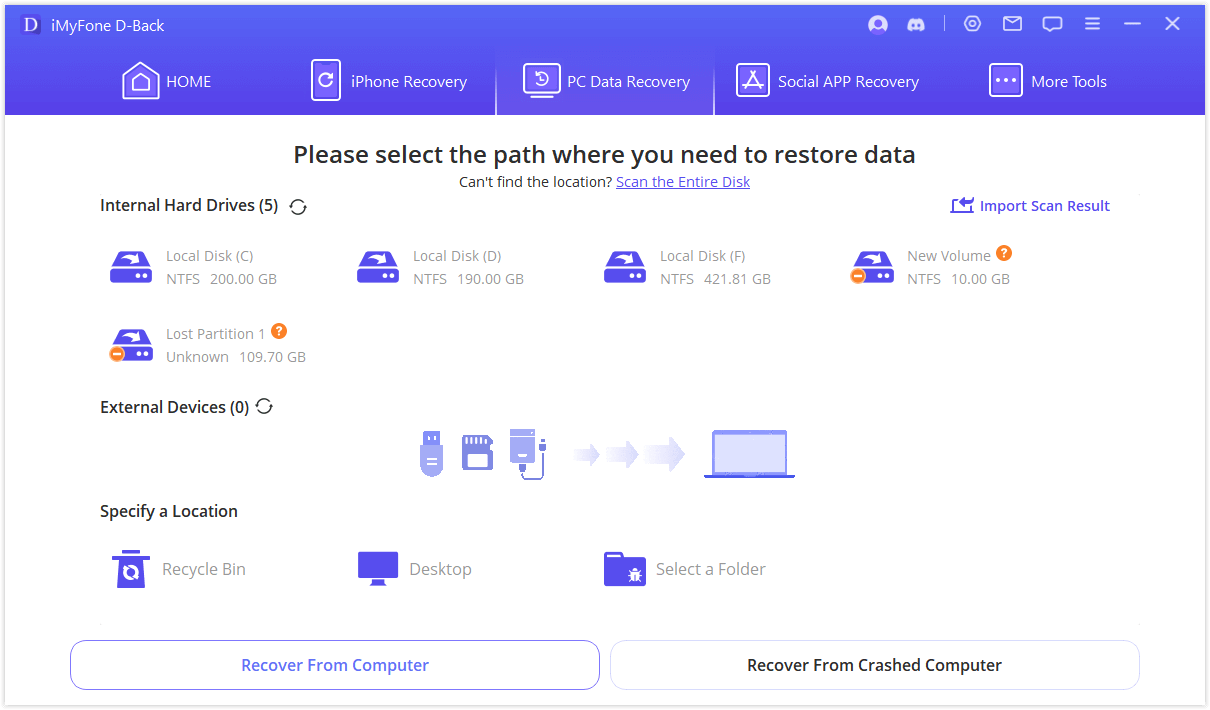 Step 2: The software will begin a deep and all-encompassing scan of the chosen location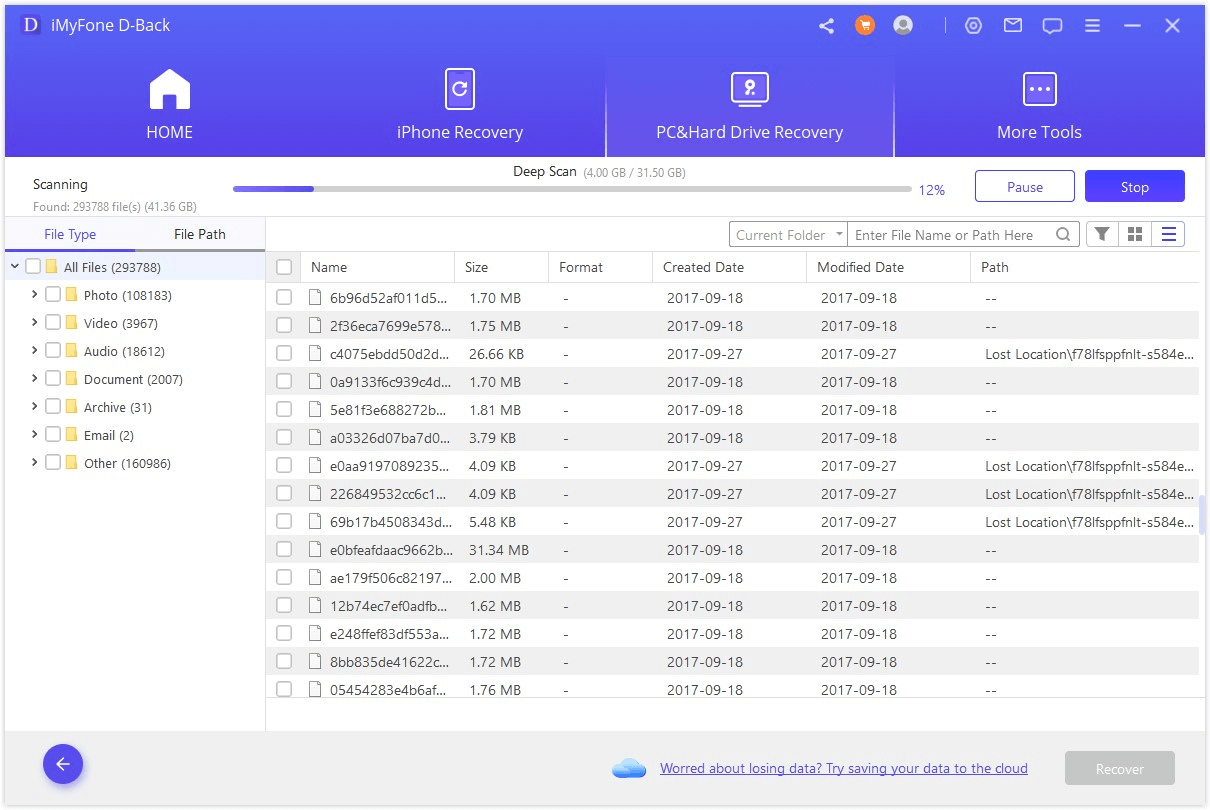 Step 3: Last, you can preview the SanDisk files, select the one you want to retrieve, and click on "Restore."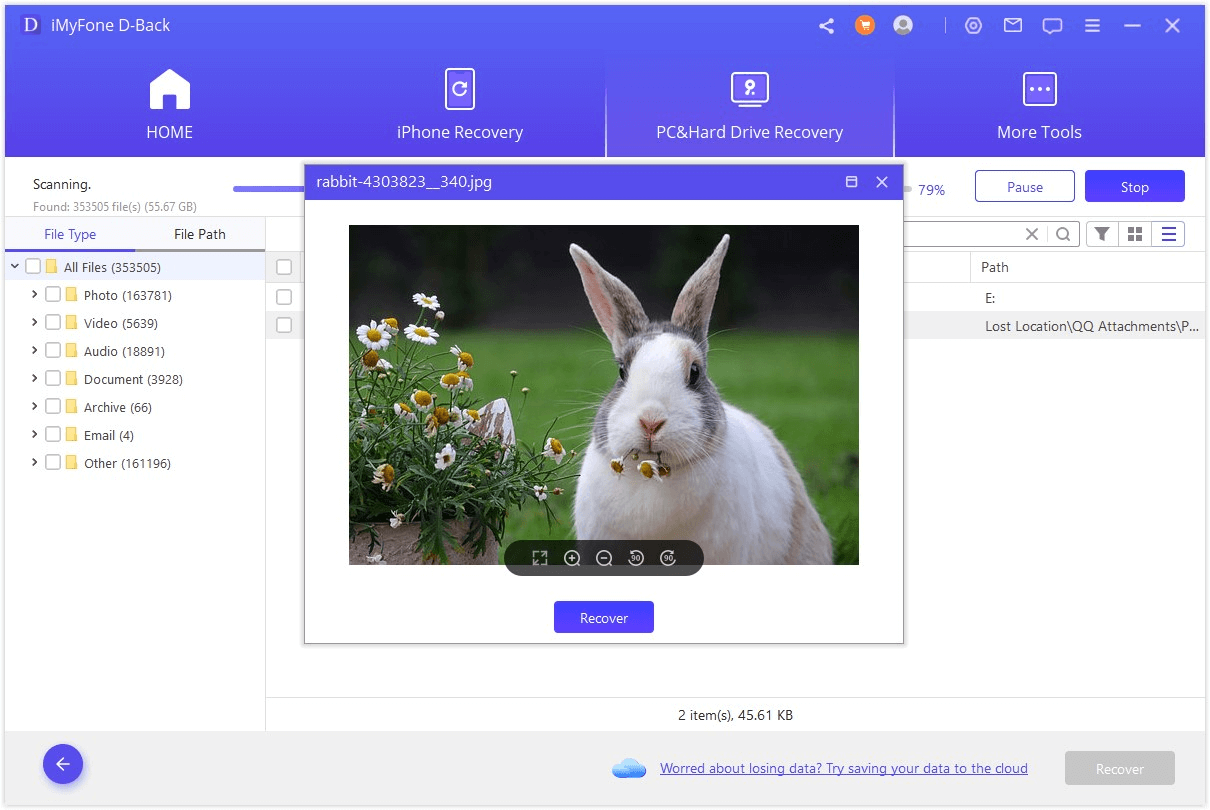 Top 2: SanDisk RescuePRO Deluxe Software
If you want to recover data from SanDisk Extreme Pro, then you can use SanDisk's own data recovery tool, which is SanDisk RescuePRO Deluxe.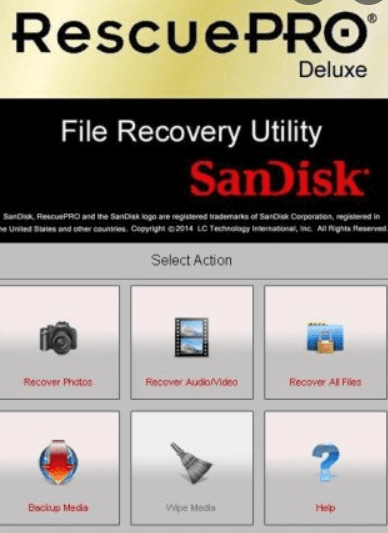 SanDisk RescuePRO Deluxe allows you to recover images, videos, and high-quality RAW images as well. It has a simple and interactive user interface. You can also create copies of failing drives without stressing the device. With the Deluxe version, you can recover fragmented videos from GoPro, Canon, Nikon, Sony, and different cameras.
Top 3: EaseUS Data Recovery Wizard
EaseUS Data Recovery is another tool that you can use to recover different types of files. It allows you to have a quick and deep scan. After the scan, you can preview all the files for free. Apply a file filter to locate the files that you want to recover. It has a 99.7% success rate of data recovery.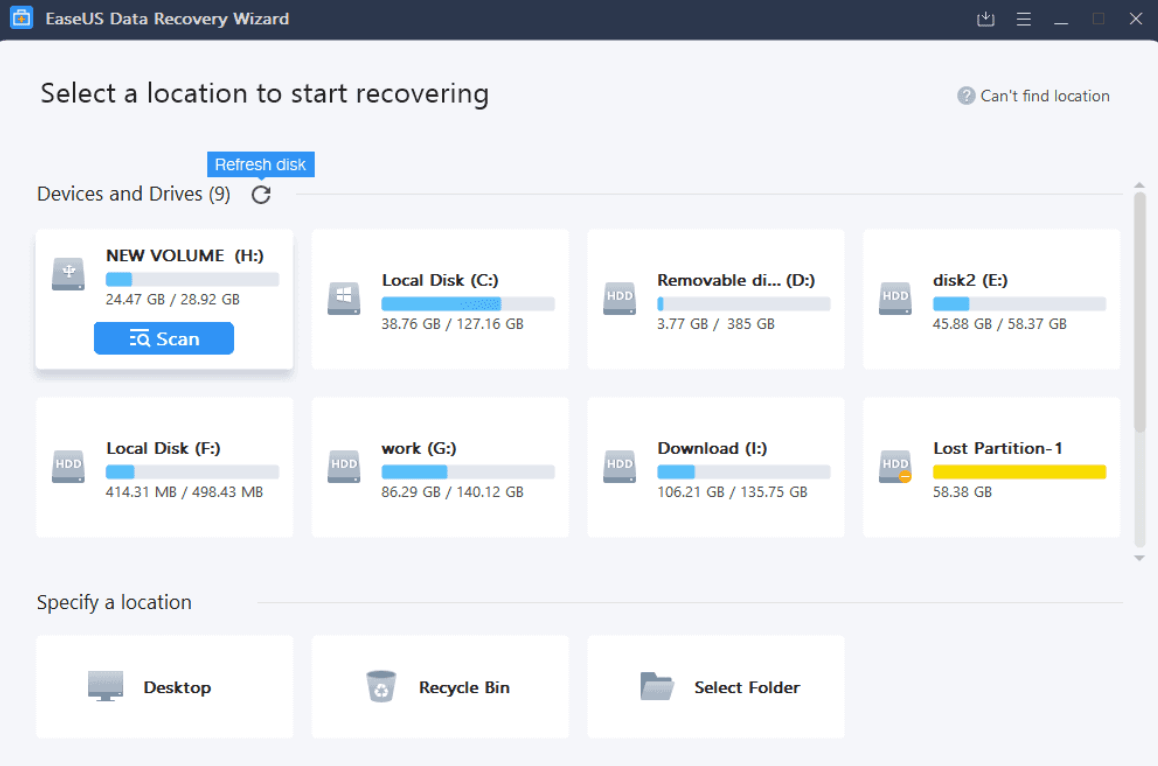 It has over 75 million users. EaseUS Data Recovery supports more than 2000 storage devices and more than 1000 file types.
Top 4: Stellar Data Recovery
If you want to recover 1 GB of data for free with a professional data recovery tool, then you can go for Stellar Data Recovery. It is compatible with Windows and macOS both.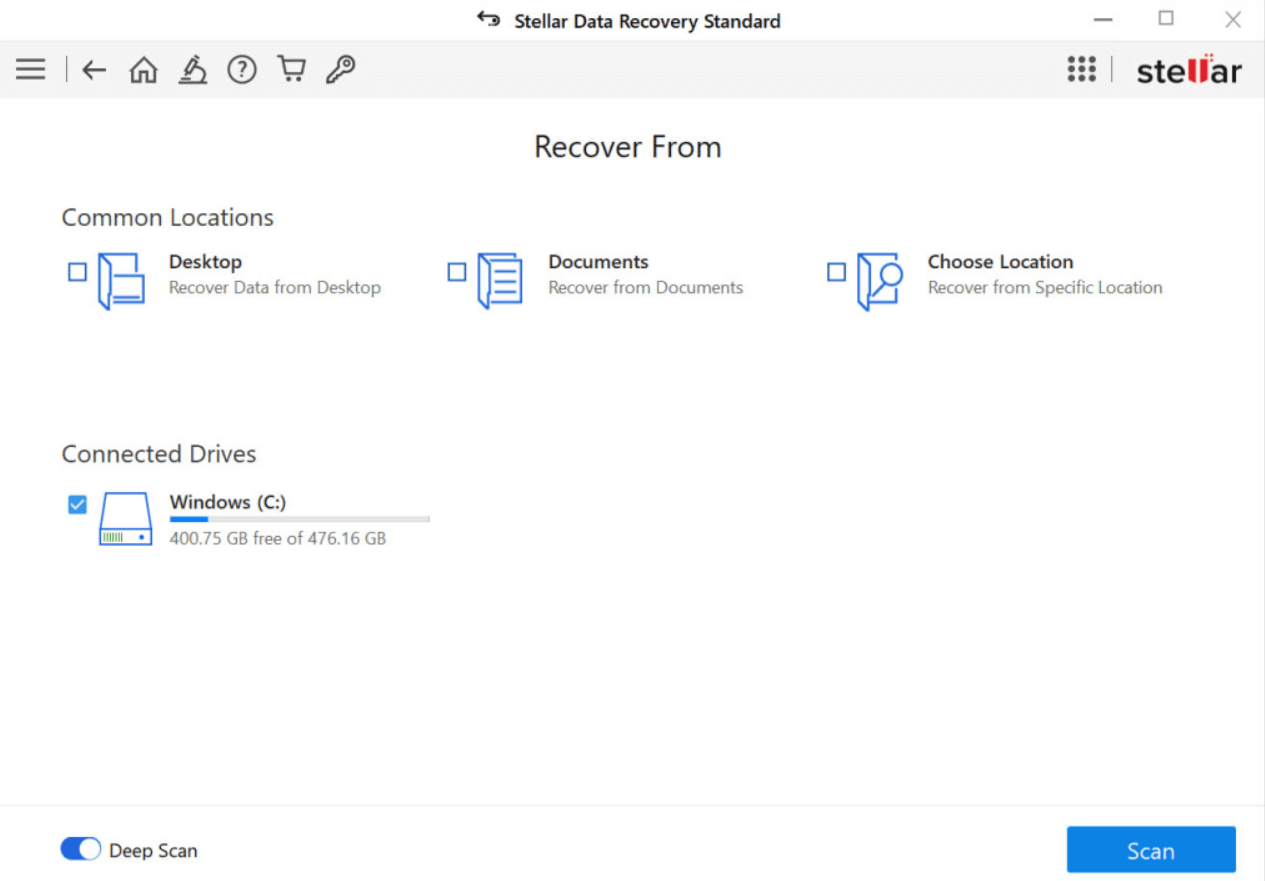 You can also recover data from formatted or corrupt drives. It can recover from BitLocker encrypted files and also has an advanced RAID recovery capability. Moreover, you can recover data with this tool using only 3-clicks. If you want to increase the recovery size, then you can get the premium version of the tool.
Top 5: Disk Drill
Disk Drill allows you to recover 500 MB of free data recovery. It provides data protection with Recovery Vault. This tool also allows you to preview the data before recovery as well.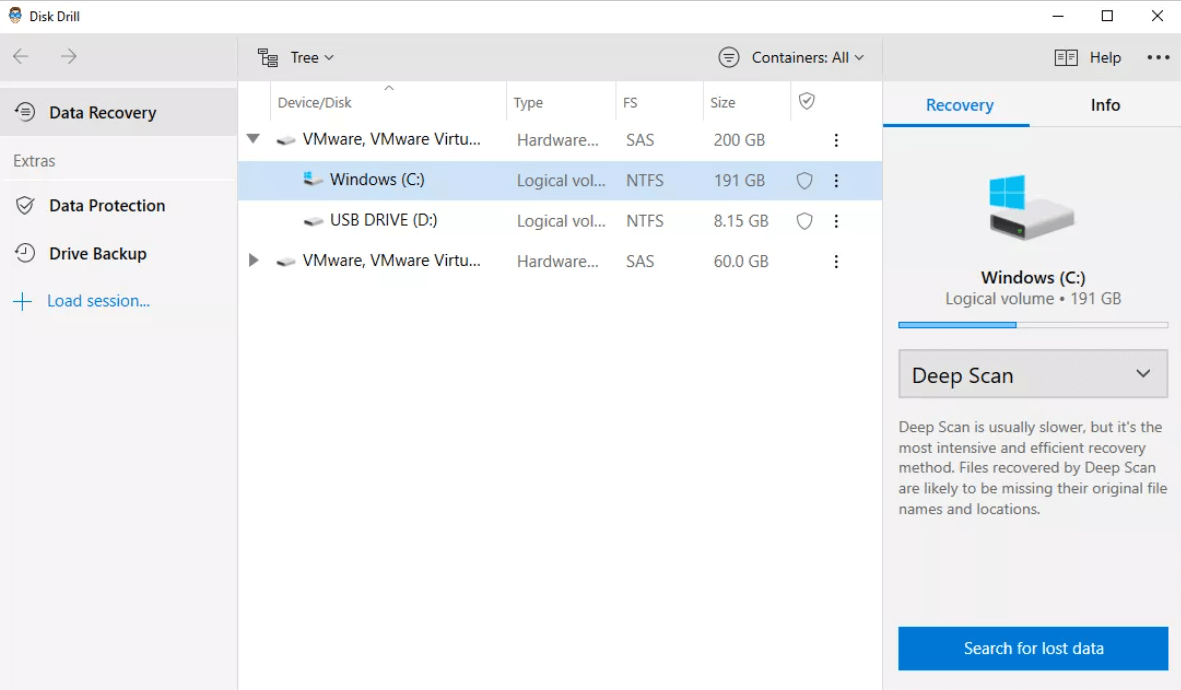 Disk Drill is compatible with Windows and macOS. It supports a variety of file types, making it easy for you to recover lost/deleted files. However, it takes more steps than other tools. Overall, you will need to follow 5 steps to recover your lost/deleted files from SanDisk Extreme Pro.
Part 2. Difference Between SanDisk Extreme Pro VS Extreme
SanDisk has a variety of memory cards that you can buy or get your hands on. It is used for storing digital data. Due to its standing and rating in the market, it is used in different electronic devices.
Mostly, camera users tend to use SanDisk Memory Cards because they are reliable and have good transfer speed. However, SanDisk has a different variety of memory cards.
SanDisk Extreme and SanDisk Extreme Pro are two major products of SanDisk. Both have a few different features. Let us compare these two products and see their differences.
| | | | | | |
| --- | --- | --- | --- | --- | --- |
| | Max Read Speed | Max Write Speed | Bus Types | Maximum Capacity | Price |
| SanDisk Extreme | 150 MB/s | 70 MB/s | UHS-I | 256 GB | Moderate |
| SanDisk Extreme Pro | 170 MB/s | 90 MB/s | UHS-I / UHS-II | 1 TB | High |
These are distinct and different features of SanDisk Extreme and SanDisk Extreme Pro. At the same time, a few of the common features of both of these products are card types (SDHC / SDVXC), durability (shock/temperature/water/x-ray proof), UHS speed class (U3), speed class (class 10), and video speed class (V30).
SanDisk Extreme Pro is a little better than SanDisk Extreme based on the given features and is a little expensive as well. If you don't want to use it professionally, it is recommended that you go for SanDisk Extreme.
Part 3. FAQs About SanDisk Extreme Pro Recovery
3.1 Is SanDisk Extreme Pro better than Ultra?
Yes, SanDisk Extreme Pro is better than Ultra in many specs. To start, Ultra has a maximum storage capacity of 256 GB, while Pro has a maximum capacity of 1 TB. Pro has greater read and write speed than Ultra, which is 170 MB/s and 90 MB/s compared to 80 MB/s and 10 MB/s, respectively. Pro can support 4K files, while Ultra only supports up to 1080p. Ultra has a speed rating of U3, and the Extreme Pro has U3/V30.
3.2 How Do I Recover Deleted Photos from my SanDisk Extreme Pro?
You can easily recover deleted photos from SanDisk Extreme Pro by using the data recovery tool. We have mentioned different data recovery tools in the article that you can download for free. However, the best tool that you can use for data recovery is the iMyFone D-Back Hard Drive Data Recovery Expert. It has a user-friendly interface and supports numerous file types. You can download the free version to check the feasibility of the tool.
3.3 What is the Fastest SanDisk?
If you are looking to buy SanDisk's fastest SD Card, then you can go for its Extreme line. It offers maximum read and write speed. The maximum capacity that you can get on SanDisk Extreme Line is 1 TB. These cards are A2 certified and are suitable for mobile phones and cameras.
3.4 Can I use a SanDisk Extreme for a Dash Cam?
Not all. But there are certain SanDisk products that you can use in Dash Cam. For example, you can use the SanDisk Ultra A1 cards for Dash cams.
Conclusion
SanDisk has a great reputation when it comes to SD Cards. It is one of the most prestigious SD card-making companies due to its high rating and reliability. However, due to any virus attack or accidental deletion, you may lose your data on SanDisk Extreme Pro, but you can recover it using a professional data recovery tool. You can download iMyFone D-Back Hard Drive Recovery Expert, as it is the easiest way to restore your lost files. It can recover data in almost every difficult scenario.