TangoME Inc. developed Tango (the all-in-one cross-platform messaging application software for smartphones and tablets) in the year 2009 to offer voice, video, and text messaging services over 3G, 4G and Wi-Fi networks in order to connect people, friends, and families together. The Tango application is truly serving iPhone users in easy and effective communication but not without a fault.
Deleting sensitive and private messages on Tango is not as easy as WhatsApp, WeChat, Messenger, or other social messaging apps. This issue has limited many Tango users from utilizing the chat features in conversing with their co-workers, friends, and family members especially when they need to make sensitive conversation. However, if you know the right steps to delete Tango chat history, it will be a write-off for you.
How to Delete Tango Chat History on iPhone
In this first part of the article, we shall discuss procedures to manually delete Tango messages and chat histories on iPhone.
Solution 1. How to Delete Tango Messages
Deleting Tango message is not as hard as people think if you know the right steps to take. It's quite simple; requiring only 4 steps to complete.
Launch your iPhone Home screen and open the Tango app.
On the Tango application, tap the Chat icon at the bottom.
Open any specific conversation where you want to delete messages.
Click and hold the message until you see a pop-up menu and click "Delete".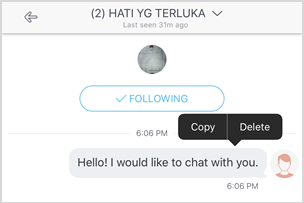 Note: You don't need to confirm the deletion. So pay attention, don't mistakenly delete some messages. Besides, it doesn't allow you to delete Tango messages selectively, you need to make it one by one.
Solution 2. How to Delete Tango Chat
Deleting Tango Chat is another simple task for those who know the right steps to take.
Launch your iPhone Home screen and open the Tango app.
On the Tango application, tap the Chat icon and you will see all your conversations listed there.
You can scroll up or down to find the chat you want to delete and slide it to the left.
Tap the "Delete" button and it will delete the chat from your iPhone.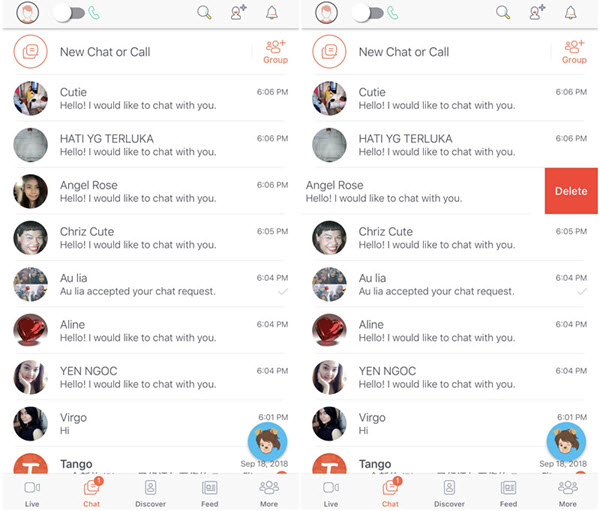 When you click "Delete" it will do the deletion immediately. So double confirm it before you do it. Besides, the same as to delete Tango messages, you can't select several chats and delete them at once.
What's more, it will be pertinent to mention here that Tango chats, messages, and conversations that were deleted from your iPhone app are recoverable. Therefore, if you have some sensitive chats that would cost you a lot of stress if they leak, then you need a strong data-erasing tool to expunge them completely from your iPhone.
How to Protect Tango Chats on iPhone from Spying
Are you concerned about your private chats on Tango app, and whether your deleted chats can be recovered using a data recovery tool? The truth is that Tango chats can be recovered even after deleting them from the iPhone app, because some private leftovers are still on the iPhone drive.
The good news is that there is a third-party software that can scan and permanently erase any Tango private fragments to render them 100% unrecoverable, and iMyFone Umate Pro is the right app.
Umate Pro - Safely Protect Private Files
Permanently delete Tango leftover traces from iPhone to secure privacy, which protects Tango from spying. (This is also working for Facebook, Snapchat, Chrome, Twitter, etc.)
Completely erase private messages, photos, videos, notes, browsing history, WhatsApp, LINE, etc. from iPhone, with previews available.
Even previously deleted files which are still recoverable will be found out and fully destroyed, leaving no leftover for recovery.
Help to secure private and sensitive data before giving out or selling your iPhone or iPad.
Using Steps to Completely Erase Tango on iPhone
Step 1. Launch iMyFone Umate Pro on your computer and connect your iPhone with a USB cable.
Step 2. Choose the "Erase Private Fragments" mode and click "Scan". (You can choose other erasing mode if you need.)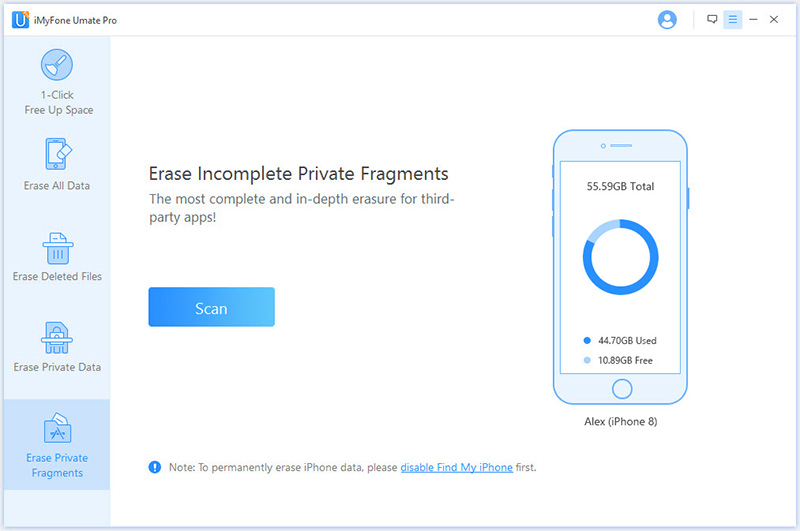 Step 3. It will show you how many leftover traces of each third-party apps. Check the app you want to erase and click "Erase Now" button.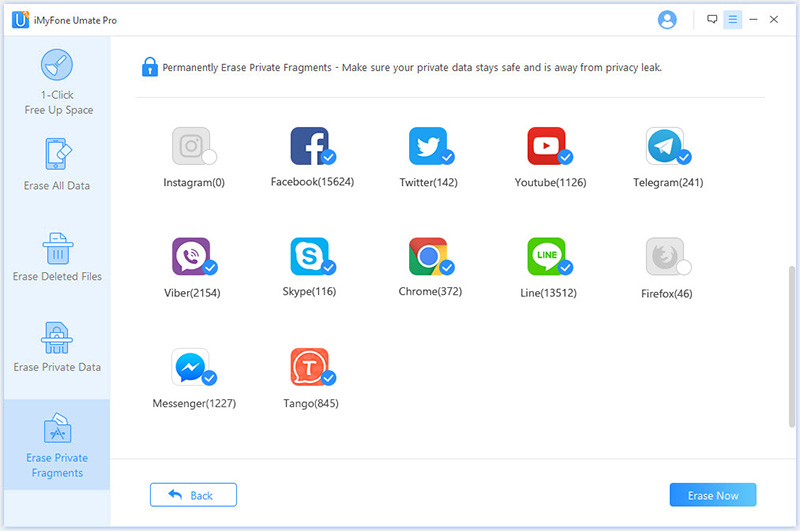 Don't worry, this mode won't affect the chats or files stored in the app.
Step 4. Type "delete" into the box, select a security level, and click "Erase Now" again to remove the selected private messaging apps and chats.
Once you've completed these steps, Umate Pro will remove all the Tango fragments which may leak your private info chats from iPhone completely. Therefore, get Umate Pro now to secure your privacy.