iPhones are a hot commodity, and though we like to think we would never be the victim of theft, iPhone's get stolen all the time. And if your iPhone does get stolen, your data is accessible. Not only can a thief access your private data, but they can even access your deleted data. This is true even if you have passcodes on your phone. Luckily, there is a way you can protect your data. Today we'll teach you how.
For a Stolen iPhone Can They Access My Data? Here's the Answer
As we mentioned above, with the right programs, thieves can access any and all of your iPhone data - even if it's already been deleted. With that being said, there are a few things that you can do to enhance your phone security:
1. Set your iPhone to erase data after 10 wrong entries: If anyone is trying to guess your password and fails 10 times, all of your iPhone data will be automatically erased. If you have set this on your phone you should remember your passcode and always have backup on iTunes or iCloud.
2. Enable Find My iPhone on your phone: When Find My iPhone is enabled you can track and find your missing iPhone device. In addition, it allows you to set an activation lock to prevent anyone else from using your iPhone if it is ever stolen.
3. Change your Apple ID password: You should update and change your passwords frequently anyways, but this is especially true if your phone is ever lost or stolen. Changing your password could be the difference between someone breaking into your phone, or being locked out.
4. Change the password for other internet accounts: Your iPhone data is not the only thing at risk if your phone is ever stolen. Remember, if someone can get into your iPhone, they also gain access to all other accounts like Facebook, LinkedIn, and so on and so forth. If you lose your phone, make sure to change all your passwords, not just your Apple ID.
5. Report your lost or stolen device: If you have lost your iPhone or got it stolen, this would be useful. The sooner you make a report, the better chance you have of retrieval.
6. Report your lost or stolen device to your wireless carrier: They will have access to all of your phone information, so if any calls are made from the device, they may be able to find who has it.
So, for a stolen iPhone can they access my data? You should now know the answer and know how to protect your personal data using the above solutions.
The Ultimate Solution to Protect Your Personal Data - iMyFone Umate Pro
For a stolen iPhone can they access my data? The answer is yes. All of the above tactics are good ways to improve on your personal security, but there is one problem - while they improve security, they don't guarantee it. With the right software, any good hacker can still dive deep into your phone and retrieve your personal information and data. The only way to avoid this is to be one step ahead with a software program like iMyFone Umate Pro for Windows or iMyFone Umate Pro for Mac.
With iMyFone Umate Pro, you can erase all of the data on your phone with a zero percent recovery rate! That means that even if your phone is lost or stolen, no one will be able to retrieve deleted information. This is the best way to ensure your phone security when selling, recycling, or donating your iPhone.
Features of the iMyFone Umate Pro
Protect your personal data by erasing them completely without any chance of recovery.
Find out your already deleted files and wipe them out of your phone permanently.
Keep you data like messages, calls, contacts, photos and videos safe without accessibility.
Help protect your personal information on third-party apps by erasing all the incomplete fragment.
Here's how to do it:
Step 1: Download iMyFone Umate Pro and connect your iPhone to your computer.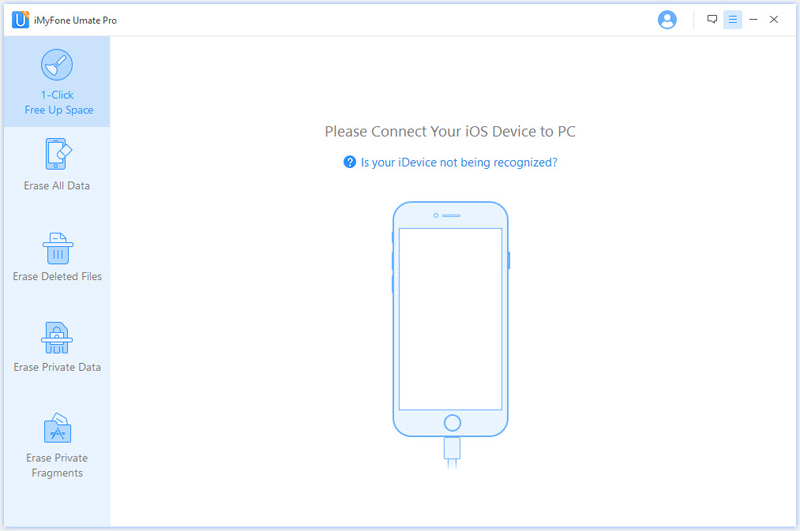 Step 2: Choose the Erase Private Data mode and click Scan.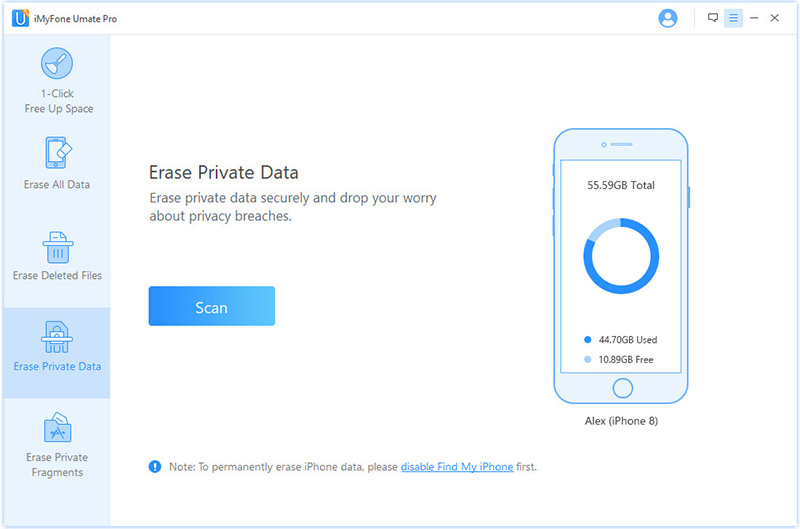 Step 3: Once completed, scan will list all of your private files. Choose which ones you want to erase and click "Erase Now".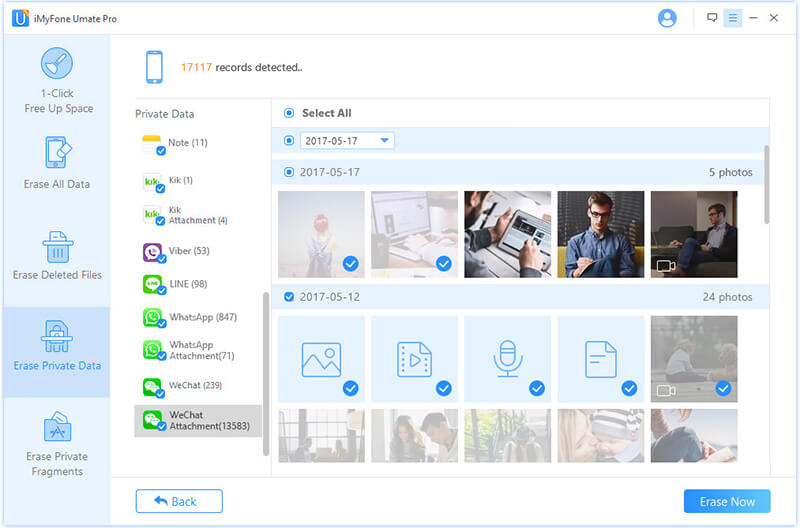 Step 4: Type "delete" into the box to confirm your decision and choose your security level.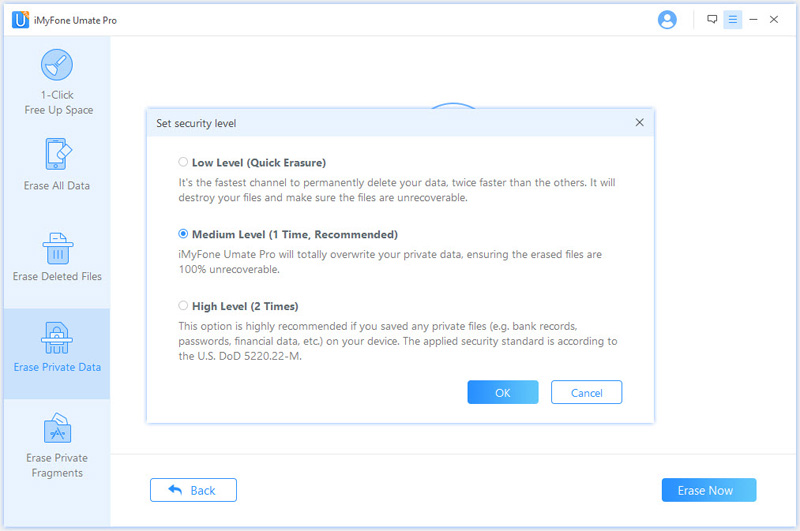 Step 5: After type "delete" in the box to confirm, and click "Erase Now".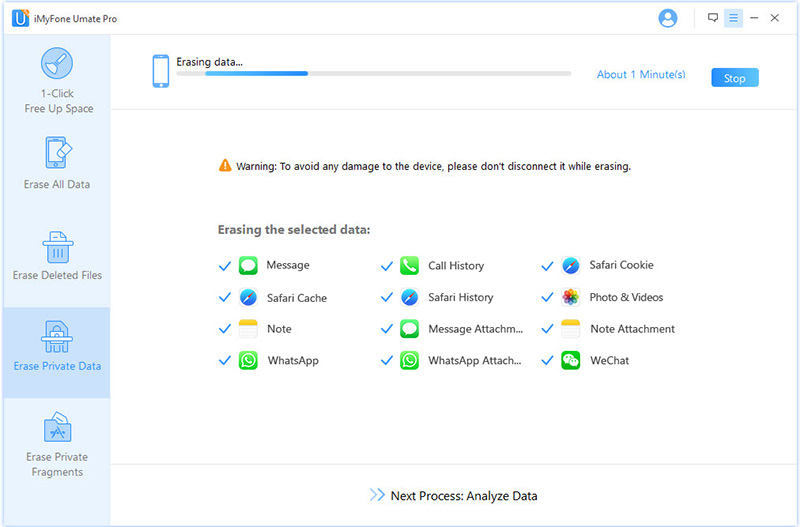 What Else Can You Do with iMyFone Umate Pro?
Deleting private data is a great way to keep your data secure if you ever lose your phone, but if you want to sell or donate your phone, you may want to consider deleting everything. iMyFone Umate Pro can help you do this.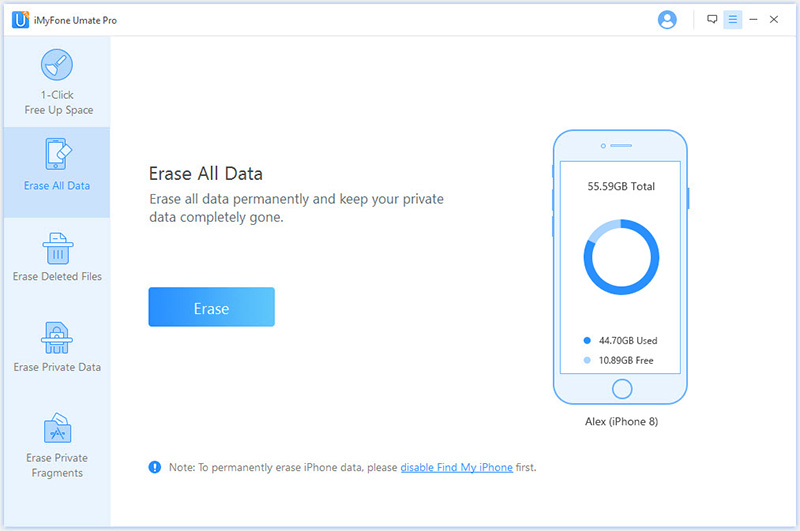 When you delete your data off of your phone, it is only erased from view. Deep down in the memory of your phone it still sits, just waiting for the right person to come along and retrieve it. But with iMyFone Umate Pro, you can delete your deleted data so that it can never be retrieved, even with good software.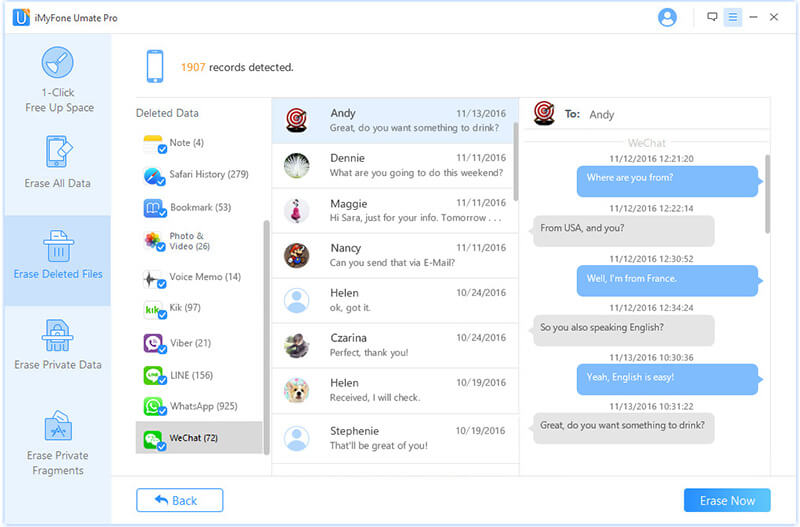 Sometimes we just want to clean up space on our iPhone to make room for new data and programs. With iMyFone Umate Pro, you can learn what is taking up space on your phone and choose what you want to delete or keep.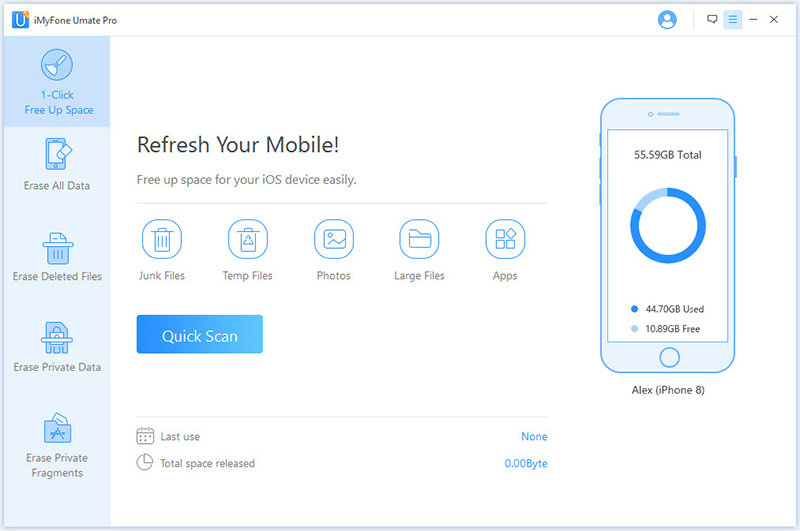 Manage Your Media Files and Apps
Hate using iTunes? iTunes is a great program, but it's not always user friendly. Well, here's a simple alternative. With iMyFone you can manage all of your media files and apps, without ever opening iTunes.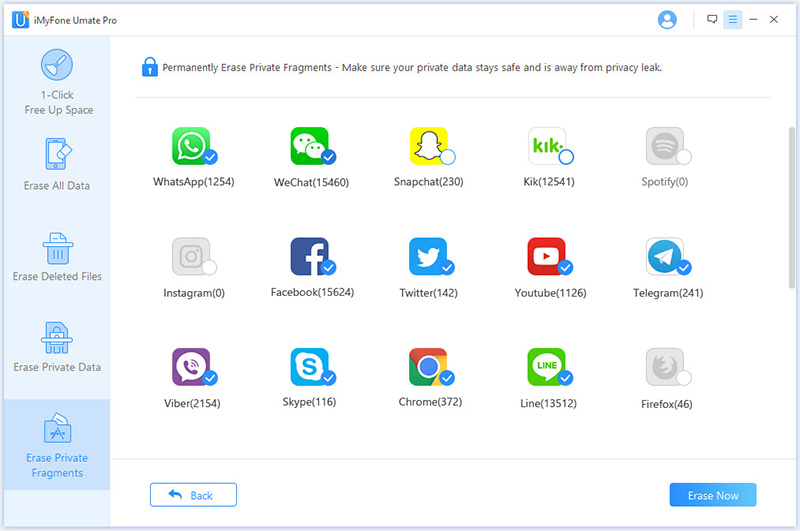 We live in a world where thieves are all around us. We need to be proactive and protect ourselves and our phones. Use the tips above to help increase your security, or download iMyFone Umate Pro to ensure it.
Related Tips
1. How to Erase iPhone from Find My iPhone
3. How to Prepare iPhone for Sale
4. How to Track an iPhone