There are many reasons to reset an iPhone. Some users reset the device to troubleshoot various bugs and issues while others do it after updating the device (for a fresh start). Factory reset also comes in handy when you are about to sell your device and want to protect your privacy. There are different methods to erase an iPhone, all of them require different amount of time.
We'll Analysis 5 Reset Methods
The time required to fully reset an iPhone depends entirely on the method of reset you choose. Some reset methods are faster than others. There is also a difference regarding whether all your data will be kept or erased. Analysis of all reset methods is required in order to determine which one is the fastest. This article compares the following reset methods:
iMyFone Umate Pro [Erase All Data]
iTunes
Hard Reset
iCloud
Settings App [Erase All Content and Settings]
The methods mentioned in this article can be used at most models of iPhone, including iPhone X, iPhone 8/Plus, iPhone 7/Plus, iPhone 6s, iPhone 6, iPhone SE, iPhone 5, iPhone 4s, iPhone 4.
What Will These Reset Methods Do to Your iPhone?
As explained above, different reset methods have different functionalities and because of that, they require different amount of time. Some reset methods only erase user settings and configurations while other methods erase all data. Read below to find out how different the reset methods really are from one another.
Umate Pro
iMyFone Umate Pro is a professional data erasing tool that has been specifically designed for iOS devices. Its Erase All Data mode can be considered as a complete reset of an iDevice, the applied security standard is according to the US DoD 5220.22-M, which can erase all the settings and content of iDevice permanently.
Here is how iMyFone Umate Pro permanently erases data: Umate Pro removes all types of files in your device including the ones marked as deleted. Once the process of erasure is complete, Umate Pro will store random data on your device storage to overwrite deleted files. Then it deletes the files and refills data again until recovery becomes impossible. After such intricate removal process, even the FBI cannot recover your data from the device.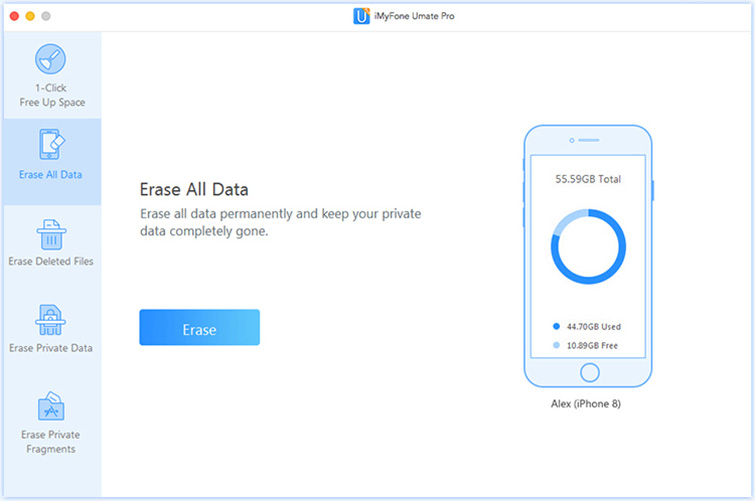 Hard Reset
Hard reset is not designed to erase iPhone data. Instead it is more of a troubleshooter that proves to be useful when an iPhone is freezing, not responding, or cannot be restarted normally. Hard reset refreshes the memory of iPhone apps and helps the device start from scratch. It does not erase user data.
For iPhone 6s and earlier: Press and hold the Power and Home buttons for 10 seconds.
For iPhone 7/7Plus: Press and hold the Power and volume-down buttons for 10 seconds.
For iPhone 8/X: Press the volume-up button, then volume-down, then the Power button.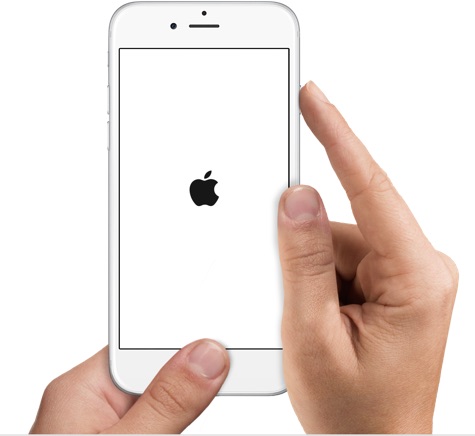 Erase All Content and Settings
This is the default reset method of iDevices. Most iPhone users use this method to reset their device when required. The reset options are available in the Settings app of iPhone. You don't need to use computer when resetting your iPhone via this method. All the steps required to reset iPhone are performed on the device.
Erase All Content and Settings resets all user settings and configurations as well as erases all user data.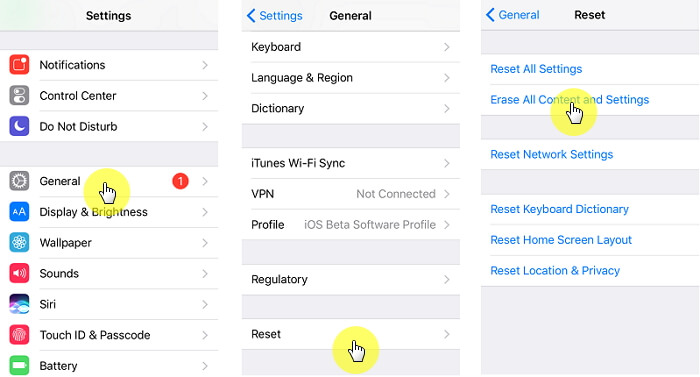 Reset Via iTunes
You can reset your iPhone via iTunes as well. Of course, you will need to connect your iPhone to your computer and make sure it is detected in iTunes. The process is quite straightforward. You need to use the Restore iPhone option of iTunes in order to reset the device.
Similar to Erase All Content and Settings method, resetting an iPhone via iTunes also erases all iPhone data and restores it to factory settings.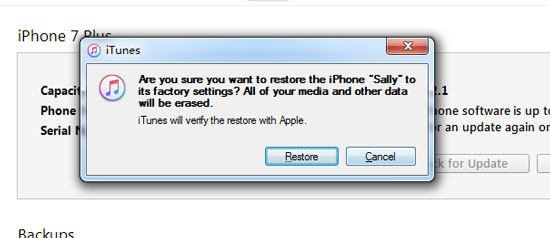 Reset Via iCloud
This method to reset an iPhone is used when the device is lost or stolen.
By using this method, you are able to reset your iPhone and erase all its data remotely. It is worth mentioning that Find My iPhone feature must be enabled on your iPhone and the device must be connected to the internet otherwise this method won't work.
You will need to log into your iCloud account, use Find iPhone option to locate your device and then use Erase iPhone option to remotely reset it.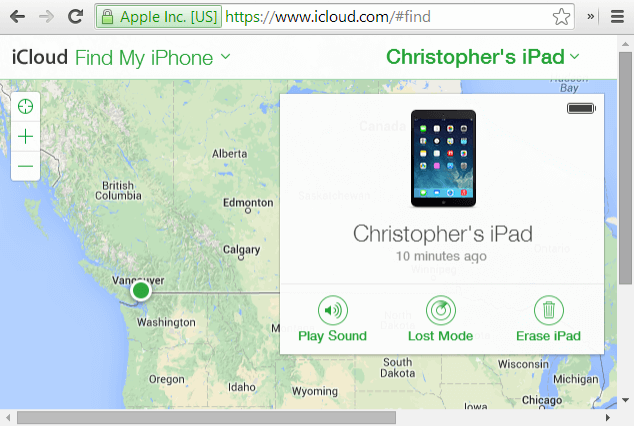 How Long Does It Take to Reset an iPhone?
After an extensive research that was conducted with the help of 1000 iPhone users, the time cost of different reset methods mentioned above has been tested. The results are thorough and they clearly show which method is relatively faster.
| Method | Average Time |
| --- | --- |
| Umate Pro | 96s |
| iTunes | 383s |
| Hard Reset | 186s |
| iCloud | 421s |
| Settings App | 193s |
According to results, iMyFone Umate Pro is the fastest reset method. Hard Reset method is placed second on the ranking as it is faster than other methods but slower than Umate Pro. The third fastest method is Erase All Content and Settings. iTunes is on the fourth position and iCloud is on the fifth position as it is the slowest way to reset an iPhone.
Difference Between iMyFone Umate Pro and Other Reset Methods
The primary different between iMyFone Umate Pro and other reset methods is that Umate Pro erases all iPhone data permanently. While most other reset methods also erase all iPhone data, they do not erase it permanently. So there is always a risk of privacy leak because the data erased by other reset methods can be recovered via a recovery software. As compared to this, there is no risk of privacy leak when you use Umate Pro to reset your iPhone.
Key Features:
Erase All Data: Erase all kinds of data and files from your iPhone/iPad to keep your privacy safe.
Erase Data 100% Unrecoverable: Permanently erase private messages, call logs, history, photos, videos, WhatsApp and more permanently.
Erase Deleted Files: Previously deleted files which are recoverable will be found out and fully destroyed.
Erase Traces of 3rd-Party Apps: Incomplete fragments left by Snapchat, WhatsApp, Facebook, Twitter, and 10+ more apps.
Allow you to preview files so that you can erase them selectively.
iMyFone Umate Pro is fully compatible with iOS 15 and receive lots of positive reviews from macworld.co.uk, Cultofmac.com, Makeuseof.com , APPKED etc.