Problem Description
Have you ever encountered a situation where you deleted your memorable photos? You must be eager to know
if the deleted photos stay on iCloud still
or
whether iCloud backs up deleted photos
. Well, in this post, the answers of these 2 questions will be offered. In addition, the
solution of how to recover deleted photos without iCloud
will be provided. Read on to check them out.
Photos and videos make up some of the most important types of data on your device. Therefore, it is easy to get in a panic once you lose some of your photos or videos, especially if you don't have a backup of these photos and videos. Even if you do have a backup, it is not entirely clear if all your photos and videos will be available on your backup files.
For this reason, we take a look at the problem and go a step further and help you recover some of your deleted photos. We recommend iMyFone D-Back iPhone data recovery to get back your deleted photos from iCloud without overwriting data, Download iMyFone D-Back free now.
Part1. Will Deleted Photos Stay on iCloud?
We can't simply tell YES or NO to this question. If you delete photos on iPhone, they are also deleted from iCloud photos library and other devices using the same Apple ID.
But you can check the Recently Deleted album on your iPhone or in iCloud photos library. If the deleted photos are there, you can recover them easily:
Log in to iCloud.com using the same Apple ID.

Click on Photos.

Choose Recently Deleted album.

Choose the photos you want to recover, click on the Recover button on the upper right corner.
Tip
How long do deleted pictures stay on iCloud? - Generally, the deleted photos are retained for the maximum period of 40 days unless cleaned up.
In case you unfortunately deleted a photo permanently, it means that you will not be able to see the photo on any of your other device and you can't go to iCloud.com or iCloud for Windows to download the photo since it won't be there.
Part2. Recover Deleted Photos from iCloud When iCloud Gallery is On
Does iCloud Backup Deleted Photos? It depends. Since you can't recover deleted photos from iCloud photos library, how can you recover them? From iCloud backup? But does iCloud back up deleted photos?
Well, if you have made a backup to iCloud before the deletion occurs, you can restore the backup to recover the photos. iMyFone D-Back is a software that helps iOS users to retrieve "lost" data from iOS devices from multiple channels.
1,000,000+ Downloads
Key Features:
Allows you to preview and selectively restore photos from iCloud backup files;
It can help you restore photos when Unable to Retrieve iCloud Drive,Fail to Sync iCloud Data,Broken/Damaged Devices...
Restore deleted photos from iCloud Backup without Factory Reset.
Add a new function - "image recovery" which supports to make blurry picture clear
1

Recover from iCloud Account
Step 1: Click on "Restore from iCloud" and select the "iCloud - Recover data from iCloud account".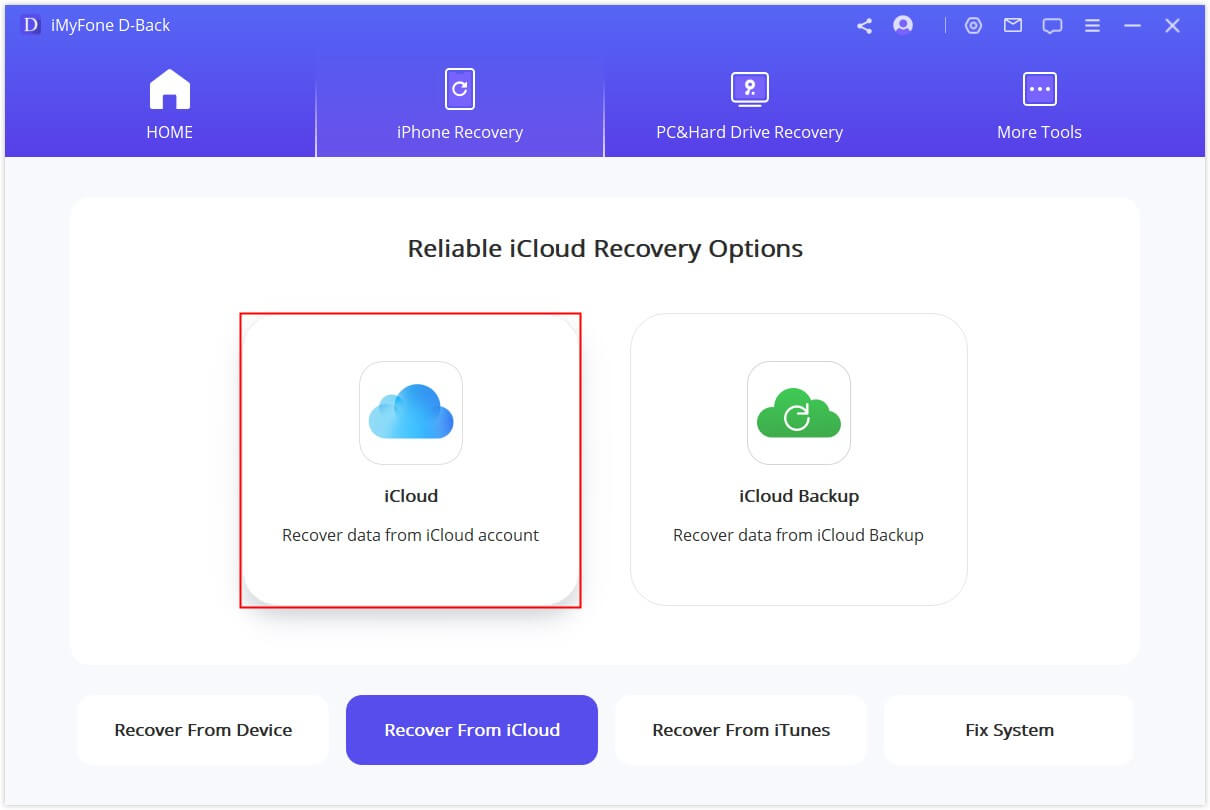 Step 2:Fill in your iCloud account details. Please be assured that iMyFone will never keep a record of your iCloud account info or content.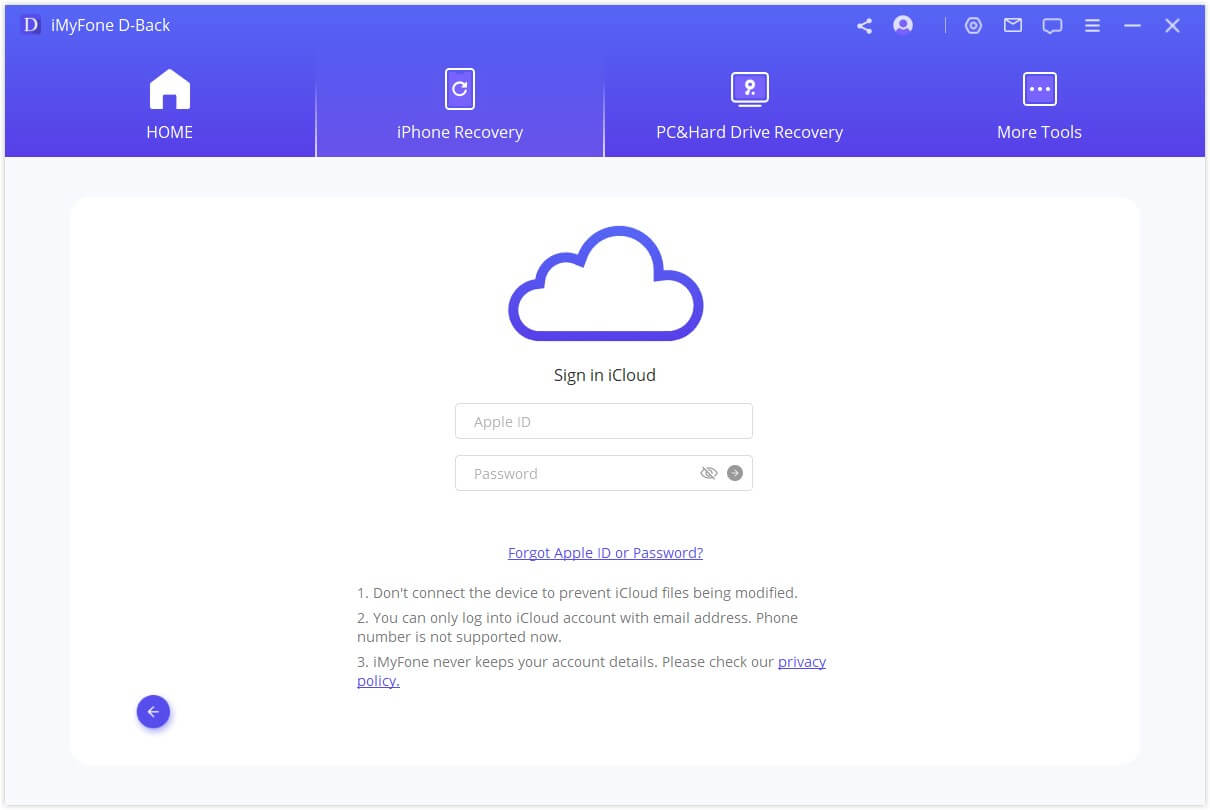 Step 3: Select "Photos" option and click on "Scan" for analyzing the photo file you've selected for all.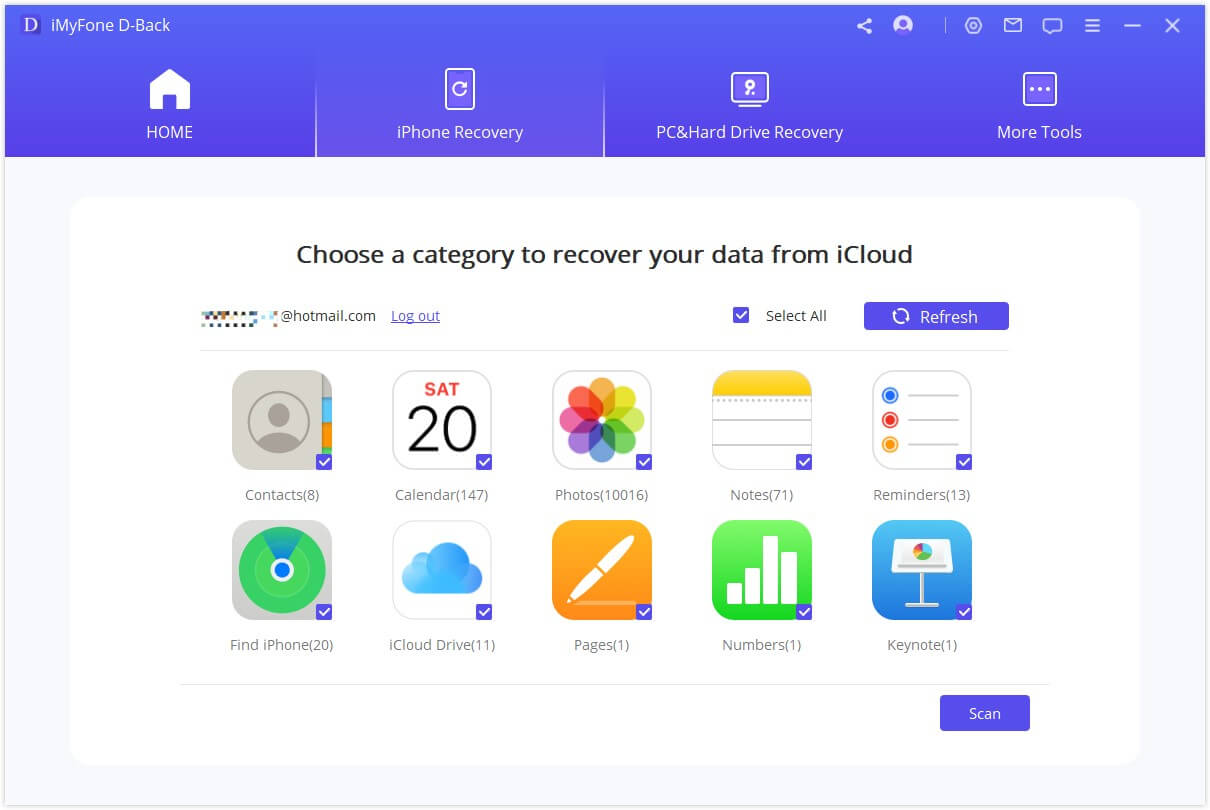 Step 4: After the scan is completed, the search results will be clearly organized on the interface. Preview and choose the files which you want, and then click "Recover".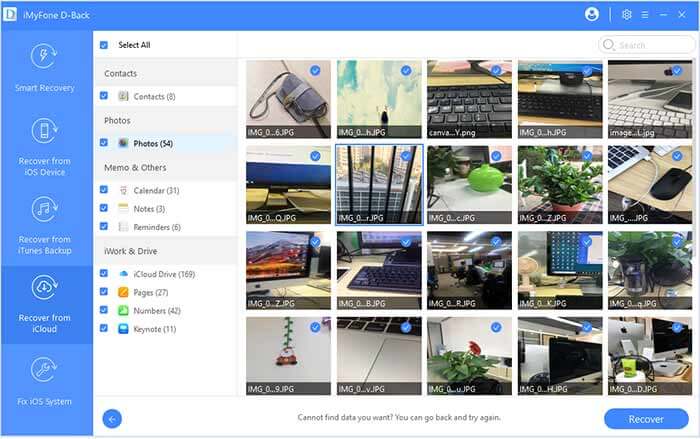 ---
2

Recover from iCloud Backup
Step 1: Launch D-Back and choose 'iCloud Backup' function in 'Recover from iCloud' module.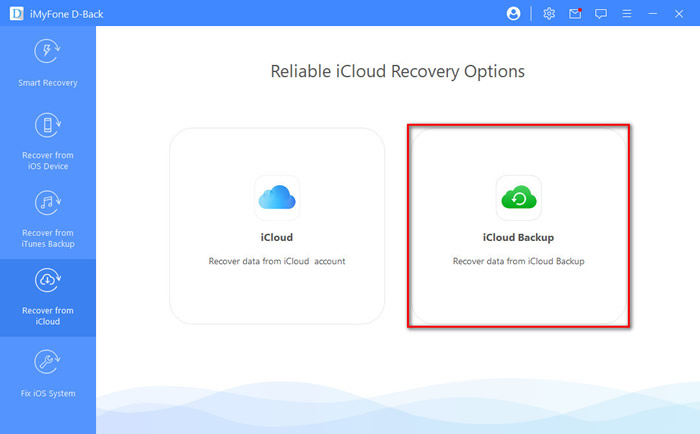 Step 2: Choose the iPhone status according to your iPhone condition.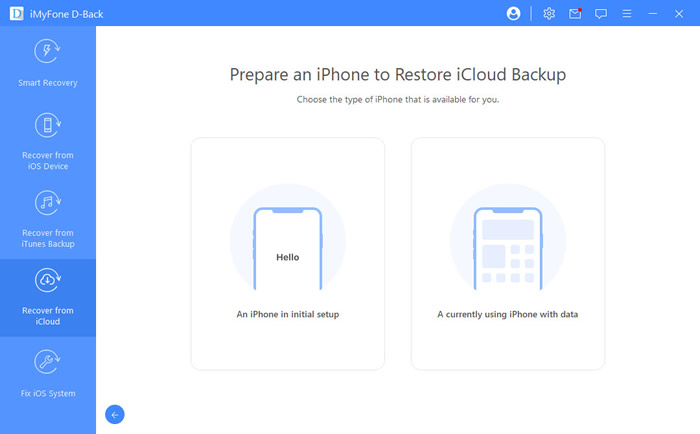 Step 3: On your iPhone, select 'Recover from iCloud Backup' in 'Apps & Data', then enter the Apple ID and password of which you want to restore data from iCloud.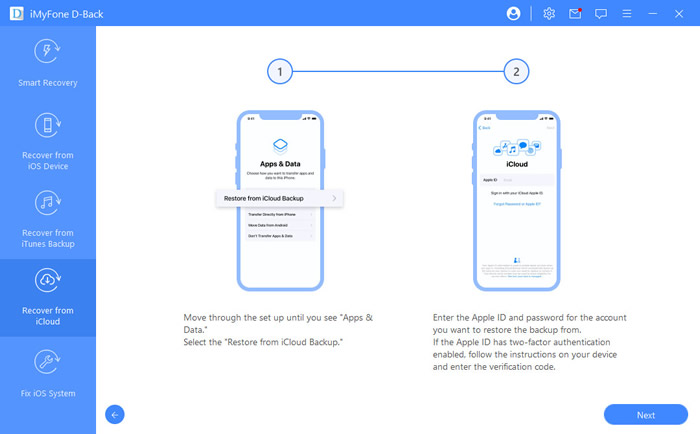 Step 4: Choose the certain iCloud backup that you want to restore and wait for a reboot.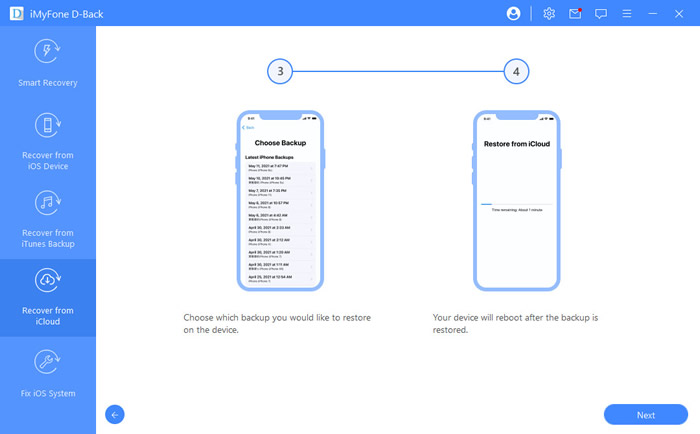 Step 5: Then you can follow the instructions on the screen to set up your iDevice. To view detailed photos, connect your iPhone to D-Back to check.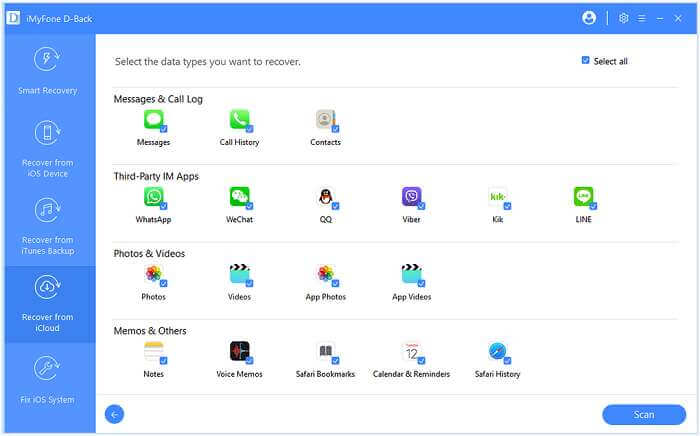 You can find your back-up photos in D-Back!
You may also like:
Top Solutions to Fix iCloud Photo Library Stuck in Uploading Photos
Does iCloud Backup Voice Memos? How to Extract Them from iCloud
Top Ways to Sign Out of iCloud without Password - iOS 16 Supported
Part3. Recover Deleted Photos without iCloud after Deletion
If you can't find the deleted photos either from iCloud photos library or iCloud backup files, then how can you recover them? Well, yes, iMyFone D-back supports to recover deleted photos from iPhone without backup .Actually the deleted photo is still there in your iPhone even it's get deleted permanently - your iPhone will save all data – deleted or current in its database, which is known as SQLite.
When it comes to deleted data, that system regards it as useless and relocates it from the "Allocated" category to the "Unallocated" one.
Thus, it's possible to recover the deleted photos without iCloud. To complete this task, a data recovery tool- iMyFone D-Back can recover deleted photos directly from your device without iCloud.
See below tutorial video to recover Photos directly from iPhone without iCloud!
Note
SQLite will most likely tap into the "Unallocated" area to free some space up if you create new data on your iPhone and your storage is lacking. So it's best to stop using your device as soon as the deletion occurs.
Part4. FAQs about Recovering Deleted Photos on iCloud
1

How can I recover permanently deleted photos from my iPhone after 30 days?
A local iTunes backup is the best option how to find deleted photos on iPhone after 30 days. First, connect your iPhone to your Mac computer then open iTunes. Next, select your iPhone and click on the "Restore Backup" button. Lastly, select your relevant backup and then click on the 'Restore' button. Wait as your photos are restored.
---
2

Can I recover permanently deleted photos from my iPhone?
It is possible to recover iPhone deleted photos free from iCloud or iTunes backup. You first need to reset your iPhone by erasing all content and settings on it.
Go to 'Settings', select 'General' option and hit the 'Reset' button.
Then tap the 'Erase All Content and Settings' option to reset your iPhone.
Next, set up your iPhone and choose the 'Restore from iCloud Backup' option on the 'Apps & Data Screen'
Sign in with your Apple ID and click the 'Choose backup' option.
Lastly, select your most recent iCloud backup from where to restore you iPhone.
3

Do photos stay on iCloud if deleted from iPhone?
iCloud will only retain your data if you made a backup to iCloud before the deletion occurred. So yes, photos can stay if you backed them up earlier. You can check for your deleted photos from the 'Recently Deleted' album in iCloud photos library.
Log in to iCloud with the same Apple ID.
Then click on 'Photos'.
Choose the 'Recently Deleted' album.
Check out for the photos you wish to recover and click on the 'Recover' button to restore them.
4

Why choose iMyFone D-back to restore deleted photos from iCloud?
As iCloud only provides 5GB of free storage, it may fail to save deleted photos when your iCloud storage is full. when you can't find photos on iCloud,you can retrieve photos from iPhone directly using iMyFone D-back.
You can't view the Deleted Photos in the iCloud backup file, while iMyFone D-back supports to selectively preview and recover deleted photos you need.
Recovering data from offical iCloud method will need to take a factory reset and overwrite your data. In contrast, D-Back can not overwrite your data without factory reset.
Summary
After going through this article, now you've got the answers for the questions "do deleted photos stay on iCloud" and "does iCloud back up deleted photos". And we also provided the method to recover deleted photos without iCloud---using iMyFone D-back. Hope this works for you.