Should I Update to iOS 17? 3 Suggestions for iOS 17 New Features
Category: iOS Data Recovery
6 mins read
At WWDC 2023, Apple announced iOS 17, claiming that the latest iOS 17 system makes iPhone devices more personal and intuitive. The iPhone 15 model and iOS 17 are set to be released in September. This article will provide a comprehensive overview of the new iOS 17 and its features. We will help you decide whether you should upgrade to it or not.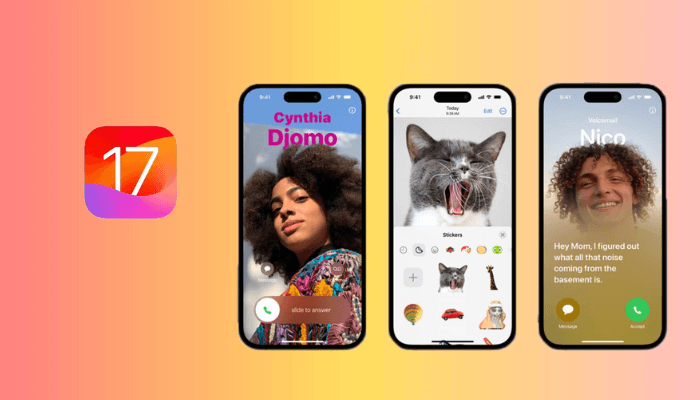 3 Suggestions for Waiting Update iOS 17
Whenever a new iOS is launched, there is a high chance of bugs and instability. People will use it and complain about the issue they face. Apple will use these complaints to fix the bugs.
Smart people wait for new versions or updates to come so that they can update their devices. It is because not everyone can bear bugs or problems arising from their phones.
If you are traveling, then it is highly recommended that you don't go ahead with the update. It can cause potential problems you don't want to deal with on a trip. You cannot understand many changes, so it's better to hold it off for the trip.
Initially, every software update has bugs. You can wait for the new version, as it will have bugs fixed and work more efficiently.
If you are busy with your business on the phone, don't upgrade, as it will take approximately an hour to update and install. You may be going to the Apple Store or anyone for help if anything goes south.
iOS 17 Compatible
Before getting into the features of iOS 17, let us see whether your devices support iOS 17 or not.
Apple has announced that iOS 17 is compatible with the iPhone XS and newer versions, meaning that iOS 17 will be compatible with:
Apple iPhone XS, Apple iPhone XS Max, Apple iPhone XR,

Apple iPhone 11, Apple iPhone SE (2020)

Apple iPhone 12 mini, Apple iPhone 12, Apple iPhone 12 Pro, Apple iPhone 12 Pro Max

Apple iPhone 13 mini, Apple iPhone 13, Apple iPhone 13 Pro, Apple iPhone 13 Pro Max

Apple iPhone SE (2022)

Apple iPhone 14, Apple iPhone 14 Plus, Apple iPhone 14 Pro, Apple iPhone 14 Pro Max
What New Features Can You Get After Updating iOS 17?
Apple always comes up with new features in the new iOS for its users to enjoy. The same goes for iOS 17. This time, Apple has taken its features to a whole new level and increased the compatibility of this iOS for devices. Here are a few of the main features of iOS 17.
Major Upgrades to the Phone Experience
The Phone app on the iPhone is receiving a significant update.
Personalized Contact Posters are introduced, allowing users to express themselves in a new way.
Users can customize their appearance for incoming calls, including photos, Memoji, typography, and font colors.
Third-party calling apps will also have access to Contact Posters.
Live Voicemail feature provides real-time transcription of voicemails and allows users to answer calls while the caller is leaving a message.
Spam calls will be instantly declined and won't appear as Live Voicemail.
The Neural Engine powers the on-device transcription for Live Voicemail, ensuring privacy.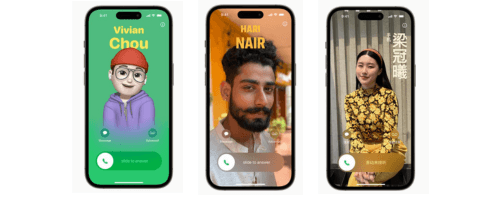 FaceTime Audio and Video Messages
FaceTime now supports audio and video messages, allowing users to leave messages for someone who is not available.
Reactions, such as hearts, balloons, fireworks, and more, can be used during FaceTime calls to add expression and fun.
The new effects can be easily activated with gestures and can be used by third-party video calling apps too.
Apple TV 4K now integrates FaceTime, enabling video calls on the big screen in the home.
Users can initiate a video call directly from Apple TV or hand off a call from iPhone to Apple TV.
Continuity Camera powers the integration, and Centre Stage ensures perfect framing even as users move around the room.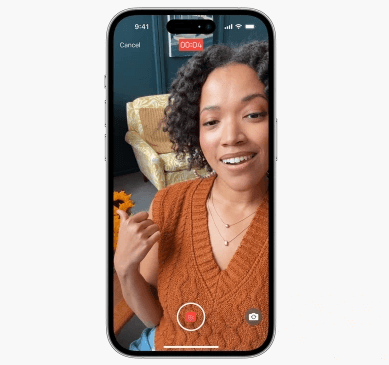 Big Updates of Messages
Messages in iOS 17 receives significant updates, including a new stickers experience with emoji stickers and the ability to create Live Stickers from photos.
Live Stickers can be animated and customized with effects.
A new drawer in the keyboard organizes all stickers for easier access across iOS.
The expandable menu provides access to iMessage apps, giving Messages a sleeker look.
Search features include filters for more powerful and precise search results.
The catch-up arrow shows the last read point in the conversation, and you can reply directly by swiping on a message.
Real-time location updates can be shared in the conversation, and audio messages are automatically transcribed.
The new Check In feature enables users to inform their family member or friend about their safe arrival at a destination.
Check In provides useful information like location, battery level, and cell service status, with end-to-end encryption for privacy.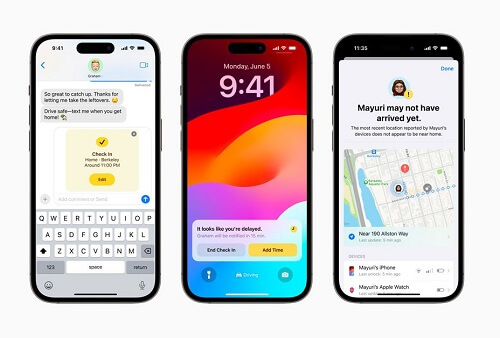 Easier Sharing with AirDrop and NameDrop
Messages in iOS 17 receives significant updates, including a new stickers experience with emoji stickers and the ability to create Live Stickers from photos.
AirDrop in iOS 17 introduces new ways to share files and content.
NameDrop feature enables easy sharing of contact information by bringing iPhones or an iPhone and Apple Watch together.
Users can also share content or start SharePlay, allowing them to listen to music, watch a movie, or play a game together while in close proximity between iPhone devices.
More Intelligent Autocorrect and Dictation
iOS 17 introduces updates to Autocorrect, enhancing the typing experience on iPhones.
The new "transformer language model" improves the accuracy of Autocorrect and provides predictive text recommendations while typing.
These updates make text entry faster and more efficient.
Dictation also benefits from a new speech recognition model, resulting in improved accuracy.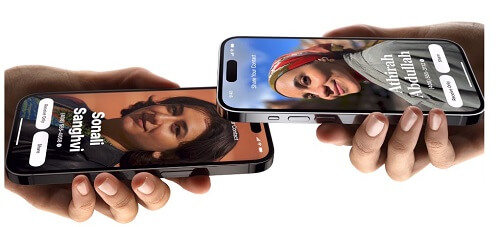 StandBy: A Glanceable Full-Screen Experience for iPhone Charging
Messages in iOS 17 receives significant updates, including a new stickers experience with emoji stickers and the ability to create Live Stickers from photos.
Glanceable full-screen experience for iPhone charging.
Designed specifically for viewing at a distance while the iPhone is charging and placed sideways.
Ideal for use on a nightstand, kitchen counter, or desk.
Personalization options available, including clock styles, favorite photos, and widgets.
Smart Stacks feature surfaces relevant widgets at the right time.
It offers support for Live Activities, Siri, incoming calls, and larger notifications.
StandBy enhances the usability of the iPhone when viewed from a distance.
Remembers user's preferred view when charging with MagSafe.
It can be easily accessed by tapping the screen.
Always available on iPhone 14 Pro with the Always-On display.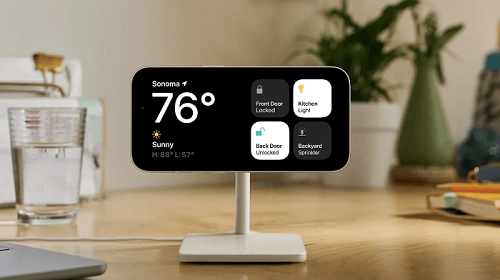 Journal: A New Way to Appreciate Life's Moments
Designed to assist iPhone users in reflecting and practicing gratitude through journaling.
Journaling has been proven to improve wellbeing.
Utilizes on-device machine learning to offer personalized suggestions for journal entries. - Suggestions are smartly selected from recent activities, such as photos, people, places, workouts, and more.
Makes it easy to start a journal entry with relevant suggestions.
Scheduled notifications assist in building a journaling habit.
App can be locked, and on-device processing and end-to-end encryption ensure user privacy.
Entries are inaccessible to Apple or any other party.
Developers can integrate journaling suggestions into their own apps using the Journaling Suggestions API.
Enhances the user experience and encourages capturing meaningful moments.
Supports a user's journey of self-reflection and gratitude.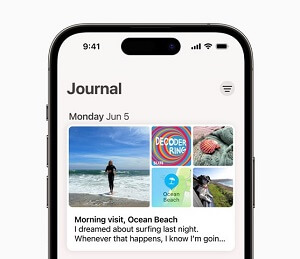 In addition to the above highlighted features, iOS 17 also includes other functionalities. For more details, please visit the official Apple Newsroom website.
Bonus Tip: What if you Lose Data When Updating iOS 17
Not that it happens regularly, but anything can happen when you are using an electronic device. An iPhone seems to be the most reliable nowadays because of its security and user-friendly interface. However, if you lose data while updating to iOS 17, then don't worry, as we have the perfect solution for you, iMyFone D-Back.
It is a powerful data recovery tool for iOS and has the highest success rate of recovery. It supports selective recovery along with data recovery directly from iOS devices, iTunes, and iCloud.
There are many features of iMyFone D-Back rather than simple data recovery. You can use it to fix iOS system problems. It helps you to recover data even after a factory reset. It supports different data types, including photos, videos, call history, app data, messages, calendars, voice memos, reminders, and more. Download and install the application and recover your lost data without any hassle.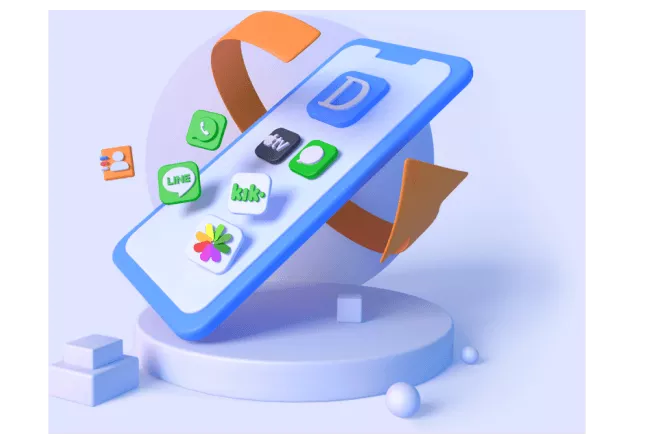 Key Features:
Supports to recover deleted/lost videos, photos, contacts, messages, WhatsApp/Kik/WeChat/Viber messages and more files from iDevice;
Allows you to preview and selectively extract data from iTunes or iCloud backup files;
Compatible with various iOS devices, such as iPhone 11/XS/XR/X/8/7/6s/6/5s/5C, iPhone SE, iPad Pro, iPod touch running iOS 13/12/11/10/9/8/7;
Conclusion
Apple releases software updates every year. This year, Apple released iOS 17. It is the best iOS so far, as claimed by Apple. It has numerous features that were never introduced. However, certain points refrain people from updating, but most people update their iPhones as soon as they see the software update notification.
However, if you ever get stuck or lose data during the software update, you can recover it by using iMyFone D-Back. It is a data recovery tool for iOS users specifically. It supports different data recovery methods and data types. iMyFone D-Back has a trial version that you can download and check its credibility with iOS devices.
Retrieve Deleted iPhone/iPad/iPod Data with One Click.