Data loss is a fact of life for every iPhone user and if you send and receive a lot of iMessages on your device, it is almost inevitable that you will lose some of them. The reasons for data loss are often varied. They can be anywhere from data loss to virus attacks and even an iOS upgrade that didn't quite go as planned.
But don't be so quick to write off your lost iMessages for good, this article will help you get them back without having to worry about altering the makeup of your device in any way.
Hot Topic: 2020 Top 5 iPad Data Recovery Tool for Mac
Recover Deleted iMessages from iPad using iMyfone D-Back
To recover your missing iMessages without altering the make-up of your iPad, you need a special kind of program. This special program is one that allows you to easily get all your iMessages back to your device without further data loss. This program is known as iMyfone D-Back iPad data recovery and the following are just some of the reasons why it is the best.
Key Features:
Featuring high success rate of recovery, deeply scans your iOS device to get back disappeared contacts, or extract the contacts from iCloud/iTunes.
Restore disappeared contacts to PC, avoid overwritting the current data on your iPhone.
D-Back is secure to use since it won't keep any of your personal information.
Allows you to selectively recover a specific data type or the specific contact you wanna get back.
iMyFone D-Back is fully compatible with the latest iOS version including iOS 12/13/14.
Support the recovery for almost all iOS devices, including recovering data from iPhone 11 Pro Max, iPhone 11 Pro, iPhone XS, iPad Air, iPad Mini, and iPod touch.
20% off Coupon Code: 5ED-FQ1-KZU
You can retrieve your missing iMessages in one of three ways; directly from your iPad, from an iTunes backup file or an iCloud backup file. The following tutorial will cover all three.

1

Recover Deleted iMessages Directly from iPad
Step-by-step Guide to get back deleted iMessage from iPad
Step 1: Download and install iMyfone D-Back to your computer and then launch the program. From the primary window, click on "Recover from iOS Device" and then click on "Start."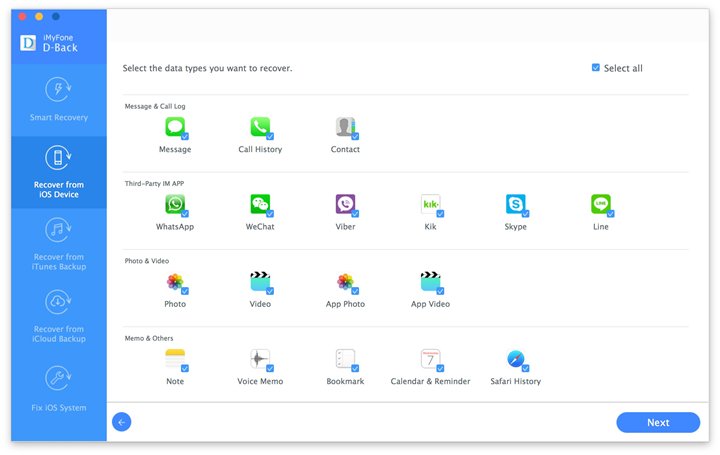 Step 2: You will be required to choose the type of data you want to recover (in our case, choose "Message" under "Message & Call log")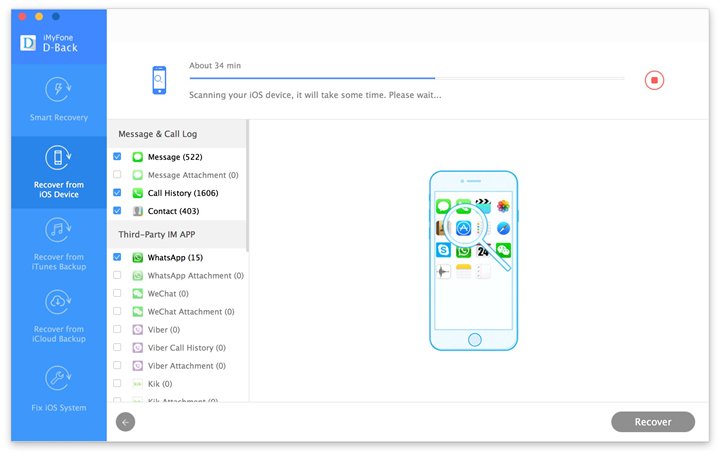 Step 3: Connect the device to the computer using USB cables and once the program detects the iPad, click on "Scan". When the scan is complete, preview the recovered data and select the missing iMessages. Click "Recover" and select a file path in the popup that appears.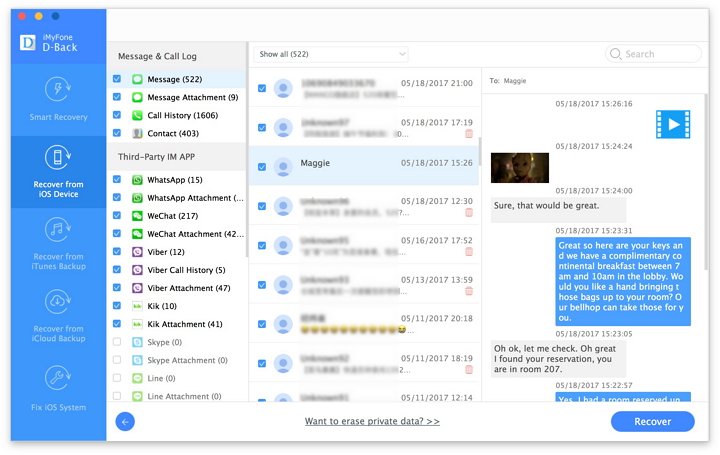 ---
2

Get Deleted iMessages off iPad via iTunes Backup
If you have synced your iPad with iTunes, you can easily get back your deleted iMessage from iTunes backup. The steps are very similar to the steps of method 1. Follow the steps below to rescue your iMessage immediately.
Step 1: From the main window, select "Recover from iTunes Backup" and then click on "Start."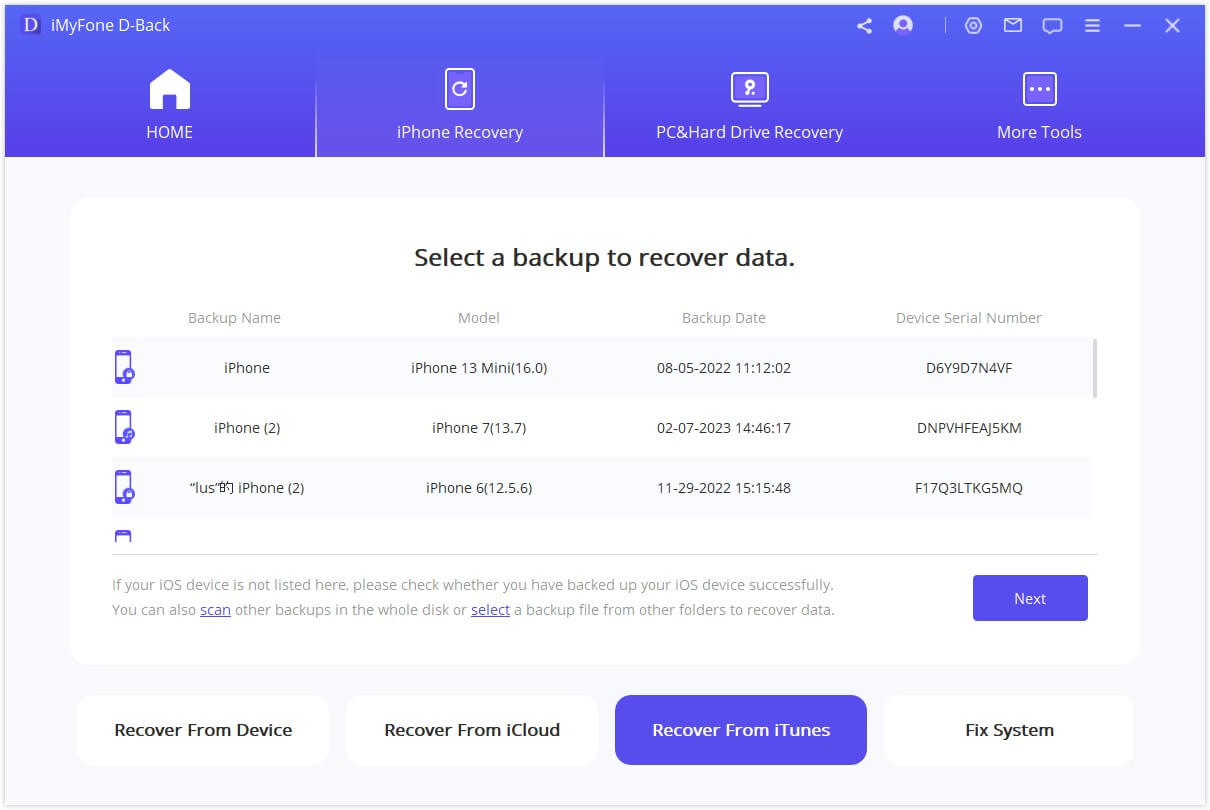 Step 2: Select "Message" as the file type you would like to recover.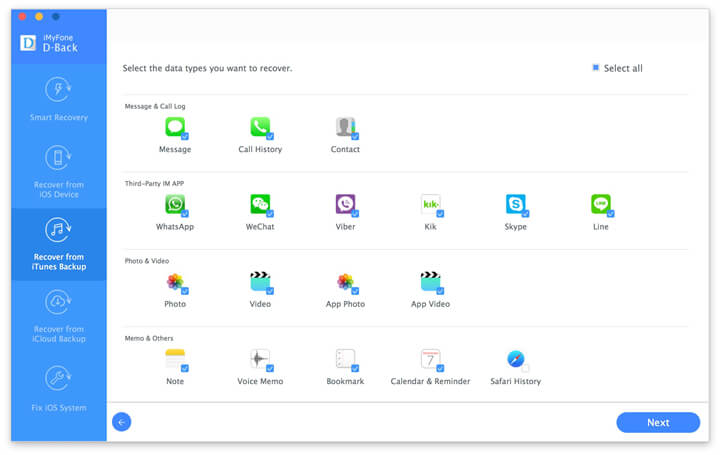 Step 3: Select the iTunes backup file that likely contains the missing iMessages and then click "Scan."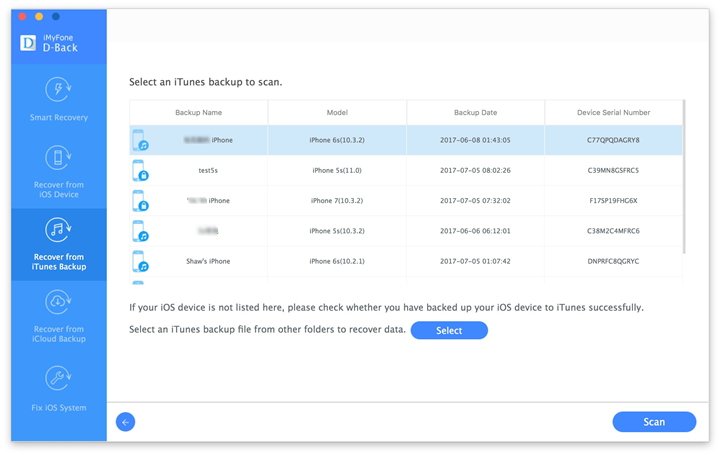 Step 4: Once the scanning process is complete, browse the recovered data to select the missing iMessages and then click "Recover."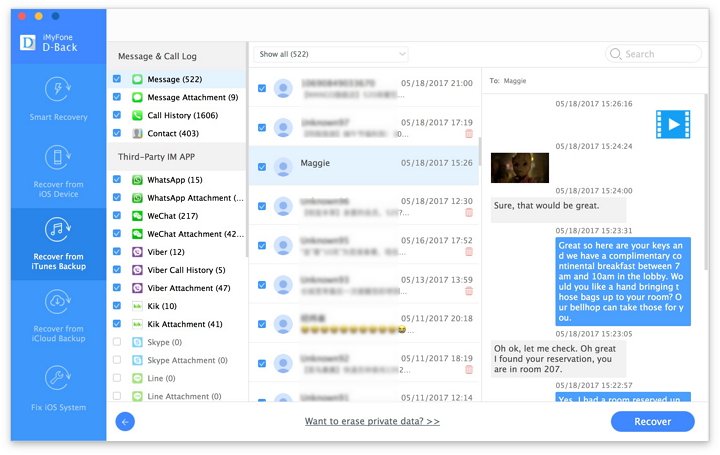 ---
3

Restore Deleted iMessages from iPad via iCloud Backup
Still didn't restore your missing data via the ways mentioned above? Don't panic. iMyFone D-Back also provides you with another option where you can recover iMessage from iPad Air or iPad mini using iCloud backup. The steps below show how to do so.
Step 1: From the main window, click on "Recover from iCloud Backup" and then click on "Start."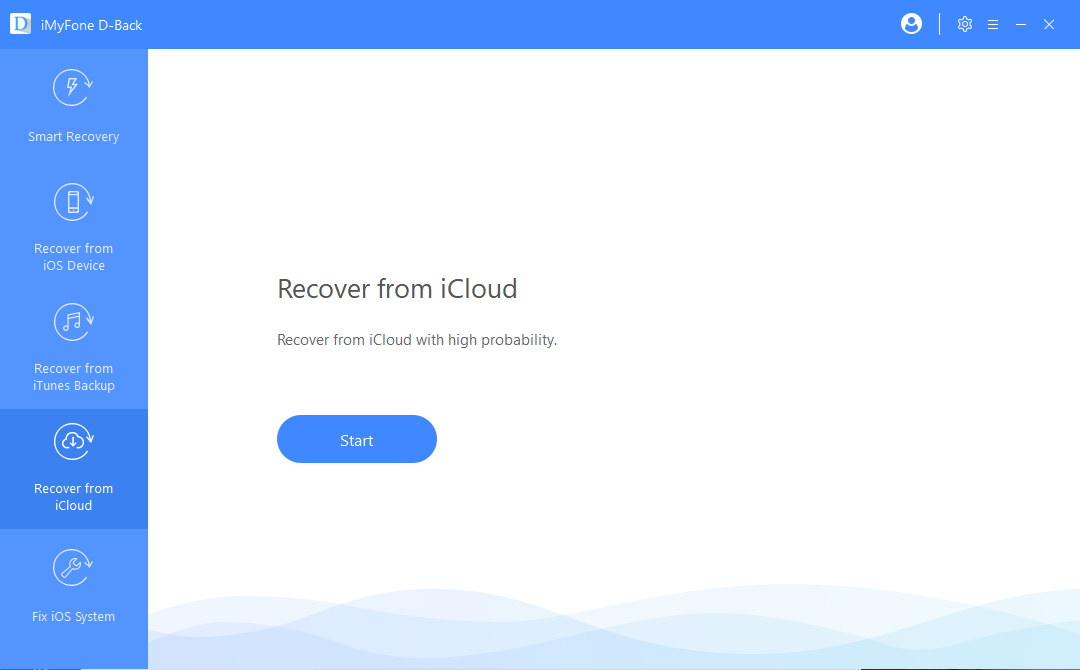 Step 2: Login your iCloud account and it will show all the backup files created by iCloud.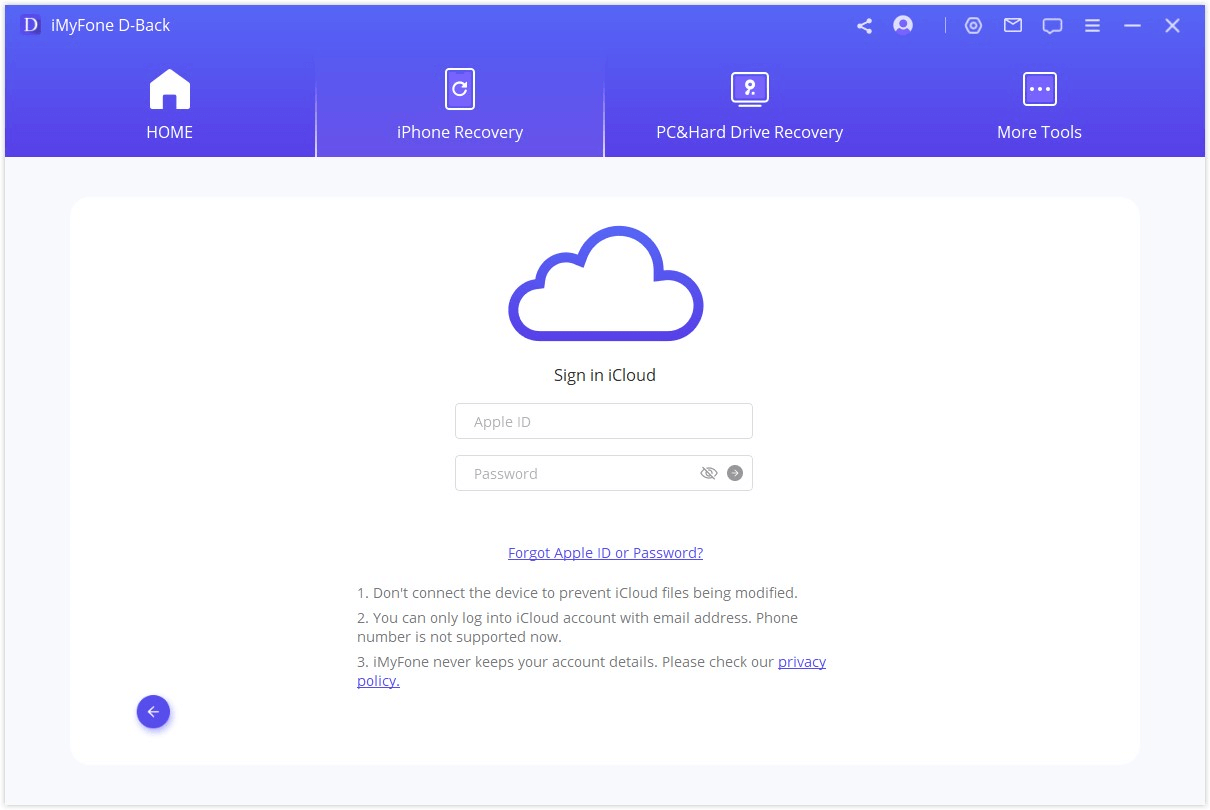 Step 3: Select "Messages" since this is the file type we want to recover.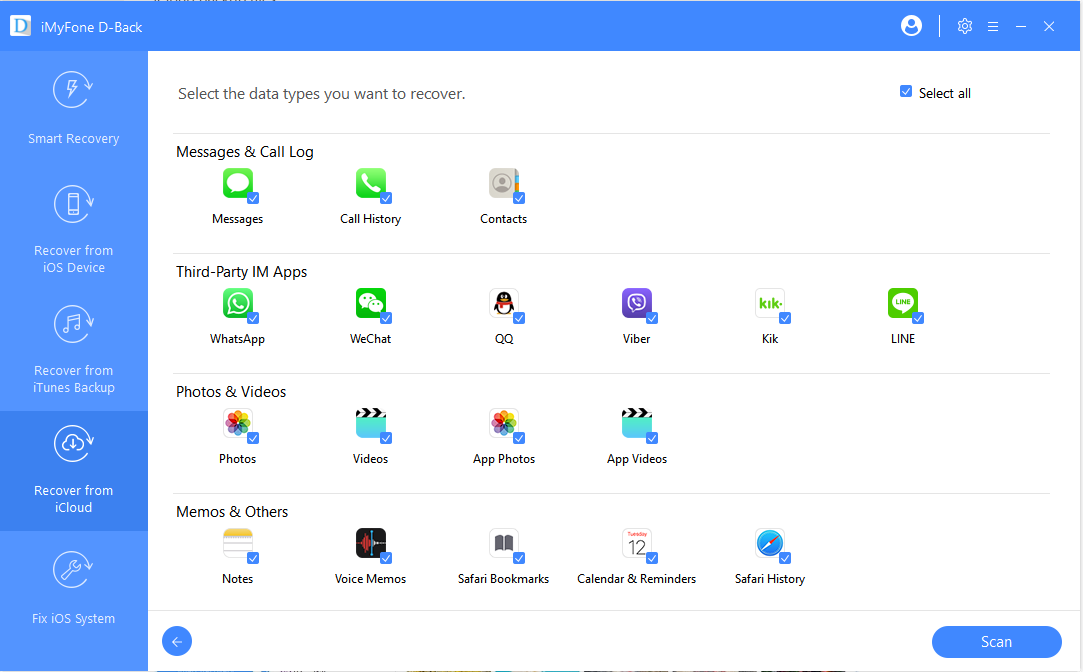 Step 4: The program will detect all of the iCloud backup files on that account. Click on the one that may contain the deleted iMessages and then click "Next" to download the file.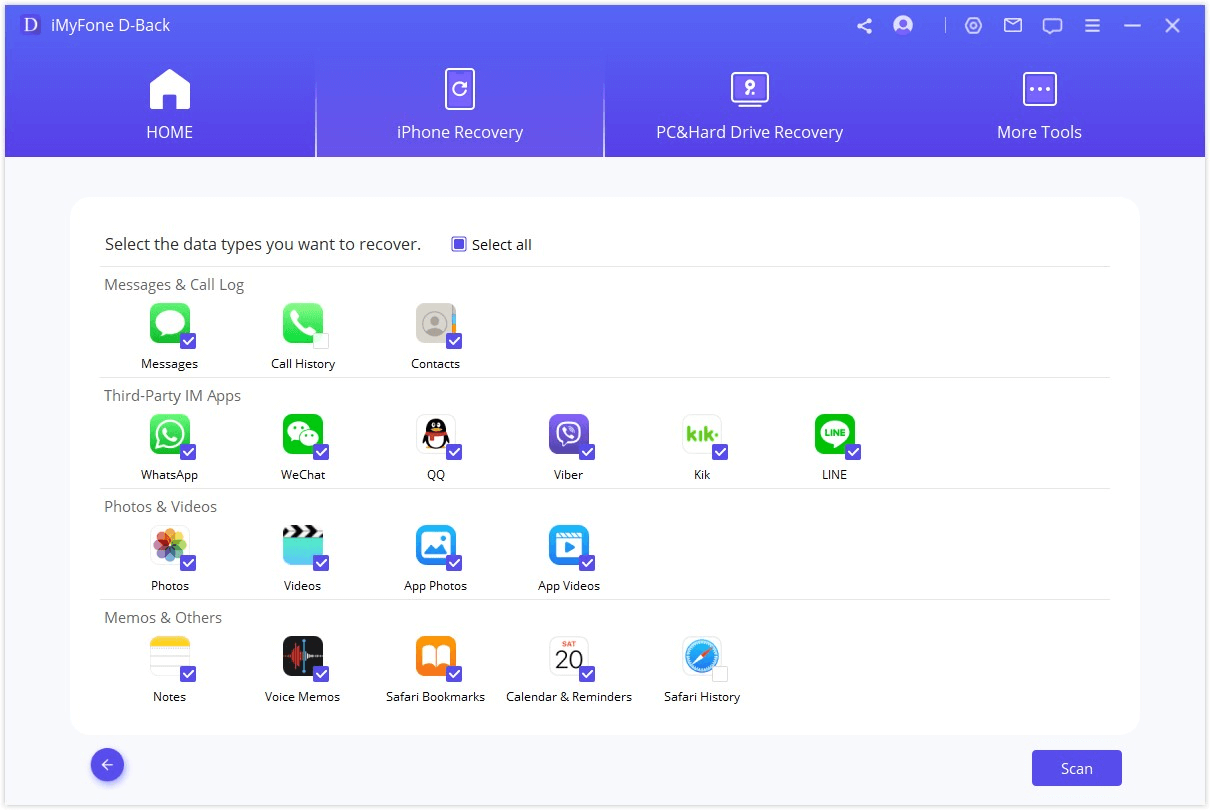 Step 5: Once the download and scanning process are complete. Select the missing iMessages and then click "Recover." Download iMyfone D-Back iPad data recovery now to recover your deleted iMessages from iPad.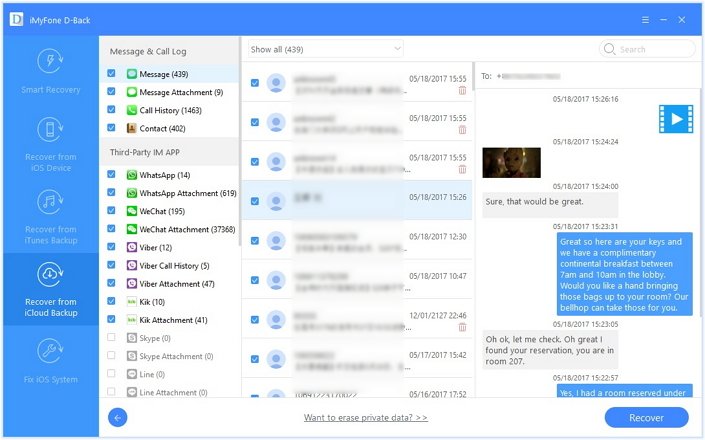 How To Restore Deleted iMessage On iPad With Apple Way
Moreover, you can restore iMessage from an iPad Pro backup by following the way Apple provides to you, the following two tutorials may help you:
Note
Before we start,there is something you must it clear: Just as we mentioned in part 1, restoring with iTunes or iCloud needs you to erase everything on your iPad in advance. You must also be sure that the iPad backup file contains the missing iMessage you wanted, If you choose one iTunes/iCloud backup that doesn't store your deleted iMessage, you will lose all current data on iPad and can't retrieve the deleted iMessage either.
Final Thoughts

How to retrieve deleted iMessage on iPad Air might sound so annoying but it really happens in our real life. Yet with the above methods, you can still restore these missing data in a snap! Let us know in comment section below, what do you think about this article or if you have any question regarding this topic.