You must be trying to charge your iPad but the screen remains blank without showing the charging symbol. This situation can be pretty annoying as you may be in the middle of completing some task on your iPad and soon it may get completely discharged.
This uncomfortable situation can be overcome in many different ways and this article tells the readers just about that. It is also essential to know why such a problem may be occurring whenever you try charging your iPad. You can use the methods below in this guide to fix the issue of iPad not charging and start using your iPad normally again without having to worry about it getting completely discharged.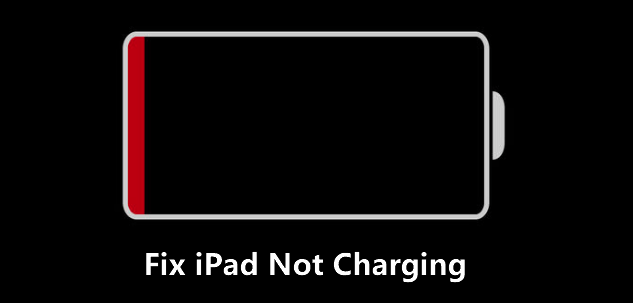 Part 1: Possible Reasons Why iPad Won't Charge
Whenever you are experiencing the issue of iPad batter not chagring, it may be due to some problems in your iPad which are listed below.
1. The USB cable which you connect to the adaptor for charging your iPad might be damaged.
2. The charging port on the adaptor or on the iPad might have accumulated some dust over a period of time.
3. You might be using a wrong cable for charging your iPad which is not MFI-certified.
4. Your iPad might have some technical problems in its software.
5. Something went wrong with the hardware like battery or display.
This article will highlight each of these possible causes for your iPad not charging and will give you the possible fixes to deal with the problem.
Part 2: Quick Ways to Fix iPad Not Charging Issue
The "my iPad won't charge" issue can be easily fixed depending upon the cause of the problem. You can follow the pointers below to eliminate each probable cause and then ultimately find a quick fix.
1. Check Your iPad Charging Cable And Charger
The only way by which you can charge your iPad is through the charging cable by using a charger. So start by first examining the charger as well the USB cable which is used for charging the iPad to check for any damages. After this, try using another charger and charging cable and try charging your iPad again.
2. Clean Up The Charging Port
The USB charging port in your iPad over the time might accumulate dirt, dust, debris or lint. This accumulation might be causing bad connection to the charging USB cable. Try cleaning this charging port using some soft cotton swab carefully. Make sure that you don't damage the charging port permanently.
3. Reboot Your iPad And Try Again
You can force restart your iPad and try to charge it again. To perform a force restart on your iPad, follow the steps below.
Step 1.Press the "Home" button and hold it.
Step 2.While pressing the "Home" button, press the "Sleep/Wake" button and hold it till the Apple logo appears.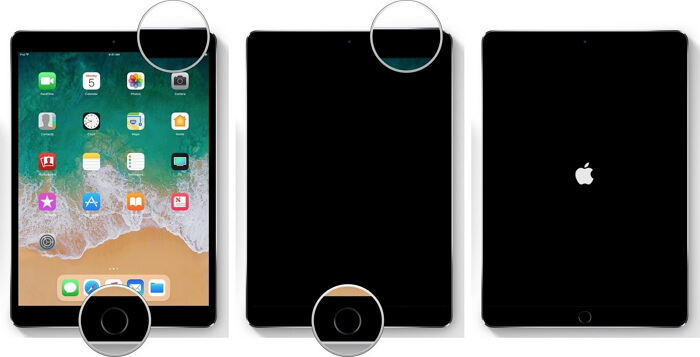 Your iPad will switch off and switch on again and after rebooting you can expect that the issue of iPad says not charging will be fixed.
4. Perform iOS/iPadOS System Recovery
If the above methods don't fix the issue of your iPad not charging, then you can use iMyFone Fixppo in the Standard Mode to fix any minor issues like the one mentioned in this article. It is a highly recommended iOS repair tool capable of fixing any type of iOS/iPadOS stuck issues effectively. You can do this by following the steps below.
Step 1. Download, install and launch the iMyFone Fixppo software on your computer and tap "Standard Mode".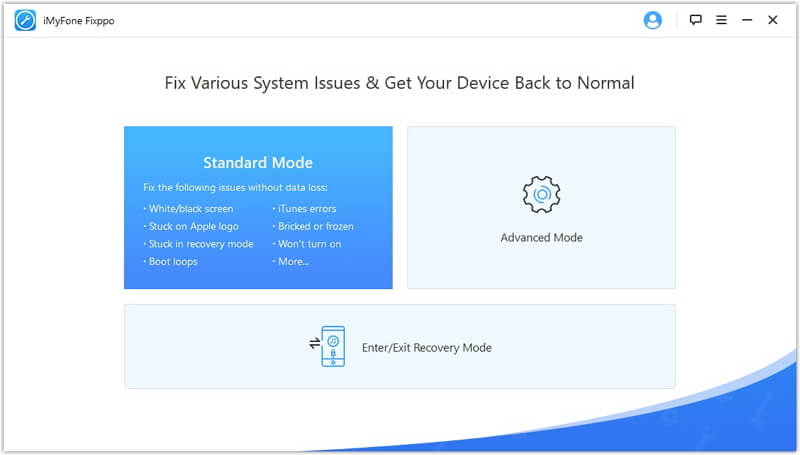 Step 2. Connect your iPad to the computer with the help of USB lightning cable and click on "Next".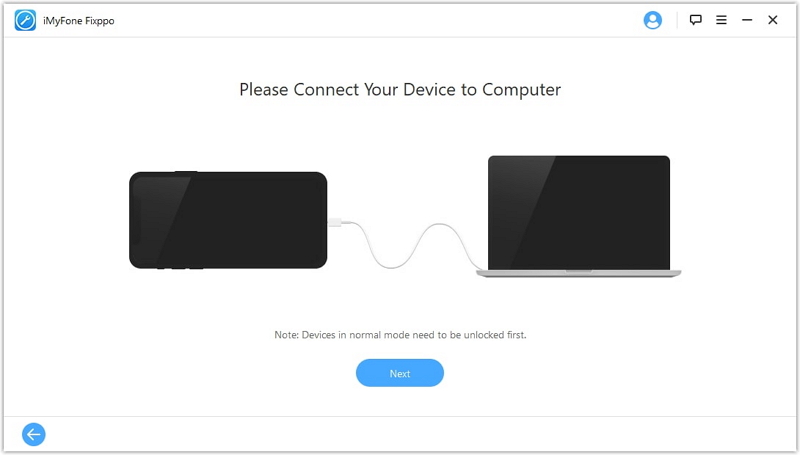 Step 3. Tap "Download" to get the latest firmware for your iPad.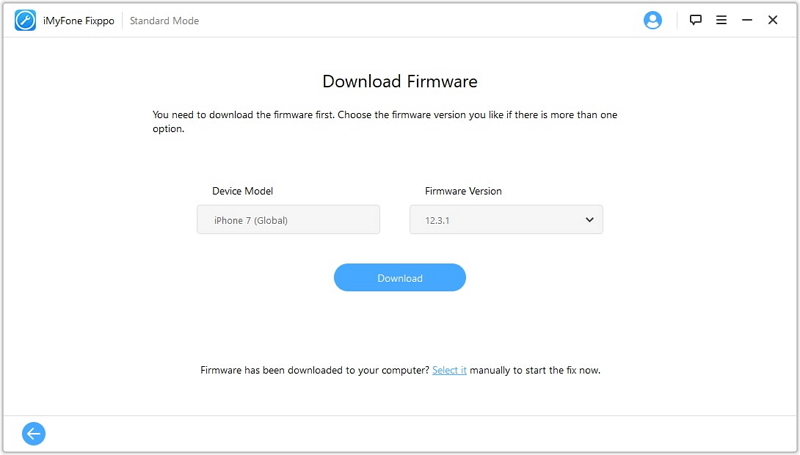 Step 4. Tap "Start" to start fixing your iPad.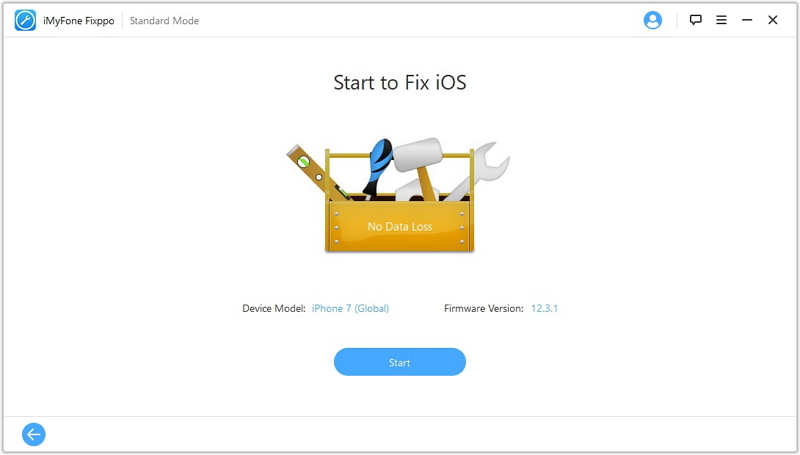 Once the software has finished fixing the issue in your iPad you will be notified on the screen. Keep in mind, there is no data loss in this method.
Advantages by using iMyFone Fixppo:
Fix iPad not charging issue without losing data.
The steps are very easy to follow.
It can also fix other software problems for iPad/iPhone, like iPad won't turn on, iPad Apple logo, etc.
If you are interested in this iOS system recovery tool, you can download the free trial below.
5. Restore iPad in DFU Mode
You can even try performing a restore operation on your iPad by putting it in DFU mode. The only fallback to this method is that it completely erases all the data on your iPad and restores it to its original factory settings. Follow the steps below to restore your iPad after putting it in DFU mode.
Step 1: Launch iTunes on your computer and connect your iPad to it using a USB cable.
Step 2: Switch off your iPad and then press and hold the "Sleep/Wake" button for 3 seconds.
Step 3: While still holding the "Sleep/Wake" button press the "Home" button.
Step 4: Let go of the "Sleep/Wake" button after 5 seconds but keep holding the "Home" button.
Step 5: If the screen remains black then your iPad is in DFU mode, if not then repeat the steps again.
Step 6: Once your iPad is in DFU mode, iTunes will detect it and will pop up a prompt screen, click on "OK".
Step 7: Tap Restore & Update when prompted.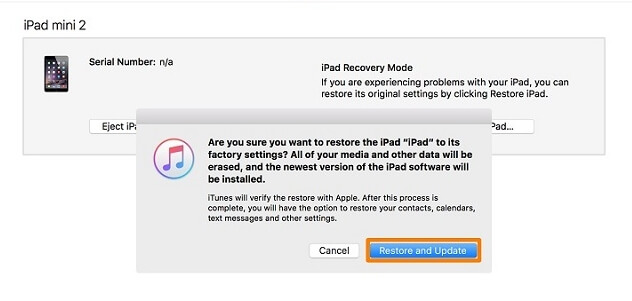 Your device will now be restored. Try charging your iPad now.
6. Repair iPad
All the above solutions will fix your iPad will not charge issue if there is any technical problem with the software of the iPad. If these methods don't solve the issue of your iPad not charging, then there might be some hardware problem and that can be sorted out by contacting the nearest Apple service centre. They will check your iPad thoroughly and make the necessary repairs to get your iPad to start charging normally.
Conclusion
Your iPad may not be charging due to some software or hardware issue. With the help of the detailed methods mentioned above you can easily solve this problem if it is due to software issue of the device. The best way to do this would be to use iMyFone Fixppo software which will efficiently solve the problem of your iPad not charging. If none of these methods work, contact the nearest service centre of Apple as discussed.