Updating the software of your iPhone is supposed to make it perform better and more optimized. But for some people, the reverse is sometimes the case as they tend to face a lot of more problems with their iPhone after installing a new update for their iOS. Some of the most common issues that people face when they update their iPhone's iOS version include lags, freezes, crashes, etc. If your iPhone keeps freezing and crashing after updating to the newest iOS 12 then, continue reading this article. You will find some useful tips that can help you fix this problem. Check out some of the solutions you can refer to if your iPhone keeps crashing.
1. Reboot Your iPhone
Usually, when your iPhone keeps crashing, you will be able to fix it by hard reboot the iPhone.
To hard-reset your iPhone, press the home button and power button simultaneously for 10 seconds until the Apple logo comes on the screen.
For iPhone 7 or 7 Plus, you will have to press and hold the Power and Volume Down buttons at the same time. If your iPhone model is iPhone 8, 8 Plus or X, press the Volume Up button once followed by the Volume down button and then, press and hold the Power Button until the Apple logo comes on.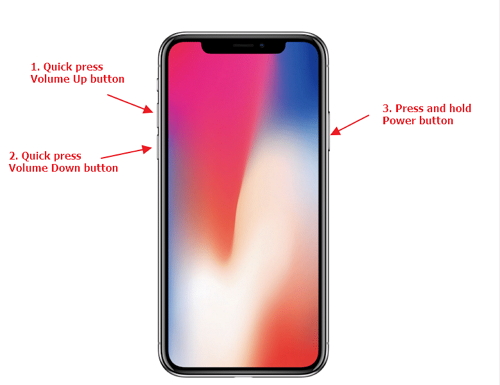 2. Force Quit Message App and Re-open it
Double-tap the Home button to activate the app switcher and swipe up to force-quit the app. Switch your iPhone off and turn it back on after some minutes.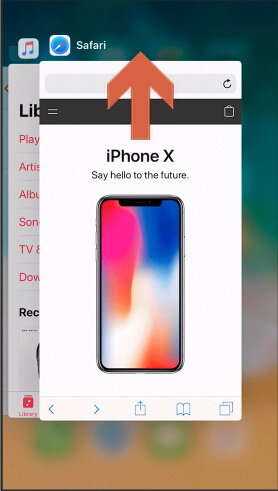 3. Update All Apps
You do not only have to keep your iOS version up-to-date. keeping your apps updated is essential too. From time to time, app developers roll out updates for their apps to improve the app features and performances as well as fix or get rid of bugs in the app. Keeping your apps up-to-date can also help you handle the problem of your iPhone freezing and crashing. Follow these steps to check for app updates and update them if there are any.
Launch App Store on your iPhone.
Click on Updates at the bottom of your phone's screen.
If there is a new update for an app, tap "Update" next to the app.
If several apps have updates available for them, tap "Update all" and all of the apps will be updated.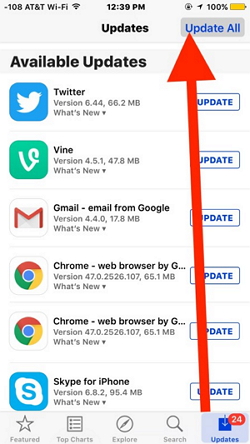 After updating all the apps on your iPhone, turn it off and turn it back on to implement all changes and updates. Observe for some time if it helps fix your iPhone crashing problem. If it does not, then check out other solutions.
4. Uninstall Bad Apps
If you installed an app and shortly after, your iPhone starts to freeze and crash, then there is a possibility that the app is a bad app. Third-party apps can have bugs  that may affect the performance of your iPhone. If you are experiencing this, what you should do is to uninstall this app and delete it from your iPhone. If you are wrong about the app causing problems in your iPhone, you can always reinstall the app. Find how to uninstall an app on your iPhone below.
From your iPhone's home screen, tap and hold on the suspected app's icon.
All of your apps start to jiggle with an "x" at the top right corner of the icons. Tap the "x."
You will receive a prompt to delete that app. Tap "Delete."
Restart your iPhone to put your recent changes in effect and refresh your iPhone.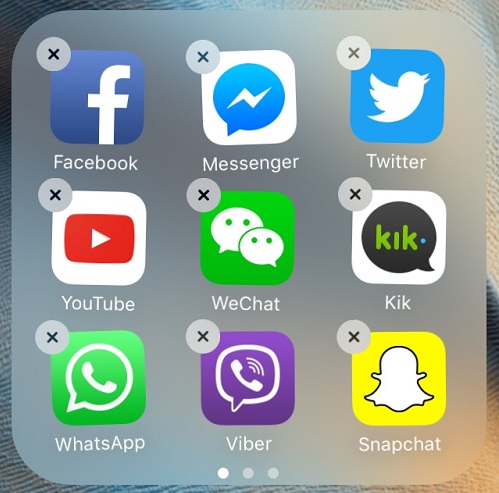 5. Check Internal Storage
Some files for updates on your iPhone usually come in large sizes and formats, and may, therefore, take up a huge chunk of your storage space. When your iPhone memory starts running low, it could lead to freezing and crashing problem for your iPhone, and you will have a problem with your iPhone's general performance. When this happens, you will need to free up some of the space on your iPhone by deleting contents that you do not need any more such as old messages, apps that you hardly use and files that are not useful anymore. Below are some of the ways you can free up some of your internal storage.
Clear apps running in the background: Background apps are those apps that you used recently but did not close. These apps do not stop running in the background and using up space on your iPhone. To clear your background apps, press the home button two times, and you can swipe up on each app to close them.
Delete unnecessary apps and data: The process has been explained above in (4).
6. Perform a DFU restore
If your iPhone freezing and crashing problem persists and you have no idea what else to try, you can try a DFU mode restore. This is the deepest type of iPhone restore you can do as a phone in DFU mode can communicate with iTunes on a computer without loading the operating system or even enabling the bootloader. Find out how to put your iPhone in Device Firmware Update Mode and restore iOS.
Connect your iPhone to your computer. You can choose to either leave it on or off.
Launch iTunes and allow it to detect your iPhone.
Once iTunes has connected to your iPhone, press both the home and power button together and hold for about 8 seconds.
Let go of the Power Button but do not let go of the Home Button.
iTunes will then detect an iPhone in Recovery mode, and you will get a message indicating this.
Let go of the home button.
Your screen should remain black after the last step, and this is how you know that you have put your phone in DFU mode. In the DGU mode, follow the instructions on the screen to restore your iOS.
7. Fix iPhone Freezing and Crashing Issue in One Click
If you are experiencing the problem of iPhone freezing and crashing, you can fix this problem in one click. We introduce iMyFone Fixppo to you: a professional tool capable of fixing virtually all iOS problems. It can be used to fix a wide variety of issues, and iPhone or iPad freezing and crashing is one of them. In addition to iPhone issues, any iTunes errors or Apple TV issues could also be fixed with this repair tool without data loss.
Step 1. Download and Install iMyFone Fixppo Software.
Step 2. Launch Fixppo and select "Standard Mode" from the main menu interface.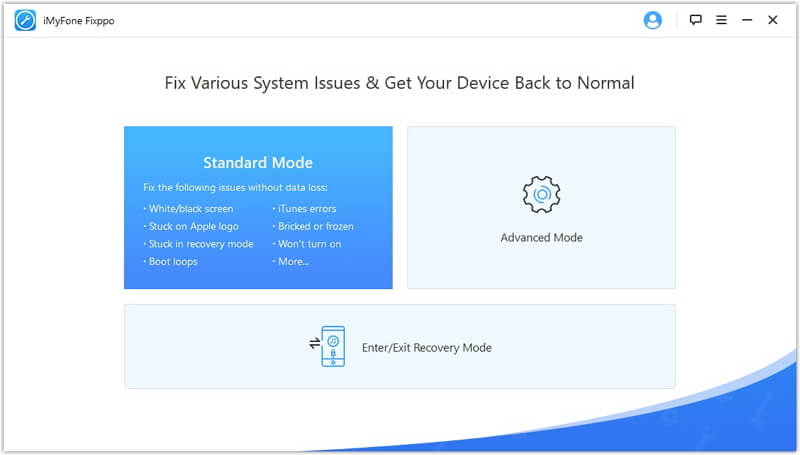 Step 3. Connect your iPhone to the computer. Put the device into DFU mode then download the firmware compatible with your iPhone model.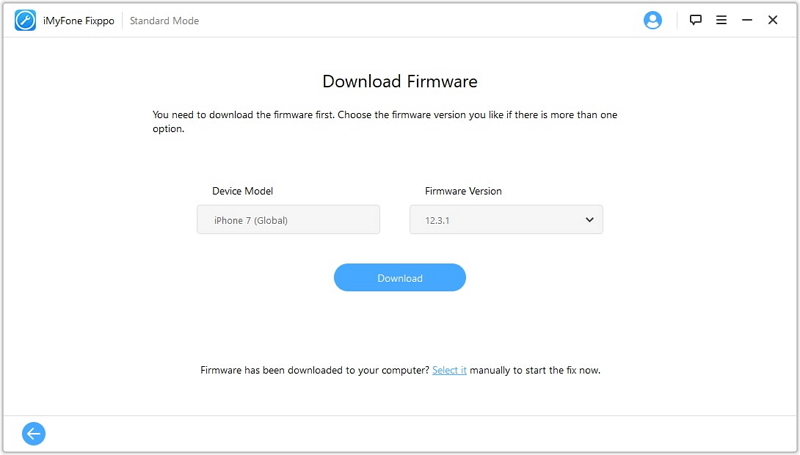 Click on "Start" to begin fixing your iPhone, and when it is finished, your iPhone will stop freezing and crashing.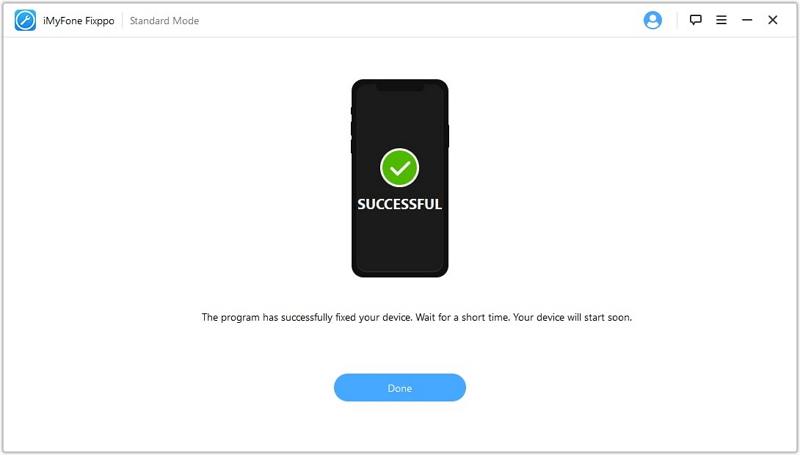 The problem of iPhone freezing and crashing is disturbing and will no doubt get in the way of the smooth operation of your iPhone. Fixing it as soon as it starts is undoubtedly a great idea. Download iMyFone Fixppo today to solve this problem or any other issues you may have with your iOS device.