We have observed that a large number of iPhone users are complaining about red screen on their iPhone. Many forum sites have posted this kind of complaints too. Our today's topic will let you discover how to deal with iPhone red screen of death. There are some solutions that can help you out and we have explain them one by one. We hope these will assist you in resolving your issue. But before jumping to the solutions, let's know the reasons behind this issue.
Why Cause iPhone Red Screen of Death
There could be many reasons that cause iPhone stuck on red screen. Here are some common cuases.
A failed update or restore.
Virus or malware attack through an update or restore can make iPhone stuck on red screen.
One of the possible reasons could be a faulty battery.
Improper insertion of SIM tray or loose SIM tray can also be responsible for such issue.
Other software update issues or corrupt backups can also lead to red screen of death on iPhone.
There are some solutions when your iPhone gets this problem. You can follow the tips below when your iPhone screen went red.
4 Tips to Fix iPhone Red Screen Problem (iOS 16 Supported)
1. Force Restart iPhone
Try to follow force restart steps when you see iPhone red screen. This can work as magic and has helped many users in different situations too. To force restart your iPhone, check the steps below:
iPhone 6 or previous models – Press and hold down 'Sleep/Wake' and 'Home' buttons altogether and wait for the Apple logo to appear on your screen. When it appears, release both the buttons.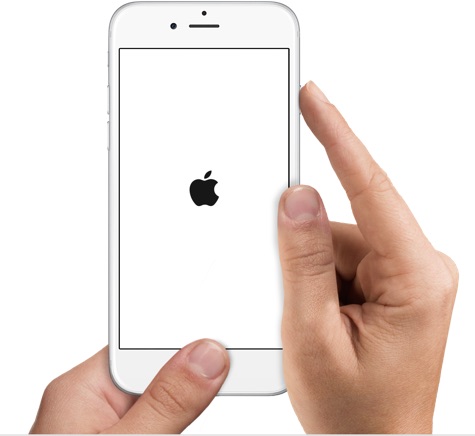 iPhone 7 and 7 Plus – Long press the 'Sleep/Wake' and 'Volume Down' buttons and stop pressing them when Apple logo comes on the screen.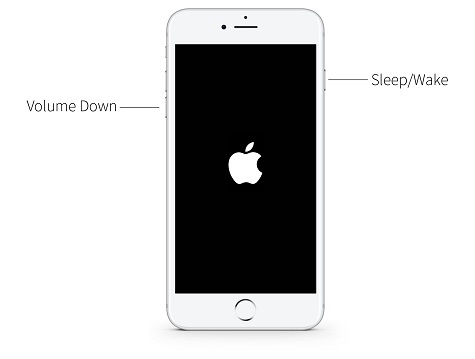 iPhone 8/8 Plus/X/XR/XS/11/12/13 – Press 'Volume Up' button and release immediately. Press 'Volume Down' and release it quickly too. After this, hold down the 'Sleep/Wake' button and release when Apple logo becomes visible on the screen.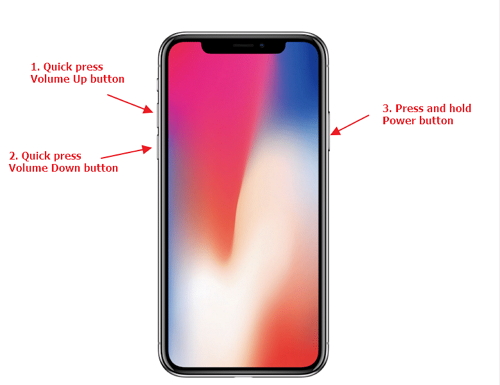 2. Fix iPhone Red Screen without Data Loss
If force restarting your iPhone doesn't resolve the problem, there is another way you can try. iPhone red screen of death can be caused by software errors or failures, so you need a tool to repair your iOS. iMyFone Fixppo is a tool made for this purpose. Therefore, using iMyFone iOS Fixppo would be a wise idea in such case because this tool has a special feature which fixes all kinds of iOS issues with the help of its 3 powerful modes. The noteworthy point about this tool is while fixing the issue, it doesn't affect your data in any way. So, you won't be losing any data while using this software for its high security principles. Let us now learn how you can fix this issue via this tool.
How to Use iMyFone Fixppo to Fix iPhone Red Screen
Step 1 – Start with downloading the tool in your computer and install it. Launch it to begin the fixing process. When it gets successfully launched, connect your iPhone to the PC using a USB cable.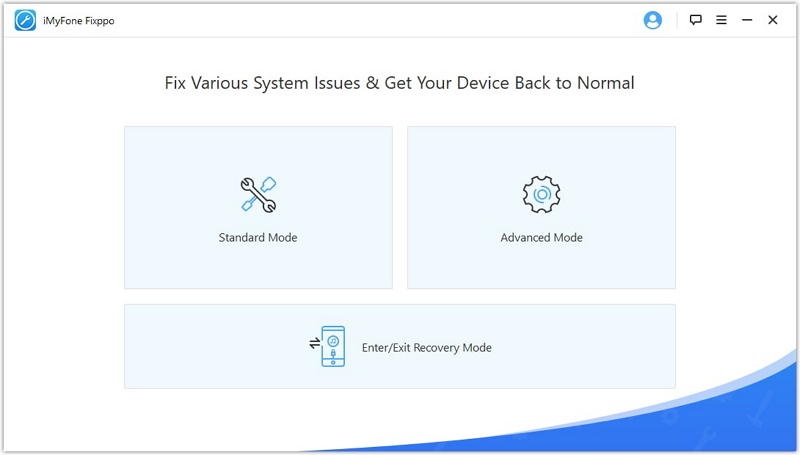 Step 2 – Select the 'Standard Mode' now from the three modes that you are seeing on the screen. After this, you will be asked to put your device in DFU mode. For this, hit on 'Start' and the instructions will be displayed on your screen. Follow them and proceed.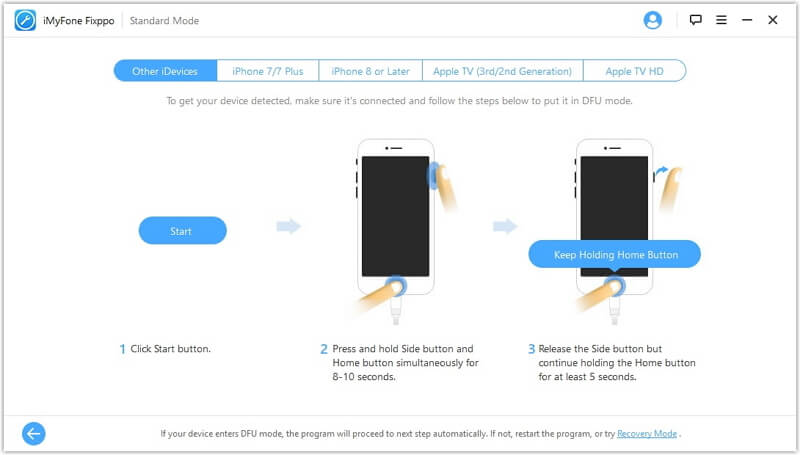 Step 3 – The program will recognize your device when it is in DFU mode. Now is the time to download the suitable firmware to your device. You don't have to do much but click on 'Download' button. The program will give you suitable firmware automatically.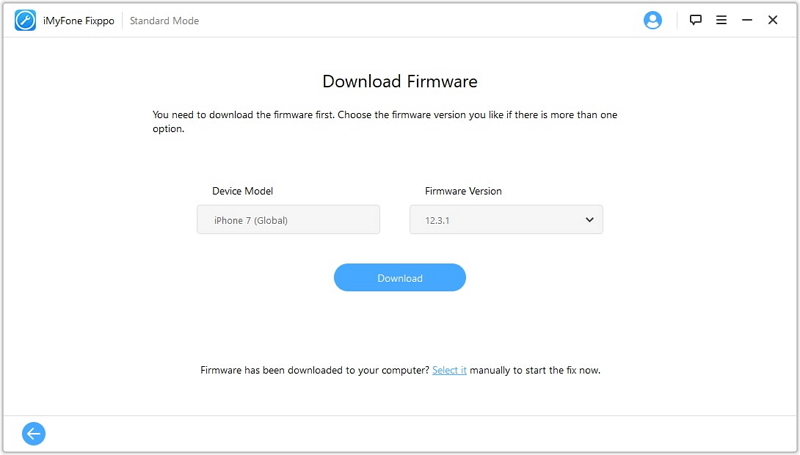 Step 4 – When downloading is finished, you need to fix your problem. Just hit on 'Start to Fix' and wait for a couple of minutes. The issue will be fixed and your device will be restart and iPhone red screen problem will be resolved.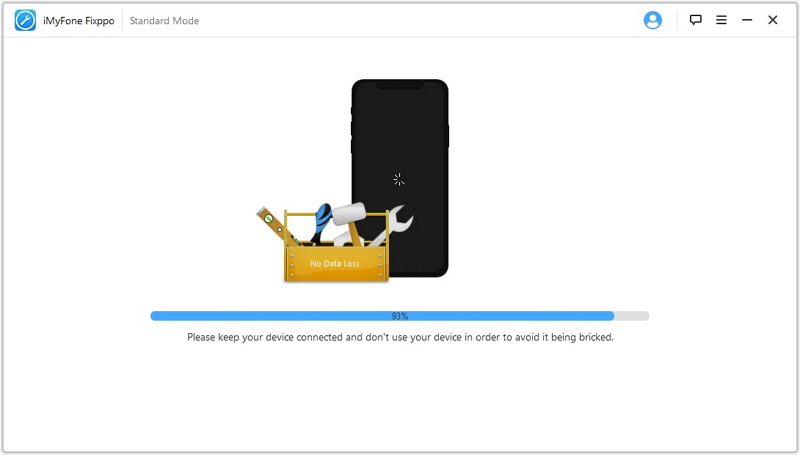 3. Enter Recovery Mode and Restore with iTunes (Erasing iPhone)
Restoring your device with iTunes after entering recovery mode can also help when iPhone red screen of death troubles you. But we would like to make you notice that this method will result in data loss and you iPhone will be just like a new one, so consider twice before you perform this method.
Open the latest iTunes and connect your iPhone with the PC.
Take your device and follow the steps of force restarting your device that are given in the above solution. However, you need to wait for the screen to turn black and show you 'Connect to iTunes' screen and then release the buttons instead. If you still have question, check this guide.

When it is done, iTunes will notify you that your device is in recovery mode and will prompt you to restore your iPhone.

Click on the 'Restore iPhhone' button and confirm the process.
4. Check the Hardware at Apple Store
When unfortunately iPhone red screen problem is still there, the problem must be with the hardware. The above solutions can only fix software problem, we would recommend you to check any hardware problem at the located Apple Store. The experts there will give you a sound advice and fix the red screen issue.