Having an iPhone that stuck on turning off screen is not a common occurrence but when it happens, you will either be worried about your battery running out or that your iPhone is faulty. Whichever one of the two that you are worried about is enough cause for concern. First, find out the reasons behind your iPhone not turning off.
Software problems are freezing up your iPhone.
The wake or sleep button is broken.
Your iPhone's screen is broken and is not responding to finger-touch.
To fix this issue, below are a few steps to take;
1. Force Restart Your iPhone
If you are using an iPhone 8, iPhone 8 Plus or iPhone X, below are the steps to force-restart your phone.
Press the Volume Up button and release it immediately.
Press the Volume Down button and release.
Press the Side Button and hold until the Apple logo comes on the screen.
For iPhone 7 and iPhone 7Plus, the procedure is a little bit different. Press the Wake/sleep button and the Volume Down button simultaneously until the Apple logo shows up on the screen.
If you use an iPhone 6s, force-restart your iPhone by pressing the power button and home button simultaneously and hold for ten seconds until the Apple logo shows up. To turn on your iPhone, follow the same procedure.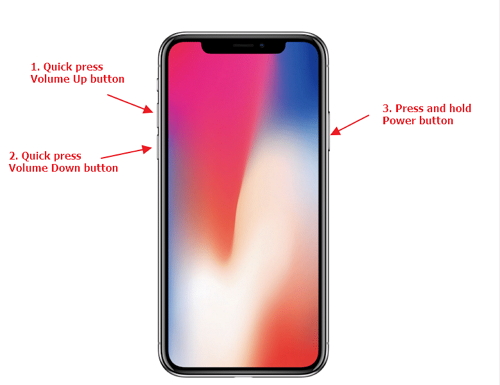 If you are worried that any of the above methods will wipe the data on your iPhone, you do not have to worry about that. These methods will, in fact, make your iPhone start running like a brand-new phone.
2. Put iPhone into Recovery Mode
Plug your iPhone to your Windows PC or MacBook with a USB cable.
Press the volume up button and volume down button one after the other. Then, press the side button and hold it until your iPhone reboots. After the Apple logo appears, do not take your hand off the side button.
The "Connect to iTunes" logo will be displayed on the screen. Release the side button when this happens.
Launch iTunes where you can follow the prompt to restore or update your iPhone's software.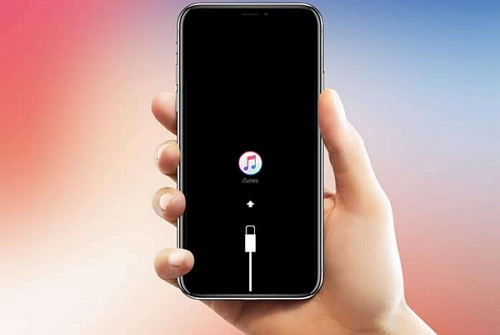 3. Get This Issue Fixed Without Data Loss
Losing data when fixing a problem with your iPhone is not something anybody loves except during times that there is no other way out other than to wipe the data on the phone. If there was a way to fix iOS problems without erasing the data on the device, a lot of people will jump at it. And this is why we are offering you the  iMyFone Fixppo Software which allows you to fix any iOS issue you may have without erasing the data on it.
You also get to repair your phone in the comfort of your home without going to an authorized apple center, and the software has a 100% success rate so far. If you have the problem of iPhone stuck on turning off screen, iMyFone Fixppo is the best software to fix this problem. With the Standard Mode on iMyFone Fixppo, you can fix iOS problems without erasing the data on your device. This mode is capable of fixing most problems, and if the problem is a severe one, then you can use the advanced mode but note that the advanced mode will lead to a loss of data.
iMyFone is also recognized by authorized media sites, such as Macworld, PCWorld, Techradar, iPhoneLife, etc. So it is 100% safe to use our products.

Steps to Fix 'iPhone Stuck on Turning Off screen' with iMyFone Fixppo
First of all, iMyFone Fixppo should be downloaded on your computer.
Step 1. To fix the problem of your iPhone not turning off with iMyFone Fixppo, select the 'Standard Mode' from the tool's homepage.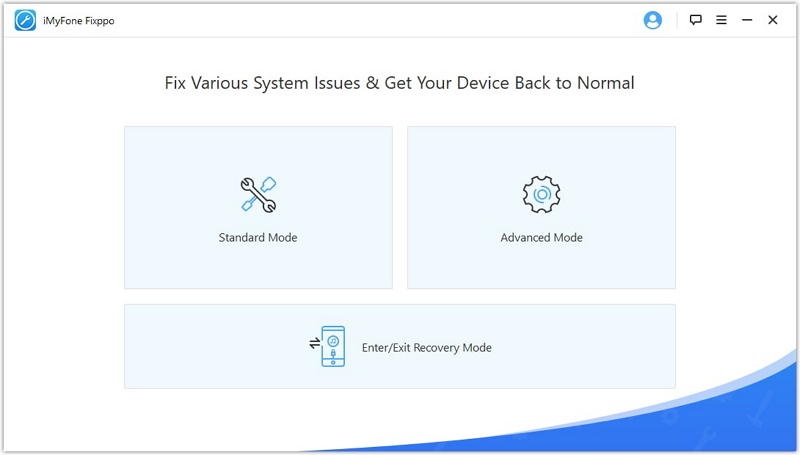 Step 2. After clicking Standard Mode, connect your device and click Next on the screen. The let the iPhone go into DFU mode. The tool will detect your phone afterwards.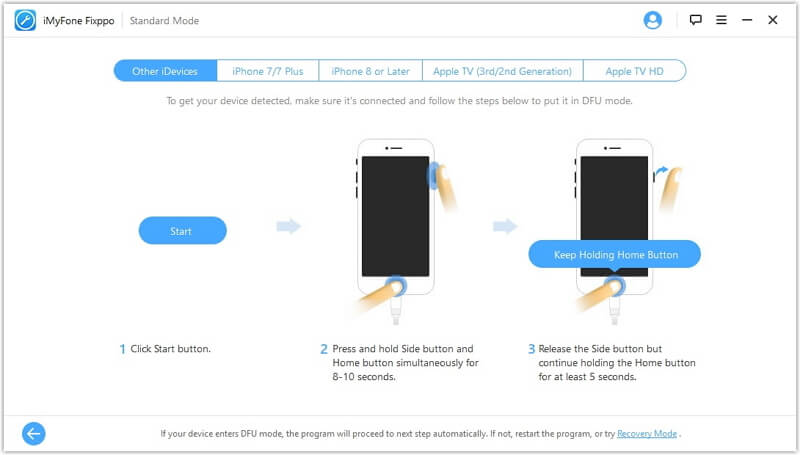 Step 3. After detecting your iPhone, the software will proceed to the next stage of the process which is to download the compatible firmware for your iPhone.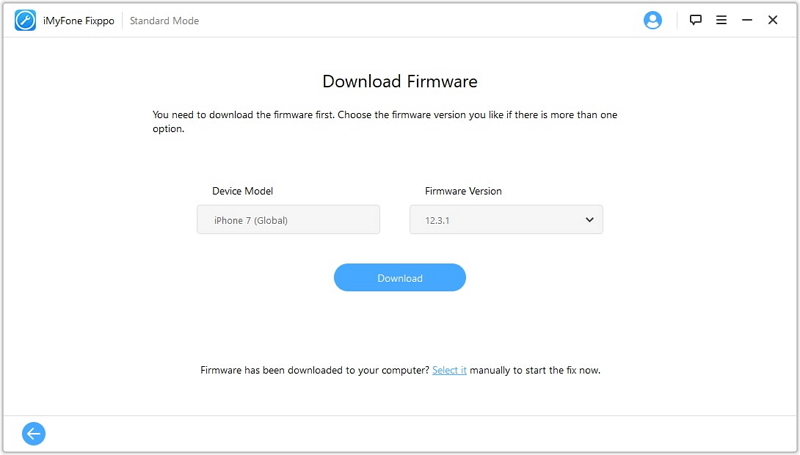 Step 4. After downloading the firmware, iMyFone Fixppo will verify it and extract software then fix the issue with your phone.
Step 5. Click on start to commence fixing. Keep your phone plugged to your PC throughout the process to prevent bricking.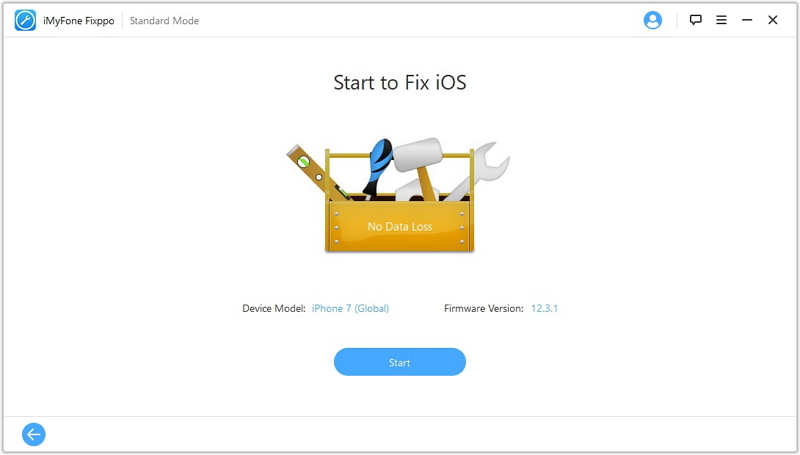 After following all of the above steps, check if your device can turn off successfully and come back on without problems. This procedure will keep your iPhone data and files intact, and it does not take too much time.
4. Contact Apple for Help
If you have tried any of the methods highlighted above, and your iPhone is still refusing to turn off, then the problem may require additional expertise to solve. It may be bigger than something you can solve on your own with some tool. You may need to contact the experts at Apple.
Apple provides phone support to all of its customers, and this support is free as long as your device still has a warranty on it. You will only pay if your phone is out of warranty. To see Apple's support phone numbers, click this link https://support.apple.com/en-us/HT201232.
You can as well walk into an Apple store to see a technician and fix your iPhone. If you do not want to wait for a long time, you may have to make an Apple Genius Bar Appointment before going to the Apple store. This is because a lot of people usually walk in for similar issues and if you do not have a pre-scheduled appointment, it might take a while before it would reach your turn to see a technician.
CONCLUSION
If your iPhone is not turning off, do not let that get to you. You can fix it right in your home without going anywhere. iMyFone Fixppo is one tool that you can use for problems like this. The tool is effective, fast, easy to use and does not require any technical knowledge. An even more fantastic thing about the tool is that it lets you fix your iOS software problem without losing your data. Get your version of the software today!