It is necessary to delete temporary files, redundant files, cookies, junk files and caches to keep your iPad in great shape and to avoid sluggish performance. Manually optimizing your iPad and iPhone can absolutely be a time consuming and tedious task.
Is there an app to clean up my iPad?
Yes, an app like iMyFone Umate Pro can not only clean up iPhone but also iPad, it can be used to quickly remove temporary and junk files from your iOS device.
iPad Cleaner tool will make cleaning possible and very quickly. Here we compared 5 best iPad cleaner apps in 2020 that will help you clean up iOS devices.
Part 1. Top 5 Best iPad Cleaner App List
1. iMyFone Umate Pro - All-in-one Cleaner for iPhone/iPad/iPod Touch
iMyFone Umate Pro is a very interesting tool for people who use iOS devices. It is feasible to implement fast and deep cleans about the iPhone or iPad to increase free disk space and performance to the iOS users.
Key Features:
Combines 25+ analyzation techniques to eliminate over 30 kinds of hidden junk files and temporary files.
All-in-one iPad photo manager: lossless compression for all photos, export/back up all phtoos to PC, delete photos in bulk.
Detects and removes all large files (video/audio files) which are over 5MB
Allows you to preview and selectively mass delete all unwnated Apps.
Permanently erases personal data, such as sensitive WhatsApp messages, bank information, all kinds of accounts and passwords, personal photos and videos etc.
Totally, iMyFone Umate features a great performance, working very quickly. The interface is well organized and informative, with icons on the home screen and procedures in specific functions. This makes the app pleasant to work with.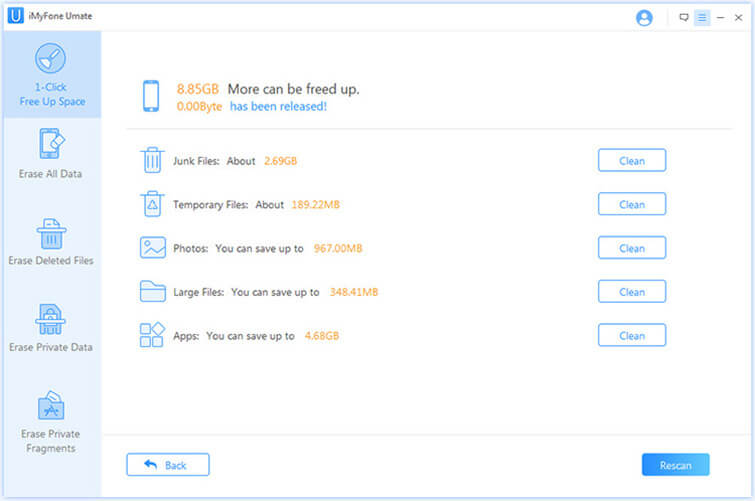 The complete guide to use it clear iPad >>
2. Cisdem iPhoneCleaner
The Cisdem iPhoneCleaner for Mac is good option to find and take away spam from any gadget that runs iOS. With this cleaner, you can do a complete sweep to seek out temporary files that may be erased, as well as other documents that could be taking a lot of space as part of your device. For instance, empty folders, files left by apps which are uninstalled, program cache, apps which might infrequently be used, etc.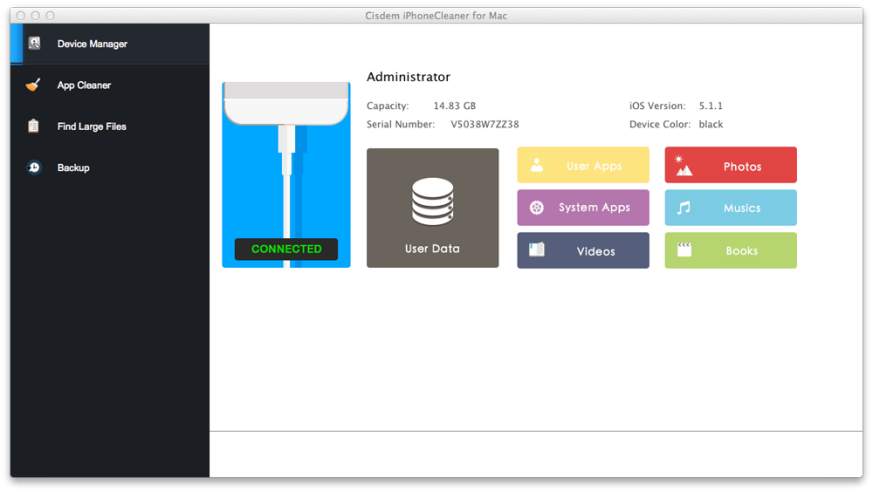 3. iMobie PhoneClean
It is an ultimate iPad cleaner that helps clean up the garbage for devices running on iOS, which allows you reclaim a lot of space for your iPad. It's liable to bring you the hands-free cleaning, ultimate speed-up along with an array of innovative iOS maintaining features.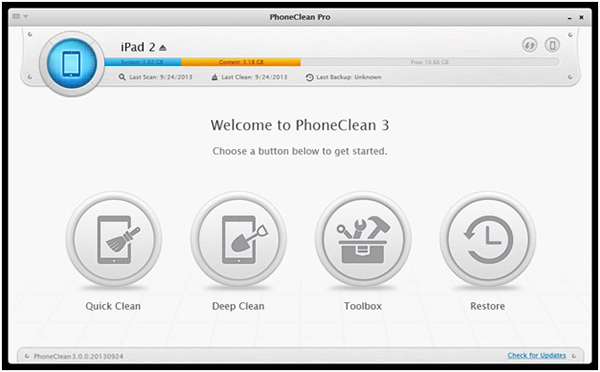 4. Macgo Free iPad Cleaner for Mac
Macgo iPad Cleaner for Mac is a superb free iPad cleaner app 2020 and file explorer tool operated with Mac OS X. It is free by using it on only 1 Mac. It can tidy up most junk files on iPhone, iPad, iPod Touch to take back storage space for further fun securely. You can dig out redundant and useless files on the iPhone and strike them out with just three clicks.
5. Clean MyPhone
CleanMyPhone is made to free up space for storage on iOS devices by managing and removing apps and files through your iPad, iPhone or iPod touch. CleanMyPhone makes it possible to find out the big files quickly and tidy up the disk space. It cleans scripts, and cookies to guarantee the protection of your information and also protects your privacy.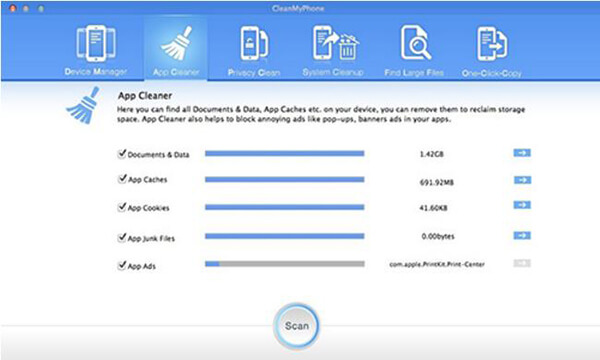 Part 2. Comparison for The 5 iPad Cleaners
This part content is the most - watched post that most of users want to know.
As the table shows below, we can see that only iMyFone Umate and Macgo iPad Cleaner supply us with free version. However, Macgo iPad Cleaner can only run on Mac. iMyFone Umate Free can run both on Mac and Windows.
So if we really want to choose a powerful iPad cleaner app, iMyFone Umate is the best choice.
| Apps and Metrics | | Cisdem iPhoneCleaner | iMobie PhoneClean | Macgo Free iPad Cleaner | Clean MyPhone |
| --- | --- | --- | --- | --- | --- |
| Delete Cache/cookies | | | | | |
| Delete temp files | | | | | |
| Clear browsing history | | | | | |
| Clear other storage | | | | | |
| Compress photos | | | | | |
| Mass delete photos | | | | | |
| Delete Large Files | | | | | |
| Permanently Erase Data | | | | | |
| Bulk remove apps | | | | | |
| Version windows & mac | | | | | |
| Freeware | | | | | |
What is the best cleaning App for iPad?
After the comprehensive analysis, we can know that iMyFone Umate Pro can be the best iPad cleaner app in 2020, because it can give a free tial to clean all the junk files on iPad before you upgrade to the Pro verion. And its wonderful cleaning results make the app the best choice in iPad cleaning.