Do you know that 16GB storage iPhone can have no storage memory left for you to store your files just after 6 months of purchasing the iPhone? This usually occurs because smart phones are built with more features that will give the users higher level of experience with each new version. By making iDevices more powerful, they tend to store of needless files remnants of applications, browser caches, cookies and other useless data. Normally, users can delete these files from their iPhone manually, but the invention of iPhone cleaning tools has made life easier.
iFreeUp iPhone Cleaner
One of iPhone cleaning tools that have helped in making life easier for iDevice users is iFreeUp iPhone Cleaner. This program is used to optimize iPhone and other iDevices by freeing up iPhone storage space in an easy way. By clicking the sweep icon, the software will diagnose and later clean the unwanted files that are not needed. After scanning and elimination useless files, it will show you a list of files deleted or altered in your iPhone.
Advantages of iFreeUp iPhone Cleaner
Junk files created by iOS can be cleaned up with just one click.
Maintain strong privacy by shredding photos with iFreeUp iPhone Cleaner.
Files such as videos, music, apps,and photos can be deleted from your iPhone using iFreeUp iPhone Cleaner.
iFreeUp iPhone Cleaner can optimise iphone performance.
Disadvantages of iFreeUp iPhone Cleaner
It doesn't support temporary files clean-up.
It is also limited in functionalities.
It just remove photos, it can not compress them.
It has a higher price than other software.
From the foregoing, it is evident that there is a paramount need for an alternative to iFreeUp iPhone Cleaner, which will retain its features and proffer solutions to its disadvantages.
---
Best Alternative to iFreeUp for iOS 11/10/9
iMyFone Umate iPhone Cleaner/iMyFone Umate iPhone Cleaner for Mac is a PC-based tool that is efficient in tweaking your iDevice into its top performance in just a click. The beauty of iMyFone Umate as an alternative to iFreeUp iPhone Cleaner can be seen in the various easy ways and arrays of cleaning options that iMyFone Umate offers to its users. This $19.95 tool employs over 25 analysis technology in indentifying junk files, Safari caches, cookies, app logs, redundant files, unused apps, needless files and other useless files in order to remove them from your iDevice and reclaim your device storage space back.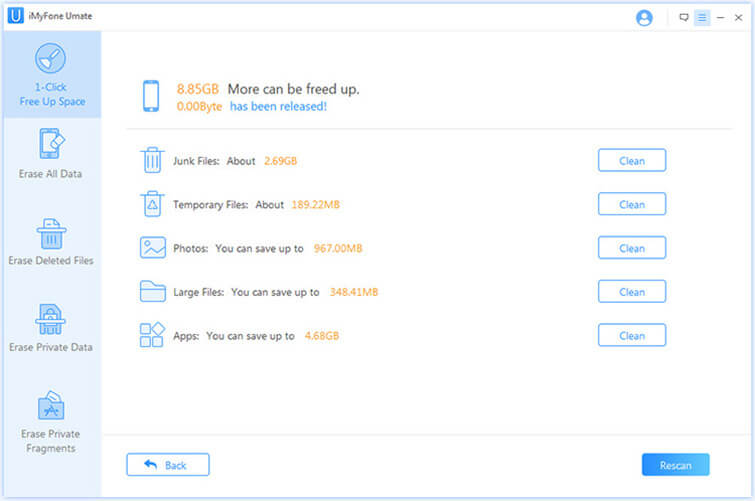 iMyFone Umate has several amazing features that iFreeup doesn't have:
1 It can be used to identify and erase temporary files from your iOS device to regain your storage space.
2 iMyFone Umate is useful in compressing photos losslessly to regain over 75% of photo space. It also backs up the original photos to computer before compressing them.
3 It identifies large files, lists them according to sizes, and can be used to backup and delete these files to crate the needed space on your iPhone.
4 iMyFone Umate is not limited in functionally; it can be used to analyze iPhone storage space, backup files, selectively or individually delete files and eventually optimize the performance of your iDevice.
5 It has a budget price.