The fact is that it's really easy to accumulate lots of documents and data in any app on your phone, and this is especially true with WhatsApp. If you're not careful, you could end up filling up your phone with WhatsApp documents and data that you don't need, and then you won't have room for the stuff you actually want. Luckily, there are a few ways to address this problem, and even delete the data securely so that it can't be recovered.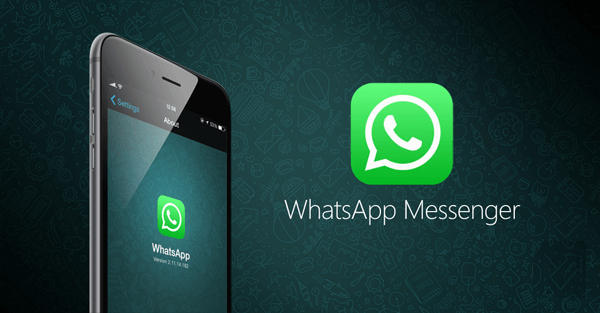 Why We Need to Clear WhatsApp Documents and Data?
There are many reasons why you might want to clear WhatsApp documents and data iPhone:
To clean cache and boost iPhone. Junk can accumulate on your device and make certain apps run slow. Sometimes deleting temporary files like the cache can help. Many times, caches for some apps can get very bloated without your realizing.
To make more room on your iPhone. Junk files can slowly fill up your iPhone and you may not even realize what's happening until you suddenly can't store important things, like photos. Clearing up unnecessary WhatsApp documents and data will help you make the most of your storage space.
To delete private data and protect privacy. Some of the data from WhatsApp may be private and you might not want anybody to be able to see it. In that case, deleting it in a secure way that completely erases the data is important.
Clear WhatsApp Documents and Data iPhone Permanently
Nowadays, most iPhone users would like to seek an iPhone cleaner for WhatsApp as manual cleaning is multitask. One of the great one is iMyFone iPhone Cleaner Win/iMyFone iPhone Cleaner Mac which offers great features to clear WhatsApp documents and data iPhone permanently. Of course, you can use it to clear other app documents and data if you need.
Key Features:
Clean WhatsApp Cache Free - Clearing WhatsApp cache will help free up space and run it better.
Erase WhatsApp Data - Preview and permanently delete WhatsApp messages, photos, videos, and attachments in bulk, 100% unrecoverable.
Wipe Deleted WhatsApp Files - Previously deleted WhatsApp messages which are recoverable will be scanned and fully destroyed.
Erase WhatsApp Fragments - Apart from data, apps also create incomplete fragments which may conceal private info. iMyFone allows you to erase them.
How to Clear WhatsApp Documents and Data iPhone?
Step 1: Connect your iPhone to your computer and launch iMyFone iPhone Cleaner.
Step 2: Click "Erase Private Data." Click Scan. (Or choose "Erase Deleted Files" mode if you want to wipe deleted WhatsApp data.)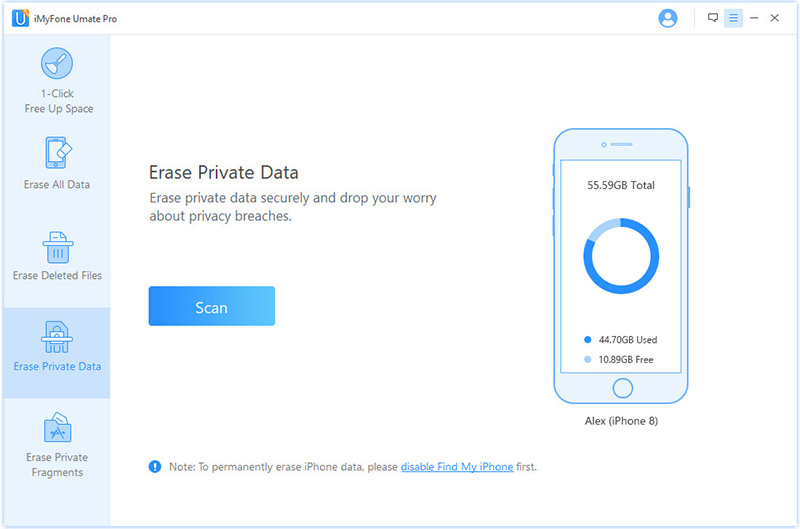 Step 3: After the scanning is done, select which data you would like to erase (in this case, your WhatsApp messages, media files, etc.) and click "Erase Now."Confirm the erasure to begin.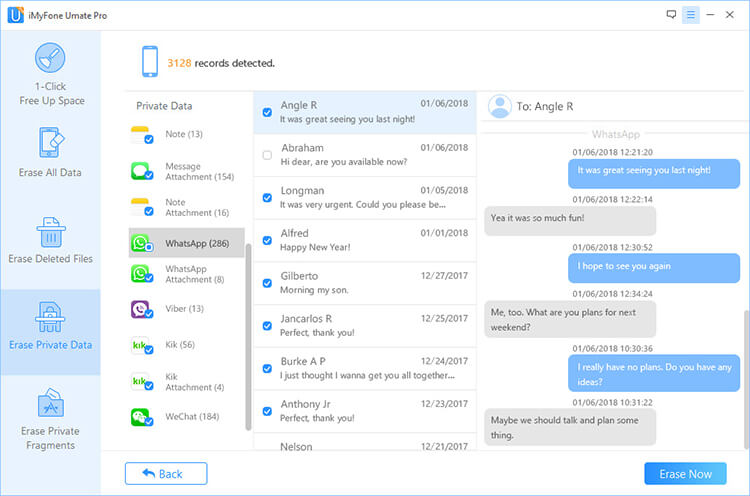 It's also suggested to run "Erase Private Fragments" or "Erase Deleted Files" for free to see how many fragments or deleted files of WhatsApp, LINE, Snapchat, Chrome, Facebook, Twitter, Line, and more are still left on your iPhone.
iMyFone Umate Pro has been reviewed by top tech media and thought very highly of.

Clear WhatsApp Documents and Data iPhone, Recoverable
You might also want to know how to clear WhatsApp documents and data from your iPhone manually:
Launch WhatsApp on iPhone and go to "Chats" at the bottom.
Go to the conversation with the message you want to delete.
Long-tap on the message you want to delete until options pop up.
Tap "Delete."
To Delete WhatsApp Chat History
Launch WhatsApp and go to Settings.
Go to Chats.
Tap "Delete All Chats."
Disadvantages of Manual Way
The problem with deleting this data manually is that it isn't really gone from your iPhone. The data will continue to be recoverable.
There is no way to delete WhatsApp messages in bulk, you should make it one by one.
The whole chat history will be cleared. You can't clear chats selectively.
Final Thought
If you value your privacy, it just makes sense to use software like iMyFone Umate Pro to delete your WhatsApp documents and data permanently. Umate Pro also has a bunch of other great features, like:
The ability to permanently delete private fragments from third-party apps: Snapchat, WeChat, Line, Viber, Chrome, Twitter, etc.
The ability to permanently delete private messages, contact, call history, Safari history, notes, WeChat, photos & videos and any other iOS files.
A feature that allows you to find and erase files that you previously deleted manually.
A 1-Click to free up space function - clear junk & temporary files, mass delete photos/large files/apps, losslessly compress photos, etc.
It's a handy tool for anyone who wants to free up space on iPhone and protect their privacy.