I have a 128GB iPhone 7, but it runs slower and slower, especially when I tap to open the Facebook App, Why?!
The reason is - as you use iPhone and Facebook App on a daily basis, you unintentionally accumulate numerous caches that get stored on your iPhone, result in a poor iOS performance.
The Facebook app for iOS is about 100MB, but if you check the storage usage of your iPhone, then you'll see that it can consume GBs worth of memory!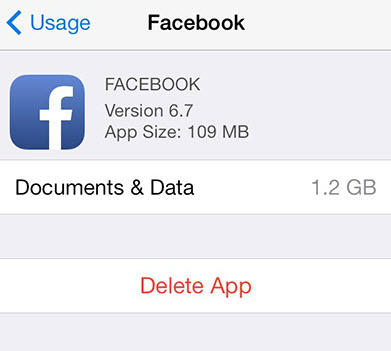 Part 1: Best Way to Clear Facebook Cache from iPhone: Free & Fast (iOS 15 Supported)
You may find that not only Facebook, but also other third-party apps, Facebook is just an example, all these Apps can accumulate large amount of caches.
And uninstalling App will delete all App data, not only the cache, so if you have important files in App, uninstall it won't be a good solution. For all these, an ideal alternative is to use the free trial version of iMyFone iPhone Cache Cleaner or iMyFone iPhone Cache Cleaner for Mac, which can clear up all app caches (including Facebook caches) on iPhone by one click without deleting any personal important file.
With iMyFone, you'll have 2 options:
Clean Facebook Caches: Hidden junks of all apps will be completely removed, such as app cache, crash log, corrupted files, etc. It is for free trial, you won't need to pay for it.
Erase Facebook Private Fragments: Facebook and other apps often leave some fragments of files behind. All traces of fragments of Facebook, SnapChat, WhatsApp, Viber, etc. can be permanently erased by iMyFone Umate Pro.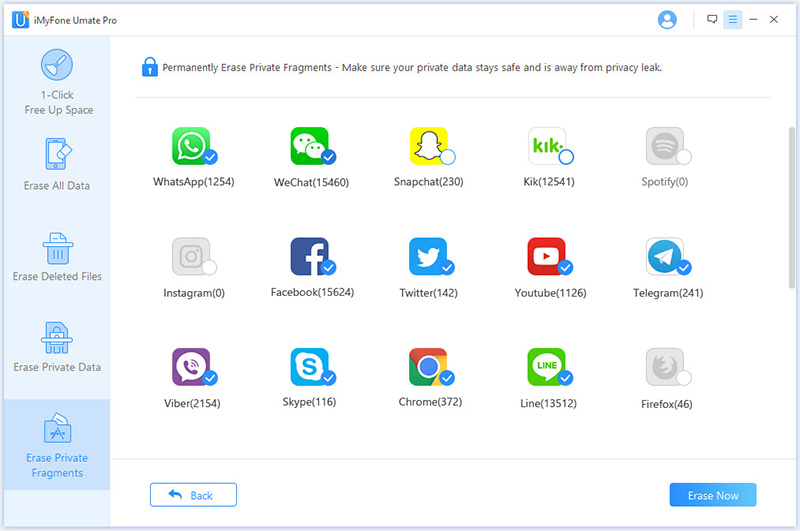 iMyFone Umate Pro receives lots of positive reviews from macworld.co.uk, Makeuseof.com , Cultofmac.com etc.
You can easily free download this software to your computer or laptop to clear unwanted data from your iPhone, and optimize your iPhone performance.
Steps to clear up Facebook caches on iPhone
Step 1. Once you've downloaded the software in your computer, connect your iPhone to it and launch the software.
Step 2. When the software launches, click on Junk Files tab.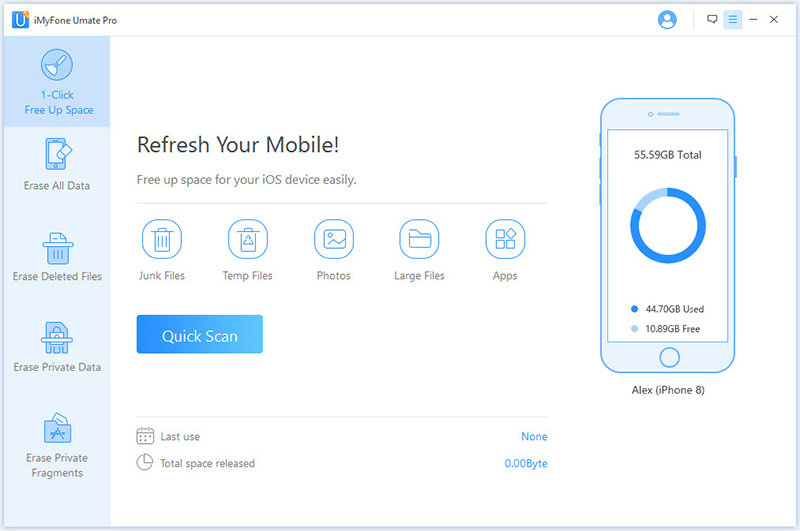 Step 3. After the scan done, click on Clean to start deleting all the junk files from your iPhone, including the Facebook caches.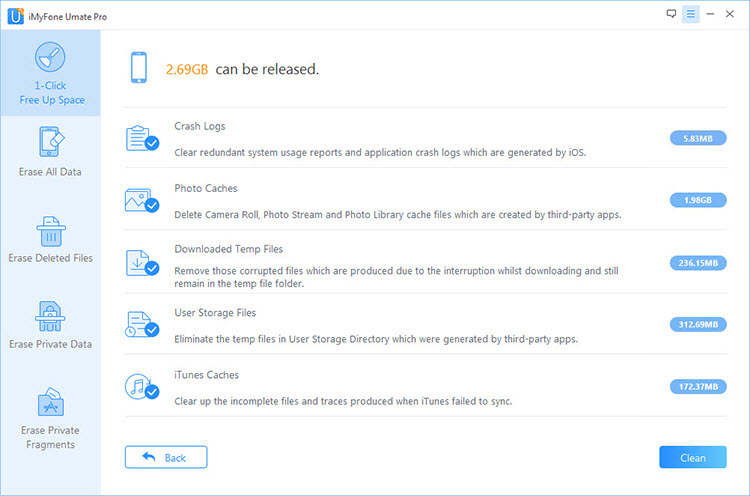 Note: If you want to permanently erase Facebook fragments of files, you can choose the "Erase Private Fragments" from the left menu.
When the process finishes, you'll be able to see the total amount of space iMyFone has saved for your iPhone. The software makes it easier for you to manage the storage of your iPhone and makes the entire process quick and efficient.
Let's have a look at its main features:
Clear up Useless Files: Clean 30+ hidden junk files and temporary files, including app caches, cookies, crash logs, downloaded temp files, user storage files and corrupted files.
Reduce Photo Storage: With it, you can compress/export/delete multiple iPhone photos in 1-click.
Manage Media Files: It can find out all your videos and audio files, you can preview and choose to mass delete/export them.
Manage Apps: List all apps according to files size for you to select and mass remove unwanted Apps.
Erase Private Data: Permanently erase private iOS data - not only current personal files but also deleted sensitive files, all iOS file types supported, and the erased data cannot be recovered by any data recovery software.
iMyFone Umate is highly spoken of by macworld.co.uk

Read also:
How to Empty Your iPhone Trash >>
Top 5 Best iPad Cleaner App Free >>
Part 2: Manual Ways to Clear Facebook Cache in iPhone: A Little Complex
You can manually clear Facebook cache on iPhone from the app itself or settings app. It is quite easy to make it.
1. Clear Cache from Facebook App
Step 1: Launch Facebook app on your computer.
Step 2: Tap on the "More" button at the bottom.
Step 3: Choose "Settings" and then "Account Settings" from the drop-down list.
Step 4: Tap "Browser" to Browser Settings page.
Step 5: Tap "Clear Data". That's it.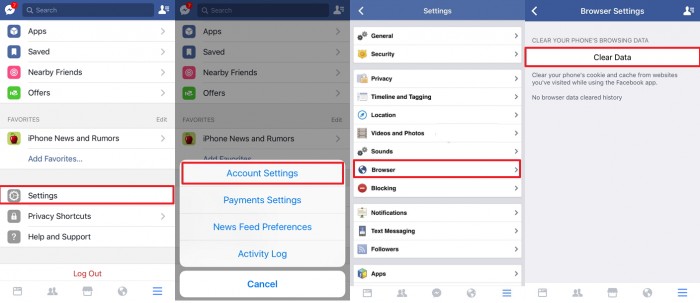 But note that, it only remove your iPhone's cookies and cache from websites you've visited while using Facebook app.
2. Clear Facebook Cache from Settings App
The other manual way to Facebook cache in iOS is to uninstall Facebook app from your iPhone and then install it again.
For doing this, simply follow the steps: Tap on Settings > General > Usage > Manage Storage > Facebook > Delete App.
This will delete the Facebook app from your iPhone along with all the cache data.
Note: It is generally recommended that you should clear Facebook cache on iPhone once in a month, if you use Facebook on a regular basis. If you don't really use Facebook app on your iPhone very frequently, you can uninstall and then install it again once in every 2-3 months.
iPhone, as a personal tool, always contains many private information, such as sensitive messages, bank information, all kinds of account and password, personal photos and videos, iMyFone Umate Pro is just fast and does a thorough job of permanently erasing these personal files which protects your data from being accessed by outsiders, making it the best option to clear your iPhone Facebook caches.
Part 1: How iPhone Facebook Cache Produced?
Like other websites, Facebook is also made from several individual files which your browser combines together to display the website on your iPhone. To load Facebook faster, the browser that you use to access Facebook on your iPhone saves some parts of these individual files. This is known as caching. The browser keeps these files loaded in your phone to load Facebook faster.
Over time, these cached files grow in numbers and can take MBs and GBs of memory. Thus, it is very important to clear Facebook cache from iPhone. Clear Facebook cache in iPhone will not only save storage for your iPhone, this will also help in speeding up your iPhone, making iOS run smoothly.