You can also read this guide in Français.
When I delete a photo, it is because I don't want it to be seen. Why is it still on my iPad for apparently the next month? -– Mark
Trash on iPad and by extension on the iPhone is synonymous to the 'Recycle Bin' of Windows PC. Thrash serves as a medium to store deleted files sometimes temporarily as observed on the Photos app where deleted files are kept for thirty days after which they are permanently deleted.
Whether it is thirty days, shorter or longer, having files you've decided to part with on your device can be detrimental to the health og your device. Therefore, this posts shares with you tips on handling the different types of thrash found on the iPad.
1. Find How Much Space Occupied by iPad Trash
There isn't any specific app called "trash" on the iPad or the iPhone, and this makes it difficult to measure the amount of space thrash is occupying on your device. However, you can get a vague idea of the total amount of space files like thrash, junk files, and temporary files occupy using iTunes. You can do this by:
Launching iTunes on your PC or Mac.
Plug your iPad or iPhone using the cord supplied with your phone by Apple.
Allow the system to sync with your device.
On the botto, bar detailing the percentage of your storage occupied, notice the percentage and space "Others" occupy.

This will give you a good idea of the amount of space thrash and junk files are occupying.
How to Clear Mysterious "Other" on iPhone >>
2. Thoroughly Empty All iPad Trash: Junk & Deleted Files Files
Besides email and photo trash, there are also massive hidden junk and deleted files on iPad. They not only occupy massive iPad storage, but also affect the iOS performance. What's more, the previously deleted files or fragments are still left on iPad hard drive, which can be easily recovered by data recovery software. It may lead to privacy leak.
To avoid that, you can use iMyFone Umate Pro, which can detect and permanently erase almost all the invisible previously deleted files, useless junk, fragments and traces left by 3rd-party apps on your iPad.
Umate Pro is fully compatible with iOS 15 and receive lots of positive reviews from macworld.co.uk, Makeuseof.com , Cultofmac.com etc.

It is very simple to use the program tp empty all your trash on iPad:
Tip 1

Clear Up All Junk Files on iPad

You can download the free trial version of Umate Pro, which provides the free function of removing iOS junk files, this function is totally free.

You just need to connect your iPad > choose "1-Click Free Up Space" > scan the iPad and then click on "Clean" button of "Junk Files", then you can clear up all iPad junk files.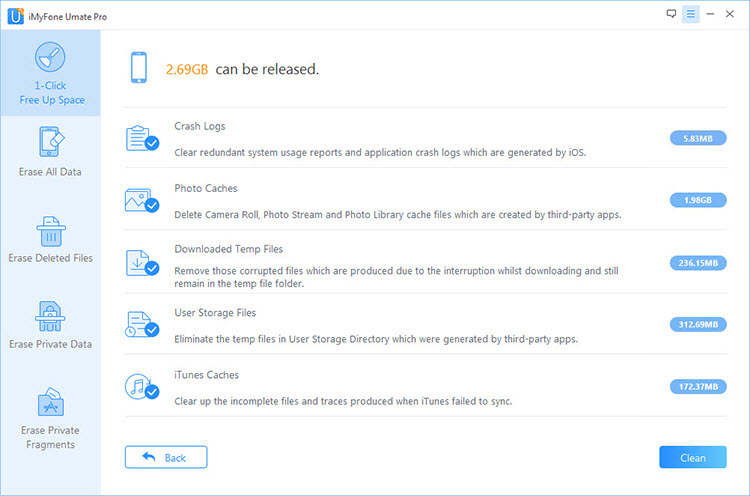 Tip 2

Clear Up All Previously Deleted Files on iPad

Scan your iPad with the mode "Erase Deleted Files", to know if you have sensitive deleted records on your iPad. If yes, select the files and click on "Erase Now" button to permanently erase them.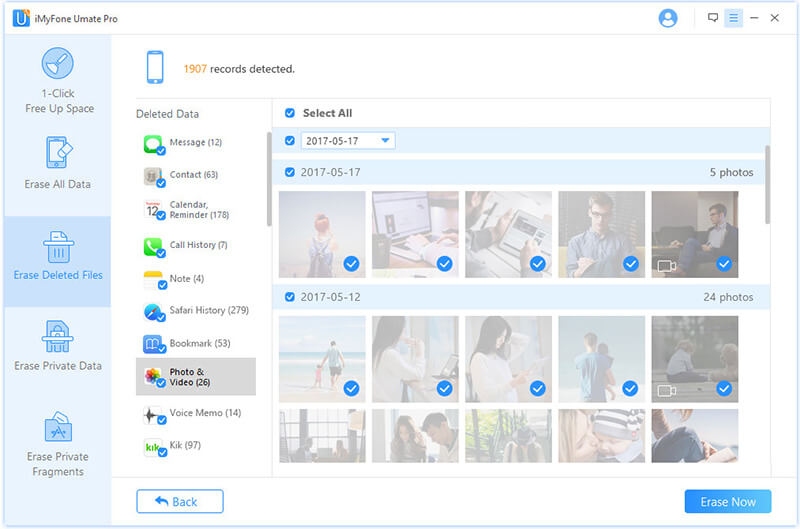 Tip 3

Clear Trash and Traces of 3rd-Party Apps

Scan your iPad with Erase Private Fragments feature on iMyFone, and it will show you how much trash of Snapchap, WhatsApp, Facebook, Twitter etc. By clicking "Erase" and you will make your iPad clean!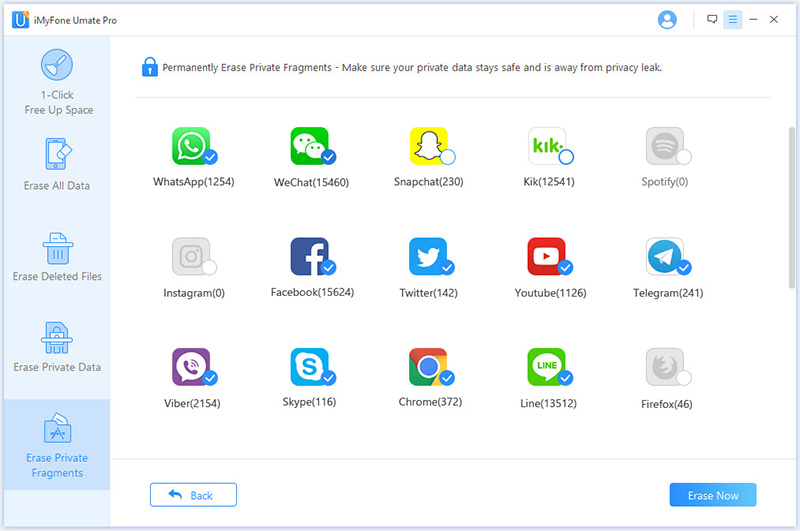 Benefits of using iMyFone in emptying iPad trash
Not only for photo trash, email trash, but also including any other trash will be cleared at once
Delete hidden junk trash files such as App caches, cookies, crash logs etc for free.
Get rid of hidden system trash generated by apps as well as the operating system including corrupted files.
Umate can help you find all the files – no matter the file type – you have previously deleted and help you erase them permanently.
Delete media files received through Whatsapp and WeCaht without the pains of going through each contact and groups to manually delete them.
Note
Importance of Permanently Erasing iPad/iPhone Data
FYI, whenever you delete anything from your device, it never truly leaves the device, and in the situation where what you have deleted is something very personal and for your eyes only, this can be a problem. Why? Because people with powerful data recovery tools can recover does private and personal files and harm you with them. It therefore goes with conventional wisdom to ensure these files are deleted permanently by using Umate. And if you've deleted these files in the past, Umate can also fish out files you've previously deleted for permanent deletion. So, permanently deleting files is important for ensuring your privacy is kept secured.
3. Manually Empty Email Trash on iPad
Now the question is how to empty trash on iPad? Let us have a look at the steps to empty email trash on iPad.
First, open your email and click on the top left screen of Mailboxes.
If you have more than one account on the iPad, go to "Accounts" and select the email account; if you are having only one email account then the trash folder will be visible directly in the set of folders.
Click Trash folder > Edit > Delete All.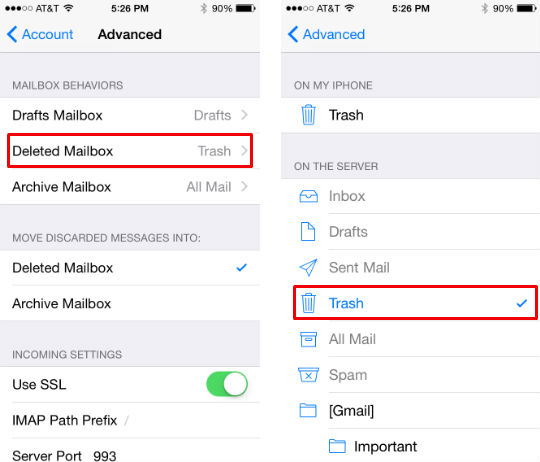 4. Manually Empty Photo Trash on iPad
We all have hundreds of photos on iPhone and iPad, the same with email, there is also a trash folder named "Recently deleted photos" in the Photo app on your iPad. Imagine how much iPad space will be taken up by all the deleted pictures. Thus, emptying iPad trash for Photos is necessary.
To do this, just open your Photos app, then tap on the Albums menu to open the list of albums, tap on Recently Deleted, and there is a "select all" button to empty the trash.