Apple fans keep an eye on every launch of new iOS product, expecting new features with more convenience in use. However, iOS 14/15 let many users down. iOS 12/13 devices running slow drives many people crazy and some users even complain "iOS 14/15 ruined my iPad!" Here are six tips for iPad users to fix iOS 14/15 iPad sluggish problem.
6 Tips to Fix iOS 14/15 iPad Running Slow
---
Tip 1. Delete Big Files and Apps
iPad is easy to be flooded with music, movies and games, which leads to iOS 14/15 ipad running slow. It's time to manage your iPad now. For music and movies you seldom play, you can upload them to iTunes and iCloud for future download. Don't forget the games, which not only take up a lot of RAM resources dragging down the responsive speed of your iPad, but also occupy a lot of storage space in your iPad. What about uninstalling the games you are no longer interested in to make your iPad faster?
---
Tip 2. Turn off Spotlight Search
Spotlight function enables you to get rapid search results. However, this service covers almost all the content in your iPad, some of which is seldom used in search. You can change the search types to relieve iOS 14/15 iPad sluggish problem. Go to Settings> General> Spotlight Search and deselect the search results you seldom use.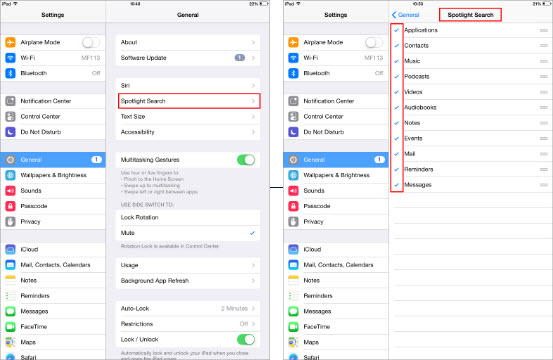 ---
Tip 3. Inactivate Background App Refresh
Background App Refresh service is aimed at invoking app data faster based on the frequency of use and intervals through the day, so that when you open an app, the data has already been synchronized for instant use. However, many apps don't need to refresh frequently, and this service waste part of the RAM resource. You can inactivate Background App Refresh in Settings> General> Background App Refresh.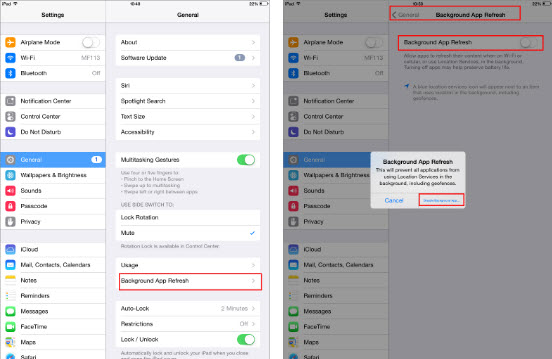 ---
Tip 4. Close Unnecessary Running Apps
Too many apps running at the same time can drag down iPad responsive speed, and you can close some apps you don't need to use any more to speed it up. You can double click the Home button to open the running apps list. Pressing on the session window of the app you want to close and sliding it up until it disappear will close the running app.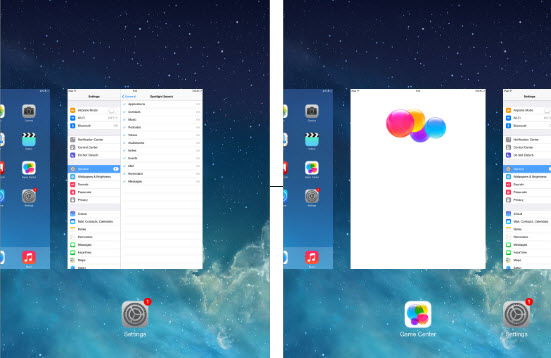 ---
Tip 5. Restore iPad to Factory Default Settings
Besides ipad on iOS 14/15 running slow problem, some users also complain "iOS 14/15 ruined my iPad!" when the iPad get stuck on "slide to upgrade". These can all be solved by factory reset. Before this action is taken, uploading files and important data to iCloud and iTunes is strongly suggested. Restoring iPad to factory default settings from Settings> General> Reset> Erase All Content and Settings will make your iPad run fast like a new one. If you lose important files after the factory reset process, you can recover them by referring to iMyFone D-Back data Recovery for iPhone.
---
Tip 6. Free up Space to Speed iPad with iOS 14/15
Fed up with deleting and uninstalling and afraid of losing files and data in the process of factory reset? You need a one-click solution to release more space for your iPad to get rid of the iOS 14/15 iPad sluggish problem. iMyFone Umate Pro is the most efficient space saver for iOS 14/15 device, and its unique technique can release tremendous space for your iPad without harming your iPad.
How This Remarkable Space Saver Works?
With powerful five functions, your iPad on iOS 14/15 can be sped up easily.
1.Clean up all junk files on iPad by one click.
2.Clear temporary files which is invisible for users.
3.Compress photo losslessly to reclaim 75% of photo space.
4.Back up large files to computer and delete from iPad.
5.Manage app space flexibly to accelerate iPad.
6.Permanently erase private iOS 14/15 data - erase not only current personal files but also deleted sensitive files, and the erased data is 100% unrecoverable.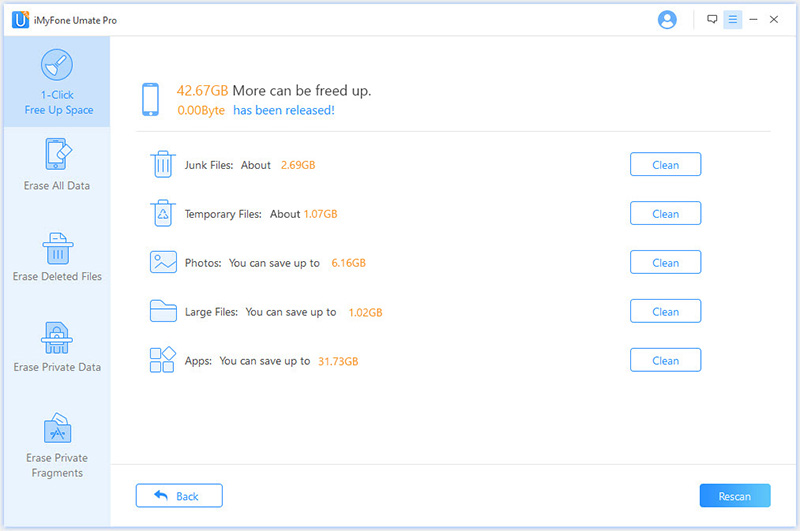 And in very shot time, iMyFone Umate Pro can save huge space for your iPad and speed up your iPad obviously.
And now, the free trial version is offered to perform space-saving analysis, once junk file cleaning, 5 latest photos' compression and one app's uninstallation for your iPad. Just download and try it!