You can also read this guide in Français.
As iPhone users, encountering the alert "iPhone storage almost full" is pretty familiar. And you may ask: "why? I don't think I have overused it? Why iPhone says storage almost full? " Well, let us analyze the reasons and discuss the solutions to fix it.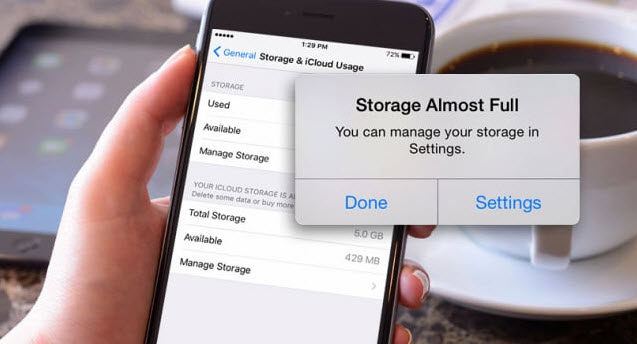 Why is My iPhone Storage Full
In addition to the iPhone system itself, there is also a large part of the space for various installation packages, App cache, etc. This part of the content occupies more and more space over time, and eventually reaches a certain memory, you will be prompted to storage full.
As these occupied memory is "System", many people usually ignore it. When the phone prompts you, you will always be prompted with insufficient memory, but no matter how you clean up, you will still be prompted all the time.
In fact, this is the "System Memory" occupying too much, resulting in a shortage.
How to solve the problem of iphone storage full but nothing on phone, you can refer to the following points.
My iPhone Storage Is Full But It's Not? 6 Tips to Fix
You can watch the video first to have a quick view of the methods below:
Tip 1

Clear up Junk Files, App Caches (iOS 15 Supported)

One of the reasons your iPhone storage full but it's not is the failure to clear up app caches, fragments and some junks. iMyFone iPhone Cleaner can do this well. It can help you to totally remove useless and hidden files from iPhone, so as to save sapce and also improve its performance.

Key Features:
Clean Junk & Temp Files: It has the 1-click function to delete all hidden junk files on iPhone, like App caches, cookies, crash logs, corrupted files, etc. It is for free trial.
Erase Third-Party Apps Fragments: The incomplete fragments or caches left by third-party apps will be found out and permanently deleted, like WhatsApp, Snapchat, LINE, Viber, etc.
iMyFone Umate Pro is fully compatible with iOS 14 and receive lots of positive reviews from macworld.co.uk, Makeuseof.com , Cultofmac.com etc.
.
3 steps to remove all hidden junk files from iPhone
Step 1: Connect your iPhone to computer and launch iMyFone iPhone Cleaner.
Step 2: Hit "Quick Scan" on the home interface. It will carry out a deep analysis of your iPhone space.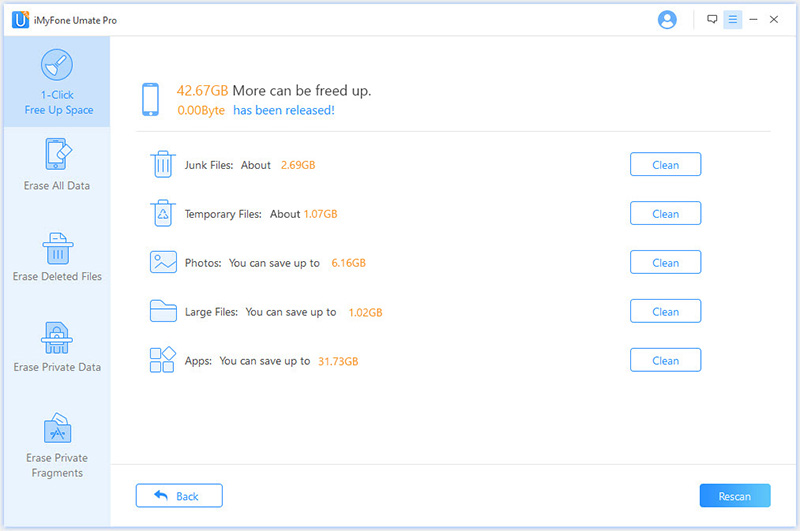 Step 3: Hit "Clean" button beside "Junk Files". Check the junk you want to clean and hit "Clean" button again to confirm.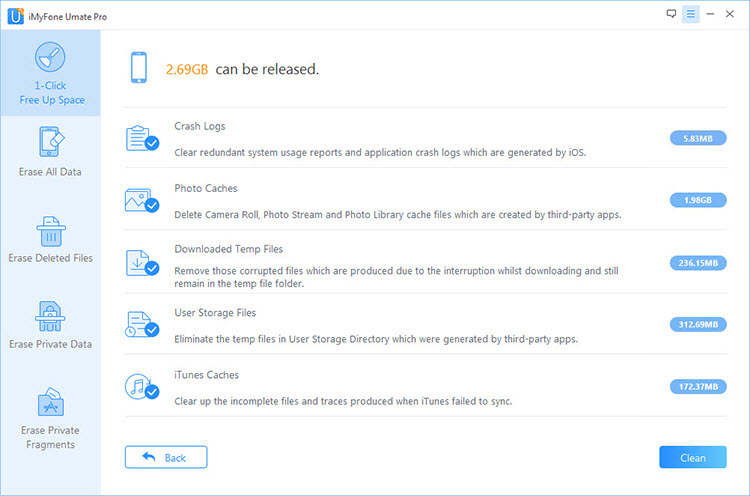 Tip 2

Move Photos to iCloud to Fix "iPhone Storage Full"

Do not forget the official cloud space provided by Apple? iCloud provides 5GB free space for each Apple account. Moving photos to iCloud would save you huge photo storage.
On your iPhone, go to "Settings > iCloud > Photos".
Turn on "iCloud Photo Library" and check "Optimize iPhone Storage".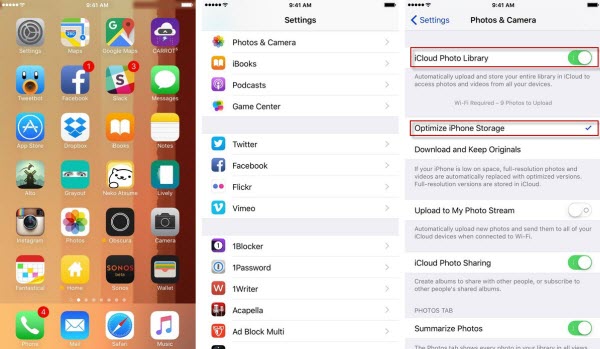 If your iPhone storage almost full, full-resolution photos and videos will be automatically replaced with optimized versions on your iPhone.
Tip 3

Uninstall & Reinstall Apps

If you never clean your iPhone, you must find that all the frequently-used apps have a large amount of documents and data. It is normal as not only important files but also some junk files are stored in Apps.

To remove such huge space occupied by app documents and data, a simple way to make it is to uninstall apps and then reinstall them from iTunes Store.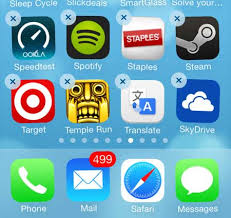 Tip 4

Permanently Erase Unwanted Private Data

Normal deletion of files through your device Delete button is not enough because files deleted can be easily recovered. If you want to delete some unwanted data, you'd best permanently delete them from iPhone, no matter for more free space or privacy safety by iMyFone iPhone Eraser.
Permanently erase private contacts, call history, photos & videos, messages, note, Safari history, WhatsApp, WeChat data, etc.
Find out previously deleted files and completely remove them from iPhone hard drive.
Completely reset all iPhone data and settings to make it safe for resale.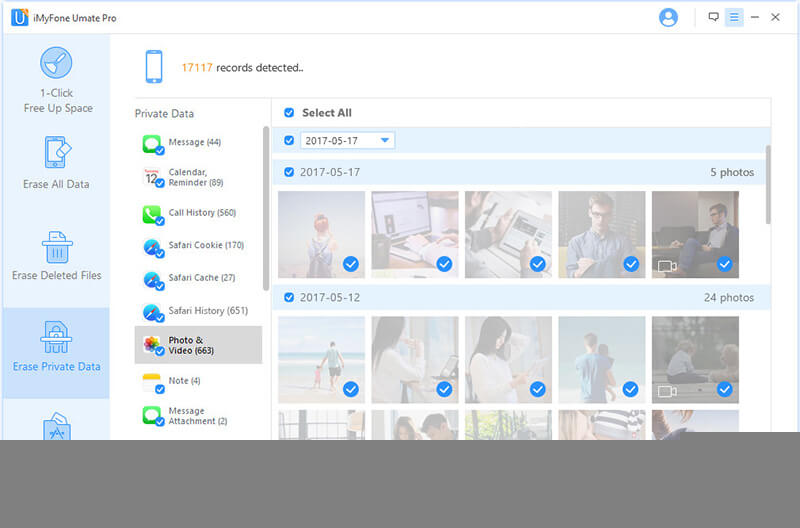 Here is the steps to permanently delete photos so as to fix the iPhone storage full error:
Step 1: Launch the program and run it, then connect your iPhone.
Step 2: If want to permanently erase your data, choose from "Erase Private Data". You can preview and select photos or other data.
Step 3: Click "Erase Now" to start iPhone cleanup.
Note: If you have manually delete unwanted private data, you can also use "Erase Deleted Files" to find them out and completely erase them.
Tip 5

Reset iPhone and Restore Backup

If your iPhone is old, or you used it for years, you can consider reset your iPhone to factory default settings. It would make it totally clean. Do not forget to back up your iPhone first.
Steps to Reset iPhone and Restore Backup
1. Launch iTunes on your computer and connect your iPhone to it with USB cable.
2. Click the device icon at the top left corner on iTunes.
3. You can find the "Back Up Now" button at the right panel.
4. Once then, please click the "Restore iPhone" there again to bring your iPhone back to default settings.
5. Once done, go to the "Restore Backup" button at the device page on iTunes. Wait until the backup is updated to your iPhone.
This way will fix the iPhone storage full error by restoring available space back.

Please note that, using the restore function on iTunes will also update your iPhone to the latest version of iOS. If you do not like that, you can go to "Settings > General > Reset > Erase All Content and Settings" on iPhone.
People Also Ask These Questions about iPhone Storage
Q1: What happens when your iPhone storage is full?
iPhone storage almost full leads to not only can't take more photos/videos, it may even lead to black screen or iPhone freezing!
Q2: What should I delete when my phone storage is full?
If your iPhone is almost full, you can start with deleting photos and videos on iPhone, and then remove unused download files and apps.
Q3: How do I find out how much space I have left on my iPhone?
On your iPhone, go to "Settings > General > Storage & iCloud Usage > Manage Storage". You can check the used or available space there. So does iOS 15.
Using iTunes. Connect your iPhone to computer and launch iTunes. Hit the device icon. You will see the storage detail at the bottom on the right panel.
If your iPhone shows a notification that says iPhone storage is almost full but you find free storage is still available, then you may need to try one or more of the following methods to fix the problem.
Also Read:
Six Tips to Fix "Not Enough Storage" on iPhone >>