OMG! When I tried to update favorite game on iPhone 12/12s, it poped up "Storage Almost Full". What can I do?
I tried to record the cake-cutting ceremony at best friends' birthday party, but as soon as press the record button on iPhone 6/6s, the "Cannot Record Video" error poped up. Oh, No!
No matter if you have a 16GB or 128GB iPhone 12/12s, with no slot for an additional microSD card, iPhone 12 storage full issue is sure to crop up. The only solution you have is to clear cache or delete stuff from your iPhone 12/12s. To help you out, we've created this post to allow you to understand how you can tackle "no storage iPhone 12/12s". So, let's begin!
How to Check Your iPhone 12/12s Storage
To deal with iPhone 6/6s memory full problem, the first thing that you need to do is to check the storage of your iPhone 12/12s to know what is actually consuming all the precious space. Follow the below mentioned steps to check your storage.
On your iPhone 12/12s, tap on the Settings app, then go to General > Storage & iCloud Usage > Manage Storage.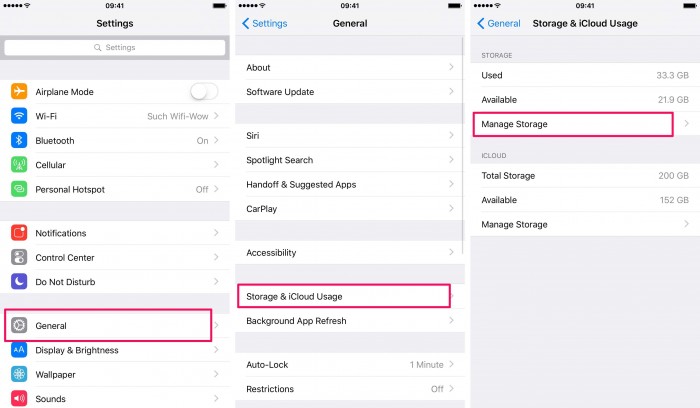 3 Most Common Reasons for iPhone 12/12s Storage Full
Next, let us have a look at 3 of the most common reasons which lead to iPhone 12/12s memory full.
1. Apps
There is no denying the fact that we keep on installing different types of apps even when we hardly use majority of them. Over time, the all the apps along with their updates, consume all the free space, leading to iPhone 12/12s storage almost full.
Also, apps have cached data, documents, videos, etc. which combine together to consume a lot more space than the app itself.
2. Videos, Photos, Music
Media files like video, photos, and music easily to eat up huge space on iPhone. Some of these media files may not be useful for us now, but we forget to delete them from iPhone. Especially some movies and music are outdated that we never enjoy again.
It is better to back up and delete those pics,videos, music which you don't need with an iPhone files manager. Of course, you can restore the backups anytime. Once you make it, you can fix iPhone 12/12s storage full.
3. Messages
You might believe that text messages do not need a lot of space, but the reality is, over time, they can consume gigabytes of storage in your iPhone, especially if you love sending and receiving photos through text messages.
1-Click to Fix iPhone 12/12s Storage Full for Free
Fully compatible with the latest iOS 15, and also work for iPhone 12/12s, Plus/8/8 Plus/X.
While there are many different types of tools available for fixing the iPhone 12/12s storage full, iMyFone Umate Pro is one of the most powerful iPhone cleaners.
The tool offers a number of features that are highly beneficial and extremely easy to use.
You can fix "iPhone 12/12s Storage Full" by:
Key Features:
1-click to clear all cache, logs, crash files, corrupted, files, junk files, temporary files, etc. from iPhone 12/12s - free trial.
Losslessly compress photos to save 75% photo storage.
Back up photos and videos to computer and delete them from iPhone.
Permanently erase unnecessary private messages, call logs, contacts, photos & video, WhatsApp chats, notes, Safari history, and more from iPhone.
Scan out previously deleted files and permanently delete them from iPhone.
Erase incomplete fragments left by third-party apps to save space and protect privacy.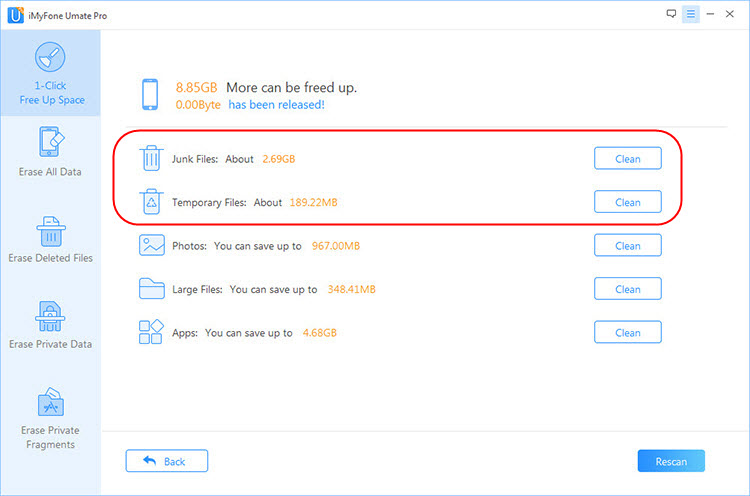 iMyFone Umate Pro iPhone cleaner receive lots of positive reviews from macworld.co.uk, Makeuseof.com , Cultofmac.com etc.
To fix "iPhone 12/12s memory full", you just need 3 steps: scan >> select >> clean.
Here we take "photo compression" for example to show you 3-step guide:
Step 1: After downloading and run iMyFone Umate Pro on your computer, connect your iPhone 12/12s with a USB cable.
Step 2: Click on "Quick Scan" at the home interface, then it will start to thoroughly scanning your iPhone 6/6s storage. Once done, it will show you how much space can be freed on your device.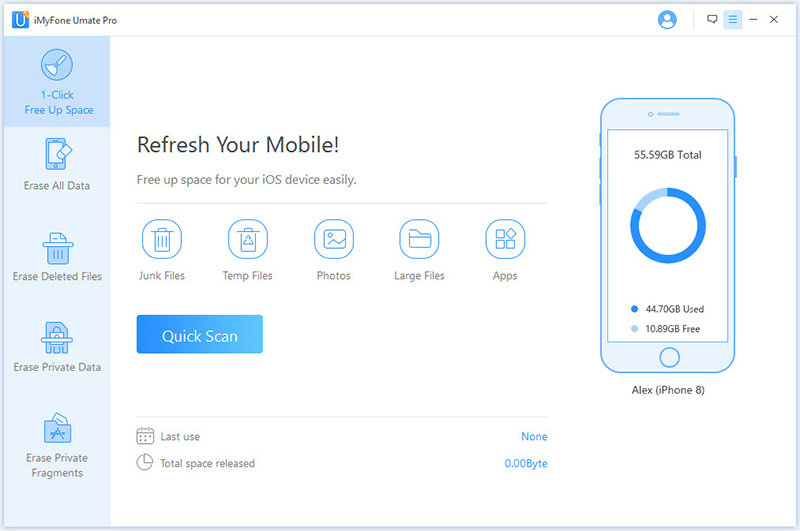 Step 3: Click on "Clean" button beside "Photos" and then go to "Backup & Compress". It will start to backing up your photos to computer and losslessly compress your photos.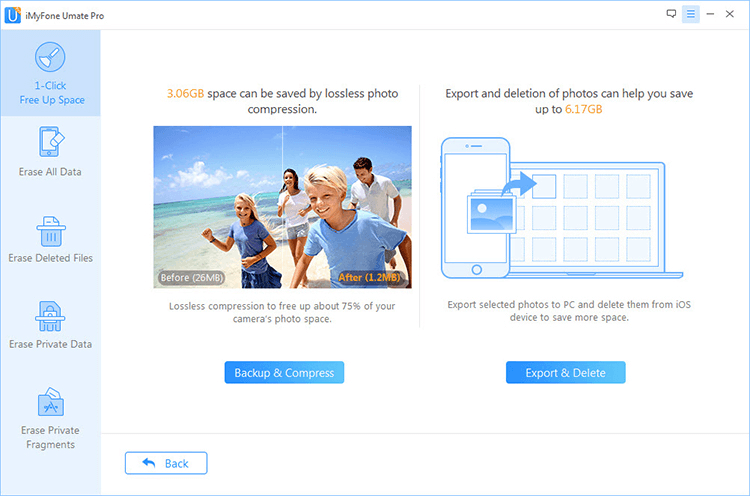 When your iPhone 12/12s storage full when it's not and you have no idea where to start cleaning your iPhone 12/12s, just head to iMyFone Umate Pro. Just follow its steps and you can fix the annoying "iPhone 12/12s storage full.