As one of the most popular iOS system repair tools, iMyFone Fixppo has generated a lot of interest from users who face various issues. Yet, one of the most prominent questions that we get from people who want to install the program is whether or not it is safe.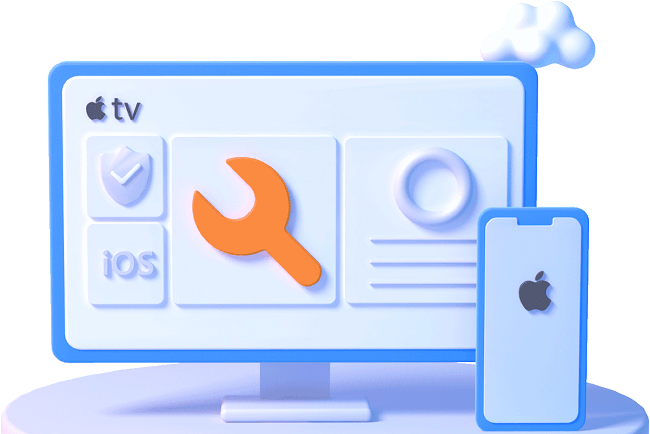 Considering that there are a lot of programs with malware and viruses that may affect your computer, it is certainly a good idea to determine the safety standards of any program before installing it.
Therefore, in this article, we are going to address all your concerns regarding iMyFone Fixppo and hopefully put your mind at ease.
Part 1. Is iMyFone Fixppo Safe?
In order to convince you of iMyFone Fixppo's safety, it is important that we need to begin with what this program is and what it can do for you.
Q 1. What's iMyFone?
The best possible place to begin with is the program's parent company. After all, the program is only as good as the company that makes it, right?
iMyFone technology is a tech company that creates programs to provide solutions to iOS issues. It has a huge following around the world thanks to its commitment to help you enjoy your iOS devices that much more.
Q 2. What is iMyFone Fixppo?
iMyFone Fixppo is a program that specializes in fixing all iOS related issues for iPhone, iPad, and iPod touch devices. It is helpful for devices that are stuck in one or more scenarios. For example, an iPhone that is stuck in recovery mode, on the Apple logo, stuck on the black/white screen and many other iOS problems. It is also particularly helpful when certain apps or features on the iPhone are not functioning as they should.
It can repair all iOS system issues without affecting the data on the device with a 100% success rate.
It is very easy to use, allowing users to repair the device in just a few simple steps.
It supports all iOS devices including the iPhone 14/14 Pro (Max) and all versions of iOS including iOS 16.
It can also be very helpful for the repair of tvOS issues.
It can help your device enter or exit recovery mode totally free.
Scenarios When iMyFone Fixppo Works Perfectly
Fixppo can be very helpful to you under the following circumstances.
If a certain app on your device or an iOS feature is not working correctly.
When an iOS update interferes with the device's normal function. For example, when the device gets stuck on the loading screen while you are trying to update.
When certain settings, features or apps disappear from the iOS screen and you want to get them back.
When you need to put the device in recovery mode easily and quickly.
When you want to downgrade the iOS firmware safely or update the device's firmware without iTunes.

Part 2. Why Some Antivirus Software Says Fixppo Is Dangerous
There are some users who have reported that their anti-virus programs have reported Fixppo as dangerous. This unusual occurrence doesn't mean that the program is dangerous. Whenever an anti-virus program says that a non-malicious program is dangerous, thus we call it a false positive.
So if the anti-virus you are using on your computer says the program is dangerous, this can only be attributed to a false positive.
This situation is quite normal although we take every measure to ensure that it doesn't happen. We try to submit Fixppo to all anti-virus software developers every time there is an update. This is to ensure the program is white-listed on all anti-virus programs. We also submit the program to the anti-virus programs every time they update their engines.
Part 3. Will It Hack or Store Your Personal Data?
Fixppo will have access to your device and the data on it. So, it is understandable that you may worry about the safety of the personal data on your device. With every download of Fixppo, we guarantee that none of your personal data will be interfered with in any way. All the data on your device will remain on the device and will never be uploaded to our servers.
Our privacy policy states this fact very clearly and we take your privacy very seriously. Therefore we will not under any circumstances copy, share or even store any of your personal data without your express permission.
Part 4. The Reviews of iMyFone Fixppo
As a testament to this program's effectiveness, the following are some of the feedback we've gotten over the years.
Users' Feedback
The main theme in all reviews is the fact that the program not only works as advertised but that when they use the program the reviewers didn't suffer any data loss even after a major iOS-related issue. Our users express their gratitude to iMyFone for what most of them call "saving" their devices from ultimate doom.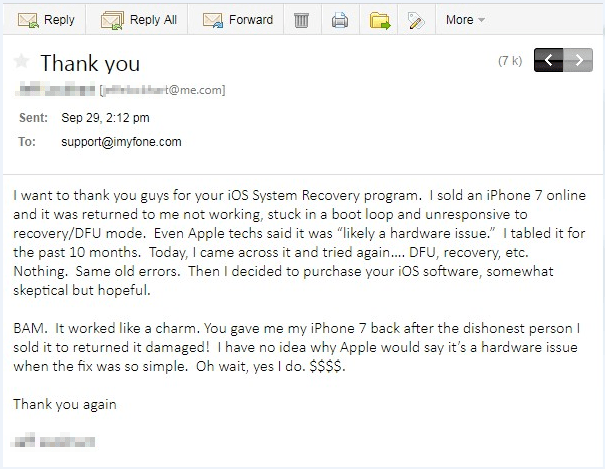 Professional Media Sites & International Certification
Fixppo has also received favorable reviews from some of the top tech-review and sites and blogs. These include Ubergizmo, Techradar, Payette Forward, Engadget, TechAdvisor and Mud. All these sites offer iOS-related advice and have each termed Fixppo ass a credible solution for some of the more problematic iOS issues.
Fixppo also gets all the necessary permissions and certification, all of which are necessary to demonstrate the program's effectiveness as well as safety.

Part 5. Guarantee from iMyFone
You are guaranteed the following as an iMyFone Fixppo user.
Fixppo doesn't contain any virus, ransomware or malware. It is genuine, 100% safe software designed to fix iOS system issues.
Secure payments during purchase.
Customer service and technical assistance that is available to you for free.
30-day money-back guarantee with no delays (terms and conditions apply).
Lifetime free updates of the program every time a new feature or functionality is introduced.
Free tutorials, guides, tips & tricks on how to use the program effectively, as well as on how to get the most out of your iOS device.
We are always available to answer any questions you may have about Fixppo for Windows or for Mac. Share your concerns with us and we'll do our best to address them effectively.
Bonus: 10% Off Coupon Code for iMyFone Fixppo
Here is our gift of 10% off coupon code. You can follow these steps to apply the coupon code.
10% off Coupon Code: YTR5E7
Go the iMyFone Fixppo product page for Win or for Mac and select the version you want to buy. The program is available for both Windows and Mac OS. Click "Buy Now" to start the process.



In the next step, you will see the product and its details. Check the box "I have a coupon" on the left side.

Enter the coupon code: "YTR5E7, click the button "Apply"

And you can successfully use the coupon.

Congratulations, you have bought the iMyFone Fixppo (iOS System Recovery software) and now you can use it to solve all of your iOS problems.

Save yourself the stress of visiting a technician or authorized center, and the frustration that comes with being unable to use your iPhone. Welcomt to participate in the event to get yourself the iMyFone Fixppo Serial Key today!