WhatsApp is a popular platform used for business and personal communication via texts, calls while sharing documents, stickers, movies, pictures, etc. However, some users occasionally find that WhatsApp media files such as images don't appear in their phone Gallery. If you find yourself in the same circumstance, here we reveal several solutions to fix WhatsApp images not showing in Gallery.

Where Do WhatsApp Images Get Stored
Despite the smartphone type you might have, it may be an Android such as Samsung, Huawei, or Techno, or even iOS such as an iPhone. Every version of these smartphones will have a different cause for the same problem; since WhatsApp App responds differently to Android and iPhone.
When we receive lots of photos and videos on WhatsApp, to enjoy them in their full glory and later reviews, we often take the help of the Gallery/Photos app, as it's quite obnoxious and inconvenient to view pictures directly in WhatsApp. However, sometimes these WhatsApp images do not show up in the Gallery/Photos at all.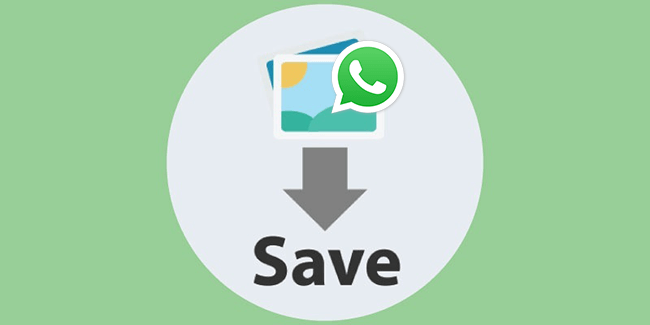 Reasons Why WhatsApp Photos Not Showing in Gallery
On smartphones, the images or videos you download from WhatsApp become instantly saved and available in the Gallery app on your phone. Whether you have a Android phone or iOS device, your WhatsApp images will appear in the Gallery/Photos of your phone. But in case they are not showing in the Gallery, there are several reasons that might have caused such a problem.
These reasons include:
Presence of .nomedia files in your folder.
General media visibility settings being "Off".
SD card is broken.
Images folder in phone is hidden.
Images just disappeared without known or be deleted accidentally.
How to Fix Whatsapp Images Folder Not Showing in Gallery on Android
1. Enable General Media Visibility on Android
Recently WhatsApp has released a new Android feature called "Media Visibility" which conceals downloaded pictures in the Gallery of your smartphone, to preserve your privacy.
So this setting may probably be responsible for your WhatsApp photos or videos not showing in the Gallery. For all contacts or specific contacts, you may use either of the two techniques below to modify the configuration.
Open your WhatsApp and touch on top of the three-point icon, then choose Settings.
Tap Chat icon, then click on the "Media visibility" toggle. It's going to become green. Now all the new media files you download from any contact, will be visible in your phone Gallery.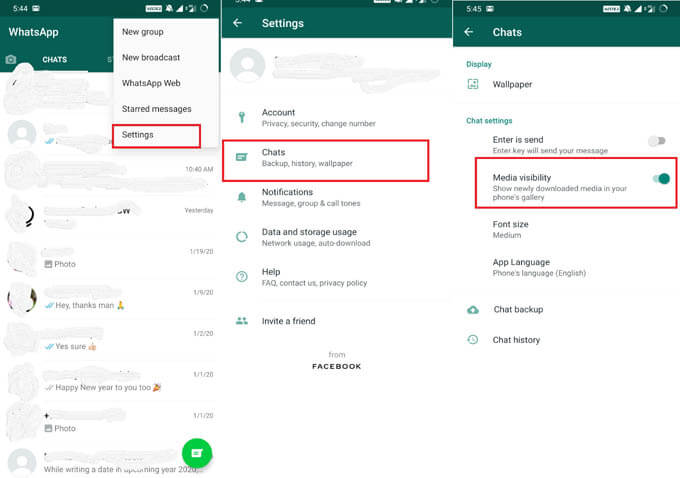 2. Enable Visibility of The Media for Individual Contacts
If your WhatsApp photos are lacking, just in the Gallery for certain specific contacts or groups, the visibility of those media can then be deactivated. Follow these procedures to update it for each contact:
Open WhatsApp's particular conversation. Tap on the first name of the contact or group.
Press Visibility on Media and choose "Yes".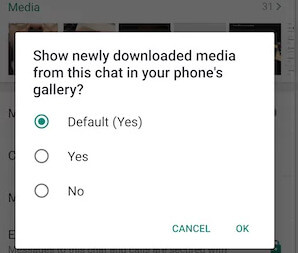 3. Delete ".nomedia" File in Your Phone
Another way to make hidden WhatsApp files visible in the Gallery app is by deleting the ".nomedia" file. If any folder contains ".nomedia" file in it, be rest assured that its files will not show in other apps. Therefore, you need to clear away this file.
To do so, launch the File Manager app on your phone, then go to its Settings, or tap on the three-dot (...) icon at the top right of your android phone screen. Select Show hidden files.
Once that is enabled, go to the WhatsApp folder. Tap on Media > WhatsApp Images. If you see a ".nomedia" file, delete it. You should also pay attention to the Private folder. Delete the ".nomedia" file within it.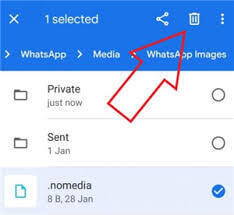 4. Clear Cache
In order to follow the following steps to clear cache on Android:
Open your phone Settings, and click on the apps button.
Under all applications, tap on WhatsApp.
Then tap Storage and clear Cache.
Start your phone again.
Note
Kindly note that clearing the WhatsApp caches does not remove your messages or media. But once hit the 'Clear storage'/'Clear data' Icon, it will delete all your WhatsApp data.
5. Check Google Photos
Do you use your default Gallery app with Google Photos? If yes, did you utilize local delete copy or storage device free? Because it removes the device copy of the pictures from your phone. This might be the reason why WhatsApp images from your phone suddenly disappear. If so, you may still access such pictures at https://photos.google.com/.
6. Check If Your SD Card is Damaged
SD card is kept in your smartphone to storage data, but it's still assailable. SD card is broken usually leads to damaged data, especially your images, videos, or notes. Your SD cards could be damaged due to:
Wear and tear.
Water damage.
Electrical surge.
Accidental drops.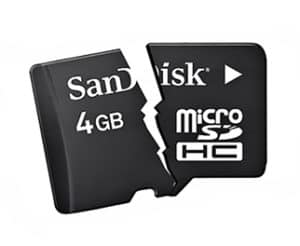 There's a possibility that the SD card reader is damaged when you find your WhatsApp images not showing up in the Gallery/Photos. Thus, you can change a new SD card to your smartphone after you restore your damaged SD card.
7. Save Images from WhatsApp Manually
In order to solve the issue of WhatsApp images not showing up in Gallery/Photos, you can follow the steps below to manually download your WhatsApp images to your smartphone.
Open WhatsApp, tap on the chat that contains images you need to download.
Long press the selected image and click "Save".
What to Do If WhatsApp Images Are Not Showing in Gallery on iPhone/iPad
1. Grant Privacy Permissions
If you cannot access them in Privacy settings, WhatsApp will not store photographs on the iPhone. If so, you may unintentionally have taped "Don't Allow" on the Settings. Check carefully, by the following steps:
Open Settings on your iPhone or iPad .
Scroll down until you find the Privacy settings and click on it.
Click on Photos, then select WhatsApp from the list of applications accessible.
Change it to "All Photos", and you are good to go.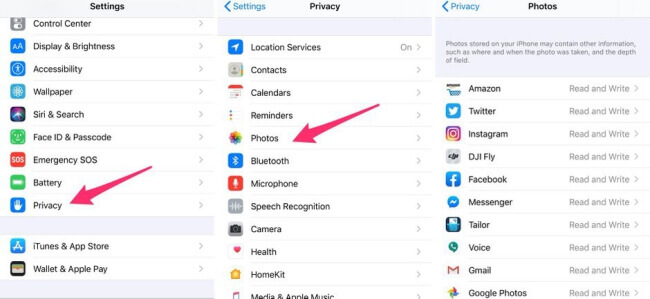 2. Allow WhatsApp to Save Photos on Camera Roll Automatically
WhatsApp images on iOS do not appear in Photos instantly after downloading. Instead, save the picture to your camera roll directly, or activate WhatsApp's 'Save to Camera Roll' option. Below is how to do it:
On your iPhone or iPad, open WhatsApp.
In the lower right-hand corner, click on the Settings icon.
Go to Settings for Chat.
If it is off by default, tap the option next to "Save to Camera Roll".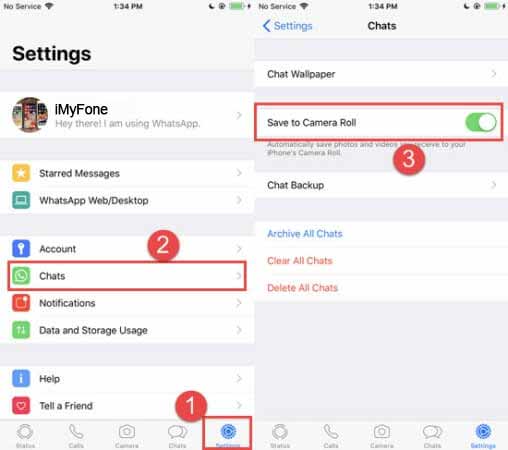 That's it. From now on, WhatsApp photos will begin to display in your camera roll or another Gallery app.
3. Free Up Space
When your iPhome runs out of space, there is not enough available storage to save your WhatsApp images. Thus, in order to fix WhatsApp images not showing in Gallery, you can try to delete some unnecessary files to free up some internal storage space.
4. Update or Reinstall Your WhatsApp
A simple way to fix your WhatsApp images not showing issues is to update or reinstall your Whatsapp. Make sure that you're always using the latest version of the WhatsApp.
5. Check Network Connection
In order for WhatsApp pictures to be displayed in the Gallery, you need to make sure that you are running WhatsApp in a good network environment. Therefore, don't forget to check your Wi-Fi or use a different network.
Bonus Tip: Use a Professional Tool to Restore WhatsApp Images (iOS and Android)
If you have accidentally deleted some of your WhatsApp images and you want to get them back, you may need to employ the services of one of the best WhatsApp data recovery tools to help you get them back. This tool is known as iMyFone ChatsBack. It can also be very useful in helping you recover disappeared images without backup.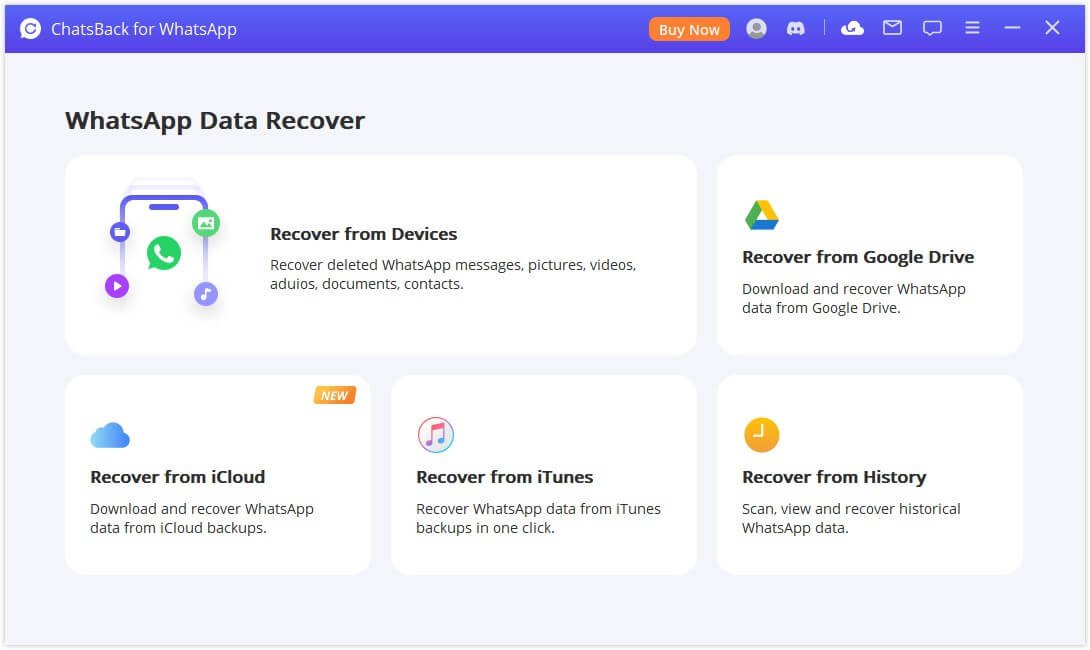 Capable of retrieving WhatsApp images with the highest success rate.

Comes with a preview function which allows you to make sure you are recovering the data you exactly want.

Support to export and recover WhatsApp images to devices and computer.

Fully compatible with the latest Android 11 & iOS 15. And support WhatsApp recovery for almost all Android and iOS devices.
FAQs about WhatsApp Images Are Not Showing in Gallery
1

Why can't I see WhatsApp received images in the Gallery?
There might be different problems that might cause your watsApp images not to appear in the gallery, such as general media visibility settings in your smartphone has been turned "Off".
2

Why can't I see my pictures sent via WhatsApp in my Gallery even though the 'Media Visibility' setting is on?
Sometimes it is because the operating system of your android phone (Samsung, Techno, Oppo e.t.c), or iOS phone (iPhone), is not updated fully, hence not working well with some apps. So the best way to solve this problem is by using iMyFone Fixppo repair tool for any of your phone Operating system repairs, without losing any important data.
3

How can I download WhatsApp images in my Gallery?
This normally happens automatically, but if sometimes you don't see the images in the gallery, then the best solution is by deleting the .nomedia file from any of your gallery folders. If any folder contains ".nomedia file" in it, none of your downloaded images will appear on the gallery folder.
Final Words
WhatsApp is the most used communication platform in the world, where we share images and videos with our beloved one across the globe, but unfortunately, sometimes these videos and images fail to appear on the Gallery of our smartphones.
One of the greatest tools for restoring WhatsApp images is iMyFone ChatsBack which is an WhatsApp recovery tool that enables you to recover deleted photos from iPhone, Android phone, iTunes and Google Drive backup. We hope this guide was helpful and you were able to fix WhatsApp images not showing in the Gallery.