When your iOS crashes or the iPhone behaves abnormally after updating to the latest iOS (for example iOS 15 which was just released), you might need to get the iPhone firmware restored using iTunes or even downgrade the iOS by iPhone firmware restore. Apple still provides signed iPSW files for the previous iOS versions in the first 1-2 weeks after it releases a new version, so a downgrade is workable.
How can you do that? iPSW firmware files come in handy. But the question pops up where to download the iPhone firmware files from and how to use them to restore or update your device? Fret not! With this article, we are going to explain to you where to download the iPhone firmware from and the most convenient methods to update or restore your iPhone using an iPSW file.
1. Where to Download iPhone Firmware Files from (Free)
You can easily download the iOS firmware file for iPhone (iPSW files or iOS files) from this site. It is recommended to always download a signed version of the iOS firmware for your iPhone. Here are the steps to download iPhone firmware (iPSW) for free –
The first step is selecting the product from the list. Click on 'Choose a product' tab and you will see a list. Click 'iPhone' and then you will be navigated to the next step.
In this step, you need to tap 'Choose an iPhone' and select the iPhone model you possess. Here, you can pick iPhone 6S/7/7 Plus/8/8 Plus/X/XS/XR/11/12/13/14 depending upon what device you own.
As soon as you tap on the iPhone model, it will ask you to 'Choose a version' – iOS firmware version. You need to choose and tap on the desired one from the list.
You will navigate to the final step. Here, you have to tap the 'Download' button and wait until the iPhone software download is complete.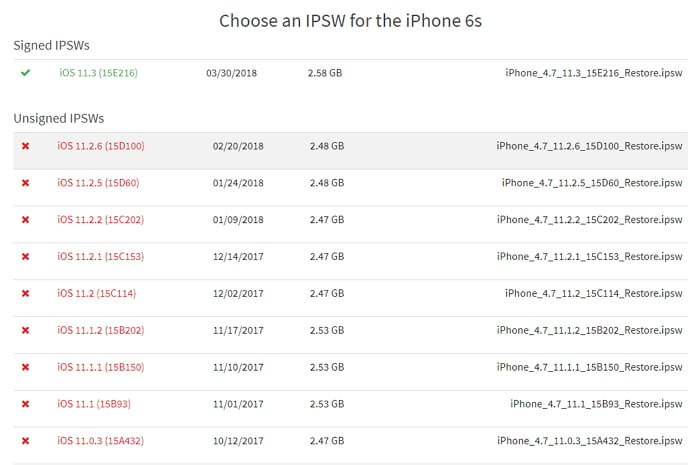 Note: You need to locate the file beforehand so that you can easily track it during restoration or update of the firmware, discussed later in this article. Most probably the iPSW file will be saved in your computer's 'Download' folder. Double-check it.
2. The Advantages of Installing iPhone iPSW Manually
There are numerous ways that make installation of iPhone firmware files more convenient as compared to updating your device via OTA (over the air) updates.
Bandwidth: In the manual method, you can download the iOS firmware file for iPhone once only and then utilize it to update your iPhone anytime. Whereas in automatic (OTA updates) method, you do not have the privilege to use the same update again.
Troubleshooting bricked iPhones: In case you are unable to install the latest iOS due to failed software update or the device is bricked due to jailbreaking or any other reason, the OTA method won't help here. Manual installation of iPSW will restore your iPhone using the DFU or recovery mode and bring back your iPhone to life.
Storage: In the manual method, the iPSW is downloaded to a computer and then used to update your iPhone, so no need to worry if you're device storage is running out.
Updating multiple devices of the same model:  In OTA, every device needs to update the firmware individually whereas manual method allows you to update multiple devices of the same model (say you have 3 iPhone 7 devices at home) with a single iPSW file.
3. How to Use the Firmware to Restore or Update iPhone
Once you have downloaded the iPSW file for your iPhone, it's time to restore or update your device with it. We are going to explain to you how to perform iPhone firmware restore with a third-party program -- iMyFone Fixppo iOS System Recovery. This tool basically is an effective solution to fix numerous iOS issues such as a device that is stuck on black or white screen, Apple logo or recovery mode and helps you in repairing the iPhone without losing significant data via the 'Standard Mode'. It has another feature that can help you perform iPhone software restore or update by using the 'Standard Mode' (no data loss) or 'Advanced Mode' (data loss), and the steps are similar for both.
Here we are going to explain the step-by-step guide to install iPhone firmware on iPhone without data loss.
Step 1. After downloading the supported and suitable version of iPSW file as per the steps mentioned in Part 1 of this article, download the iMyFone Fixppo iOS System Recovery tool.
Step 2. Launch the software on your computer and get your iPhone connected through a lightning cable. Click 'Standard Mode' to begin the process.If you don't mind data loss, you can choose Advanced mode.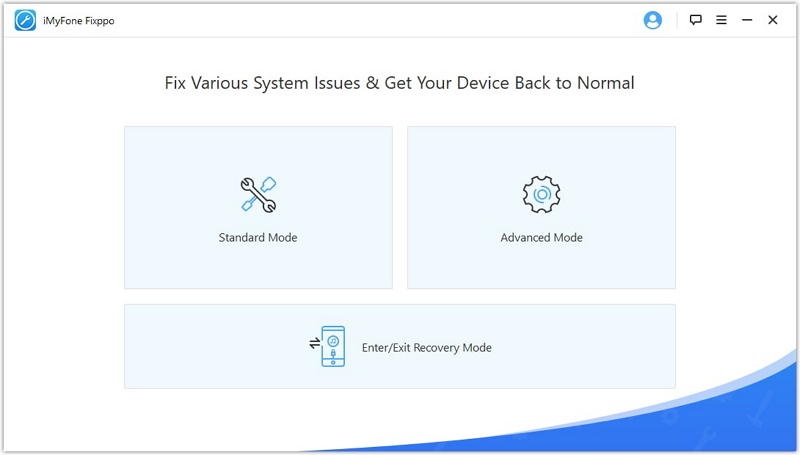 Step 3. Now, you need to get your device in 'Recovery Mode' by following the on-screen instructions.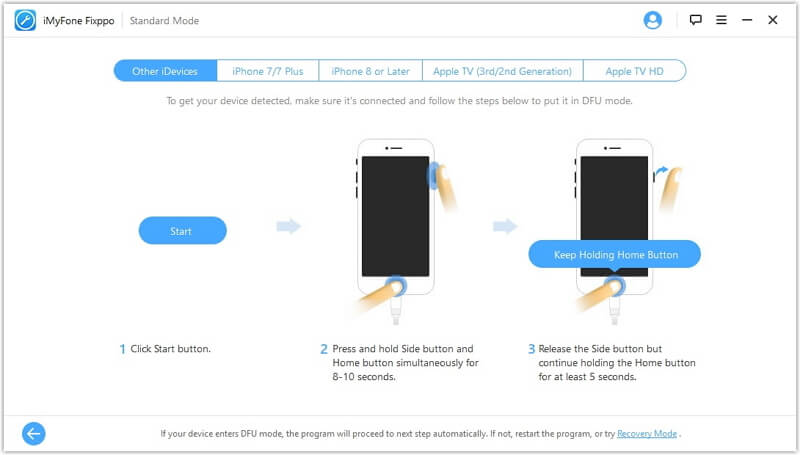 Step 4. Once the iPhone enters 'Recovery Mode' and then hit the 'Select it' option visible on your screen. Now, locate the iPSW file you have downloaded in Part 1.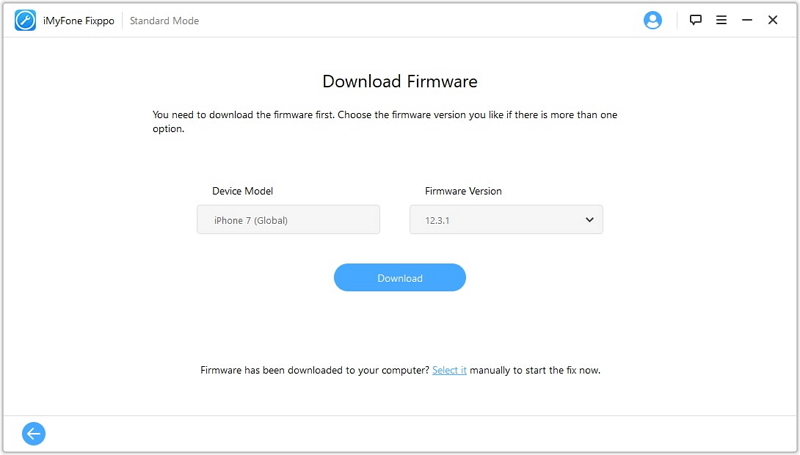 Step 5. As soon as the file gets selected here, the installation process will set course. You need to wait a while to get the process over. You have successfully completed the iPhone firmware restoration using the iPSW files, without the help of iTunes.