There could be situations that you want to delete your LINE account. For whatever purposes, you must have proper information about the operation. Here we will demonstrate all the important facts you may need to know, including the results of deleting account, steps to do it, and also recommended tools for you to backup to computer and erase thoroughly on your phone.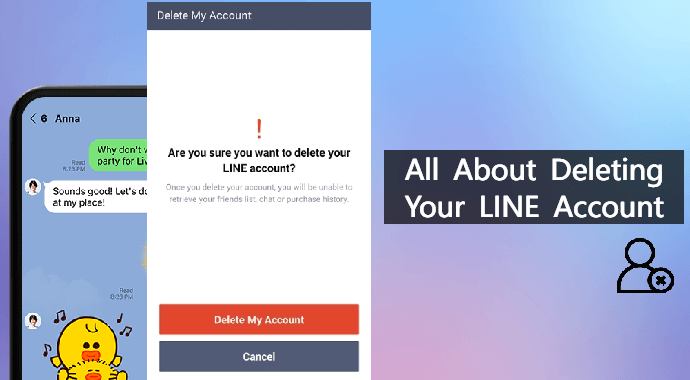 Part 1. Facts to Know Before Deleting LINE Account
Once your LINE account is deleted, you will not be able to restore your data and the whole account even if you install it again.
Besides this, the other loss will be your list of friends, groups, and history of chats. All these things will be deleted along with all the purchased stickers, tokens of LINE, even your LINE points for which you have paid.
And if users have a paid account of LINE, then before deleting it they must have to release their account for LINE.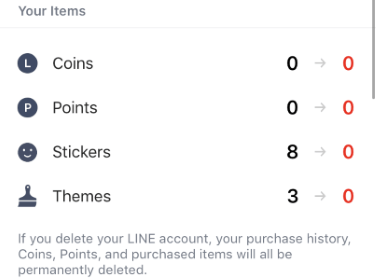 Sometimes it happens mistakenly that you have lost your LINE account or deleted your account. Now you want to restore all the LINE data, it will only be possible if your chats and files have been backed up.
Another way to restore the chat history from the previously used account is to scan the storage of the phone using the option of data rescue of iOS to have all the chats and their history.
Part 2. How to Delete LINE Account
Whenever you are going to delete a LINE account, first of all, get to know about the prior steps to delete it. Make sure that follow all the steps for deleting the account and also backing up LINE if you need. Here is a step-by-step guide for you to delete LINE account.
Step 1.Open your LINE app, move to the home page, click on the option of Settings and go to Account.
Step 2.On the page of Account, scroll down to the option Delete account. It will prompt to remind you that this account will be permanently deleted, and the user could not sign in by using this account anymore after deleting. For confirmation, tap on Next.
Step 3.After that, you will be asked to ensure two notes that you agree and understand all the warnings. Tick the notes in the box, then you can click on Delete account now.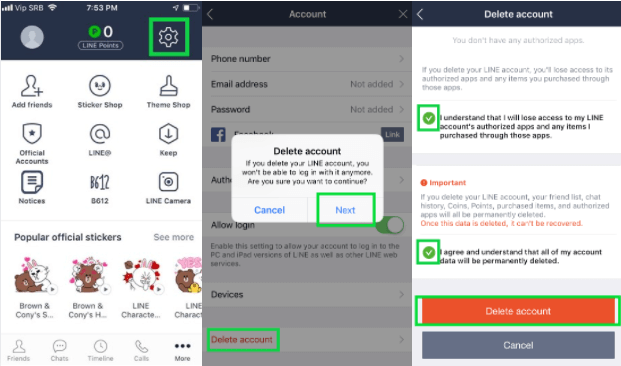 Part 3. Permanently Delete LINE data on Your Phone
After deleting your account, your LINE data will still be stored on your phone. If you want to get rid of LINE data permanently, you need to do one more step to erase them. Umate Pro is a tool you can try without any worries of privacy, also you can erase all the data even cache that you can't manually delete. For the features and steps to use, keep reading.
Key Features about Umate Pro
100% wipe 3rd-party apps: Including WhatsApp, WeChat, LINE, Kik, Viber, and 10+ more. And also all the fragments and deleted files produced by LINE can be erased.
Erase iOS with 0% recovery: You can erase private data such as messages, contacts, call history, photos & video, browsing data, etc selectively.
Clean up unnecessary files: Free up more space & speed up your iPhone/iPad, including all hidden junk files, trash, caches, temp files.
Step 1. Download and Connect Device to PC
Install and run Umate Pro on computer first. Then connect your device to computer with a USB cable. Click on Trust this computer if it pops up.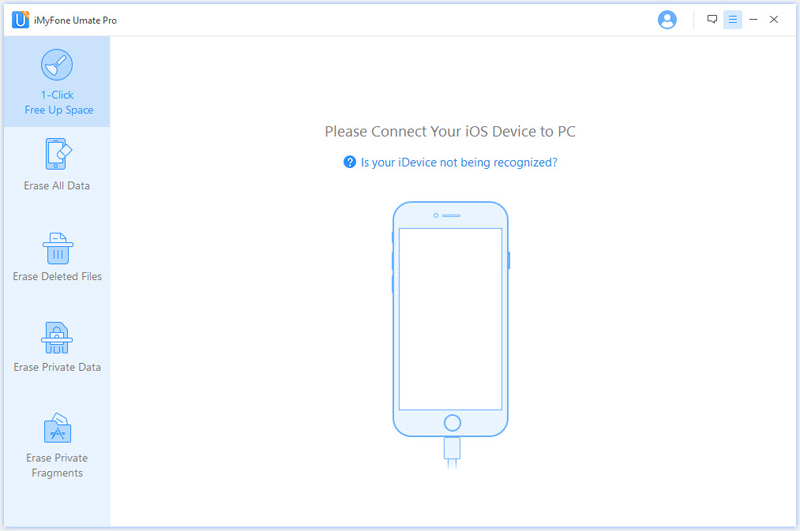 Step 2. Choose Erase Mode and Scan
Choose Erase Deleted Files on the left panel, then click on Scan. The Program will start to scan the device and list all the deleted files, and the time it cost depends on the size of deleted files.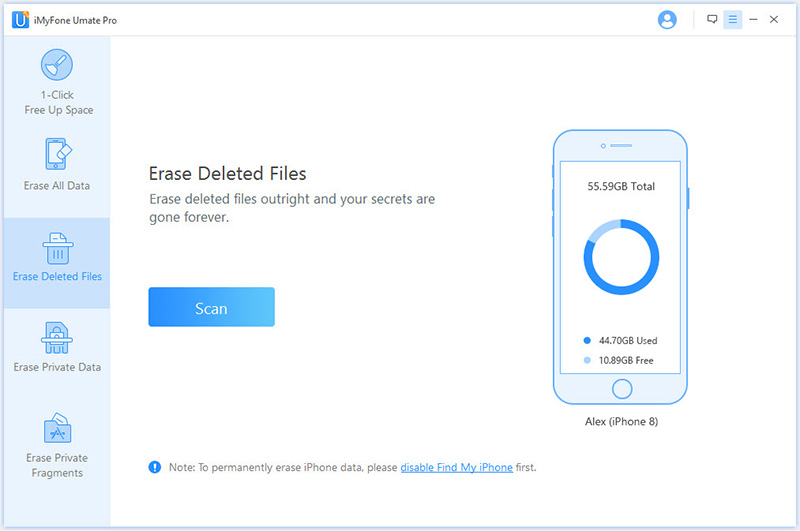 Step 3. Preview and Select Files
After scanning, you can preview all the deleted files you can erase. Just tick the files you want to erase in the box. Then tap on Erase Now button.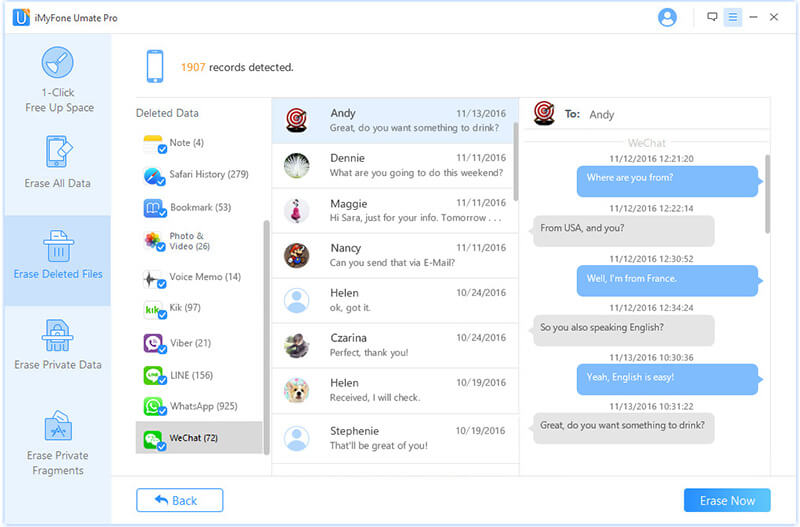 Step 4. Select Security Level and Confirm
The program will ask you to type delete in the box to confirm to avoid misoperation.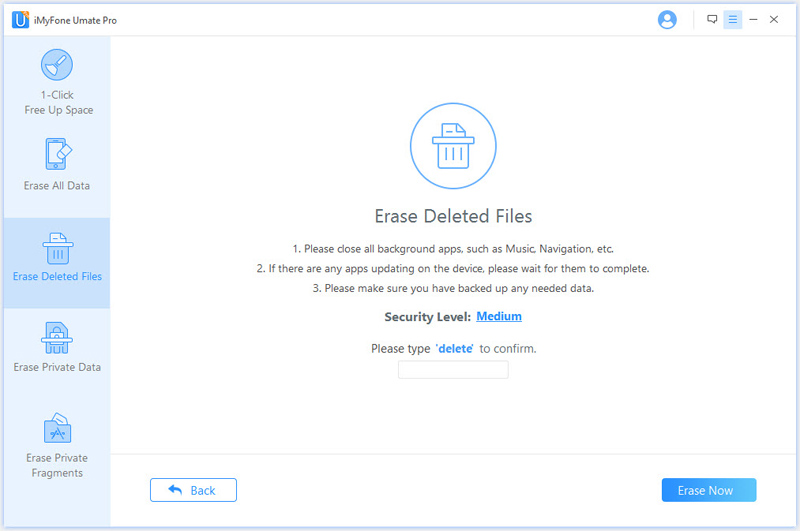 Then you can choose to choose the security level, please read the explanation carefully. After ensure all the details, finally click on Erase Now to start the process.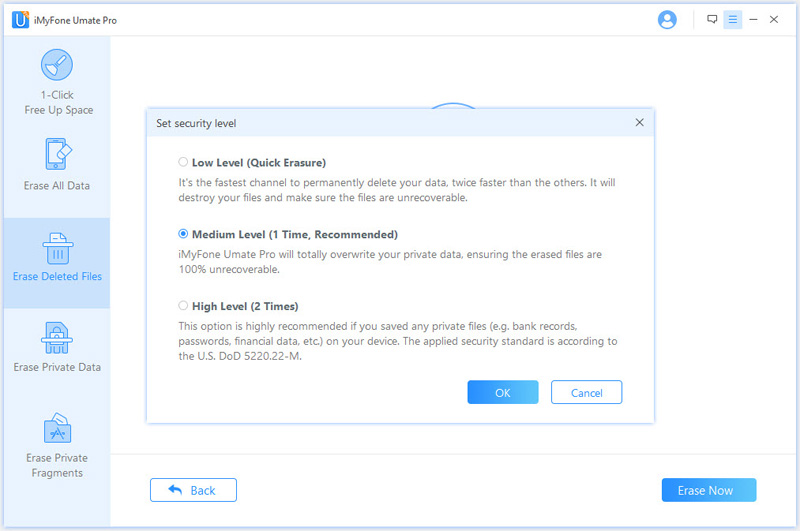 More About Permanently Delete
Part 4. Backup LINE Data to Computer Before Deleting Account
In case you want to restore some important messages or files, we highly recommend you to backup LINE to your computer before deleting your account. Since it is clear that you can never restore data once have deleted LINE account. Thus, backup LINE with iTransor for LINE to your computer now!
iMyFone iTransor for LINE
Transfer/Backup/Restore/Export LINE on iPhone/Android with One Click.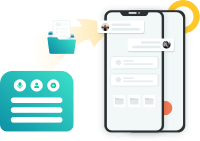 Step 1. Install and Connect Device
First, install and run iTransor for LINE on your computer, connect your device to computer with a USB cable. Please allow the USB debugging on Android or hit Trust this computer on iPhone and allow the permissions that the program requests.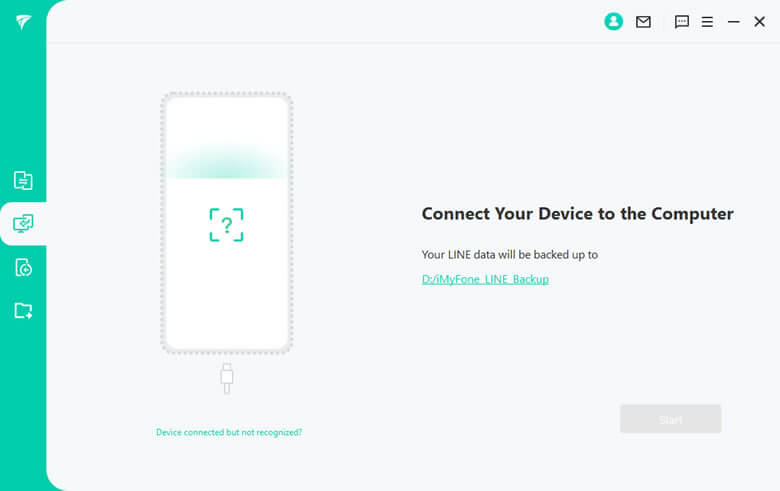 Step 2. Choose Mode and Start to Backup
Choose Backup LINE data from Android and iOS devices, then click on Start to process.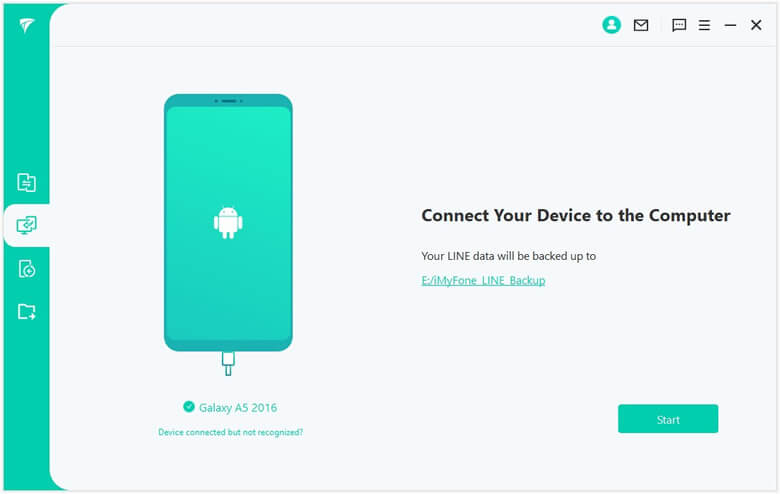 Note
For
iOS users
, the backup process will automatically continue and done if there is no problem during the detection. For
Android users
, follow the steps below.
Step 3. Backup Current LINE Data to Google Drive for Android
Back up your current LINE data to Google Drive as the program notes. Go to Settings > Talk > Back up and restore chat history on your LINE app. Then click Done on iTransor for LINE.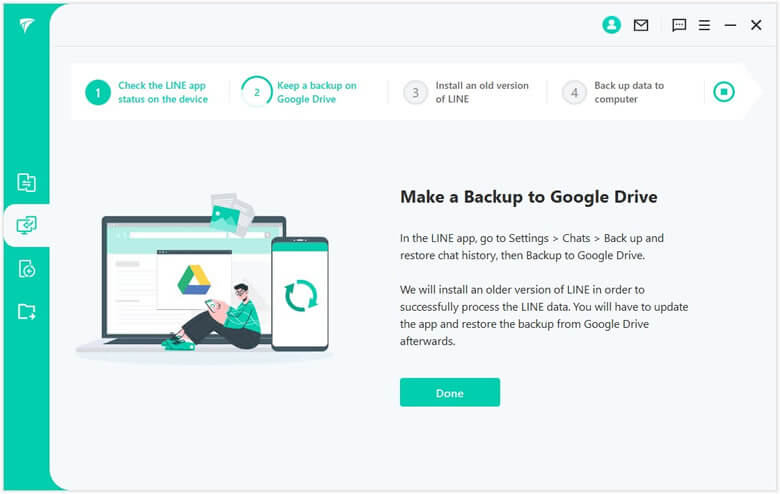 Step 4. Install an Older Version of LINE on Android
To avoid mioperation, the program will note to install the older LINE version on your Android. This process won't affect your data. Click OK to continue. Your device might need to restart for LINE to come into effect. Then tap Backup up data.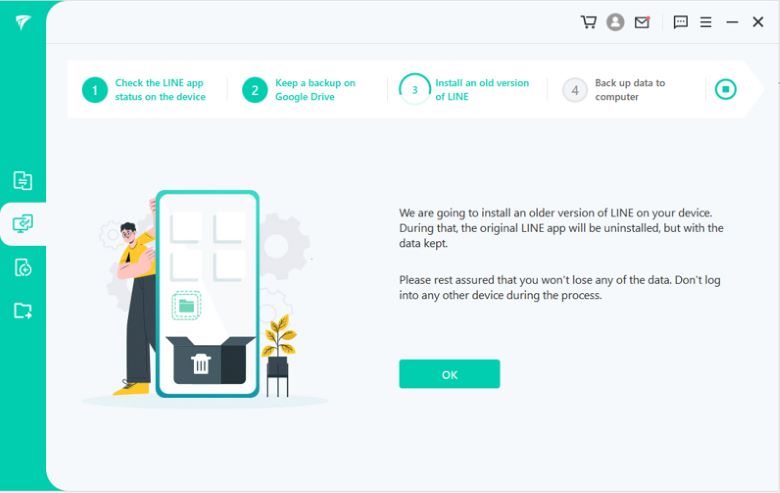 Step 5. Get Latest Version of LINE Back on Android
The last operation is to click Next to allow the program to get the latest version of LINE back for you. Again, it won't damage any of your original data. Wait until the process is done.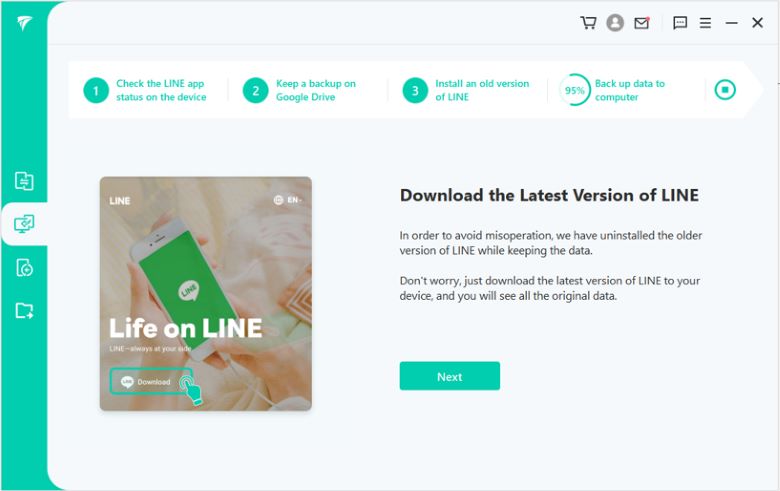 FAQs: More About Deleting LINE Account
1. Will friends know if I delete my LINE account?
If you delete your LINE account, your LINE friends will not be able to reach you or call, text, or chat with you. So they may know that you have deleted your account or not using it now.
2. Can I register a new account with the phone number after deleting the LINE account?
It depends whether you delete your account permanently or just delete the app from your device. If you have deleted your account then you may register with another account. You can also register by using email if you are unable to connect through a phone number.
To Conclude
In this article, we discussed how to delete a LINE account properly, and which steps and tools you will require to delete an account permanently, and also what you should do if you want to backup your data. If you need your data and account again you must backup LINE before deleting the account.