When out of disk space, the computer starts to act erratically and the performance starts to get slow and different type of errors appear on the screen. We should have a idea that redundant duplicate file is one of the major reason for your computer's abnormal function. Although Mac is preferred by users for its smoothly runnig system, it can also lagged by the duplicate files piled up on your computer.
Indeed, the deletion of those files will free up much-needed space on your Mac. But manually deleting them all is close to an impossible task. Although instructions are available, there is nothing more annoying than individually searching for such files from each directory and removing them. Thankfully, there are programs available that will complete the said task for you. These professional duplicate file finder tools are very effective. We have compiled a list of the top 5 best duplicate file finder and remover software for you. They can work well for all macOS, including the newest macOS Catalina. Check them out.
iMyFone Umate Mac Cleaner is the top one duplicate file finder for Mac. This is one of the best programs to locate all the duplicates from every file directory and delete them in just one-click. Also, you can customize to select the file you want to delete. The most excellent is the app can automatically keep the source file in case of mistaken deletion. The preview feature can let you confirm again in case of deleting significant file. It's efficiency and user-friendly interface has awed the users.
Pros
Categorize the found files as image, documents, audio, video, archive, and others.
Files can be sorted by name, size, and type.
The path of each files can be identified very easily.
Preview of detected file is available.
Files can be deleted individually or in bulk.
Attractive and simple interface.
Wonderful features integrated in one tiny App.
Cons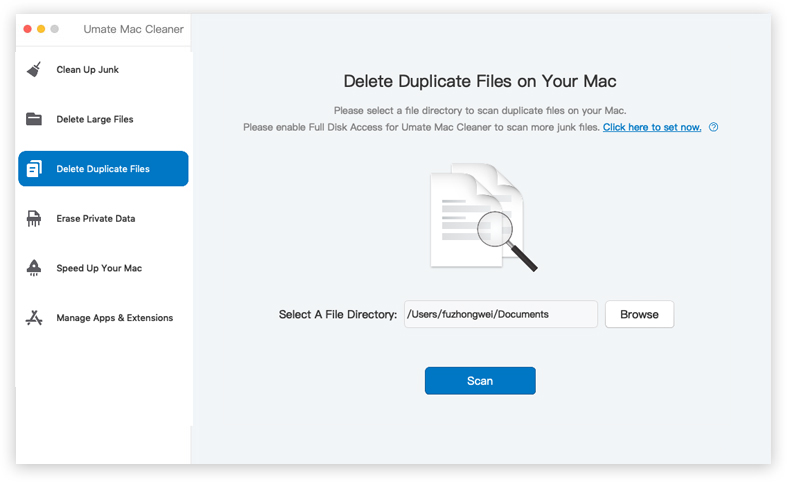 Gemini 2 is a popular and fast duplicate file finder program for Mac. The program uses an advanced algorithm in order to find and delete duplicate files. There is also a preview option that lets you view the files before you remove them permanently. The program supports 10 + languages.
Pros
The user-interface is attractive and easy to use.
The detection capability is excellent. Quick to find duplicate files on Mac.
Scanning is fast.
There are multiple filters available for scanning and removal methods are also very advanced.
The duplicate files get moved to the trash, safely.
Cons
It consumes too much memory.
The preview feature doesn't provide much detail.
The smart cleanup may look great but it can delete wrong files from time to time.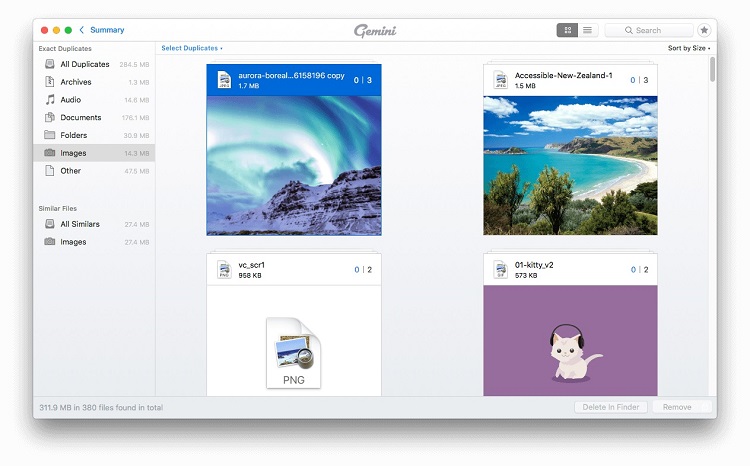 The Easy duplicate finder is very simple to use, just as the name suggests. Using this program you will be able to free up huge space in one sweep. It is a powerful program that removes duplicate photos, documents, MP3s, videos, and more easily from Mac. The tool is also equipped with advanced algorithms designed to work faster.
Pros
Capable of locating duplicate files effectively.
Multiple scan modes.
There are also multiple settings available for the scan.
Preview for duplicate files are available.
Marks files for deletion automatically.
Cons
The scan is very slow.
iTunes scan and email scan modes are not effective.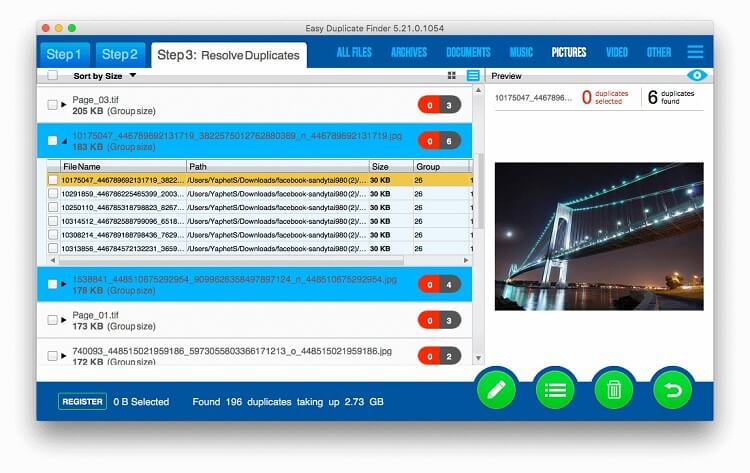 DupeGuru is one of the potent free duplicate file finder programs for Mac devices. This is a cross-platform file remover. The program is very effective and compatible with the latest versions of macOS.
This freeware application is very easy to use and quite an effective addition to this list.
Pros
Available for free.
Easy to use.
Two different scan modes are available. Users can scan by the name or by the content type.
Files can be excluded by their sizes.
Scan iTunes libraries easily.
Two file removal options.
It also supports PSD files.
Cons
Scanning is very slow.
Numerous crashes.
There is no side-by-side preview.
Users have to duplicate files manually.
Not maintained.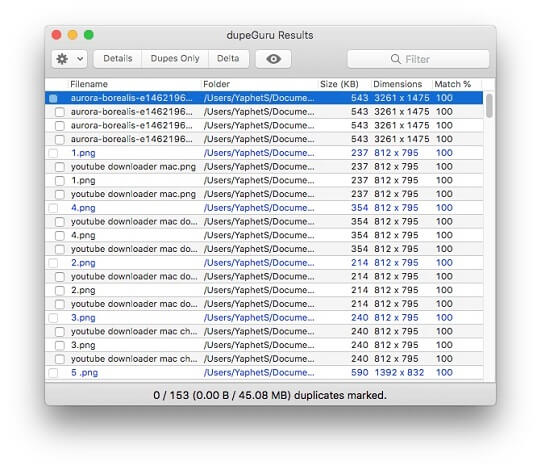 Duplicate Detective may not look very attractive but it is one of the most sophisticated duplicate file finder programs for Mac. It helps users to find duplicate files very easily. The program supports all types of files, image, audio, documents and more.
There are also multiple removal options. The preview window is also available for viewing files before removal.
Pros
Supports different types of files.
A preview feature is available.
Cons
The scan is very slow.
Filtering and removal options are very limited.
Crashes from time to time.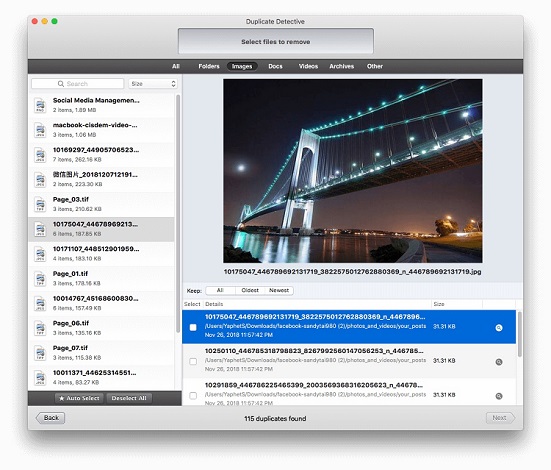 Overall Comparison of These 5 Mac Duplicate Finder
By now, we have already know the overall features of the above 5 apps. But how to choose the best one? Don't worry, we have made a form which conclude every aspects for you from their operation, feature or the time it takes. Check it out!
| | Umate Mac Cleaner | Gemini2 | Easy Duplicate Finder | DupeGuru | Duplicate Detective |
| --- | --- | --- | --- | --- | --- |
| Scanning Speed | Fast | Medium | Low | Low | Low |
| Smart Selection | Yes | Yes | No | No | No |
| Categorization for Files | Yes | No | No | No | No |
| Stability | Very Good | Running Stable | Crash Sometimes | Crash Sometimes | Crash Sometimes |
| Needed Time | Less than 2 Minnutes | About 5 Minutes | About 5 Minutes | 5-10 Minutes | 5-10 Minutes |
| Difficulty | Super Easy | Easy | Complex | Complex | Complex |
Summary Part
Hence, when your computer is running slow or feels sluggish, you need to immediately delete all the duplicate files on it to make it faster and boost the performance. But manually delete these files one after another is difficult, even with proper instructions.
So, a professional program is required to locate such files and remove them. As per our research, these are the top 5 duplicate file finder on Mac. Take a look but we do lean towards Umate Mac Cleaner as it is the best. Highly recommended!