Top 10 Facebook Audio Downloaders and How to Download Audio
Category: Videos Maker
7 mins read
Have you ever wanted to download the Audio from a Facebook video but didn't know how? You are not alone. With so many videos on Facebook, downloading Audio can often be time-consuming.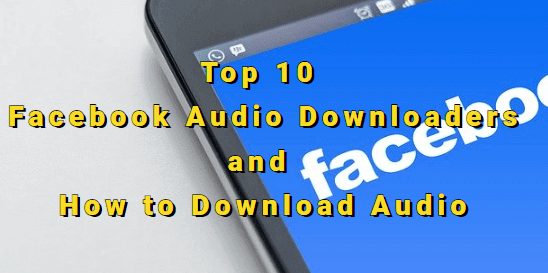 In this guide, we'll provide an overview of the best tools available for downloading audio from Facebook and show you how to use them. Whether you're looking to save your favourite Facebook videos as audio files or just want to download audio from Facebook directly, there's an option on this list for you.
We'll also provide step-by-step instructions for using each tool to make it easy for you to get started. So let's dive in and take a look at the top 10 Facebook audio downloaders!
How to Download Audio from Facebook Video in 3 steps 
We have researched the most popular methods of downloading Audio from a Facebook video, so you can choose which works best for you.
Whether you use an online tool or browser extension, these simple steps will help you easily get the audio file embedded in the Facebook video. Here are three simple steps to help guide your way. 
Step 1.

Find and Download a Video Downloader  

Before you begin, you need to find a reliable online facebook video downloader that allows users to save Audio from Facebook videos. Many websites are available, so be sure to read reviews and user feedback before selecting. Once you have found the ideal private video downloader, install it on your device. 
Step 2.

Download the Facebook Video

Now that your downloader is up and running copy the URL of the desired Facebook video and paste it into the designated field within the application. The next step is to click to download videos. Depending on your internet speed, this could take anywhere from a few seconds to several minutes. 
Step 3.

Extract Audio From Video

Once the file has finished downloading, locate it in your device's memory or an external storage device if one was used in combination with your computer system.

Open up your downloaded Facebook video in a media player like VLC or QuickTime, then go ahead and extract just the audio portion of it using specialized software such as Audacity or WavePad Sound Editor Free (a free version of Wavepad).

This will give you access to isolated Audio that can now be stored on any number of digital devices for future listening pleasure!
Best 10 Download Audio from Facebook Video For Free 
Getting Audio from Facebook Videos has become easier than ever, thanks to a selection of free methods that allow you to download Audio from any FB video. Below, we've compiled 10 of our favourite ways to easily grab Audio from your favourite videos.
1

TopClipper

iMyFone TopClipper is an advanced and reliable Facebook downloader tool that allows you to quickly download Audio from videos across the platform. It's user-friendly, efficient, and equipped with various features designed to make your downloading experience enjoyable and fast.

With just a few clicks, you can extract the audio track from any video or movie posted on Facebook in formats such as MP3, M4A, WAV, AAC, and more. You can also save the Audio in HD quality up to 320 Kbps. In addition to that, it supports downloading subtitles too!
---
2

CleverGet

CleverGet is another great option for those looking to download Audio from videos on Facebook. It's super easy to use and offers top-notch performance when extracting Audio from videos. The process only takes a few clicks - all you have to do is paste the video URL into the search bar and hit "Download" - that's it!

The best part about CleverGet is that it saves time by compressing files during downloads so that large files don't take forever. It supports over 10 different file formats, including MP3 & M4A plus. It also offers multiple resolution options to choose which one best suits your needs.
---
3

Getfvid

Getfvid is a free online service that makes downloading Audio from Facebook videos straightforward. All you have to do is copy the link of the video you want to download the Audio from and paste it in the URL field on Getfvid's homepage - then just click "Start" - that's all it takes!

Once finished downloading, you can easily access your audio file in either MP3 or M4A format - no need for any extra software or complicated steps involved. Plus Getfvid also offers Facebook sound collection for music streaming services like Spotify or Apple Music!
---
4

Fbsearch

Fbsearch is another excellent facebook audio downloader from Facebook videos without hassle. Just enter your desired video link into Fbsearch's search bar & hit "Search Now" - within seconds, the website will generate an active download link where you can easily save your file in either MP3 or M4A format!

Fbsearch also offers other useful features such as batch downloads (for multiple files) plus, its free version allows users up to 10 concurrent downloads per day, which makes this a great solution if you need quick access.
---
5

MyVid

MyVid is an online application designed specifically for users who want an efficient way of extracting Audio tracks from their favourite videos on Facebook quickly & easily. MyVid uses advanced algorithms & technologies that help compress files significantly during downloads, so they don't take forever - this ensures faster speeds & better quality sound too!

In addition, MyVid supports various formats such as MP3 & M4A along with numerous resolution options making this one of the most comprehensive solutions available today for downloading Audio tracks from Facebook Videos effortlessly.

To top it off, MyVid also allows users to convert Facebook video & download their extracted Audio tracks in various formats, including MP3s & M4As, so they can listen to them on other devices or transfer them over to another computer. If you're looking for a quick and easy way to extract Audio from Facebook Videos, MyVid should definitely be your go-to choice!
---
6

Y2mate

Y2mate is another great option for easily downloading Audio from Facebook Videos into MP3 & M4A formats. Y2mate supports all the major browsers, including Chrome, Firefox and Safari, and a range of mobile devices. It can extract audio from private videos.

All you need to do is copy-paste the facebook video link into the text box provided and choose the desired format for downloading the Audio!
---
7

Vido

Vido is an easy-to-use tool that can quickly download Audio from Facebook videos.With Vido, you can also download Facebook live videos and convert them into audio. All you have to do is provide the video link, which will generate quality audio in different formats, such as MP3 and M4A. Best of all, it's completely free to use! 
---
8

Fbdownloader

FB Downloader is another great option for downloading Audio from Facebook videos. It supports both MP3 and WAV formats, so you can choose whichever best suits your needs. It also offers a user-friendly interface so even novice users can quickly figure out how everything works. 
---
9

SnapSave

If you're looking for something that can quickly grab Audio from multiple sources, SnapSave is definitely worth checking out! Not only does it allow you to save Audio from Facebook videos but also Instagram stories and posts as well.

It's simple to use and requires no additional software or plugins - just copy the URL of the video into the field provided on their website and hit 'go'. 
---
10

Allavsoft Video And Music Downloader

Finally, we have Allavsoft Video And Music Downloader - which could be considered the ultimate solution for downloading Audio from Facebook videos! It supports downloads from many different sites like YouTube, Dailymotion and Vimeo.

It also comes with an array of advanced options such as batch processing, custom output settings, conversion capabilities between different file types etc., making it incredibly versatile for many different uses!
Best Free Methods to Download Audio from Facebook Video- TopClipper 
With Facebook being one of the most popular social media platforms, there is no doubt that videos shared on it get thousands, if not millions, of views. Sometimes, you may want to save a video for later viewing or use in your own projects. 
Fortunately, there are a few free methods you can take advantage of to download Audio from Facebook videos with ease. One method you can use is iMyFone TopClipper. Here are simple steps to download Facebook video and audio by a topclipper: 
Step 1.

Accessing Your Video 

The first step in downloading Audio from a Facebook video using TopClipper is to access the video you wish to download. This can be done by going directly to the video link, searching for it in your news feed, and clicking on it.  
Step 2.

Copying the Link

Once the desired video has been located, copy its link by right-clicking on it and selecting "Copy Link Address" or similar options, depending on your browser.  
Step 3.

Pasting Link into TopClipper Website

After copying the link of your chosen Facebook video, go to topclipper converter. Here paste the link you copied into the search bar provided and then hit enter or click "Convert".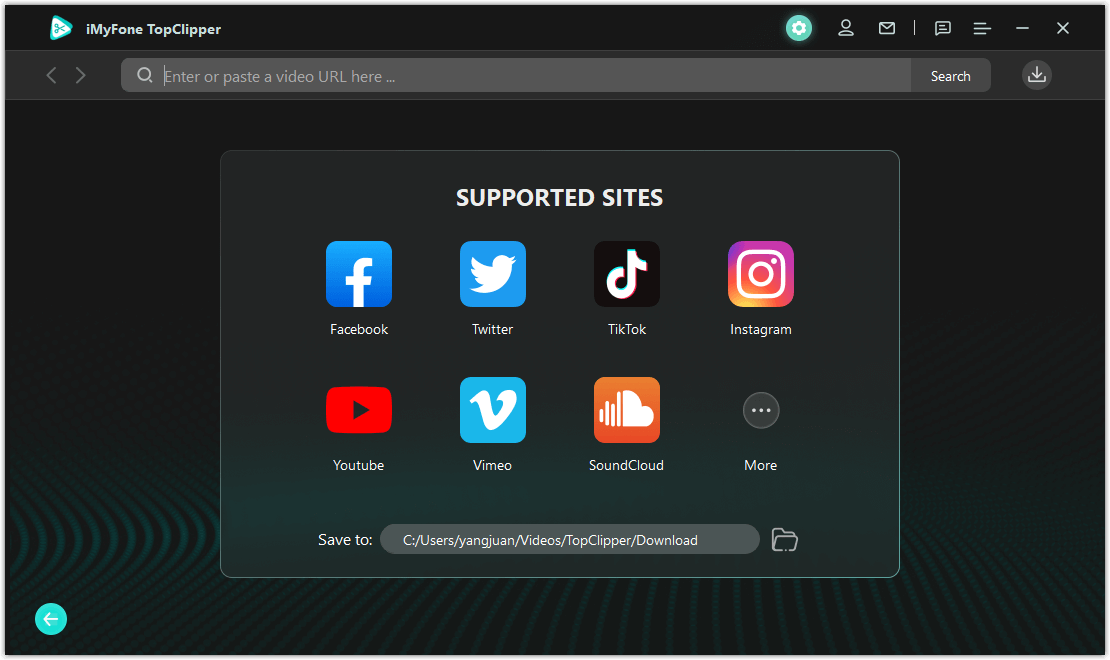 Step 4.

Select Desired Format & Download the Audio File

After entering the link of your Facebook video, select "Download MP3" at the top right-hand side of your screen, as this is where audio files are saved when using TopClipper.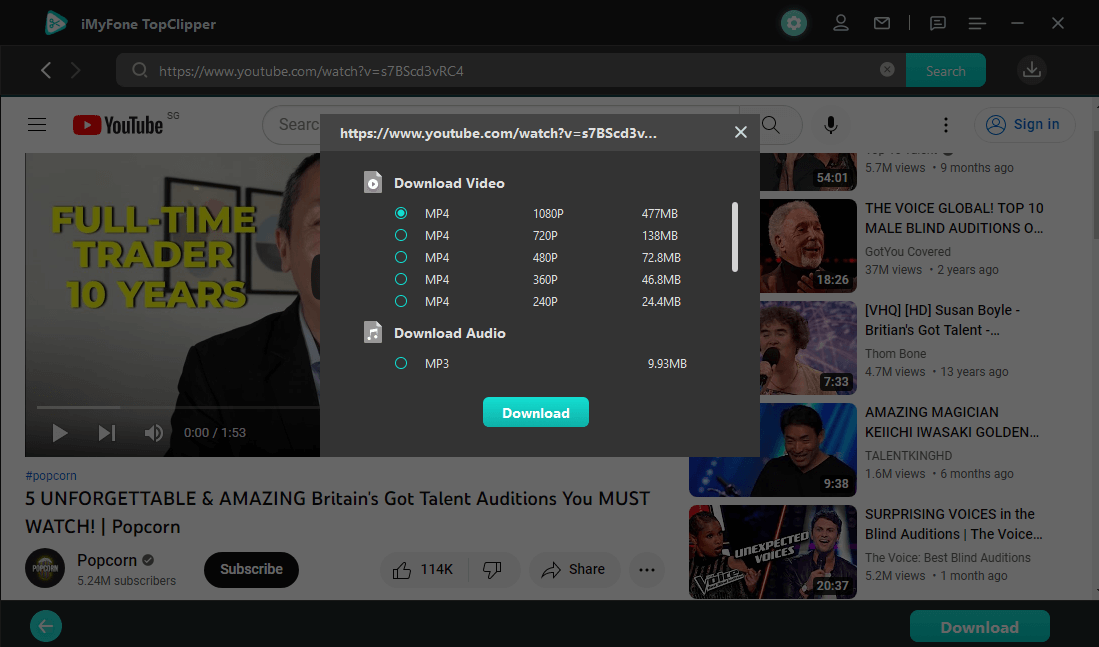 Finally, click "Start", which will initiate an automated process that will convert your video into an mp3 file which can be downloaded onto your device's hard drive in seconds.   
Conclusion 
In conclusion, converting Facebook videos into audio using iMyFone TopClipper is a straightforward process that anyone can do, regardless of their technical knowledge or skills. All you need is a working internet connection and access to the URL address of the Facebook video you want to convert. Simply follow the four easy steps outlined above, and you'll have your desired mp3 file ready for download in no time. 
With TopClipper, you can easily download and save Facebook videos as audio files, making it convenient to listen to your favorite videos on the go or to share them with others. So why wait? Give TopClipper a try and start converting your Facebook videos into audio today!