Steps to Download Facebook Video Online in HD
Category: Videos Maker
6 mins read
We have all been there at one point or the other: we find a great video on Facebook but can't seem to download it. Do not fret! There are several tools available that make downloading HD Facebook videos quite simple.
Here, we will cover some of the best Facebook video downloader tools you can use to quickly and easily download your favorite videos from Facebook in high definition.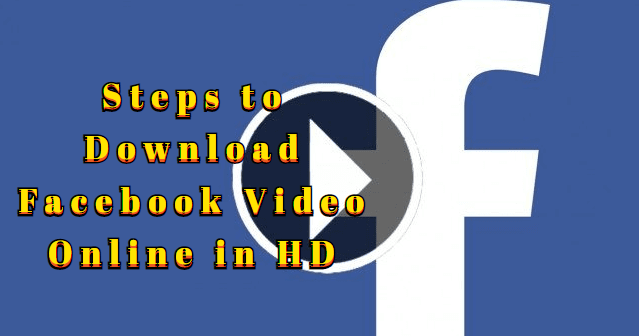 You do not need any special skills or experience, since this task is as easy as copying and pasting! Whether you want to save memories for yourself, create content for an upcoming project, or just enjoy your favorite clips offline - this guide will surely come in handy.
So without further ado - let's jump right into looking at the top tools for successfully downloading HD videos from Facebook!
How to Download HD Facebook Video Online
Downloading HD Facebook videos online can be a great way to watch your favorite videos over and over without having to scroll through your timeline.
It's easier than trying to search for the video each time you want to watch it, and HD quality guarantees a smoother viewing experience.
You'll also have the ability to save the file onto any device that can download files from the internet like phones, computers, or tablets, making it simple to take it anywhere with you.
Whether you're catching up on funny videos with friends or watching something more serious, downloading Facebook videos in HD ensures that you get the best viewing experience possible. iMyFone TopClipper is the best Facebook video downloader HD that will make your life easier!
Launch the iMyFone TopClipper
---
You can download iMyFone TopClipper, install it on your own computer, and use it there. Choose the setting that lets you save the video without putting a watermark on it.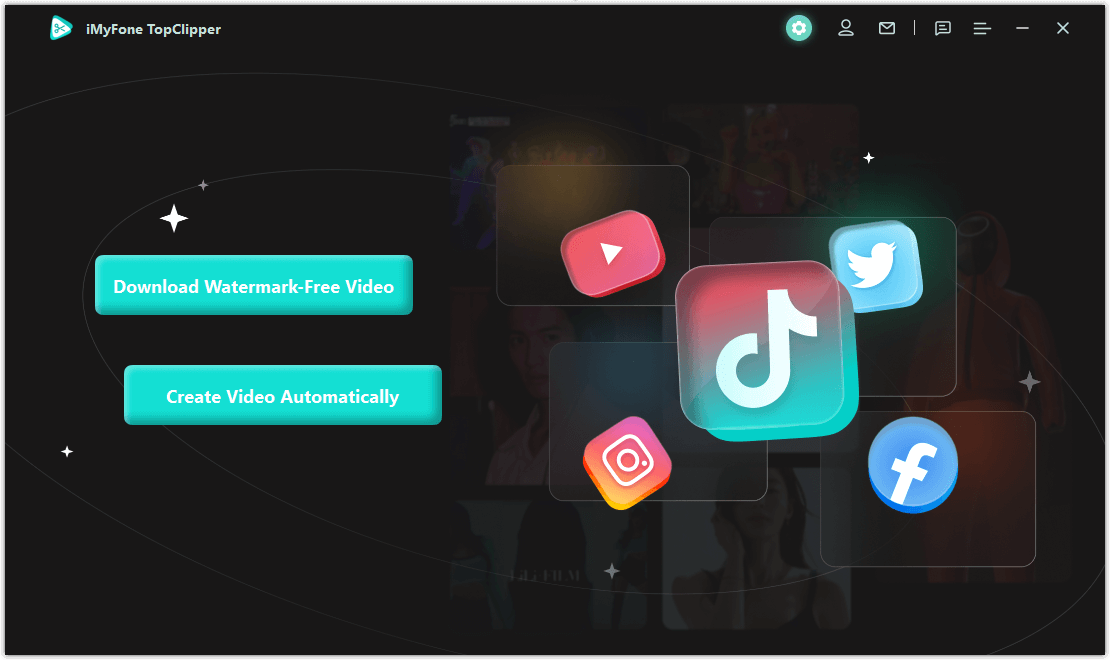 Paste Video URL
---
Just copy the URL of the video you want to download into the box and click the "Search" button. You can also go to the site for any video platform directly by clicking the icon for that platform.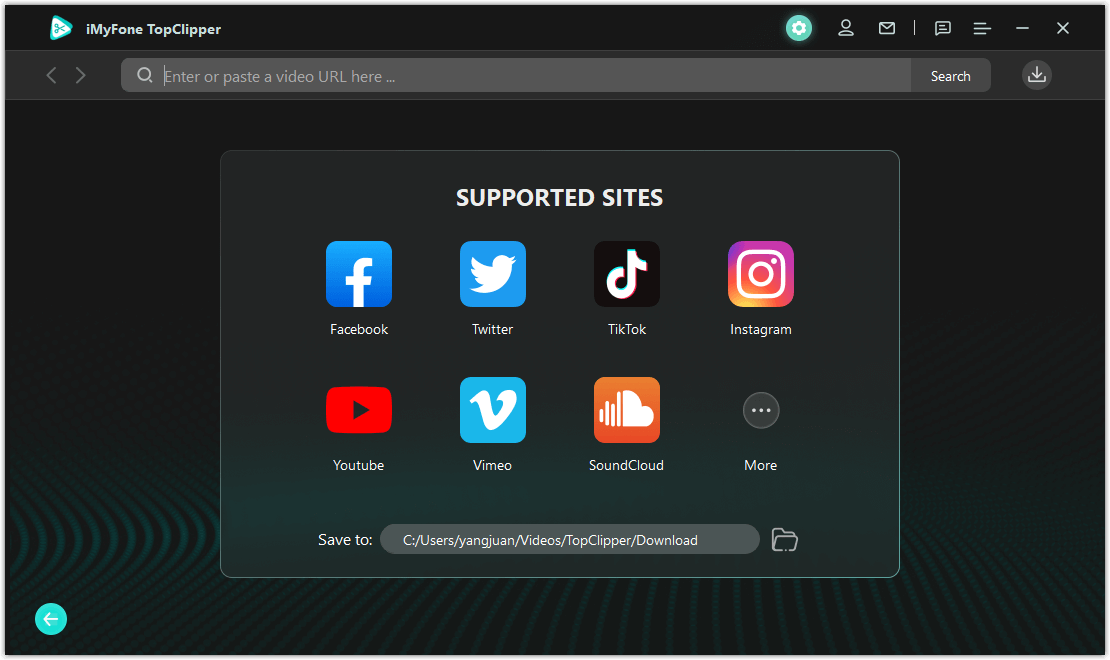 Use the built-in web browser of the iMyFone TopClipper to watch your favorite videos and look for them. After the app verifies that the video exists and checks to see if it can be parsed, the Download button will become active.
At that point, you'll be able to both watch the video and save it to your computer.
Parse the Video
---
Click the "Download" button to go to the page about the parsing process. After the parsing is done, you can choose the resolution you want and the video will be downloaded and saved without you having to do anything else.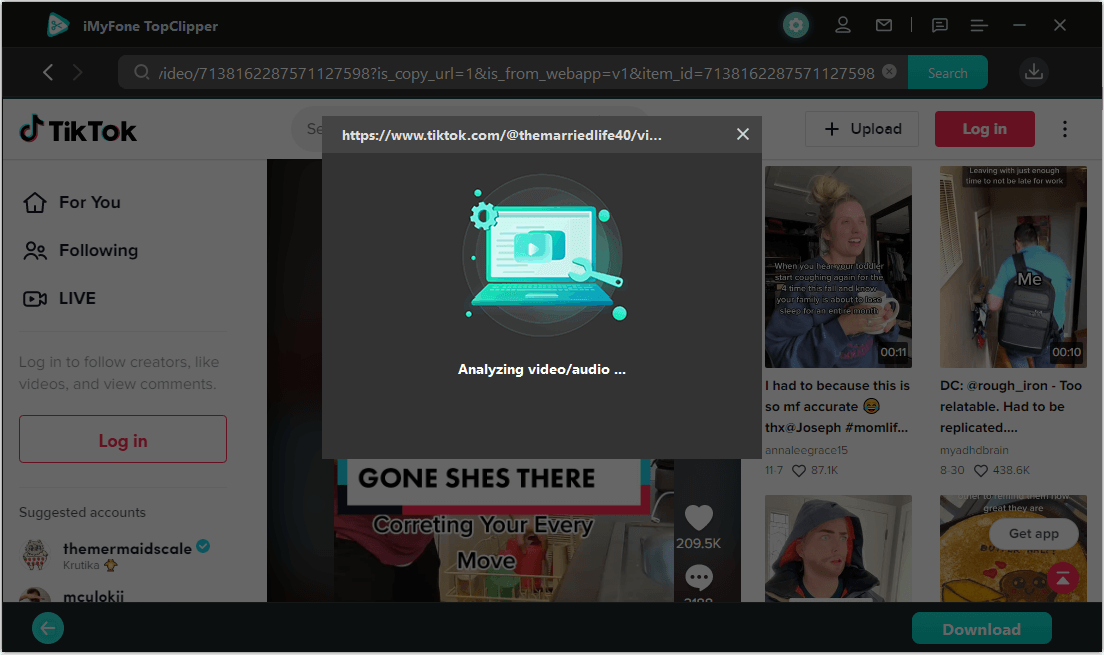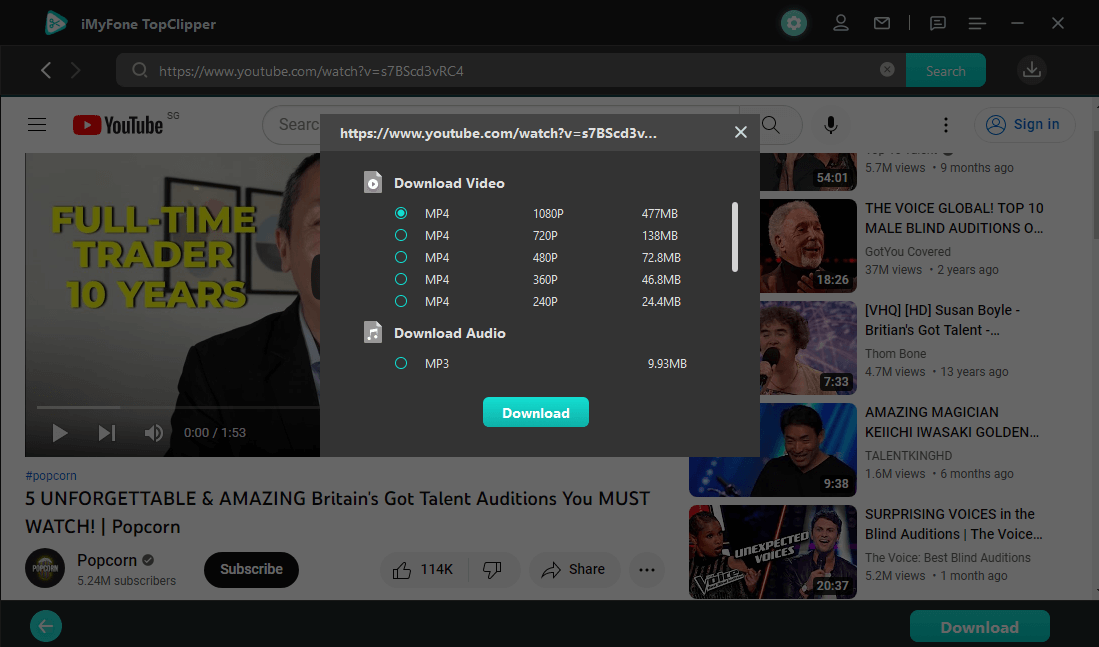 TopClipper will download movies for you at a fast pace in just a few minutes. The best thing about TopClipper is that it is a private Facebook video downloader. Your data will be immediately deleted from the servers - so you can rest assured!
Download succeeded
---
Click "Thumbnail" to instantly see the video effect when the download is finished, or click "Start Creating" to automatically alter the parsed video. Either option is available after the download is finished. You now have the option to access the directory in which the file was stored.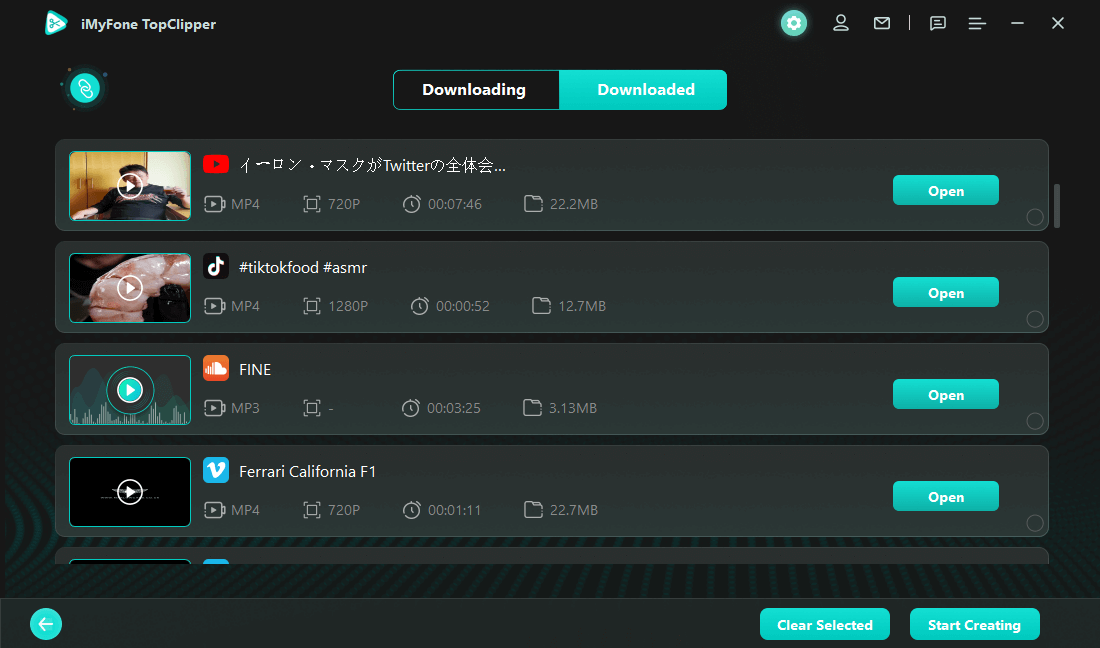 How to Download HD Facebook Video on Phone
Do you want to download HD Facebook video on Phone?
With iMyFone TopClipper video editing software, you can easily download HD Facebook video on Phone in a few simple steps. Whether you want to get rid of watermarks, titles, or subtitles, we can help you achieve the perfect finished product.
The software is easy to use and helps you get the results you need quickly and efficiently. Plus, it's available for download on both Mac and PC so you can edit your videos wherever you are.
Step 1. Open the TopClipper App
To download videos, launch iMyFone TopClipper and click the Download button at the bottom of the app.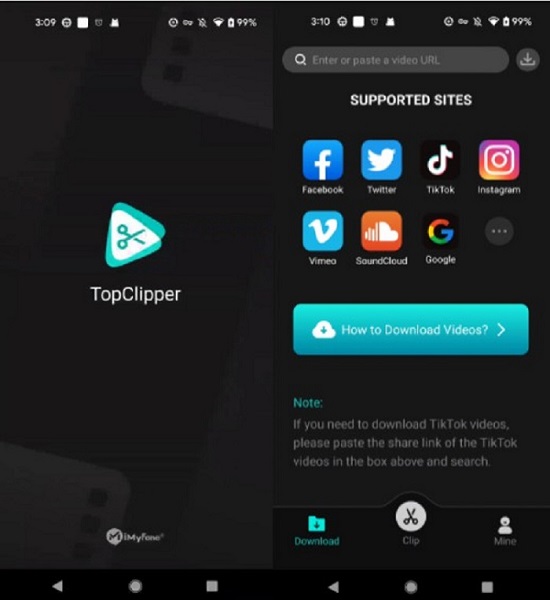 Step 2. Search for Videos
Method 1: After entering the video link that you are searching for in the input box located at the top of the page, click the Search button.
Method 2: To see your preferred videos, click each video platform that is shown on the screen.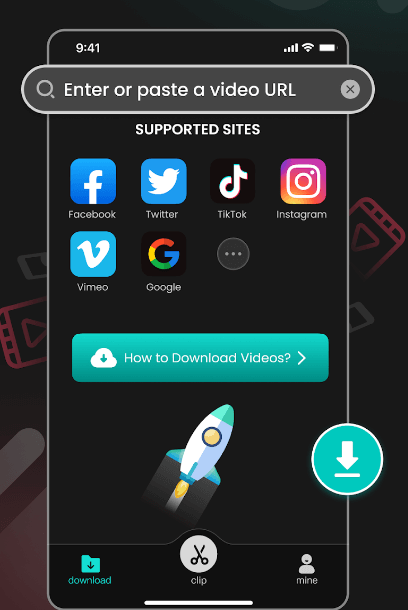 iMyFone TopClipper FB HD downloader is an all-in-one video solution that comes equipped with its own unique set of potent features that are ready and waiting for you. It gives you the ability to Automatically Crop Brand-New Videos, Extract & Save Audio for Free, and a lot more besides.
You have complete control over the length of the films, the quality of the clips, and even the aspect ratios of the videos when you make them with TopClipper. They are readily available to be accessed in a short amount of time from any web browser or mobile device!
The most impressive aspect of TopClipper is that it provides cutting-edge tools to ensure that your films are of the highest possible standard and professionalism.
TopClipper simplifies the process of editing your clips by including a large number of user-friendly tools that are easy to use. This is true even if clip editing isn't something you're accustomed to doing.
Therefore, if you are seeking an efficient solution to record, edit, and distribute your movies in a rapid and comfortable manner, there is no need to go any further than TopClipper since it has all of the necessary capabilities!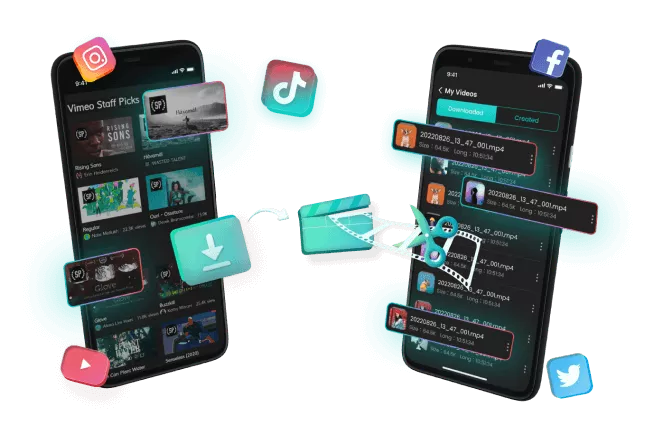 Key Features:
User-friendly Interface
You can download watermark free videos.
Free to use
Automatically edit Tik Tok or Youtube videos
FAQs About Facebook Video Downloader HD
1 Is downloading HD facebook watermark-free videos illegal?
It depends on the video. Generally, if the video is unlicensed or copyrighted, then downloading it could be illegal.
Unlicensed videos are those that are not authorized by the rightful owner of the artwork/content and may include logos, names, designs, images, recordings, and more which can all be protected under copyright law.
Depending on your jurisdiction and the laws in the place where you live you may face fines or criminal sanctions for downloading these types of materials without permission.
---
2 Can I choose the quality of the video?
Absolutely! With iMyFone TopClipper, you have the complete freedom to choose the quality of the video that you are downloading. It provides a variety of options like 480p, 720p, 1080p, and even up to 4K for higher resolution videos.
Once you start downloading a video file, simply select and specify whichever option suits your requirements.
Not only does this feature save time since it automatically adjusts download speeds depending on what kind of internet connection is available but also helps conserve bandwidth by keeping unnecessary data usage in check—be it for streaming or any other need.
Moreover, TopClipper constantly updates its library with new resolutions as newer formats become available so users never miss out on new trends in technology related to video files. Are Facebook video downloaders safe?
If you use the appropriate software, downloading videos from Facebook is a risk-free activity. We recommend that you have a look at the resources that are connected to the URL that was provided.
Even if these downloads could be risk-free, our recommendation is that you avoid downloading the video unless you have the permission of the person who created the movie to do so.
---
3 Why is it so hard to download Facebook videos?
There are a few different reasons that might prevent you from downloading videos from Facebook, including the following: You won't be able to download the video since it's private.
The downloader that you're using is unable to decipher the URL of the Facebook video. Your Facebook downloader does not have the most recent version.
---
4 Which app can I use to download videos from Facebook to gallery?
You may get your hands on the quickest downloading applications for android by installing the Facebook video downloader software that is offered by TopClipper. The program has a user interface that is not only straightforward but also vibrant. In addition, it is powerful in its applications and secure for your device.
Conclusion
Downloading Facebook videos in HD is easy and only takes a few steps. First, find the URL of the video you want to download. Next, copy and paste that URL into one of the many online Facebook video downloaders.
Once the video has been downloaded, you can then watch it offline or share it with others. Finally, remember to keep your account and password safe so that no one else can access your private information.
By following these simple steps, you'll be able to download any Facebook video in HD quality! iMyFone TopClipper is the Facebook video downloader that we suggest using, despite the fact that there are other options available. It is quick, it is simple to use, and it is free.