Recording from your mobile screen and computer screen has become daily use. People often search for online applications that work for recording from the screen you are using. Streamers use such type of technology to earn money through various social media apps. Apowersoft Screen Recorder is best remembered for making HD videos from your mobile and computer screen.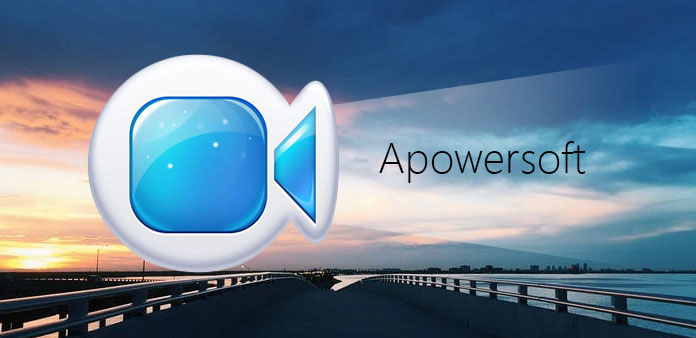 Part 1. Know Everything about Apowersoft Screen Recorder
1.1 What is Apowersoft Screen Recorder
Recording apps have been treated with positive responses as our world has entered into the ocean of social media apps like Facebook, Twitter, YouTube, Instagram and TikTok. Creators use such type of apps that helps them in recording their mobile and computer screens.
Apowersoft Screen Recorder is yet another innovation in the contemporary technology that allows its users to freely utilize this application for recording purposes. It allows its users to select various categories of video resolution. The most important thing about this application is its free usage and HD screen recording with the addition of crystal -clear voice recording.
1.2 Features of Apowersoft Screen Recorder
Apowersoft Screen Recorder developers have already released different versions for making this recording app better. Each time these developers have added new features to make the performance far better than Apowersoft Screen Recorder alternative. Some of the basic features that apowersoft screen recorder gives to it users are:
The mirroring feature of this application allows its users to stream anything from live screen on mobile and computer screen. Android 5.0 version, which is quite old and is present in 4-5 years old Android phone, is required to run this app. Any computer with good with 2gb+ ram can run this application quite easily.
This apps gives its users high-quality sound track that goes parallel with the stream of video recording.
It allows users to record high-quality videos on mobile and computer.
Eight type of formats are given for recording video on the application.
The screen recording starts with a click and ends with a click too.
1.3 How to Use Apowersoft Screen Recorder
Before using any mobile and computer application, it is necessary to read the user guide. Apowersoft Screen Recorder does not need to install java applet. It can be run though Android, iOS and computer systems. Its usage is very friendly and can be categorized into three basic steps:
When you install this app, you will see "start recording" on the screen. By clicking this you will activate this online recording app.

It gives you a lot of choices for recording video in different qualities. Chose your region, quality and other desired inputs and then start recording.
Recording can be stopped at various occasions. For instance, if you do not want to record any part of video, you can pause this app and later you can start recording.
When you record the video, you can save this video either on your mobile storage or it can be copied into your memory card.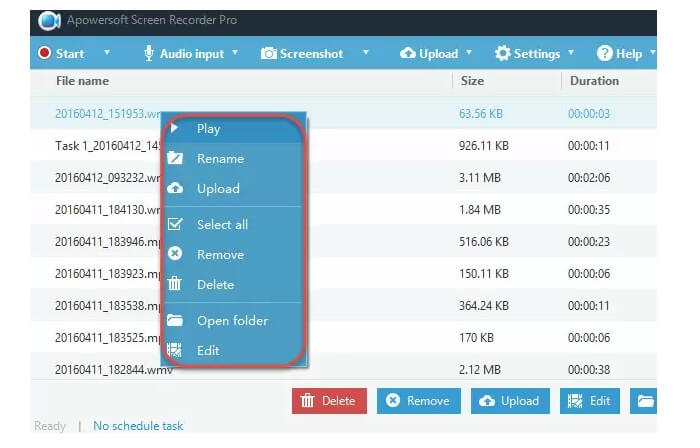 1.4 Reviews About the Apowersoft Screen Recorder
On the official page, more than 1200 people have given their feedbacks. This app has achieved a great success as its rating is almost 5 stars. Odelia from England gave 5-star review and said "This is my-to application, when I need to make video tutorials, it's quite simple to use and I can even add lines and words to this recording, this makes my video more vivid". Kenny from Singapore also gave 5-star review and appreciated that this application works as it is advertised by the company. By looking into the feedback section, we can say it 's performance perfectly matches the advertisement of the application.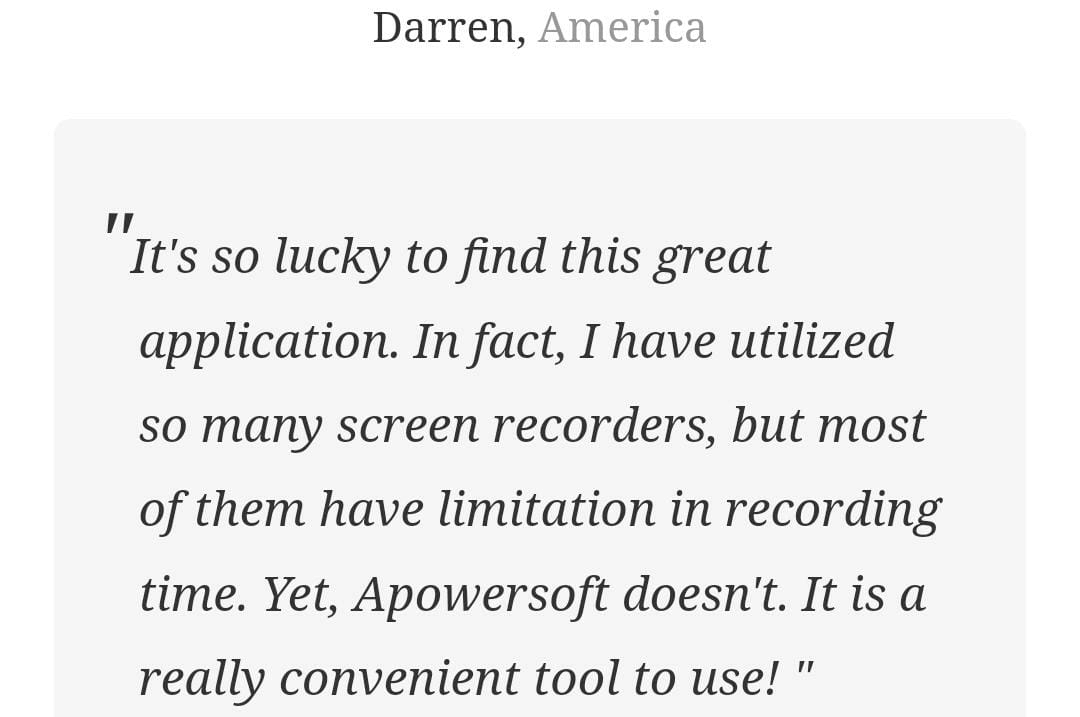 Apowersoft Screen Recorder is always best for dynamic screen making videos, variety of video resolutions and real-time video and audio recording. Yet, it sometimes crashes while using it through Mac. It sometimes does not work on secondary monitor.
1.5 Faqs about Apowersoft Screen Recorder
1. Is Apowersoft Screen Recorder only for iPhone?
No! It can be used in Android and computer systems as well. Although, it was made for iOS devices in the start, but with its positive responses and feedbacks, the company has decided to make separate versions for Android phones as well. Now, Android users about 5.0 version can utilize this application quite easily.
2. Is Apowersoft Screen Recorder Safe?
Apowersoft Screen Recorder is safe because it gives complete authority to the users. It dies not use your personal data. Your data will remain safe if you take responsibility of your personal data.
Part 2. The Best Apowersoft Screen Recorder Alternative
2.1 What is iMyFone MirrorTo
As we know that Apowersoft Screen Recorder is used for making videos from your phone and computer systems. iMyFone MirrorTo is Apowersoft Screen Recorder Alternative that can be used to share your device screen on computer screen. You can easily run various application on the larger screen. You can also record with extreme resolutions from your computer system.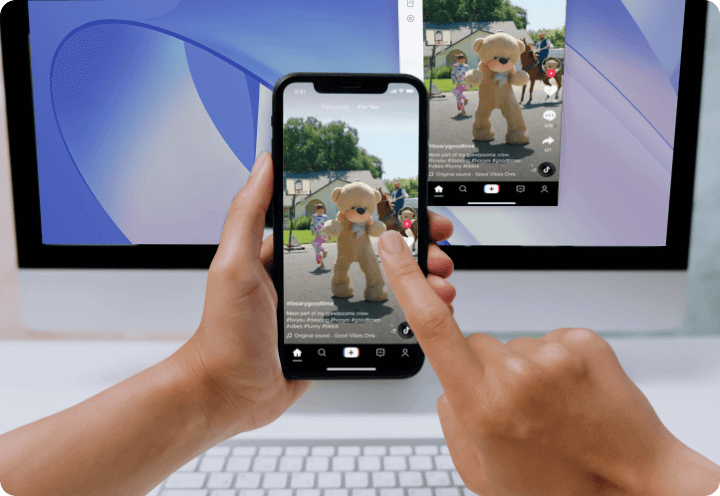 2.2 iMyFone MirrorTo Key Features
iMyFone MirrorTo Key Features:
You can also easily save screenshots and share the pictures with your friends.
Easily record your fantastic gaming moments with just one click.
It provides a consistent and most reliable connection between your smartphone and Mac.
185,232 people have Download it.
2.3 How to Use iMyFone MirrorTo
Video Tutorial about How to Mirror iPhone to PC (Also Suitable for Mac)
Steps to Follow
Step 1.Download the iMyFone MirrorTo app and install it on your PC.
Step 2.Connect the two devices with the same Wi-Fi connection.
Step 3. Go to "Control Center" and click "Screen Mirroring". Now you can see your phone screen on PC.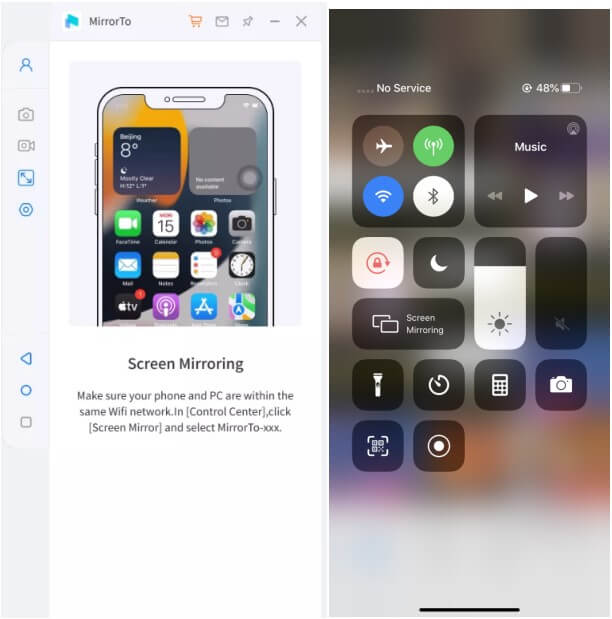 Step 4. Now you can see your phone screen on PC.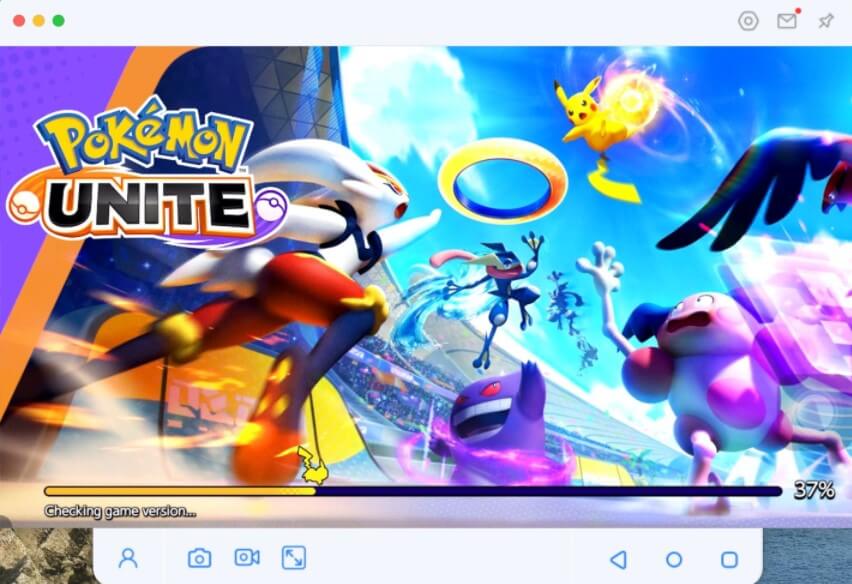 Step 5.Go to "Settings", then enter "Bluetooth" and pair the bluetooth between your phone and computer.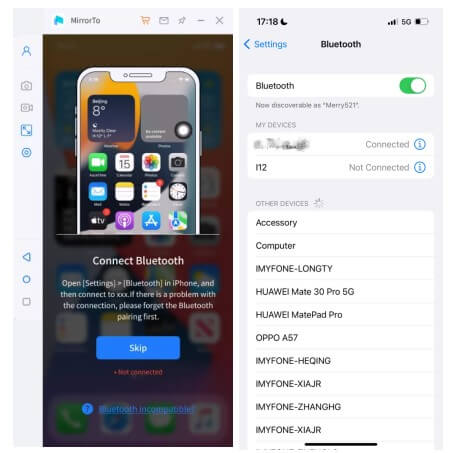 Is your phone screen successfully mirrored to the PC? Now, you can control your phone from your PC.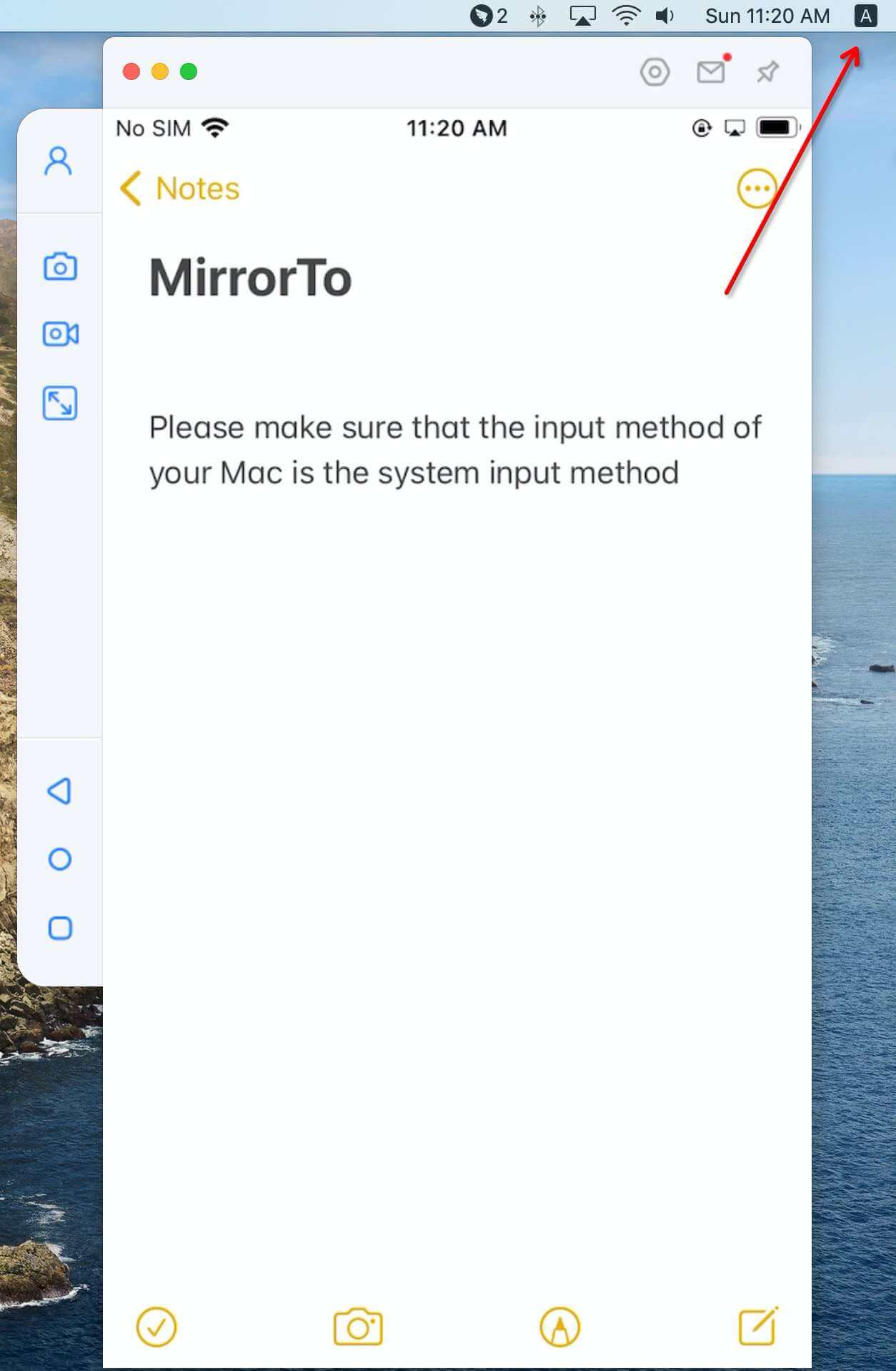 Conclusion
In the nutshell, we can say that Apowersoft Screen Recorder is best considered for making videos on your iOS and Android phones. It allows you to make HD videos from your device easily. These videos can be easily stored in your device memory. On the other side, iMyFone MirrorTo is regarded is the best Apowersoft Screen Recorder Alternative that allows users to experience gaming and recording on larger screen.