Sometimes, you need to mirror your iPhone for various purposes. There are certain methods of how to mirror an iPhone to a Mac. You can either directly mirror or use a USB. But sometimes, glitches occur. We are here to help you out!
One of the simplest and easiest methods to mirror your iPhone or iPad is to go for the AirPlay button that is in your settings. In this article, we will introduce several ways to mirror iPhone to Mac via USB.
Part 1: Screen Mirroring an iPhone to a Macbook via USB Cable
If you have a USB cable and you want to screen mirror the iPad or iPhone with Mac Book, then you will have to follow a few simple steps after attaching the USB. For this purpose, you have two famous tools that you may use! Below are the tools that you can use for screen mirroring an iPhone using USB:
1. QuickTime Player
The first and most approachable tool that every Mac user uses is QuickTime player. It is a pre-installed tool. It is considered a most versatile tool and helps play music and movies on Mac whenever you want. Furthermore, it also helps in editing audio and video files on the Mac.
The QuickTime tool records the videos and audios on Mac. The best feature it has is screen mirroring. If you want to screen mirror, you will need to follow the simple steps given below: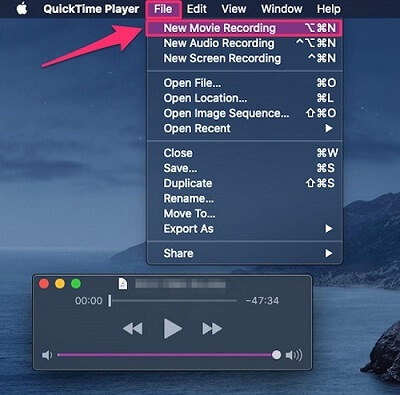 First, open Launchpad on Macbook and run QuickTime Player.
Then connect the iPad or iPhone to the laptop using the USB cable. Then Unlock the iPhone accessories to use. Then there will be the option of Trust This Computer; hit allows button.
Then you can choose the option you want.
Once you select the iPhone, the screen will be cast to Mac instantly. Then you can do whatever you want.
2. AnyMirror
If you do not know any other option than QuickTime to connect the device with Mac for screen mirroring. Then here is the second best tool for you. You can connect your iPhone or iPad with your Mac by using AnyMirror.
AnyMirror is considered the most flexible tool and indeed the best choice. You can mirror your devices with high-quality synchronized audio in just a few clicks. You can easily mirror your iPhone with Mac using a USB cable.
This amazing tool supports iPad, iPhone, and iPod, and it works with both Mac and Windows laptops. It is compatible with the latest version of the software. It has the following features:
Includes multiple mirror sources through which you can easily mirror multiple devices freely.
Includes auto rotation and zoom-in features.
You can also record the screen.
You can easily live stream and connect audio.
This tool is amazing for multiple scenarios.
Follow these steps to screen mirror iPhone to Macbook using AnyMirror:
Step 1. Firstly, download and install AnyMirror on your Macbook and iPhone.
Step 2. Connect your iPhone to the Macbook using a USB cable.
Step 3. Once the devices are connected, select the "Screen Mirroring" option on your Macbook and click on "OK".
Step 4. Select the mode for screen mirroring on the iPhone and select "USB". Then click the Start button and choose "Start Broadcast".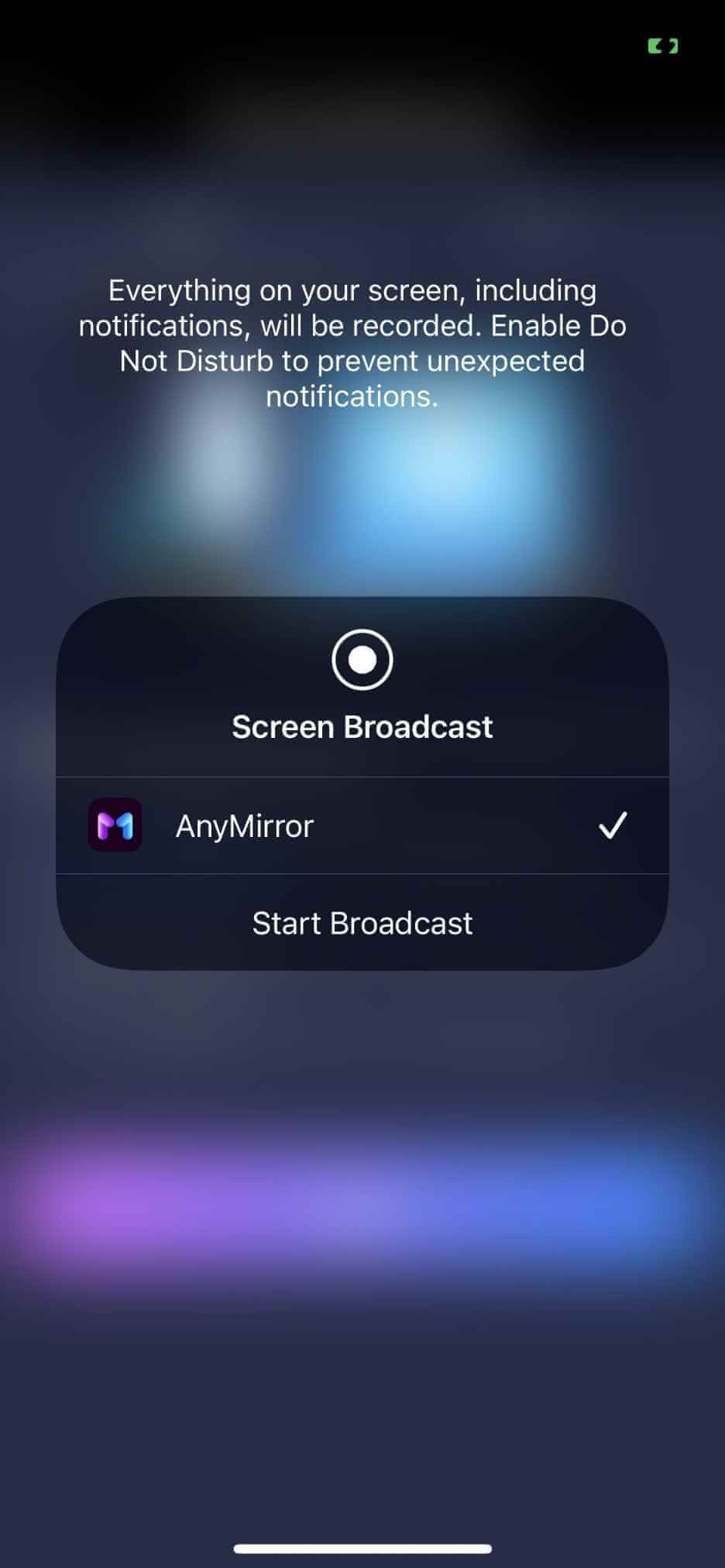 Step 5. Your iPhone should now be visible on your Macbook as the mirroring process is completed.
Part 2: Screen Mirroring an iPhone to a Macbook without USB Cable
Sometimes, you are unable to find a USB. For this reason, you will need to connect your iPhone or iPad with MAC and do screen mirroring wirelessly. We have the four best tools for you that you can use and connect your device easily.
Below are the details:
1. iMyFone MirrorTo
If you want the best tool for Android and iOS, then use iMyFone MirrorTo. You can share the screen effortlessly with the devices. It is a free tool with which you can easily mirror the computer. You can not only do live streaming but also play games and manage several apps on devices. In addition, it involves audio conferencing software as well.
Features of MirrorTo
Screen mirroring with MirrorTo is made possible via the use of powerful algorithms that ensure a smooth connection with no latency or bugs.
MirrorTo offers comprehensive customization options that allow players to tailor the game to their gameplay preferences.
MirrorTo provides comprehensive controller settings that allow you to handle your big screen with ease.
Video Tutorial about How to Mirror iPhone to PC (Also Suitable for Mac)
Steps to Follow
Step 1.Download the iMyFone MirrorTo app and install it on your PC.
Step 2.Connect the two devices with the same Wi-Fi connection.
Step 3. Go to "Control Center" and click "Screen Mirroring". Now you can see your phone screen on PC.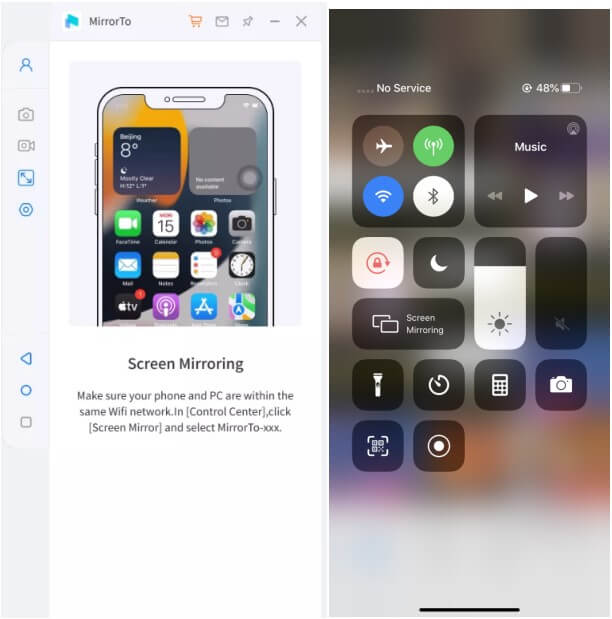 Step 4. Now you can see your phone screen on PC.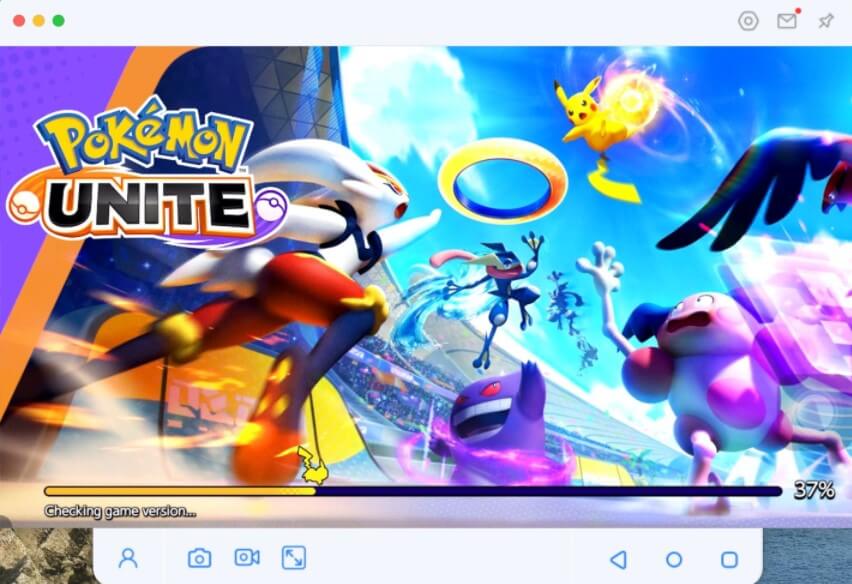 Step 5.Go to "Settings", then enter "Bluetooth" and pair the bluetooth between your phone and computer.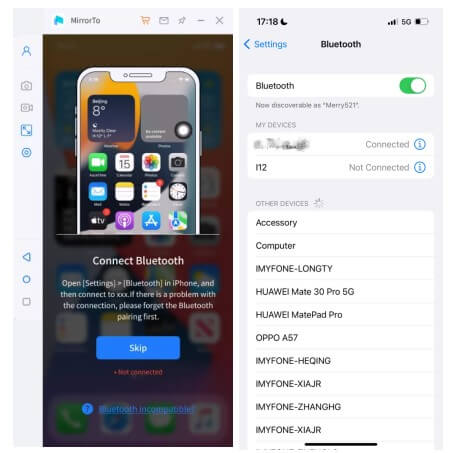 Is your phone screen successfully mirrored to the PC? Now, you can control your phone from your PC.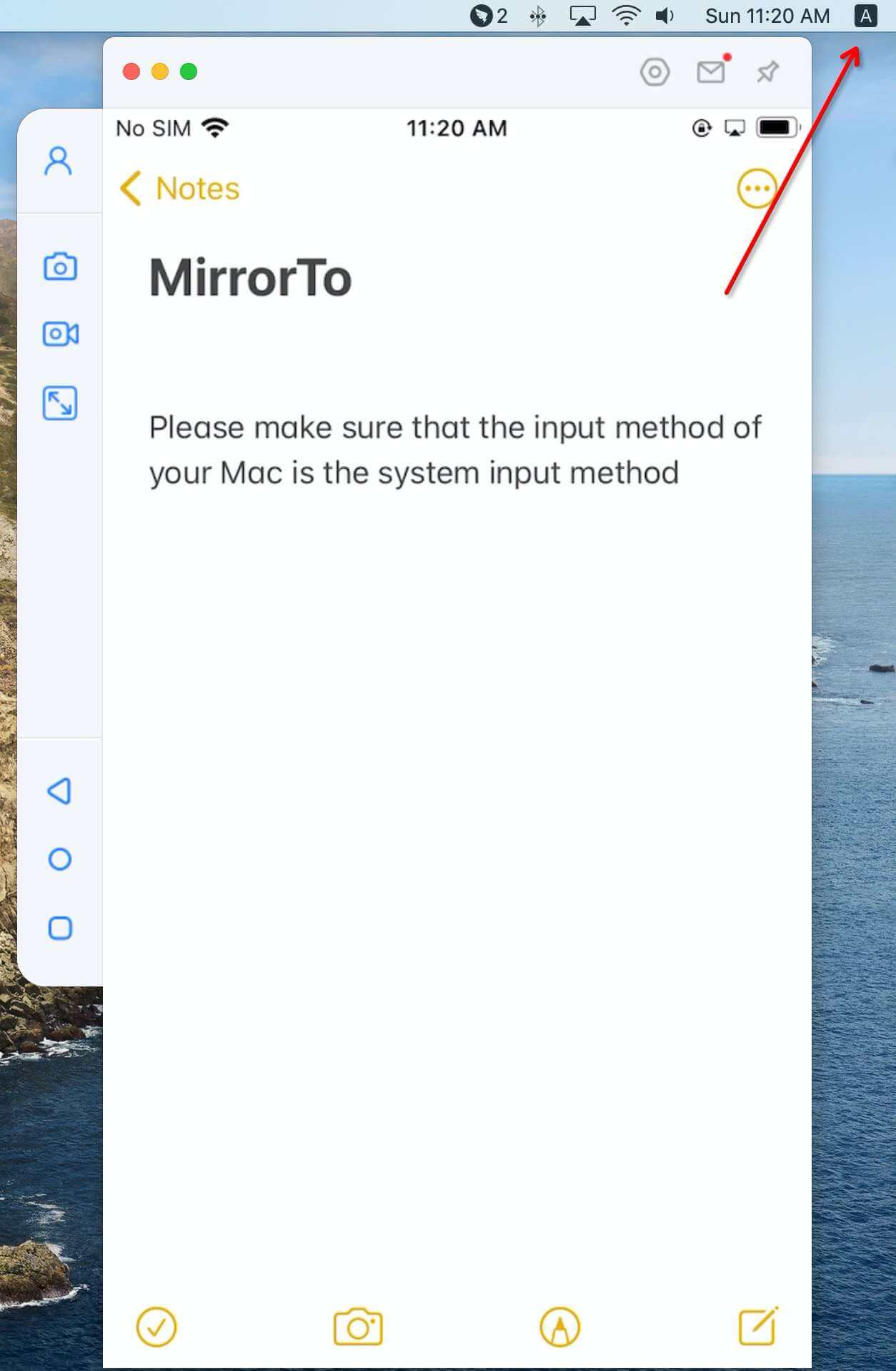 2. Reflector
The Reflector tool is another top-rated tool that helps in screen mirroring. It is also free of cost, and the best part of the tool is that you can mirror it without any difficulties. It can help you perform various functions using screen mirroring wirelessly.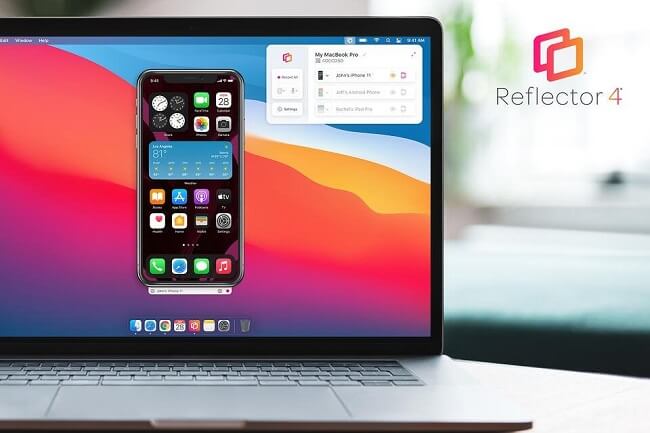 You will use the AirPlay option to connect your devices with each other. After making sure that which device you want to connect, you will need to follow a few simple and easy steps. Below is a step to step guide for using a reflector tool:
Confirm that your iPhone and Mac are connected to the same wireless network.
Install and run Reflector on your Mac.
On your iPhone, launch Control Center
On an iPhone X or later, or an iPad running iOS 12 or later: Swipe down from the screen's upper-right corner.
Swipe up from the bottom edge of the screen on an iPhone 8 or before or on iOS 11 or earlier.
Select "AirPlay/Screen Mirroring."
From the list, choose your Mac.
If a code displays on your Mac, input it on your iPhone.
The iPhone screen will now appear on the Mac immediately.
3. ApowerMirror
The ApowerMirror desktop tool allows you to stream the screen of your Android or iPhone to your PC. It also enables Android users to control their smartphones from a PC using a mouse and keyboard.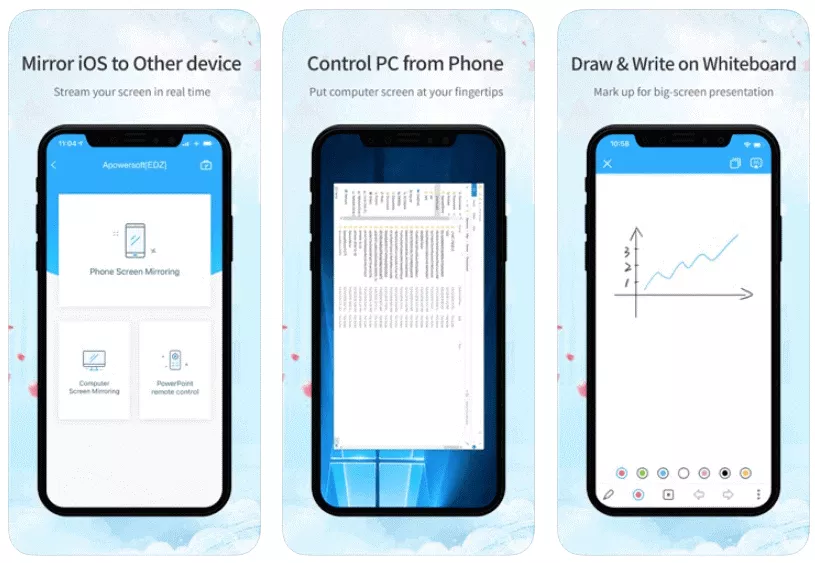 People can use this amazing tool to freely enjoy video files kept within smartphones from the computer, give PPT, PDF, and other documents to colleagues or partners on a large screen, and enjoy Android games or send messages using a mouse and keyboard.
Step 1. You need to download ApowerMirror first.
Step 2. Ensure that the iPhone and MacBook are connected under the same Wi-Fi network.
Step 3. Once the network is good, now you can launch the ApowerMirror app both on the MacBook and the one on your iPhone. On your phone, click the blue 'M' button and then tap the name of your MacBook to initiate a connection. After that, click on phone screen mirroring.
Step 4. Swipe up/down and then choose "screen mirroring" and mirroring should start right away.
4. LetsView
LetsView has a mobile phone-like interface, and it is competitive enough to be utilized to mirror iPhone to the computer. The responsiveness of the LetsView utility is one of its most obvious features. It has no lag and produces high-quality video.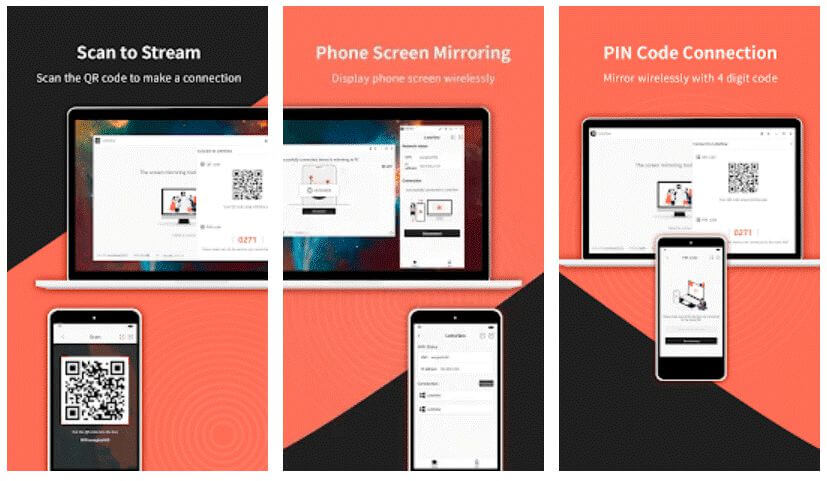 Steps to mirror iPhone to MacBook through LetsView
Connect both of the required devices to the same WiFi network.
Install the app on both devices.
To begin the connection, press the allow button on your phone.
To begin mirroring, click the name of your PC and then phone screen mirroring.
Conclusion
Screen mirroring is no more a problem. You can easily screen mirror your device by following a few simple steps and using the best tools. iMyFone MirrorTo is top recommended as it is a user-friendly and most convenient tool that does not require a single penny of yours.