[2023] How to Mirror iPhone to Windows 10/11
Category: Mirror Tips
5 mins read
Are you wondering how to mirror your iPhone screen to Windows 10/11? If so, you've come to the right place! Many iPhone users are eager to learn how to mirror their device's screen onto their Windows 10 computer. In this article, we will provide you with a step-by-step guide on how to achieve this functionality.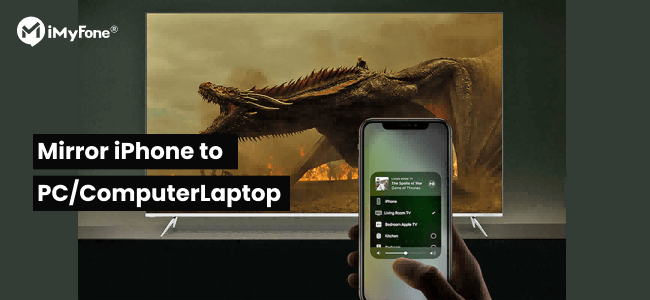 By the end, you will have a clear understanding of how to mirror your iPhone to Windows 10 and enjoy a seamless screen mirroring experience. So let's dive in and explore the process of mirroring your iPhone to a Windows 10 PC!
Part 1. Reasons for Mirroring iPhone to laptop Windows 10/11
If you are a new iPhone user, you must be thinking, why is there any need for casting iPhone to windows 10? We are here with some significant reasons for mirroring iPhone to windows 10.
There can be many different reasons for which people want to screen mirror iPhones to their laptops and computers. The following are some significant reasons for which people want to share iPhone screen to a Windows 10 PC. So, with no further ado, let's have a look!
1

Better gaming experience

iPhones have so many incredible and adventurous games in them that everyone likes. Screen mirroring iPhone to Windows 10 helps you to get a better gaming experience. You can easily connect your iPhone with your laptop or pc and use other professional gaming equipment to upgrade your gaming sessions. Not only iPhone, but you can also mirror iPad to windows 10 and play all your favorite games on a bigger screen.
2

Create & edit video using iPhone

iPhone is a hub of so many great applications that can solve everyday professional problems. iPhone has excellent video editors that people love. You can also mirror iPhone to windows 10 to use all those great editing apps to upgrade your video editing sessions.
3

Office work

You can also shift your office work to windows by screen mirroring. Connect your mobile phone to your laptop through apps to mirror iPhone to windows 10 free and enjoy the smooth working of iPhone applications on your computer.
4

Transforming files

Screen mirroring iPhone to windows 10 also allows you to transfer files from your mobile device to your computer. No need to worry about the OTG or data cable when it comes to transferring files. Just use any free app for screen mirroring and enjoy free file transfer!
Part 2. How to Mirror iPhone to Windows PC using 5 Apps
There are so many tools in the market for you to cast iPhone screen to windows 10. We have made a list of a few of them to help you choose from so many. The following are some best tools for mirroring iPhone to windows 10. Let's have a look!
iMyFone MirrorTo provides you the ability to mirror your devices screen such as iPad, iPhone, Android Phone to computers easily. It allows you to watch videos, play mobile games, and reply to your friend in social media on a bigger screen. It also supports screenshot, record screen video that give the users more convenience while screen mirroring.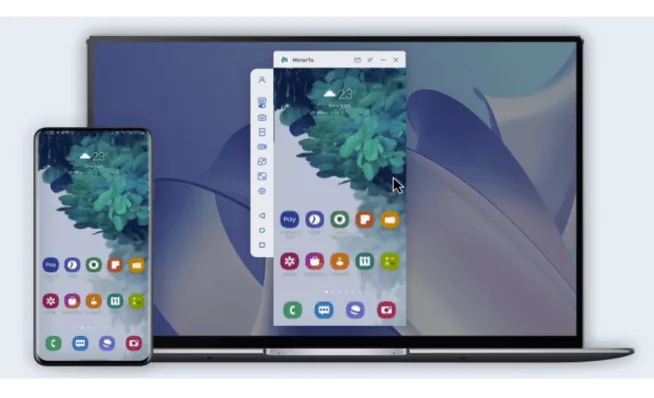 Key Features of MirrorTo
Mouse control: You can control iPhone from PC easily with MirrorTo.
Keyboard mapping: Freely play mobile games or manage social apps without delay on PC.
Record & capture screen: You can get your highlights of gameplay at any time.
Scan to cast: support scan QR code to mirror your phone to Windows PC.
Cast multi-screens: It allows you to view more than one screens on your computer.
Mirror iPhone to Windows 10/11:
Step 1. Start MirrorTo, make your iOS device and computer in the same WiFi network environment, select "iOS".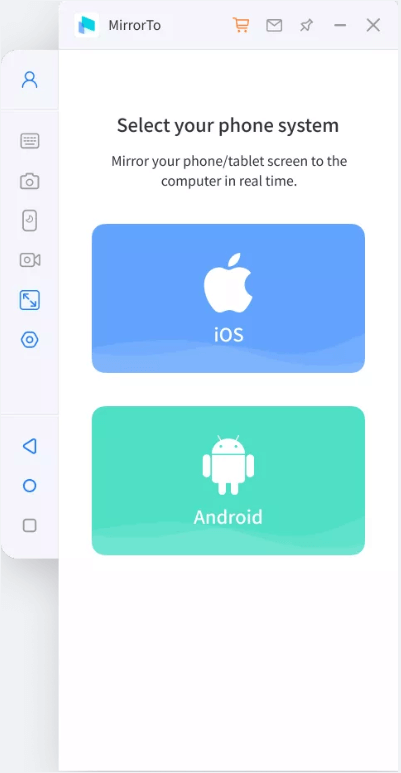 Step 2. Allow MirrorTo to access domain network, private network and public network.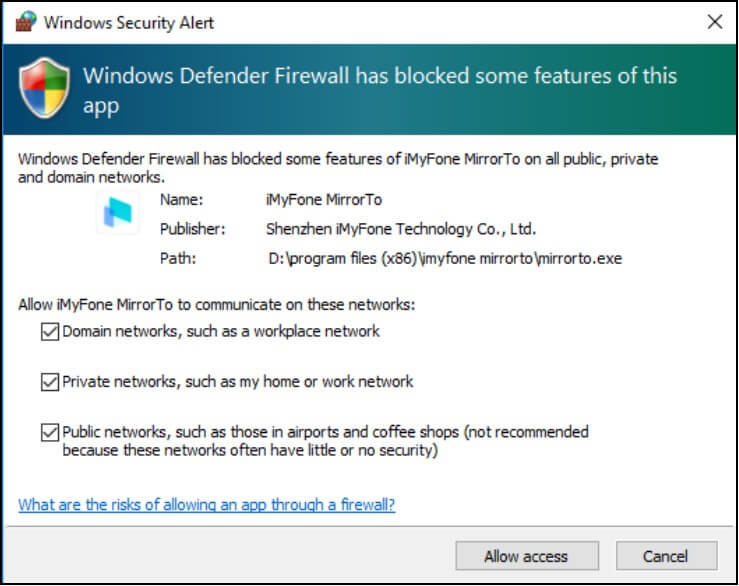 Step 3. Select iOS screen casting, enter your mobile phone [Control Center] > [Screen Mirroring], select MirrorTo, and start screen casting;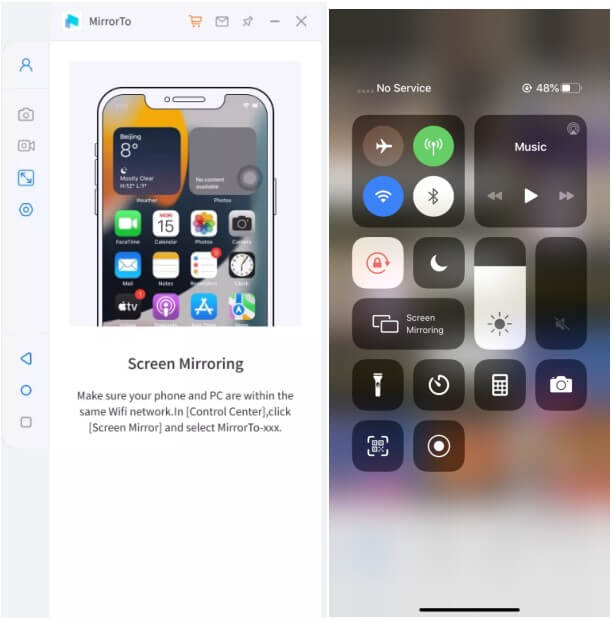 Step 4. Go to "Settings", then enter Bluetooth and pair the current screen casting computer;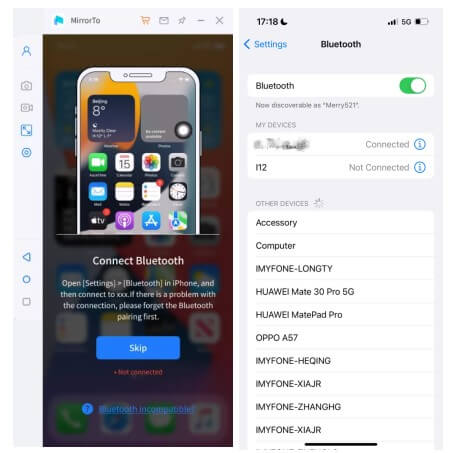 Now you can control your devices with keyboard and mouse, and freely control any moible apps on PC.
Video Tutorials on Mirroring Your iPhone to Windows 10 with MirrorTo: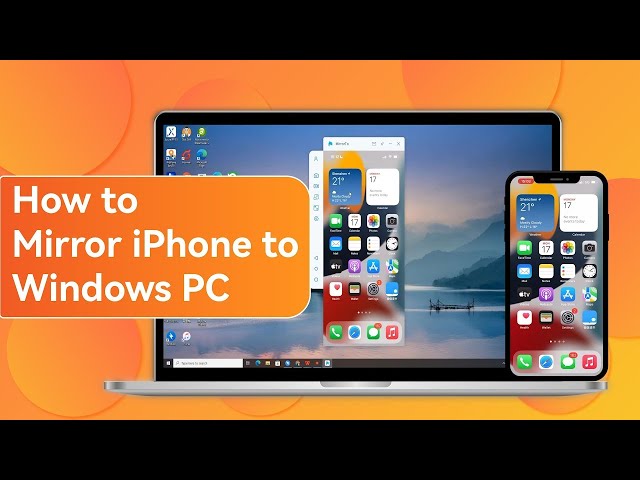 iMyFone MirrorTo also supports live streaming function.
Can stream your phone to YouTube or other platfroms like Zoom, Cisco Webex Meeting,ect.
A good helper that can turn your phone or tablet into a second blackboard when you are having a meeting or teaching.
Present the new app straightforwardly, or make useful tutorials for your audience.
Come and have a look at more detailed guides on share phone screen in real-time.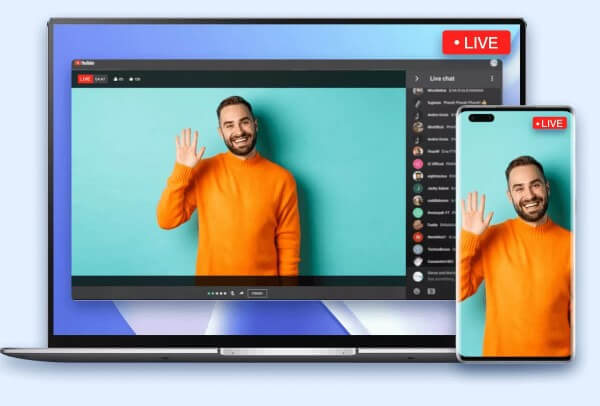 ---
The next one on the list is AirServer which is known for its fantastic screen-sharing options. Developers claim it to be the most awesome screen-sharing application for Mac and PCs. The most incredible thing is that it allows you to receive Google Cast, AirPlay, and Miracast streams. So we can say that it can make your PC like an Apple TV or a Chromecast device.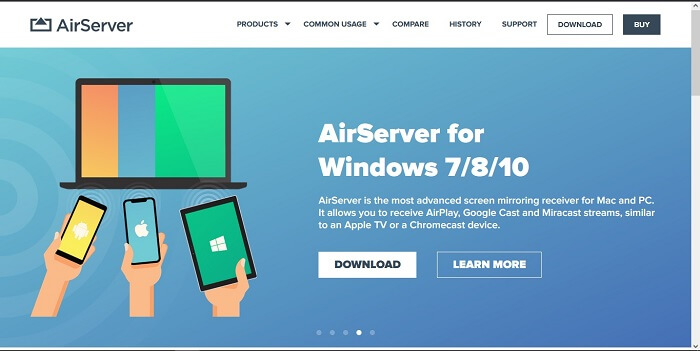 One thing that makes it unique from the rest of the apps is that it is compatible with Windows and macOS.
There is no need to install any third-party application to communicate with the devices. Everything is built-in and easy to connect.
How to use AirServer?
First of all, download the application on your devices, and open the app to connect the devices.
Now, click on the scan button. AirServer Connect will read the QR information through the code, and your device will start showing up on the Airplay list in your iPhone.
Tap on your computer name and enable mirroring!
Look how simple it is to mirror your iPhone screen to your pc or Mac with no troubles. The best thing is that this tool is available for free. However, some advanced features ask you to buy it. But basics can be enjoyed for free!
---
Do you want to mirroring iPhone to Windows 10? Lonelyscreen is the best screen mirroring tool for iPhone that allows you to enjoy all your favorite shows on the big screen! Not only TV shows, but you can also share the screen for presentations, App demos, games, or view photos. You can easily connect with the people in the bedroom, living room, or even in the meeting room.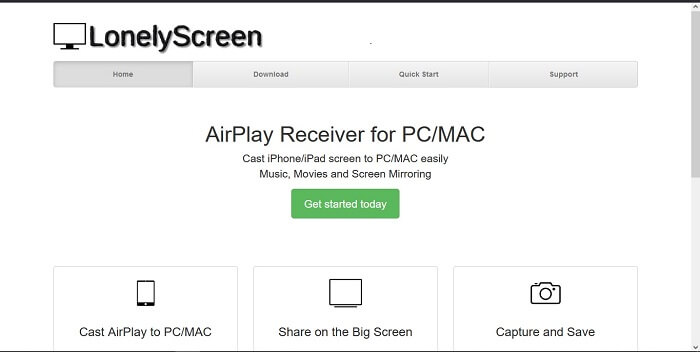 The best thing about this application is that you can also upload videos to YouTube and Vimeo.
It is an iOS 11 compatible application.
How to use LonelyScreen?
First of all, download the application, connect your iPhone with the PC, and launch your PC application on your pc.
Open the control center of the iOS device and choose your PC name to start mirroring. You will see "Lonelyscreen" on the list.
Tap on the "Lonelyscreen" option, and you will start seeing your iPhone screen on PC.
---
If you are looking for an application to share your iPhone screen to your laptop or PC wirelessly, Reflector 4 is the best option for you. This single app will replace all the cables, adapters, and other connecting hardware. Isn't it pretty awesome!
This application offers high-performance and reliable screen mirroring. Say goodbye to all the OTG cables because this application will save you money by offering you wireless screen mirroring.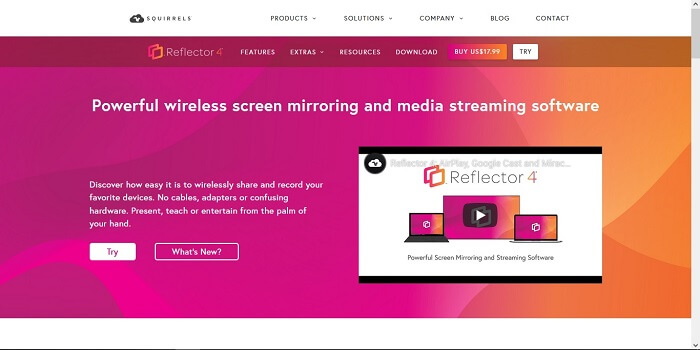 You can connect any number of devices with your PC using Reflector 4.
You can easily record the screen and voiceover audios also to make a tutorial for a while using the application.
How to use Reflector 4?
First of all, download the application in your system and install the application.
Accept the EULA to agree to the terms and conditions, and then click on "install".
Allow reflector 4 to make changes to your PC.
Click on the app shortcut to open the application. You will see many connections available on the screen.
Click on the name of your desired connection, and the app will start sharing screen!
---
Last but not least, we have mirroring 360, which is known for its reliable and high-performance screen mirroring. It is a fantastic tool that helps you share your screen with your pc or laptop and enjoy your favorite applications on the big screen. Either you want to do some professional chores like a presentation or enjoy a movie, you can use this application for both purposes.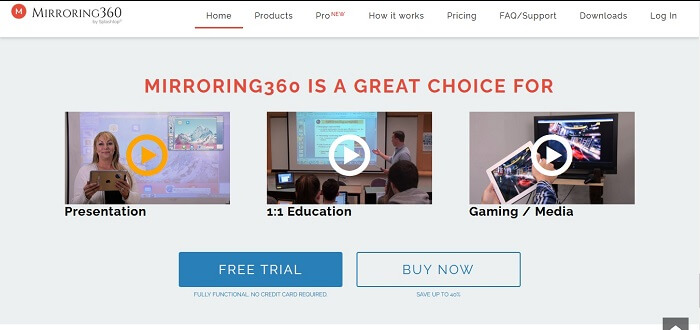 It is the best application to wirelessly mirror your iPad, Chromebook, iPhone, and Android devices screens to your pc or laptop.
You can also broadcast your screen to up to 40 people in a meeting, and they will be able to see your screen while you are working.
How to use mirroring 360?
First of all, open the control center of your iPhone device after installing the application.
Then click on the "screen mirroring" or "Airplay" option.
Choose your computer from the list that you want to share the screen with.
Your iPhone screen will start showing on your computer screen.
Part 3. Comparison of 5 Tools for Mirroring iPhone Screen to Windows 10
| | | | | |
| --- | --- | --- | --- | --- |
| | Free with basic; $9.95/month with advanced | Stream iOS or Android phone to PC, supports multiple mirroring protocols, view photos, music streaming, play games. | PC, Mac, Android, iOS and other smart devices | Definitely easy to use! |
| | $19.99 | Recording, Live stream to YouTube, Mirroring, Regulate audio delay/sync | iPad 2 or newer, Phone 4S or newer, Mac, PC, Android, Chromebook, Linux | Seamless switching between AirPlay and computer |
| | Free | File transfer, Cast iPhone/iPad screen to PC/MAC easily, Music, Movies and Screen Mirroring | iOS 11 compatible | Easy to use |
| | US$17.99 | Mirroring and streaming connections from AirPlay, Google Cast and Miracast devices | Android devices, iPhone, iPad, iPod, Mac and Windows computers and Chromebooks. | Very easy to use |
| | $11.99 with free basic (Android) | Wireless mirror to other devices | Windows and Mac, Android 5.0 and up | Easy to use |
Part 4. FAQs about Mirroring iPhone to PC
1

Can you AirDrop from an iPhone to a PC?

Yes, you can easily use AirDrop to share files from iPhone to other devices. Apple's devices don't have Bluetooth, but the AirDrop feature in these devices replaced Bluetooth. Airdrop is the most convenient way of sharing files, pictures, audio, and videos from iPhone to other devices.
2

Can you mirror iPhone to PC with USB?

Of course, you can mirror your iPhone to pc with a USB. However, some applications in the market ask you to connect your device with pc or laptop to share a screen between your iPhone and pc. So, it depends on the application that you are using to share the screen between two devices. Some applicants ask you to connect with USB, and some don't.
3

Can you get iPhone texts on HP/Dell/Lenovo laptop?

Yes, you can get iPhone texts on windows 10. Many applications are available in the market that allows you to receive your iPhone messages on windows 10. You can opt for any of these applications and start receiving and responding to your text messages from your laptop or PC.
4

Does mirroring iPhone go full screen when gaming?

It is the most common question that gamers want to get the answer to. Yes, you can easily go full screen while gaming. The following are a few steps that you have to follow to enjoy full-screen gaming.

First of all, you have to go to the smart view and then click on the "more options" button.
Tap on the "settings" menu and then select "phone aspect ratio".
Now, you have to choose the "full screen" on the connected device to make it full screen.
Your screen will go full screen on the pc while mirroring the iPhone screen.
5

Is it mirroring iPhone offline, and is there any need to on the hotspot?

Screen mirroring require you to connect both iPhone and host device to be connected through the same wifi connection to operate. So, we can't say that iPhone mirroring can be done without a hotspot. You always need an internet connection to do screen mirroring.
Closing
Screen mirroring is an incredible utility that allows you to cast your screen to some other device and enjoy all the features of a phone on a laptop or pc. We know most iPhone users have been looking for some reliable utility for screen mirroring. Hope you got your queries entertained. Choose the one that you like the most to iMyFone MirrorTo and enjoy your favorite apps on the big screen!