If you have this issue, you are not alone. This issue always happens after iOS update, which not only happens on iOS 15/14, but also on iOS 13, 12, 11, 10 , etc. Apple doesn't fix this bug, but some ways are proved to be effective in this article to permanently fix this bug.
How to Fix iPhone Lock Screen Bug on iOS 15/14 with LockWiper
If you're experiencing any type of iOS 15/14 glitch that seems insurmountable, such as disappearing lock screen clock, black screen after iOS update, notifications not showing, etc. then you can use iMyFone LockWiper iPhone unlock to fix it.
LockWiper is the ultimate tool to fix all iPhone/iPad/iPod touch screen issues in mere minutes. It removes any and every form of iPhone, iPad, and iPod touch lock screen issues, and it can help you to unlock every level of iPhone lock and can unlock even disabled, broken screen and faulty button iOS device.
LockWiper Handles All Your iPhone Screen Issues
Repair iPhone screen issues, like iPhone screen is broken, frozen, black, white, or in Apple logo, etc.
Help unlock iPhone screen without password, when iPhone is locked, disabled or broken.
No matter your lock is 4-digit, 6-digit passcode, Touch ID or Face ID, LockWiper can bypass it.
Remove Apple ID on all iPhone/iPad/iPod touch without the password.
Promise high success rate even to unlock second-hand iPhone.
LockWiper is fully compatible with iOS 15/14 (let alone the old versions) and all models of iPhone X, iPads and iPod touch. It's a reliable and secure solution that even the famous SOFTPEDIA, download.hr, etc. highly recommend it.
Now Download LockWiper to Fix iPhone Lock Screen Bug on iOS 15/14
Step 1. Prepare
Get iMyFone LockWiper installed on your PC or Mac. Open the software and select the mode called "Unlock Screen Passcode".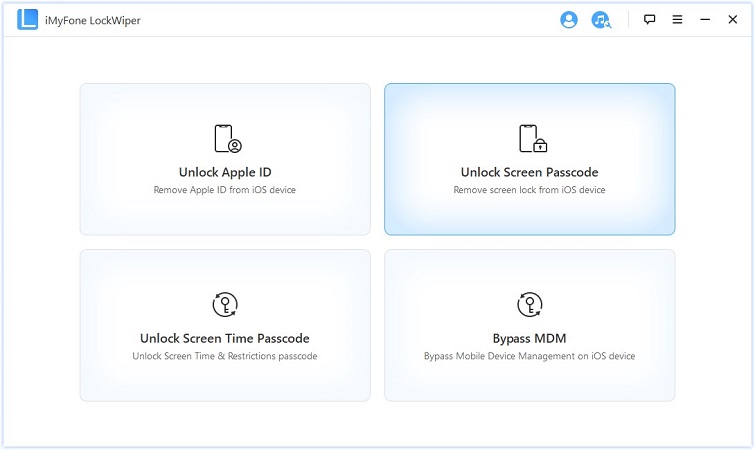 Click "Start" to begin the process.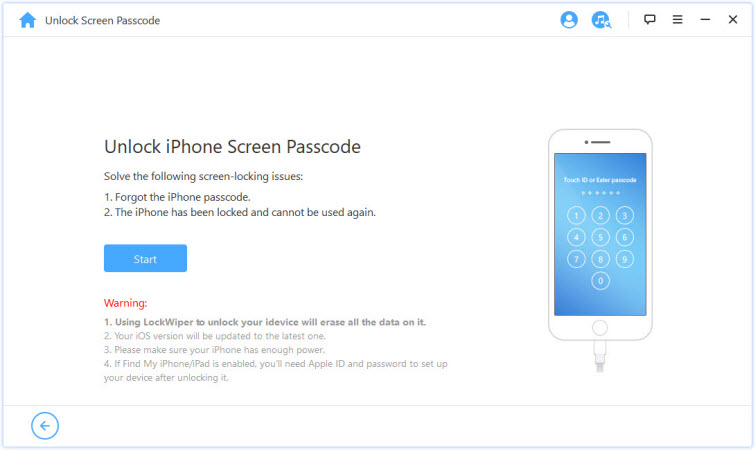 Step 2. Download Firmware
Download the right firmware package for your device by clicking the "Download" tab. Once the firmware package has fully downloaded, just click "Start to Extract".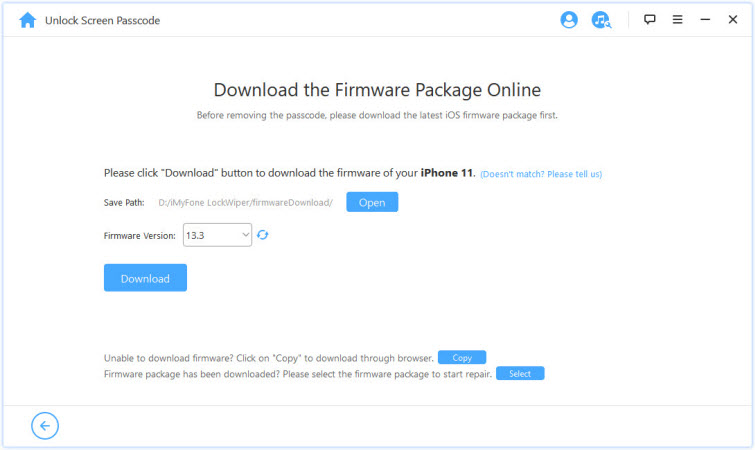 Step 3. Install Firmware
To unlock and fix your lock screen issue, click "Start Unlock". Read the notice carefully and enter "000000" to double confirm that you've agreed to unlock your iPhone. Then click "Unlock".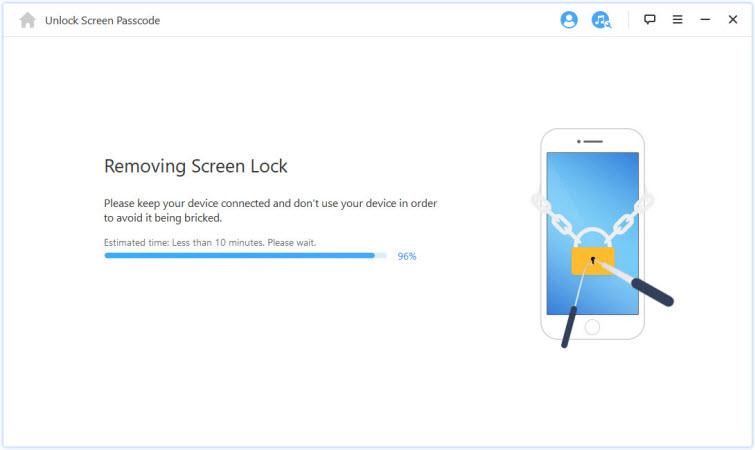 Wait for the program finish, and then your iOS 15/14 lock screen issue will be fixed completely. Now you can set the screen lock again!
iMyFone LockWiper is a must-have program especially if you like to update your device to the latest iOS version.
Useful Tips to Fix iPhone Lock Screen Bug on iOS 15/14
Using iMyFone LockWiper is the easiest way to fix the iPhone lock screen bug on iOS 15/14. But if you want to try something else first, then you can try these tips. The following tips will help you to fix iOS 15/14 lock screen bugs on your iPhone. Here are the tips:
#1. Swipe Top Down on Lock Screen
If you can't use the first method because you don't have a good backup of your files and data, then you can try this temporary fix.
When you clock disappears, press the Sleep/Wake button to wake your iPhone.
Swipe your iPhone screen top down, and the clock will appear.
This way doesn't always work. Some users complain that this doesn't work.

#2. Restart iPhone
Restarting your iPhone will help to remove any temporary glitch that may be causing iPhone to lock screen bug on iOS 15/14 iPhone.
To switch off your iPhone; press and hold your Power button for few seconds until "slide to power off" notification appears.
Slide the power icon to your right.
When your iPhone to fully powered off, press and hold the power button until an Apple logo appears.
#3. Change View to Zoom and Then Standard
The lock screen display bug on iOS 15/14 iPhones can be solved with a change in zoom view and standard, which is suggested by Apple community user.

Here is the detailed steps:
Go to the Settings app and tap "Display & Brightness".
Scroll down to "Display Zoom" and tap on "View" to open it.
Switch from "Standard" to "Zoomed" and click "Set".
A notification will show "changing zoom display will restart iPhone". Click "Use Zoomed."
After your iPhone restarts, now tap "Standard > Set and "Use Standard."
#4. Force Reset iPhone
If the tips above do not solve this problem, try force restarting your iPhone:
Step 1. Force restart your iPhone based on the model:
If you're using an iPhone X, 8, or 8 Plus, then quickly press and release the Volume UP and Volume Down buttons. Now, long press the Sleep/Wake button until Apple logo appears.
If you're using iPhone 7, or 7 Plus, then long press the Sleep/Wake and the Volume Down button until Apple logo appears.
If you're using iPhone 5s, SE, 6 and 6s, then long press the Sleep/Wake button and Home button until Apple logo appears.
Step 2. Wait for your iPhone screen to go blank, and then switch on your iPhone.
The Bottom Line
All these solutions in part 2 are just trial and error, but the ultimate solution to permanently solving all iPhone lock screen issue is by using iMyFone LockWiper iPhone unlock. Try using this tool for all your unlocking needs.