Whether your iPhone is disabled or not, one thing is certain: iTunes is difficult to use and always gives you all kinds of goofy errors. Especially when your iPhone is disabled, and iTunes says it cannot connect to iPhone unless its unlocked.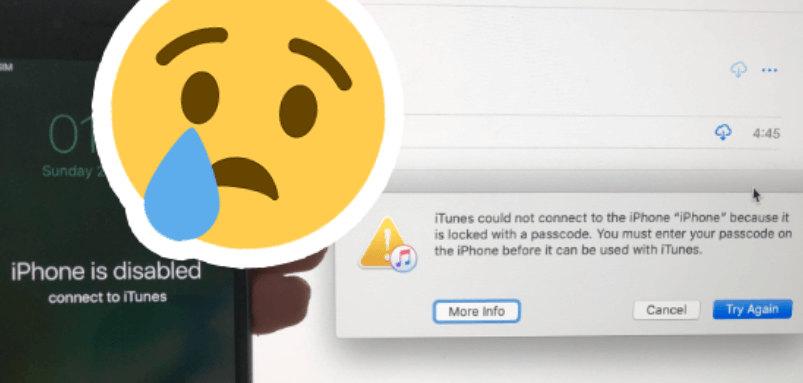 So that's what we are going to talk about today. To begin with, We will have an in-depth discussion on everything you need to know about the disabled status on your phone, including why you would fail connecting iTunes to disabled iPhone. so that you'll know what we're dealing with.
Then, as the main subject of today, we will provide a simple solution to solve the iTunes not connecting to iPhone problem. Believe it or not, it's way simplier than you imagine.
If that fix does not apply to you, we will also have a further solution for you to unlock your iPhone without connecting it to iTunes.
For some Mac users, if you cannot find iTunes on your computer, we also have an exclusive guide for you at the end of this article.
So without further ado, let's start from the beginning.
Part 1: Reason Why You Can't Connect to iTunes When iPhone 6 is Disabed
Although connecting to iTunes is obviously the recommended solution for the "iPhone disabled" situation, sometimes when you try connect your disabled iPhone to iTunes, there would be another message saying "iTunes couldn't connect to iPhone because it's locked with a passcode".

It could also be "iTunes could not connect to iPhone because an error occurred", or "iTunes could not connect to iPhone because the device timed out".
In fact, odd as it may sounds, the reason why you receive such messages has nothing to do with "passcode" or iTunes. The main reason for you being not able to connect iTunes to iPhone 6 when disabled is surprisingly simple: you have reached the device limit for your Apple ID.
Each Apple ID can only associate with 5 devices. If the device you are connecting has not been not previously associated with the Apple ID on your computer, then you may receive this kind of message and fail to connect disabled iPhone to iTunes.
Part 2: Fix Disabled iPhone 6 Failing to Connect to iTunes
Since the problem is caused by the device limit of your Apple ID, the solution is obvious: remove one or more devices associated with your Apple ID. There are two ways you can remove a device from your Apple ID.
Remove a Device Using iTunes
Step 1: Open iTunes, and click on "store" in the upper left corner.
Step 2: Select "view account" from the dropdown menu.
Step 3: Enter your password when required.
Step 4: Under "iTunes in the Cloud", click on the blue "Manage Devices", and choose any device to disassociate.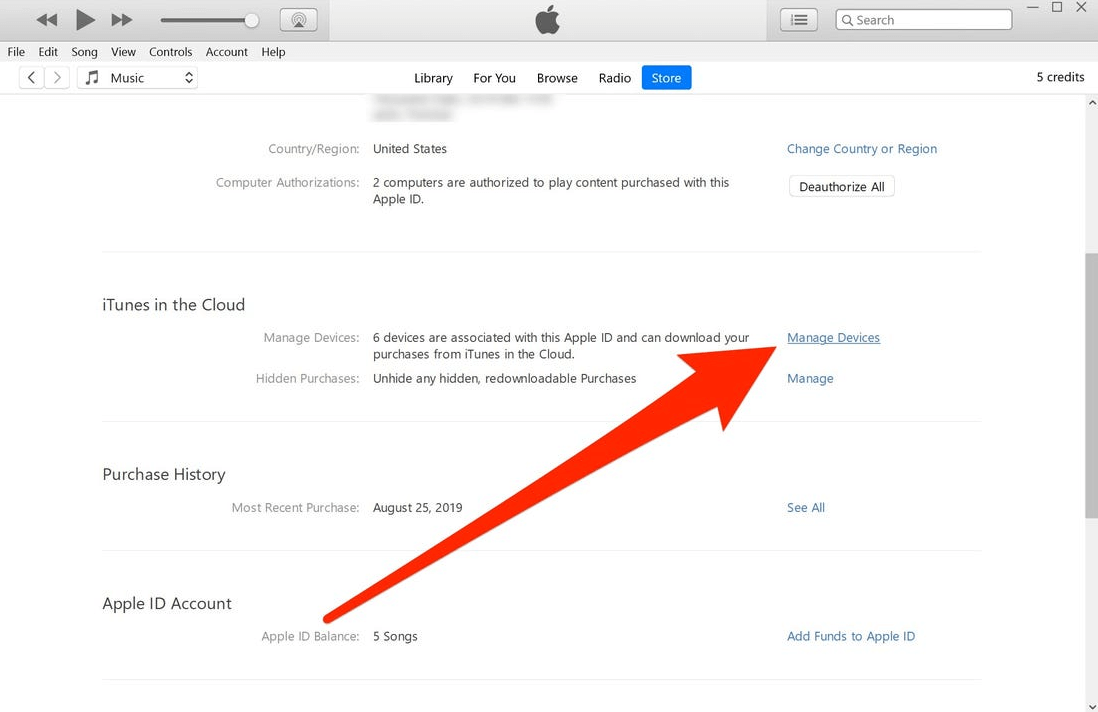 Or Remove a Device Using The Device Itself
Besides the solution above, you can also disassociate a device from the device itself. Here is how:
Step 1: Go to the AppStore or iTunes using the device that you want to disassociate.
Step 2: Scroll down to the bottom, and click on your iTunes ID, then select View Apple ID.
Step 3: Now you'll then see the "Remove This Device" option under "iTunes in the Cloud".
Step 4: You may also be required to enter the password of your device.
After removing one or more associated devices from your Apple ID, you will be able to successfully connect your disabled iPhone to iTunes.
Now You can Connect Disabled iPhone to iTunes
After removing an old device from Apple ID, you should be able to connect your disabled iPhone to iTunes now. Here is how:
Step 1: Connect your disabled iPhone to your computer with a USB cable.
Step 2: iTunes will automatically launch when the device is detected.
Step 3: On the popped-up window, click "Update" or "Restore".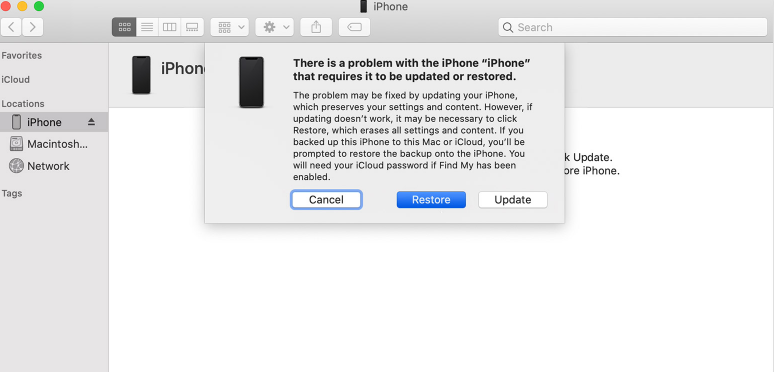 Part 3: If That Doesn't Work – Unlock Disabled iPhone Directly
The solutions introduced above solve most disabled iPhone not connecting to iTunes problems. However, since iTunes is a complicated program, there might still be other possible reasons that's causing you the problem. So, if you somehow still cannot connect to iTunes when iPhone is disabled, you probably would want to try another solution, which allows you to unlock your device without connecting to iTunes, therefore solve all problems you have about being unable to connect iPhone 6 to iTunes.
This solution involves a third-party iOS unlock tool iMyFone LockWiper. With iMyFone LockWiper, you can not only unlock the disabled iPhone without iTunes, but also bypass iOS passcode, remove Apple ID, bypass Screen Time passcode and remove MDM profile.
Video Tutorial about 3 Steps to Recover/Reset iPhone Passcode without Losing Data
Step 1.Download, install and launch the iMyFone LockWiper on your PC or Mac. On LockWiper, choose "Unlock Screen Passcode" mode.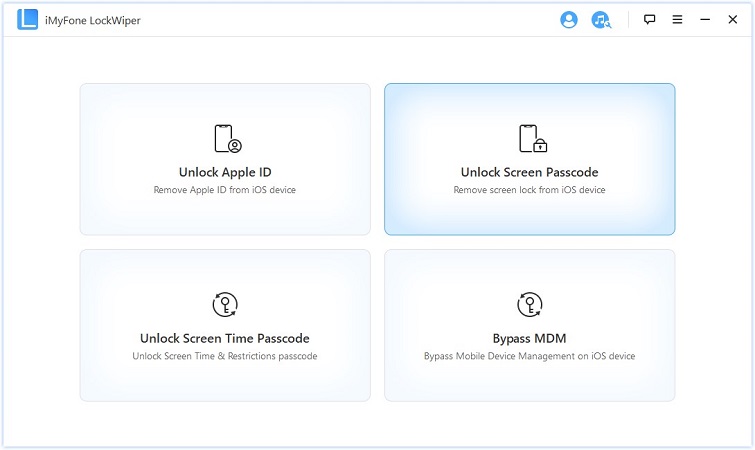 Step 2.Click "Start". Then connect your iPhone 7/7 Plus to your computer. Once connected, your iPhone 7 will be automatically detected. Then you need to click "Download" to continue and allow the program to download a firmware for your device.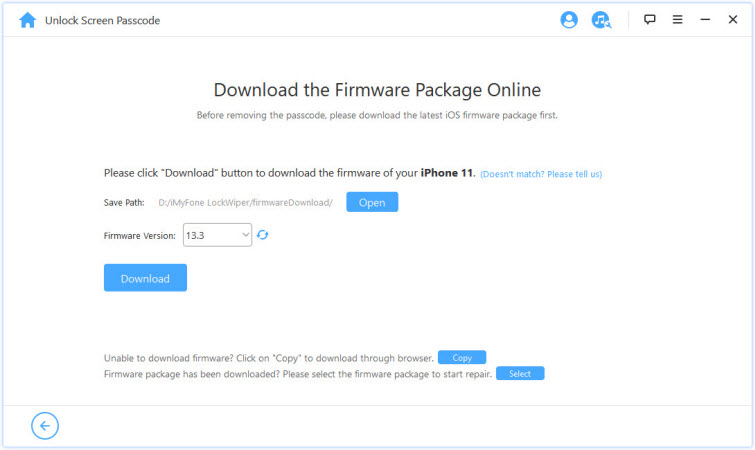 Step 3.After downloading, the program will verify and extract the firmware for your iPhone 7. After that, click "Start Unlock" and the program will start unlocking your iPhone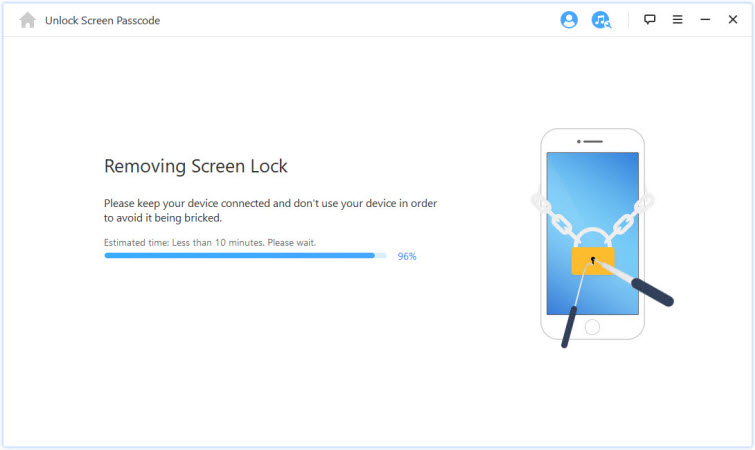 Step 4.Now all you need to do is sit back and wait for a couple of minutes. Once the unlock finishes, click "Done" and you can enjoy your newly unlocked iPhone 7 immediately.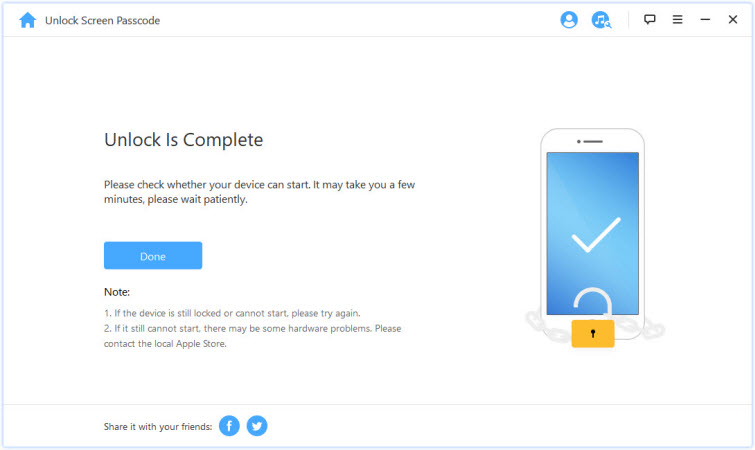 Part 4: For MacOS Catalina Users – If You cannot Find iTunes
If you are using a Mac computer and you cannot find the iTunes app, don't panic. The solutions introduced above still apply, but with a different entrance. Here are the details:
Apple removed iTunes on macOS Catalina. Instead of being integrated into one app, your music, videos, podcasts, and audiobooks are organized in to their own dedicated apps. Also, the device information and related functions are moved from iTunes to Finder.
So if you are using a Mac computer running macOS Catalina, you might not be able to find the iTunes app on your computer in the first place. But from Finder, you can also find all account and device related functions like sync, restore, backup and more. Just in iTunes.
To connect your disabled iPhone to Finder, here is what you need to do:
Step 1: Open a Finder window.
Step 2: Connect your device to your computer using a USB cable.
Step 3: Click the name of your device on the left sidebar to select it. If prompted, trust your device.
Step 4: Then you can user Finder just the way you would use iTunes to sync, backup or restore your device.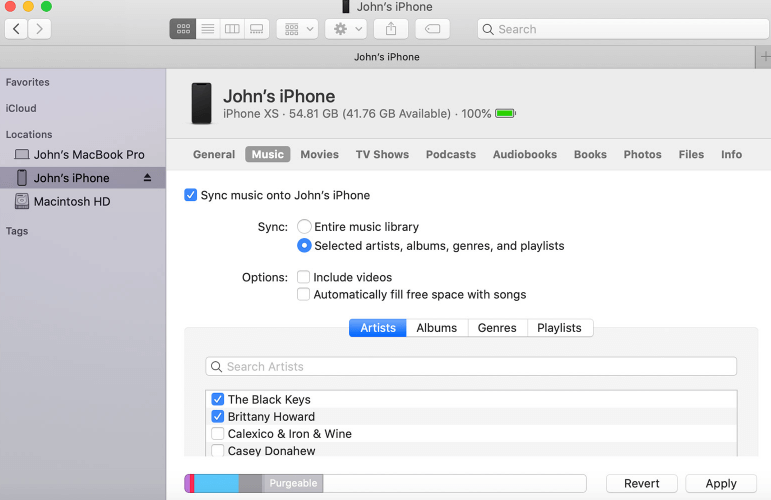 Part 5: Avoid Getting Your Device Disabled
Although there are multiple ways that you can unlock your iPhone when disabled, it's best that you don't put your device into disabled mode in the first place. Because dispite the unlocking process has been made as simple as possible by programs like LockWiper, you may still lose your personal data on the device no matter how you unlock it, and that could be painful if you don't have backups for your data. So how to prevent your iPhone from getting desabled? Here are some tips:
Don't forget your password
Sounds obvious right? Well, if you have no confidence in your memory, try use Face ID or Touch ID. The biggest advantage of biological identification is that you don't have to remember anything and can still unlock your device
Unlock the device when you decide not to use it for a while
Most people get locked out of a device when they try to get their hands on an old iPhone or iPad. When you decide that you are not going to use a device for a while, remember to remove the passcode, as well as the Apple ID on it. Trust me, it'll save a lot of troubles in the future.
Don't let it fall into wrong hands
Kids, bad friends, cats (yes, cats), they are all dangerous and could be the protential cause for your device to get disabled. Make sure keep your iPhone away from them and you will most likely be fine.
To Sum Up...
Let's be honest, iTunes has all kinds of goofy designs that makes it hard to use. The subject we talked about today was one of the solid proofs. When you receive the error message saying iTunes cannot connect to iPhone, your best shot is to try disassociate one of your other devices from your Apple ID. If that solution doesn't work for you, know that you can always use iMyFone LockWiper to unlock the device without even using iTunes. Since Mac Catalina has removed the iTunes app, you have to go to Finder to get access sync, restore or backup functions that used to be in iTunes. If you still have some other questions, leave it in the comment section and I'd be happy to discuss about it with you.