Restrictions always are used for controlling critical tasks and preventing unauthorized access. If you forget the Restrictions passcode and don't want to restore your iPhone, you may prefer to use iTunes backup extractor - iBackupBot to help you solve this issue. But is that the best way for you?
iBackupBot is an iTunes helper that can export your iTunes backup and your iPhone data. It can be used to recover your forgotten Restrictions passcode without losing data. But this way is not a wiser choice for everyone. In this article, we will make reviews of iBackupBot for iTunes and introduce its alternatives to help you find your best way to recover Restrictions passcode.
Review of iBackupBot for iTunes
iBackupBot for iTunes, also known as iOS manager, is a useful tool that can help you to browse, export your iPhone files. You are able to manage your iPhone data and backup on your PC, such as messages, notes, contacts, media, etc. iBackupBot for iTunes also enables you to edit your iTunes backup, so you will not have a single option for restoring all of your files to your iPhone. You can view and modify the files before you restore them on your iOS device.
1

How to Use iBackupBot for iTunes to Recover Restrictions Passcode?
You should take the following steps to recover Restrictions passcode by using iBackupBot.
Step 1. Update your iTunes to the latest version, and back up your iPhone files to iTunes.
Step 2. Use a USB cable to connect your iPhone with PC.
Step 3. Go to Summary tab, then back up your iPhone on the local system. Select "This Computer" to back up on your PC instead of iCloud.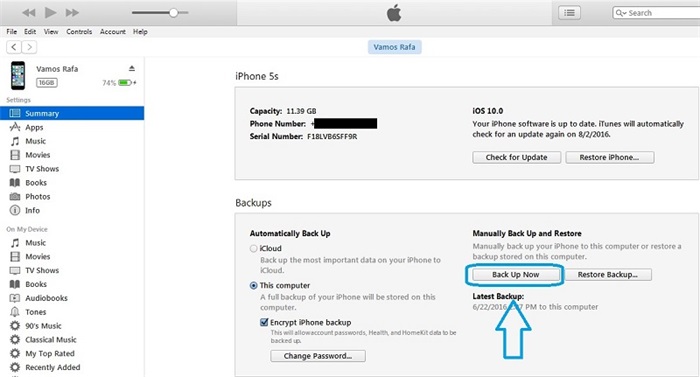 Step 4. Launch iBackupBot on your PC, then load your iTunes backup. From the left side of the panel, you can find the way of "System Files > HomeDomain > Library".
Step 5. Choose the "Preferences" folder displayed among the files on the right side. And search for a file named as "com.apple.springboard.plist".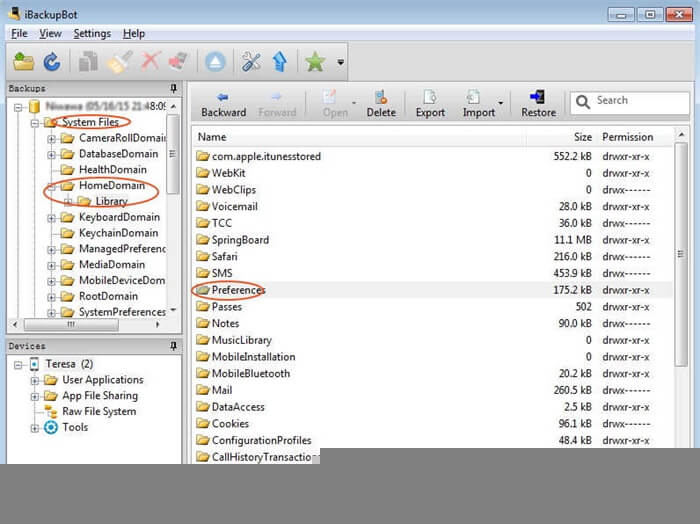 Step 6. Choose the file and open with text editor, either NotePad or WordPad.
Step 7. Carefully look for the Restrictions key in the file. Search for the "SBParentalControlsMCContentRestrictions" in the file. Please find the following codes:
< key > SBParentalControlsMCContentRestrictions < / key >
< dict >
< key > countryCode < / key >
< string > us < / string >
< /dict >
Step 8. After the < /dict > code, you need to make some modification in the file. Add a key and a string value. You can set "1234" as your new Restrictions passcode. After that, the key will be: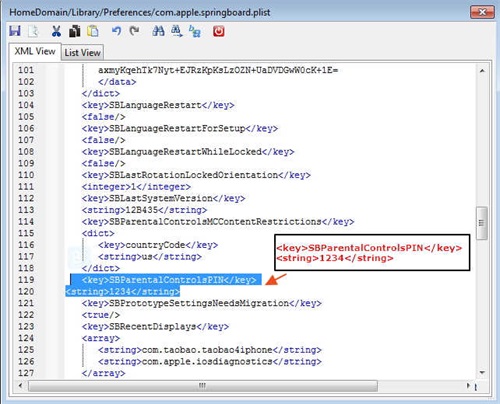 < key >SBParentalControlsPIN< / key >
< string >1234< / string >
Step 9. After modification, save the code and close the file.
Step 10. Connect your iPhone to PC and allow the application to detect it automatically. Select the iOS device, open it and restore the backup.
Step 11. Choose the backup file that you have made the changes just now.
Step 12. After restoring, the Restrictions passcode will automatically change to the edited passcode (in this case: 1234).
2

Review of iBackupBot for iTunes
iBackupBot for iTunes as an iOS data manager, can help to recover your forgotten Restrictions passcode without losing data in theory. But in practice, it is incomprehensible, and hard to operate for most of people. Now, let's check the review of iBackupBot.
Pros:
You can view and modify your iTunes backup files from iBackupbot.
It can help to recover your Restrictions passcode without losing data.
It can transfer data from iTunes backup to other iOS devices.
It can backup your iPhone data from iTunes to PC.
Cons:
It often comes to a breakdown when connecting iPhone 7 with iOS 12.
The interface is not user-friendly. It's hard to operate for most of people.
It requires technical skills, and is more suitable for professionals.
With complex steps, you may corrupt your backup due to the wrong operation.
You need to carefully implement every step without omission or mistake, or you cannot recover your Restrictions passcode successfully.
iBackupBot Alternatives: iMyFone LockWiper
If you find iBackupBot for iTunes is complex and difficult for you to use, you can just try the iBackupBot alternative - iMyFone LockWiper to help you recover Restrictions passcode in simple steps. Featuring the extremely simple and intuitive interface, it enables you to operate without any difficulties. You don't need to waste time on backup or restoring, because it will keep all of your files intact and safe.
Key features of iMyFone LockWiper:
Recovery of Restrictions passcode is done easily within a few minutes without losing data.
It can help remove Apple ID when you don't have the password.
It is very efficient and effortless to use; it does not require special skills.
It can also remove any sort of password on your iPhone such as fingerprint, digital password, face lock.
You just need to take 4 simple steps for recovering Restrictions passcode without losing data.
Step 1. Download LockWiper on a personal computer. Install and open the LockWiper, then select the option of "Unlock Screen Time Passcode".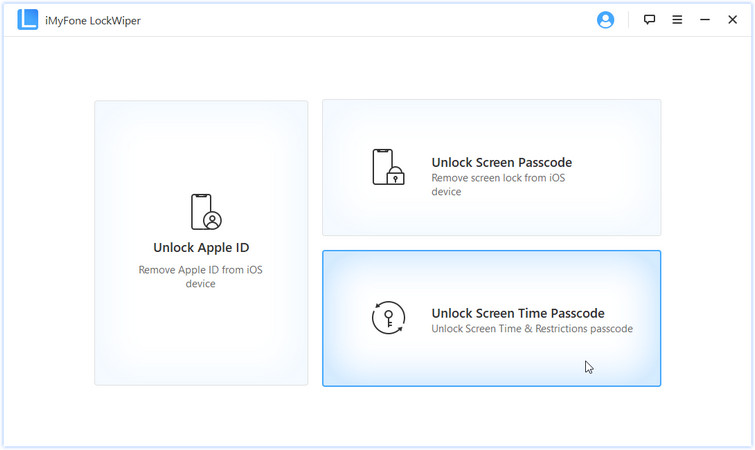 Step 2. Then connect your iOS device to your personal computer using the USB cable.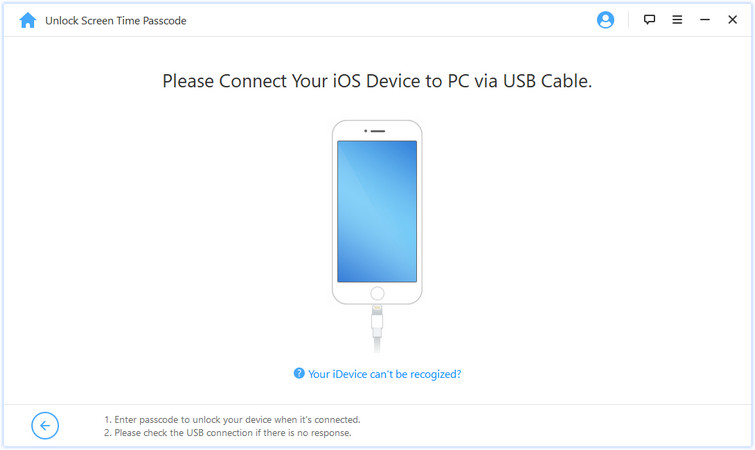 Step 3. Click on the "Start to Unlock" option on the tool to start unlocking.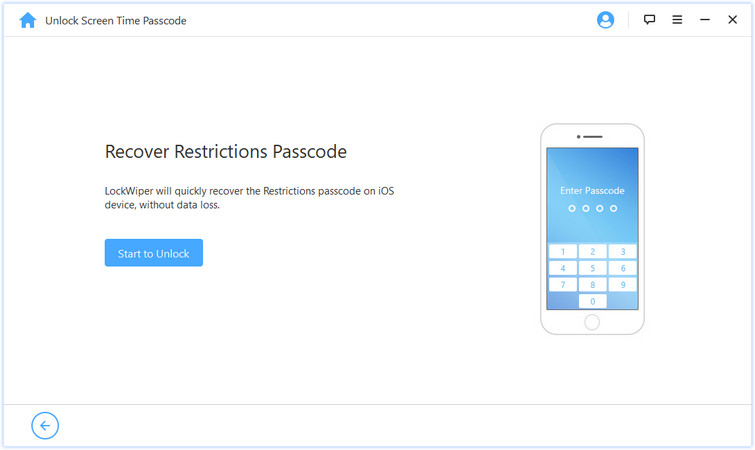 Step 4. After a few minutes, the tool will display your current Restrictions passcode.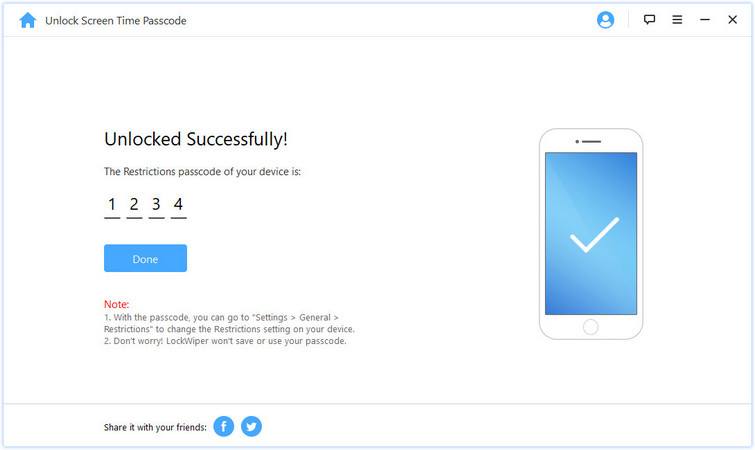 Now, you can reset or remove the Restrictions passcode by yourself easily: go to "Settings > General > Restrictions".
Advantages of LockWiper for recovering Restricitons passcode:
1. Fast unlocking: recover Restricitons passcode in 5 minutes.
2. No data lost: always keep your files complete and safe.
3. Simple steps: 4 simple steps with a clear guide on software.
4. No skill required: easy to use; just need a few clicks of your mouse.
5. Multi-functional unlocking tool: can also unlock Screen Time passcode (no data lost)/Apple ID/iCloud account/Screen lock
---
iBackupBot for iTunes helps you to browse, export and even modify iTunes backup files. But as a professional backup manager software, it is not specially designed to unlock passcode for your iPhone or iPad. If you are looking for an easier and reliable way to recover your Restrictions passcode, you can try to use iBackupBot alternative - iMyFone LockWiper. It will be your best choice to unlock Restrictions passcode without losing data!