You may wonder why an article discussing the new MDM features on iOS 16/15 tells you how to remove these MDM features. MDM or mobile device management is a series of protocols to safeguard corporations from data loss, hence sometimes have lax security for the end-users. End users or employees may suffer due to this, and thus this article goes over the procedure of how to remove MDM on iOS 16/15 besides listing down all the new MDM features on iOS 16/15as well.
Part 1: New features about MDM on iOS 16/15
As is customary with new updates, users will also get a taste of new MDM features with the latest iteration of the Apple software updates. These MDM features are listed below for easy reference with simple explanations regarding what they stand to accomplish.
1

Content Caching
Content caching feature allows shared downloads across multiple devices of the same network, be it an iPad, Mac, or an iPhone. This sharing of resources allows limited bandwidth usage, thereby saving this precious commodity for other uses. The update includes access to admins in setting the cache preferences for speedier downloads.
2

Non-Removable apps
Another interesting feature that comes with iOS 16/15 is that administrators now have the leeway to mark some apps as non-removable. The users cannot delete these apps; however, they can still delete other non-essential ones. Previously corporations had to put a complete ban on removing apps so to prevent users from deleting from business-specific apps.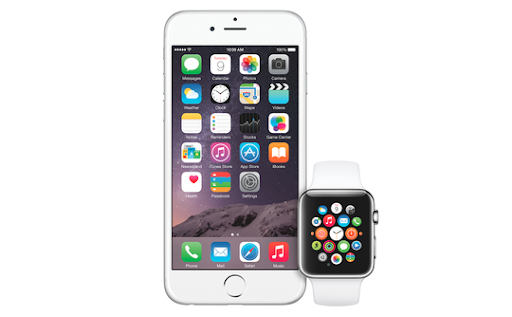 3

Setting Time Zone awareness via MDM
Users also now get support for setting their phone's time zone through MDM. This functionality also extends to the retrieval of such time zone values of the device.
4

Encrypted DNS Settings
Encryption and security get enhanced thanks to encrypted DNS settings, which the administrator can do on their own. This encryption is used to encrypt traffic between the DNS server and the user device. Before this update, a wrap-around method was in place, using a VPN to encrypt traffic.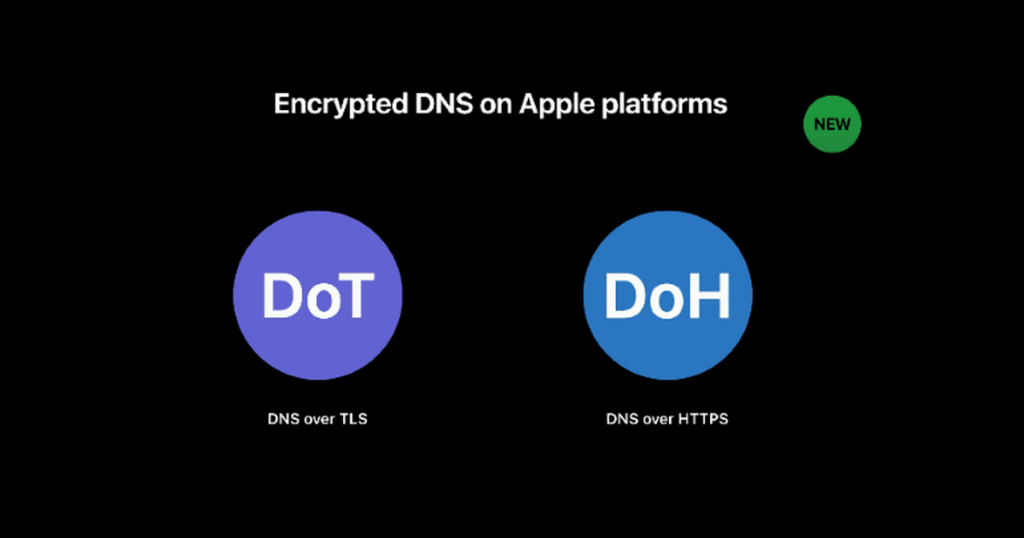 5

Delaying software updates
Users can now delay any forced updates by a maximum of ninety days. It is quite a convenient option for users who find automatic updates annoying.
6

Skip Setup Assistant screens
Apple has much existing software that supports this feature of skipping setup assistant screens. With the latest update in iOS 16/15, this feature extends to OS updates as well, where MDM has the option to skip these unnecessary screens while upgrading the device.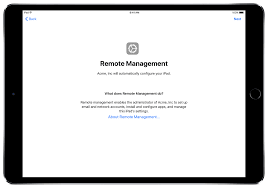 7

App Clips function
The app clips functionality is another unique feature that iOS 16/15 brings to its users. It allows the users to test an application from the Apple Store without actually downloading the app. It makes the home screen feeling less cluttered and for users to try on more new apps.
8

Notifications with a preview
The notifications panel also gets an overhaul as it receives an exciting preview feature implemented that allows users to preview the apps this notification refers to.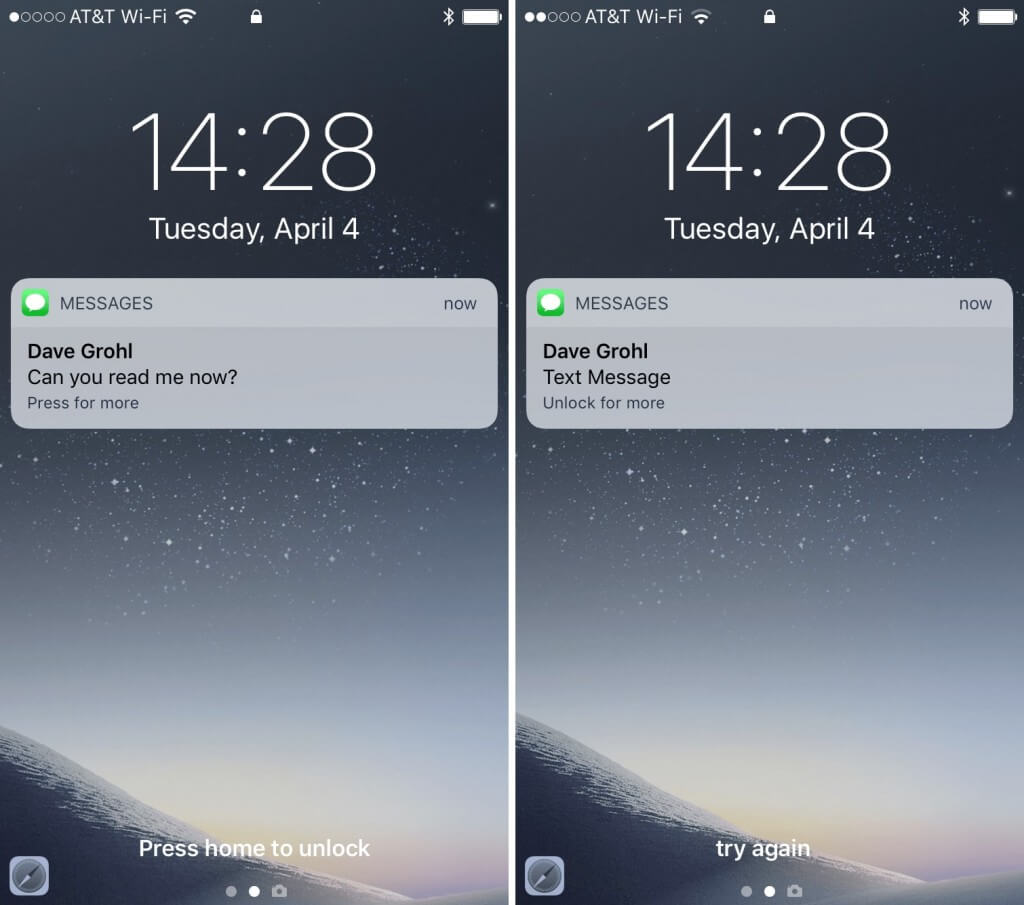 9

VPN-tied profiles
Apple has also come up with a secure way to browse some applications in its smartphone by sending data relating to these applications via VPN nodes.
Part 2:How to Get iOS 16/15 Public Beta on My iPhone 6S
Some of the features of the mobile device agents may be invasive to a user's privacy. Stopping this privacy breach requires the removal of the MDM agent from your device. iMyFone LockWiper is the tool that can get you bypass or remove MDM on your iOS 16/15 with easy steps. Here are some of the utilities on offer by this useful application:
Here's the step-by-step process on how to remove MDM restriction on iOS 16/15 using iMyFone LockWiper.
Watch Video Tutorial of How to remove MDM activation on iOS 16/15 in 2020
[Video Transcript]

Step 1: The first step in the process to remove MDM from your iOS 16/15 is to launch the iMyFone LockWiper on your PC. Upon its startup, the application will show you four different modes; select the mode that reads 'Bypass MDM.'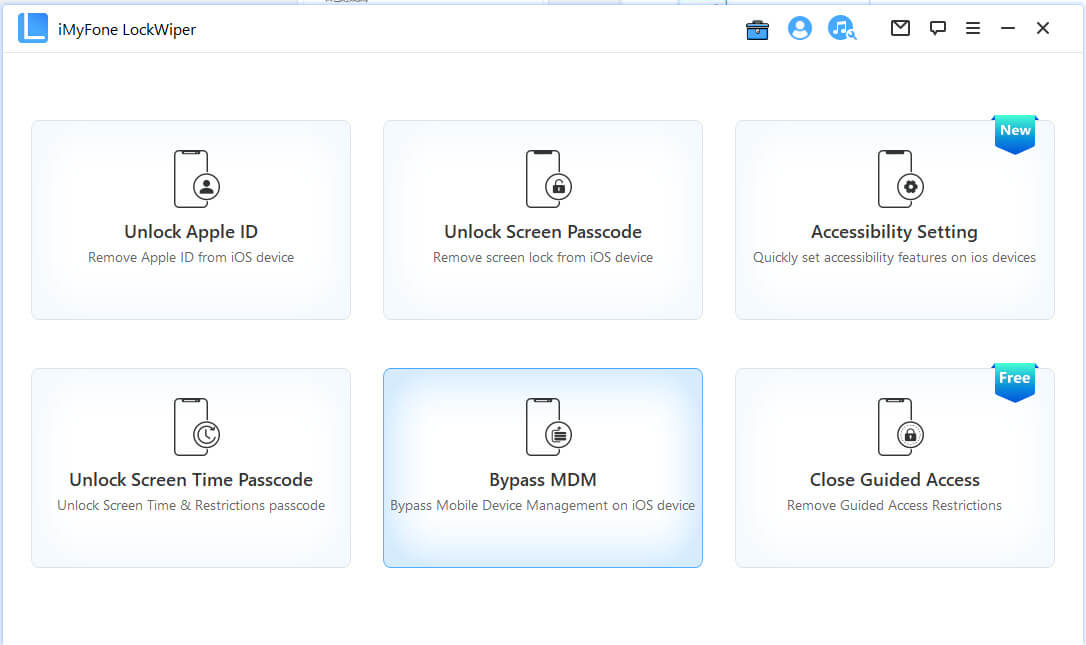 Step 2: The next step after clicking on the 'Bypass MDM' mode is to connect your iOS device with the system. The device can be your iPhone, iPad, or iPod. The connection to the PC is via USB cable, and if the screen is blank, please recheck your USB connection.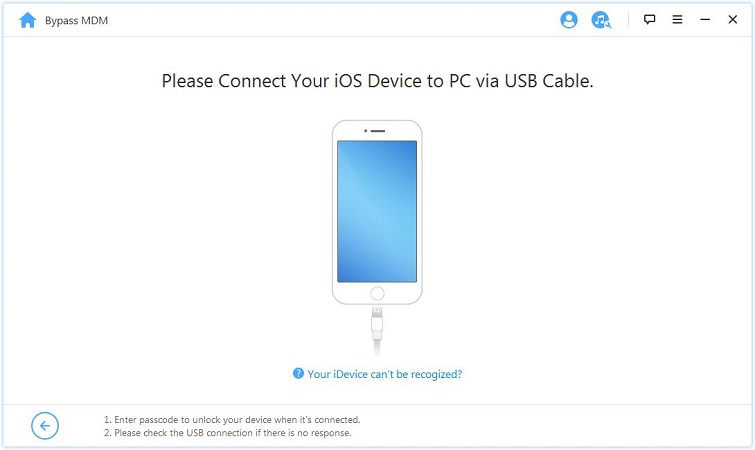 Step 3: Before the MDM bypass process starts, please make sure your iOS device is on the MDM lock screen.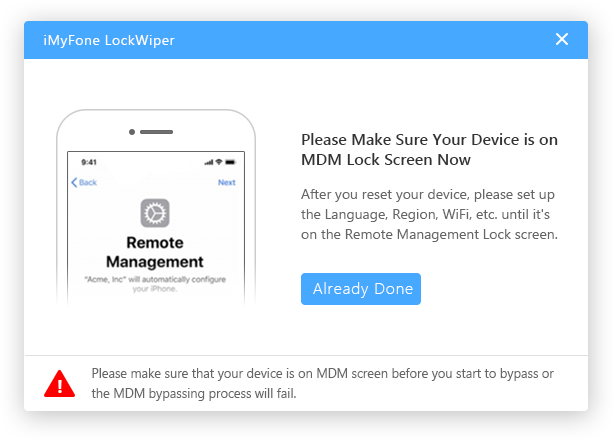 Once the device is locked out of the MDM screen, you can directly press the 'Start to Bypass' to engage the process of removing MDM. Another alternative is to remove the MDM restrictions beforehand. It can be done by following this command path:
Settings>>General>>Reset>>Erase>>All settings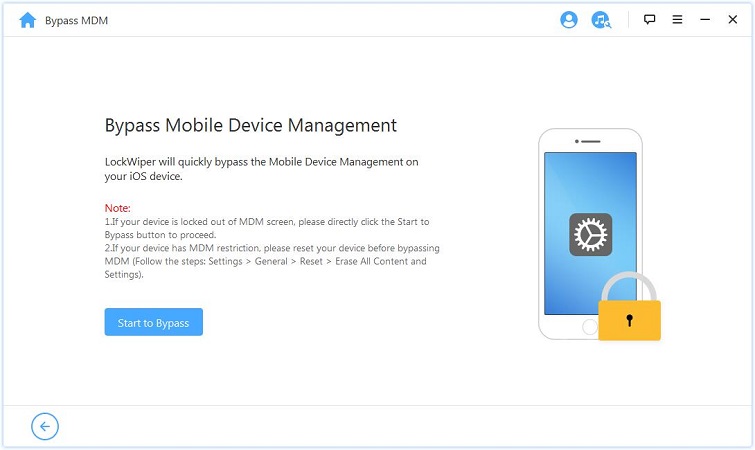 Step 4: The next screen that will appear in front of you will let you know that the application has started the bypass process. The message will appear on the screen, and it can remove MDM up to iOS 16/15 and beyond.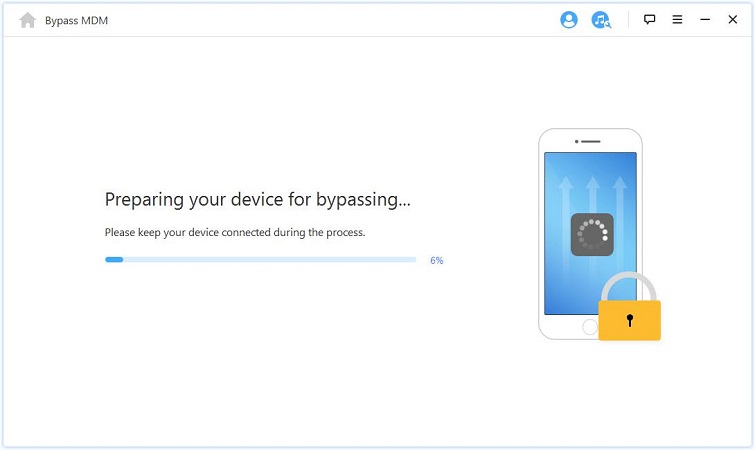 Step 5: The application quickly bypasses your device from the MDM agent, and the following screen shows on your device.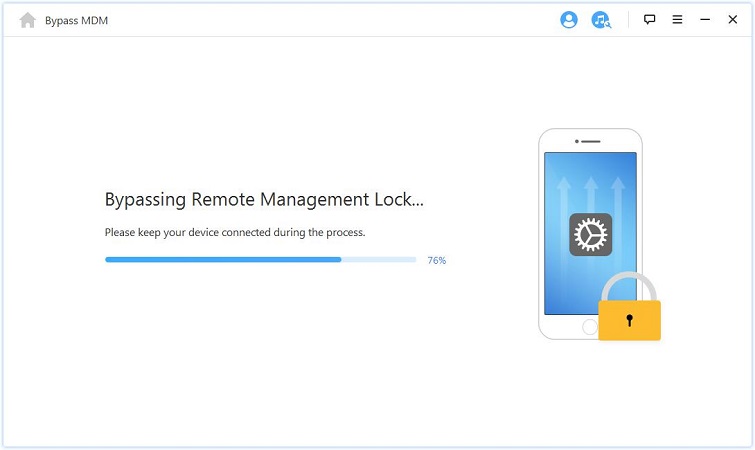 Once the process is complete, the application will notify the successful completion of the MDM bypass process by displaying the following screen.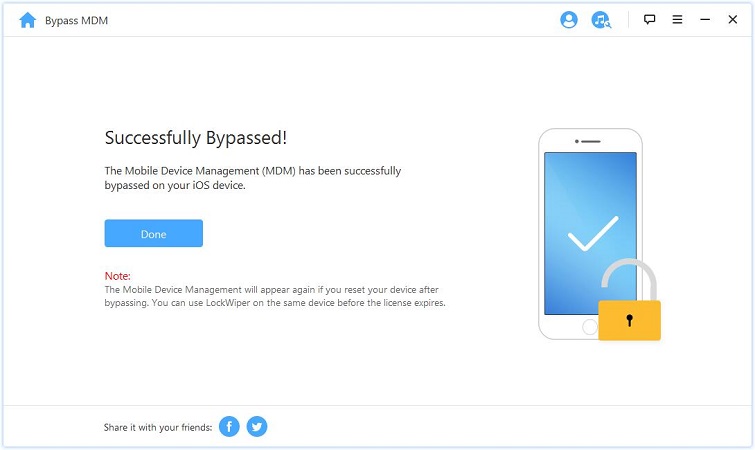 Part 3: Some MDM Privacy Threatens on iOS 16/15 You Should Know
1

Companies prying upon personal data
One of the most significant threats posed by MDM is that companies in their bidding to secure their networks, often pry on the personal lives of their employees. Employees know that work systems are not private, yet they often use these for personal stuff. It makes them vulnerable to the data-collecting policies of these companies through MDM agents.
2

Personal devices connected to the system are not safe
It may be evident that employees are careful when using the company's systems to view personal stuff, but they can be lax while doing it on their smartphones. What they forget is that most companies these days require employees to install certain apps and protocols that represent company policy and hence allow the company to extract personal data.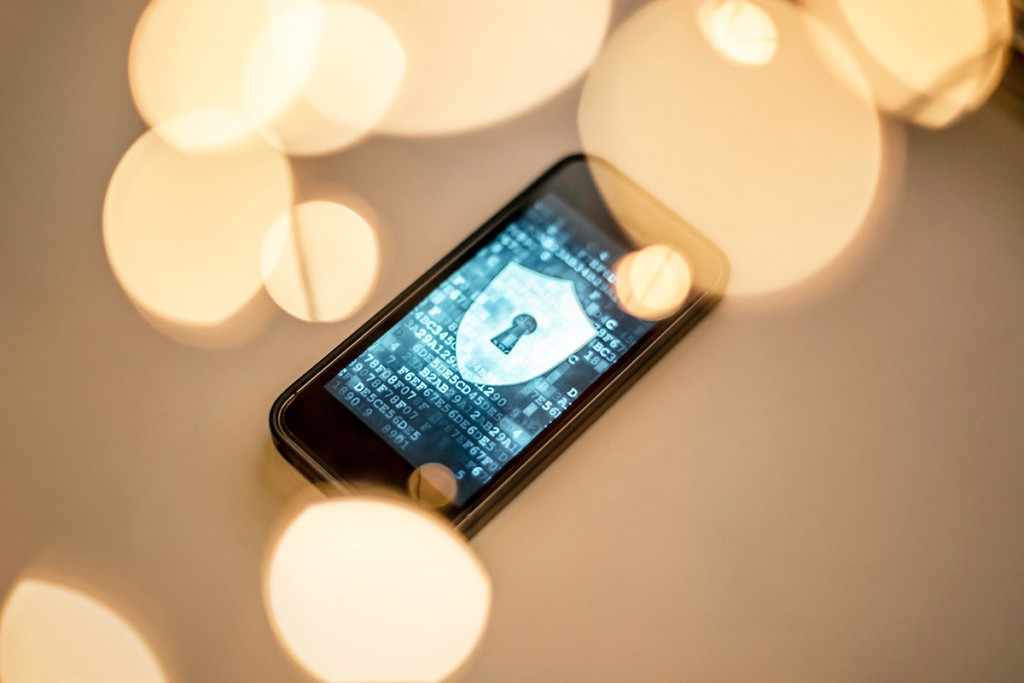 3

Even your location is not secure
Another drawback of having the MDM agent installed on your device is its capability to track your location if GPS is turned on. The functionality may have some fringe benefits such as finding stolen devices, but the employee's privacy is breached as the company has easy access to their location. Sometimes the hiding of this location is paramount and thus causes some awkward encounters.
4

Increase in liability
Thanks to the MDM enabled devices; an employer has access to all the personal information of an employee. It includes their texts and calls, as well as applications frequently used by the employee. This information can cause some serious damage to the company's reputation as well as open it to lawsuits.
It is of utmost importance that employees and users that use an organization or a company's secure network be informed of the harms of MDM. These users must, at first instance, remove MDM through the application, as mentioned above, to reduce the risk of personal data collected by the employer.