We have all been in that situation where we are unable to create time to read a particular WhatsApp message, especially in groups. Then, the starred message feature comes in handy. The starred messages feature allows us to bookmark specific messages so we can quickly refer back to them later. If a message is important enough to be starred, then such a message is worthy to be backed up. Read on to find out how to backup starred messages in WhatsApp.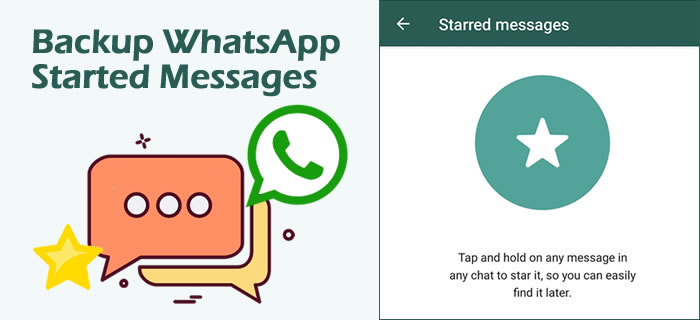 What Does Starred Messages Mean on WhatsApp?
When you star a message on WhatsApp, it means you have attached a little kind of electronic importance to it. As said earlier, you star messages on WhatsApp to easily reference them in the future.
Another instance where starring a WhatsApp message may come in handy is when you are not ready to read a message at the moment it was sent or when you don't have the luxury of time to watch the video sent to you by your friend.
When you star any message on WhatsApp, you will be able to access it later on a separate page on WhatsApp without having to scroll through thousands of messages on groups and even personal chats. It is indeed a very useful feature that the WhatsApp team has thoughtfully added to the most popular mobile messaging app worldwide.
How to Star/Unstar WhatsApp Messages and Check Them on iPhone/Android?
After know the meaning of starred messages on WhatsApp, you might wonder how to make this happen, here are the steps to follow:
Star and Unstar A Message on iPhone/Android:
Step 1.Open your WhatsApp on your iPhone/Android and navigate to your chat of choice.
Step 2.Click and hold the message you want to star.
Step 3.From the options that will display at the top of the screen, simply hit the "Star"/"Crossed star" icon.
View the List of Messages You've Starred:
Step 1.Open the personal or group chat that holds the starred messages you wish to view.
Step 2.Click on the name of the individual or group chat.
Step 3.Click "Starred Messages" from the list.
For Android:
Go to WhatsApp settings by clicking the three dots, then click "Starred messages".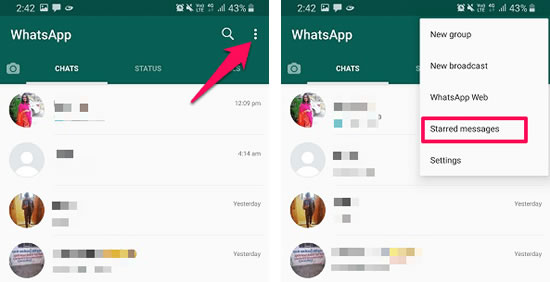 For iPhone to view all starred messages at once:
Go to WhatsApp settings at the right bottom of the screen, then click "Starred Messages".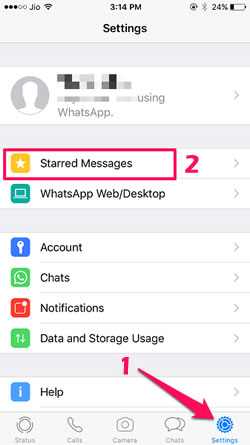 An Efficient Way to Backup, Read & Export Starred WhatsApp Messages
It's rare to see a tool that supports backup starred messages from WhatsApp, especially the one that you really want to archive most. But now, we are happy to announce that iTransor for WhatsApp is exactly what you are looking for.
It is a tool designed specifically for WhatsApp data backup, restore, and transfer. Starred messages, archived files, photos, voice messages, large videos can all transfer through this comprehensive WhatsApp management tool between phones or pc.
WhatsApp Data Transfer Tool
Backup, Transfer, Restore starred messages, contacts, media and more from iPhone/Android.
Supports WhatsApp data transfer between Android and iPhone devices without OS restrictions.
Supports both WhatsApp and WhatsApp Business data management.
Restore WhatsApp backup from Google Drive, iTunes or local to iOS/Android.
To safely backup your starred messages, or maybe read and export, please follow the steps below:
Back Up WhatsApp Starred Messages
Step 1.Download and install iTransor for WhatsApp on your PC. Launch it and click the "Back Up WhatsApp on Devices" option from the left panel.
Step 2.Connect your iPhone/Android to computer via a USB cable and wait for the program to recognize. All you have to do at this stage is to click the "Back Up" button and relax while the app does its job. In a few minutes or more, depending on the size of the data, the backup process will be complete.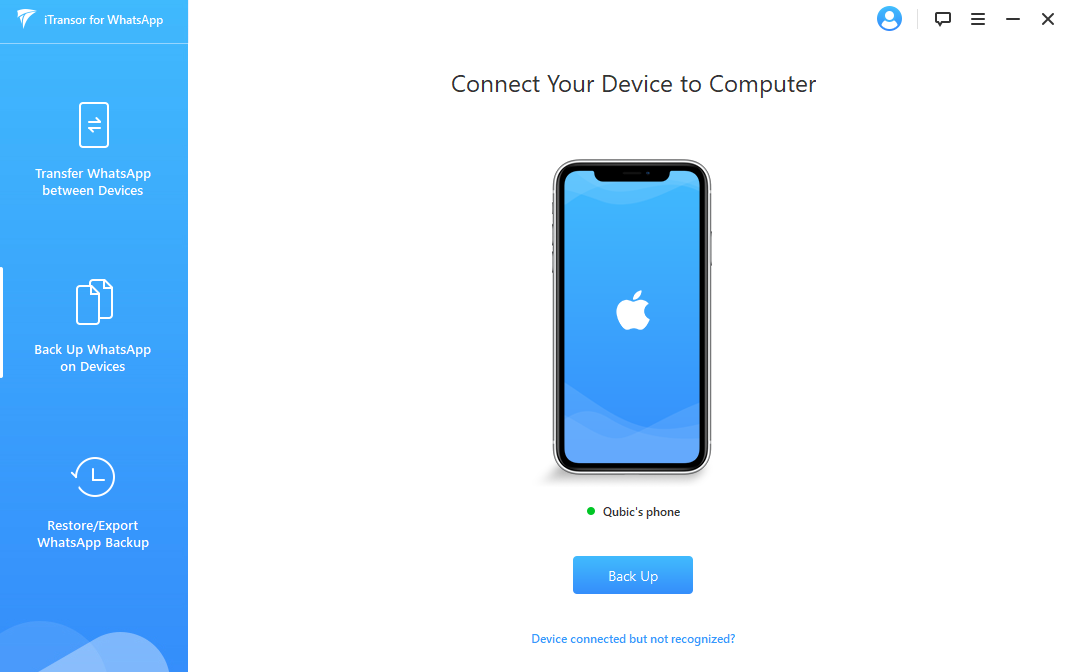 Step 3.After backing up, click on "check" to open the local backup location or click the "restore/export" button to read the detailed files on computer directly. You can go to next part to know the specific steps.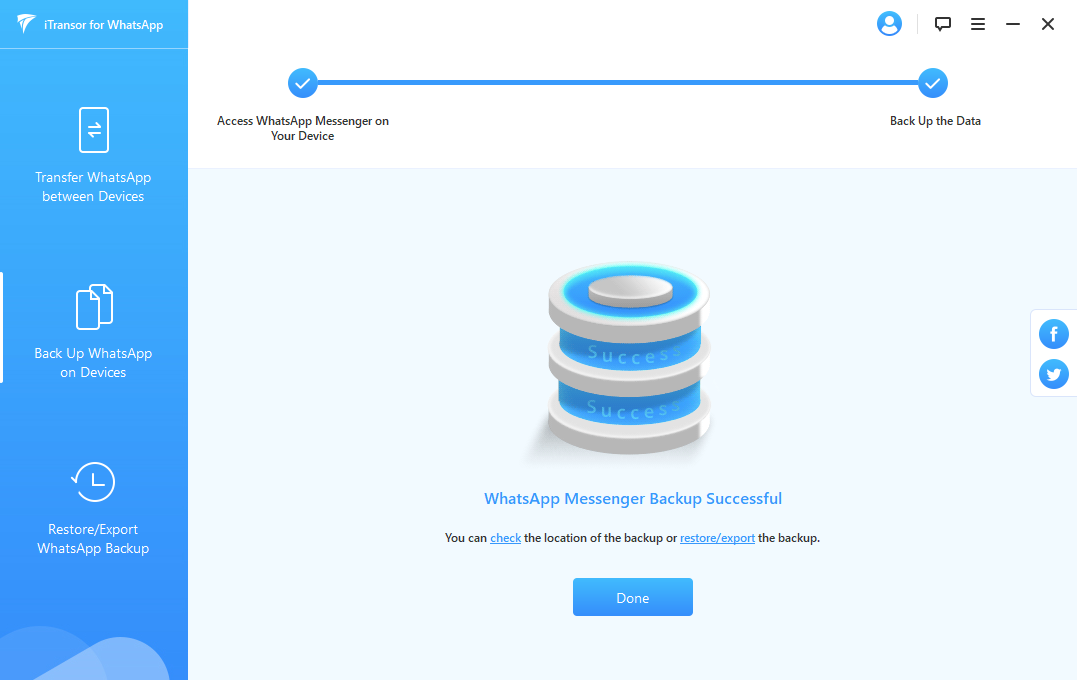 Read and Export Starred WhatsApp Messages
As stated earlier, it is super easy to read and export WhatsApp messages (and starred messages), contacts, photos, videos, audios, and more from the backup made by iTransor for WhatsApp individually or all of them at once. Here's how to do:
Step 1.Select the backup you've made earlier and hit the "Export to Computer" button. The app will initiate scanning of the data in the backup.
Step 2.After scanning, all the WhatsApp chats and attachments in the backup will display on your screen. Search for the starred messages or attachments you wish to export; you can as well export all the chats and attachments at once.
Step 3.When you are done deciding, click "Export", and in a few minutes, your chats will be exported.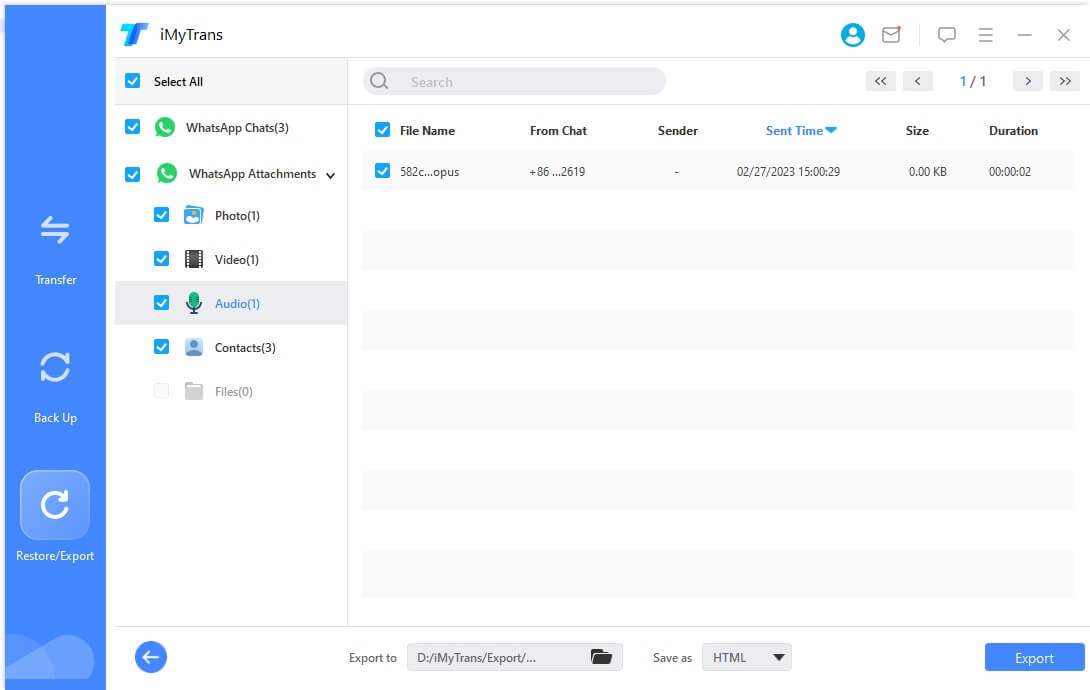 FAQs: More Tips About Sharing Videos Documents on WhatsApp
1

Can others see my starred messages on WhatsApp?
It is an affirmative NO! Only you can see your starred messages. It doesn't matter if the starred message is from a personal chat or group chat. Not even a group admin can view your starred messages. The only time it is possible for a spy to check your starred messages is when you carelessly leave your phone under their care.
2

How to retrieve deleted starred messages in WhatsApp?
ChatsBack is the best WhatsApp data recovery solution for any situation. Furthermore, ChatsBack will recover any lost or deleted WhatsApp messages, images, videos, audio, contacts, and files! Even if you don't have a backup of your WhatsApp data, ChatsBack allows you to make WhatsApp recovery directly from the device's internal storage. This app is compatible with even the latest versions of Android (Android 11) and iOS (iOS 15).
3

What happens when you star a message on a WhatsApp group?
When you star a message on a WhatsApp group, you will be able to go back to the message in the future for reference purposes, unless you exit and delete the group.
Conclusion
Never lose your starred messages to damages or theft anymore. With a useful WhatsApp transfer tool, you can easily backup, read and export your chats to any device of your choice at any given time. It is an app that's easy to use, efficient in its processes, simple in terms of UI, and minimal in terms of operations.